In a perfect world, the story of Miles Davis would be dramatized as an epic three hour film, preferably directed by Spike Lee, and it would probably revitalize public attention much as Ray did for Ray Charles. Don Cheadle played Miles perfectly, with the all the brooding and seductive qualities mixed in with the menace and pride, in the disappointingly superficial film Miles Ahead. It's not Cheadle's fault that the film was a splashy dud; evidently the Hollywood moneymen couldn't back a film that didn't conform to the usual action flick tropes, which is a great missed opportunity. And the fact that apparently he needed a white co-star to even get the film made is shameful.
In the meantime, Miles fans and newcomers alike can bask in the elegant new documentary Birth of the Cool, which is now available on Netflix after a brief theatrical run and as an American Masters feature on PBS. Beautifully directed by Stanley Nelson, the film guides us through the different changes of Miles' life, smoothly handling the tale of an artist who refused any complacency throughout a long and undeniably brilliant career. Nelson was given access to lots of compelling rare footage and photographs by the Davis estate and choreographs the stories of Davis's life with a vivid visual flair.
We open with grainy footage of Miles shadowboxing alone in the ring, which offers the perfect visual metaphor for its subject's approach to the world, and the image reappears throughout the film. Miles had a defiance about him that fueled everything he did, a certain kind of self-assertion that came with his impeccable style and unique approach to music. Miles was angry, disciplined, and refused to take any shit. That swaggering machismo, as the film makes clear, was both immensely appealing and sometimes despicable. At times, Miles could fly into horrifying bouts of Raging Bull-like paranoia and abuse, often when he was drinking or drugging too much, which happened far too much.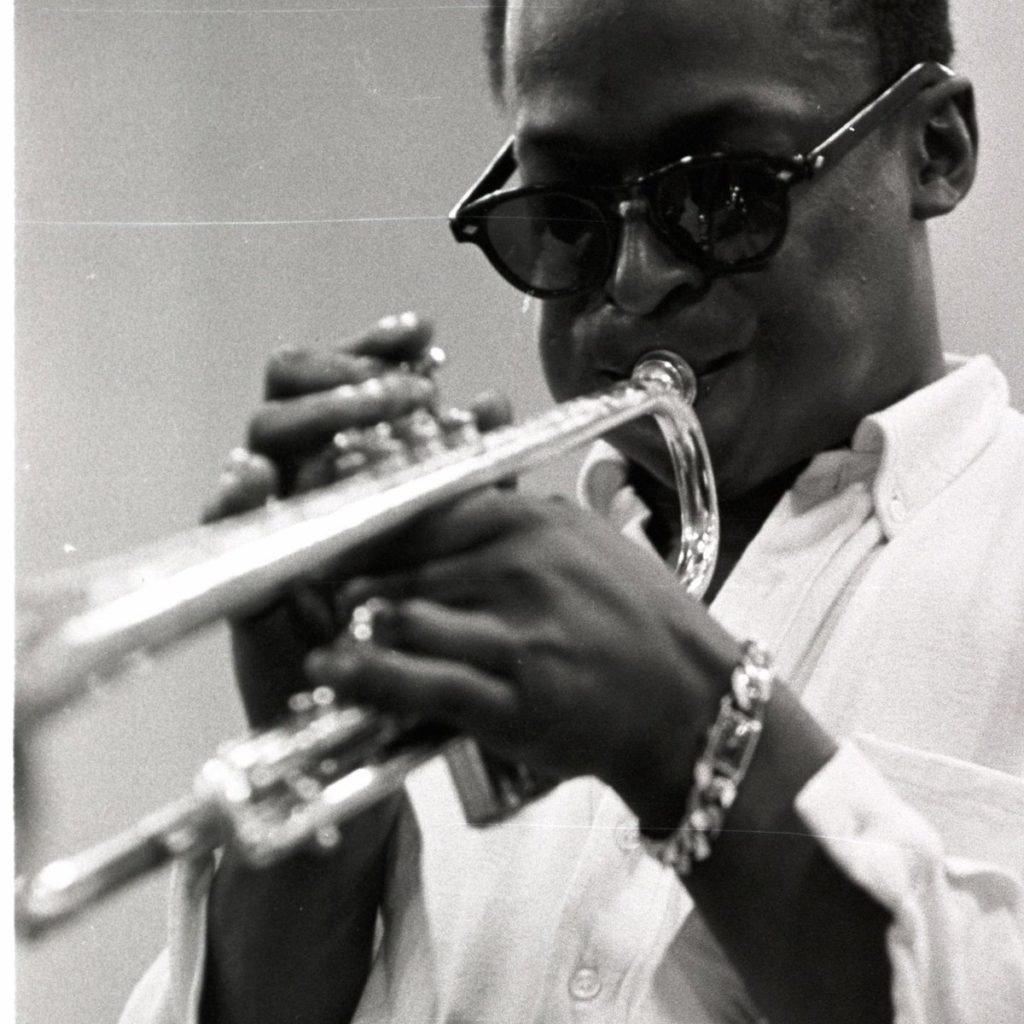 The film explains very well how Miles lived at the nexus of so many different cultural and musical forces. Born into a wealthy family in East St Louis, with a prodigious gift and eccentricity, he was still in the middle of Jim Crow. Of course, he gravitated to New York City. He studied Ravel manuscripts at Julliard by day and backed up Charlie Parker at night on 52nd Street at night. It's really kind of uncanny how Miles always managed to be at the right places at the right times, working with the right people. There's a lovely sequence about Miles's blissful first trip to Paris where he fell hard for the actress Juliette Greco (even though neither spoke the other's language) while hauntingly scoring the Louis Malle film Elevator to the Gallows. Most importantly the respect and admiration he received underscored that life in America—especially for a black man—didn't have to be that way.
Both friends and critics alike testify to how Miles became a kind of superhero for the black community. It meant a lot to have someone with a rebel image, a gifted artist, exquisite style, and stubborn pride to be a standard-bearer at that time. Miles never particularly sought that leadership role but like all true leaders it was given to him. The film makes it clear that Miles could do little wrong musically or culturally for an impressive period of time. He stood up to producers by demanding that black women be featured on his record covers, some of whom he was involved with. Always dressed to the nines, behind the wheel of one Ferrari after another, a beautiful women on his arm, Miles gave the black community an example of a black man who transcended the years of racist stereotypes. Miles's ineffable style is compared the duende of Spanish matadors who are always stylishly courting danger. Herbie Hancock nicknamed him "the sorcerer" and one of his lady friends compared meeting him to a horror movie scene when the vampire is about to bite you and you don't care.
Musically, almost all of his records are given the proper attention. There are a few that get overlooked a bit but that's forgivable considering how prolific Miles was. From his innovative Birth of the Cool through his incredible pair of great quintets, who mastered and then broke the Bebop mold from the forties on into the late sixties, we are shown why Duke Ellington called Miles "the Picasso of jazz." We are taken on a guided tour through his dramatic career resurrection at the Newport Jazz Festival after kicking heroin and his illustrious series of sidemen, many of whom became masters in their own right, get their due. Miles always had a brilliant eye for talent, and instinctually seemed to know who could be relied on to push the music forward at any given time.
The only major flaw in the film's design is that we are repeatedly told how unique and eccentric and memorable Miles was as a person. It's clear that regardless of how cruel or distant he happened to be to a certain person in his life, his presence is still being felt many years later. It would have been useful to hear some of Miles's axioms, so that the viewer could take some of the wisdom with them. Overall, the film does do a really admirable job in splitting the difference between intriguing a new audience to investigate Miles and satisfying longtime fans who already know his discography by heart. There is so much more to Miles's body of work than the records for which he is best known (as wonderful as they all still are) and watching Birth of the Cool will provide plenty of opportunity to enter this sorcerer's kingdom once again. words/m hanson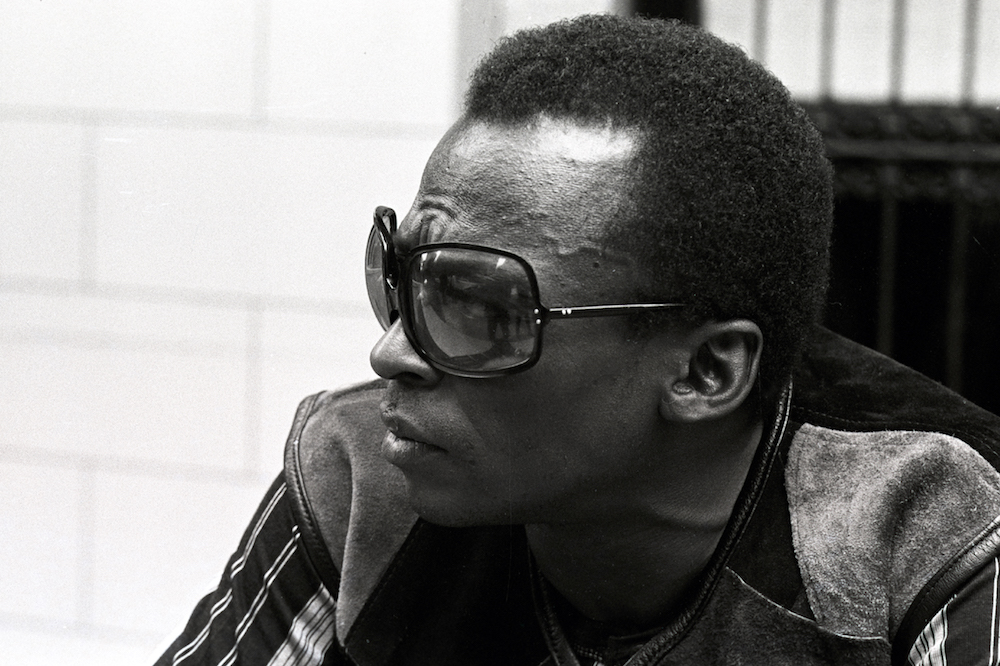 Miles Davis :: Sorcery In the Kingdom (A Mixtape)
Charlie Parker :: Now's the Time This cut gives Parker the chance to dig into the melody's R&B sway, while a teenage (and probably terrified) Miles floats above the groove while keeping pace with his elders.
Miles Davis Quintet: It Never Entered My Mind This is the song that tastefully demonstrates how romantic and vulnerable Miles's music can be. The film uses it as a case study in what makes Miles's music so seductive. Ace pianist Red Garland's rippling block chords gently raise the curtain on the muted trumpet soliloquy that was one of Miles's specialties.
Miles Davis :: Milestones Miles was very much an archetypal New Yorker and I've always felt that this was a very New York City tune. There's all the bustle, the flash, the confident brassiness, and the slightly odd break amid all the busyness of the main melody with a lovely descending melody that seems to freeze time a bit before it picks back up again. A fairly young John Coltrane was coming into his own at the time and you can hear him just starting to hit his magnificent stride.
Miles Davis :: All Blues Just because Kind of Blue is a little like the Led Zeppelin IV or Sgt. Peppers of jazz, in the sense that people buy it who don't listen to the much else. That doesn't mean that it isn't still breathtaking. It was one of my first ever exposures to jazz, so I really can't throw shade anyway. This lilting, rather delicate tune just swings, showcasing each of its soloists in turn after Miles opens it up by blowing pure Rothko with billowing notes steeped in deep color.
Miles Davis :: Saeta This is from the flamenco-meets-orchestra Gil Evans collaboration Sketches of Spain, which was an unexpected and very pioneering move for Davis at the time. It's based on some Alan Lomax field recordings done in Spain, and the original track is taken from a random woman belting out a tribute to her savior from her balcony during a Catholic procession through the streets. The woman's identity has been lost, but her voice is nothing short of incredible, and it's a tribute to Miles's musical sensitivity that he would notice and then try to cover a song like this one.
Miles Davis Quintet :: Old Folks This is another one of Miles's most plaintive ballads, from his underrated Someday My Prince Will Come record, which the film gives some generous attention. The way the last few notes of Miles's solo taper off at the coda, like the grainy dissolve at the end of an old film, gets me in the feels every time.
Miles Davis :: Footprints Here's another example of Miles bringing out the best in his collaborators. Wayne Shorter is one of the few old jazz masters who are still with us, and Shorter often gets overlooked by people who aren't already jazz fans. But this gorgeously modulated tune is an early Shorter composition, and it beautifully balances the written composition with the group's improvisations while being wistful and forceful at the same time.
Miles Davis :: Masqualero This cut from his second great quintet is imbued with the "duende" that I mentioned earlier. Miles's quick jabs guide the momentum created by his crack team of sidemen and then he gives way and lets the rhythm section take over, with Herbie Hancock's crisp piano work shining like the dazzle of a matador's cape.
Miles Davis :: In A Silent Way Something of a dry run for the epochal Bitches Brew, this underrated gem has all of the atmospherics and resonant empty space that you could ever ask for without BB's occasional bombast. It's got melodies, it's got groove, it's got a soulfulness all its own. But there's also a certain kind of icy detachment that's eerily beautiful, and soothing, like flying over a tundra at night.
Miles Davis :: Pharaoh's Dance The opening track to Bitches Brew, and thus the beginning of a radically new phase of Miles's career, where he exchanged bebop and bespoke suits for psychedelia and funky outfits. One of the percussionists at the session describes the song as ominous, and that it moved like an amoeba, which is kind of an interesting comparison. The writer James Parker used the term predatory, which maybe hits even closer to the mark. Miles had a menace to him and here's an example of what it sounded like.
Miles Davis :: He Loved Him Madly This appeared in Get Up With It just before Miles's dark late seventies period, after a driving accident screwed up his already precarious health. An exhausted Miles withdrew into seclusion and submerged himself in chemicals and misanthropy. Duke Ellington had recently died, and the title quotes his classic sign-off. Here's how Lester Bangs heard it at the time: "One of the most truly bereaved pieces of music ever put on record. It didn't sound like the recently deceased Duke Ellington, to whom it was ostensibly dedicated, at all; but it sure did sound like death. Like a grief beyond all wails, darkness, darkness and loneliness that became positively clammy, like a lifetime prison sentence in a diving bell in the blackest depths on the bottom of the ocean. How many people could even take music like that, especially at such length?"
Into this? Aquarium Drunkard is powered by our patrons. Help us continue doing it by pledging your support via our Patreon page. For heads, by heads.