Animal Collective released their visual album ODDSAC a few months shy of my 18th birthday. It was a point in my life where the brotherhood I felt with my friends had never been stronger, and conversely, I had never felt more detached from the daily mundanities of high school, and my job stocking 30 racks at my old man's beer store.
My interests were simple: meet up with the buds at the old, empty house on my best friend's farm—a crash pad we dubbed the "Red House"—to pack a few bowls and get our minds blown by whatever heady records had been mined that week. These were our early introductions to the subversive, energizing world of 2000s underground music, freak-folk, and Animal Collective, with its four mythic members, Avey Tare, Panda Bear, Geologist, and Deakin.
ODDSAC arrived at the perfect juncture in our fandom: the hungry point of obsession following total, rabid consumption. And so, one weekend night, we put it on, and watched, mouths gaped, as the psychedelic frenzy unfurled on the TV screen. Paints and colors melted on the screen, strobed images morphed in the shadows. Demented characters transgressed narrative in a sort of slapstick hypnosis. The music, twisted and enrapturing, felt like a dog whistle, understood only by those with the right set of ears. The experience was so impactful, so galvanizing, that the moment it was finished, we rewound it and started again.
Early mind-boggling moments like these are what drive many creative people to pursue a career in the arts; I can say in my case at least, this is entirely true. It's memories like these that I remember the most fondly, now ten years later as a writer and musician in a constant search to relive that experience. But even succeeding my impressionable enthusiasm, Animal Collective retained a steadily reinventive output during the 2010s: the textured Centipede Hz in 2012, the rambunctious Painting With in 2016, and the aquatic-themed visual album Tangerine Reef in 2018. And with every release, remnants of the past paved new roads, each experiment pushing boundaries while paying homage to what once was.
Dave Portner, unequivocally the group's most prolific contributor as Avey Tare, humbly tells me that he's heard many stories similar to my own, and offers a simple response: "That's exactly why I make the stuff that I do." His origins aren't much different from mine, once an aloof teenage kid with a tight crew and a penchant for psychedelics and the uncanny. This code of conduct would eventually bring Noah Lennox (Panda Bear), Brian Weitz (Geologist), and Josh Dibb (Deakin) to formulate Animal Collective during their friendship as high school students in Baltimore during the mid-'90s.
Roughly eight months after the long-awaited release of ODDSAC, Portner debuted Avey Tare's swampy solo album Down There in 2010, followed by the formation Avey Tare's Slasher Flicks in 2014, a side project with former Dirty Projectors and Ponytail members Angel Deradoorian Jeremy Hyman. Later, he released a string of lauded Avey Tare albums in the second half of the decade: 2017's Eucalyptus, 2019's Cows on Hourglass Pond, and the Conference of Birds / Birds in Disguise EP at the end of the decade.
Now, as the world seemingly draws to a stop, Portner finds himself quarantined at home in Western North Carolina amidst work on Animal Collective's eleventh studio album, the first album since 2012 to feature all four original band members. With production stalled as a result of COVID-19, Portner has released an Avey Tare single called "Wake My Door," of which the proceeds will be donated to the Sweet Relief Musicians Fund, an organization that provides financial assistance for musicians and music industry workers out of work as a result of the ongoing pandemic crisis.

Living a vision I could have only conjured in the Red House bathroom, I caught up with Dave Portner to discuss the status of musicians in the COVID world, new Animal Collective music, the Grateful Dead music library, Miyazaki films, collaborating with his sister Abby Portner, and how mind-blowing experiences in high school shaped his creative output. / c ruddell
AD: It's been just over a year since Cows on Hourglass Pond was released, and the world feels like an entirely different place since then. How has that record aged over that year? Does it feel any different to you?
Avey Tare: My style and process has always been about moving on so fast. I feel like more and more as the years go by, maybe it's just getting older. Maybe it happens to everybody. Sometimes I wonder if it really is how time is working now. It seems to be speeding up. That record feels like it's from a different time. So much happened, and we were on tour around this time before that record, Josh, Jeremy, and I. It seems worlds away now. I can't imagine putting out a record right now. It seems very stressful to me.
AD: What's a day in your shoes in quarantine look like?
Avey Tare: It varies. I hang out with my girlfriend, Madeline, a lot. I've been so grateful that I have her to hang around with because other than that I haven't had direct contact with a lot of people. I hung out in a social distancing kind of way with a friend yesterday. We just hung out in his yard. I've had a couple hangs at this point. One, in my driveway area, and one in a friend's yard now. Just hanging and talking. Other than that, I haven't hung out with anybody. A lot of my weekdays, I still try and gear towards music and stay busy by playing music. I also do a lot of house stuff, just chores. I usually read in the morning to ground myself and chill out that way.

AD: What are you reading right now?
Avey Tare: Right now I'm reading an old oral history of jazz that I found. I was reading an old Dover book on mazes and labyrinths, and then I saw this list of other Dover books in the back. I'm the kind of person that that's how I get ideas. I go on trails and find clues and go from one influence to another. There's a book mentioned in the back called Hear Me Talkin' to Ya. It's an oral history of jazz starting in the New Orleans years. I'm tackling that. I like oral histories. I'm just getting to the Harlem times, the late 20's and early 30's. I really connect to New Orleans, especially a lot in the last couple years. Me and the other Animal Collective guys connected a lot to it, especially Brian and Josh. They live here in the states too. It's harder for Noah to connect that way. That's just one of those romantic time periods for me, the late 1800's going into the turn of the 20th century.
AD: Why do you guys connect so much with New Orleans?
Avey Tare: I think one, because we're so musical, and New Orleans is still such a musical town. The people I associate with down there are all into the arts and making music. Creatively, it seems like a place that can function in the same way that Animal Collective functions, and the philosophy of that jazz music that came out of there so long ago. When I read what the people have to say about it, that's the kind of creativity that I relate to – that kind of making music. New Orleans is all over the place. You have people that are combining theater with music and are out on the streets making music. The energy still feels really good there.
AD: You've been working with the Sweet Relief Musicians Fund for the proceeds of "Wake My Door." Why did you end up gravitating towards them?
Avey Tare: There's a lot of different causes that I would love to help out with, especially right now. My instinct as a musician and creative person that's making things when something like this happens, and seeing everybody reacting to it and having different degrees of hard times, I jumped into a wanting-to-help-out-however-I-can mode. Since I'm inclined to make music all the time anyways, I'm driven to put my energy into that, using a tune to help out wherever I can. Even if it's just making people feel good by putting out music or taking people away from having this in their face all the time. That's not to say that I think it's important to be aware of what's going on, but I'm also into music as an escape. Sweet Relief, what they're doing for the music community, and Music Cares, as well. I feel comfortable and safer helping what feels in some sense like my community. It's an easy place to direct the energy and help.
AD: There's word that live music won't resume until 2021. If that's the case, what is your plan moving forward?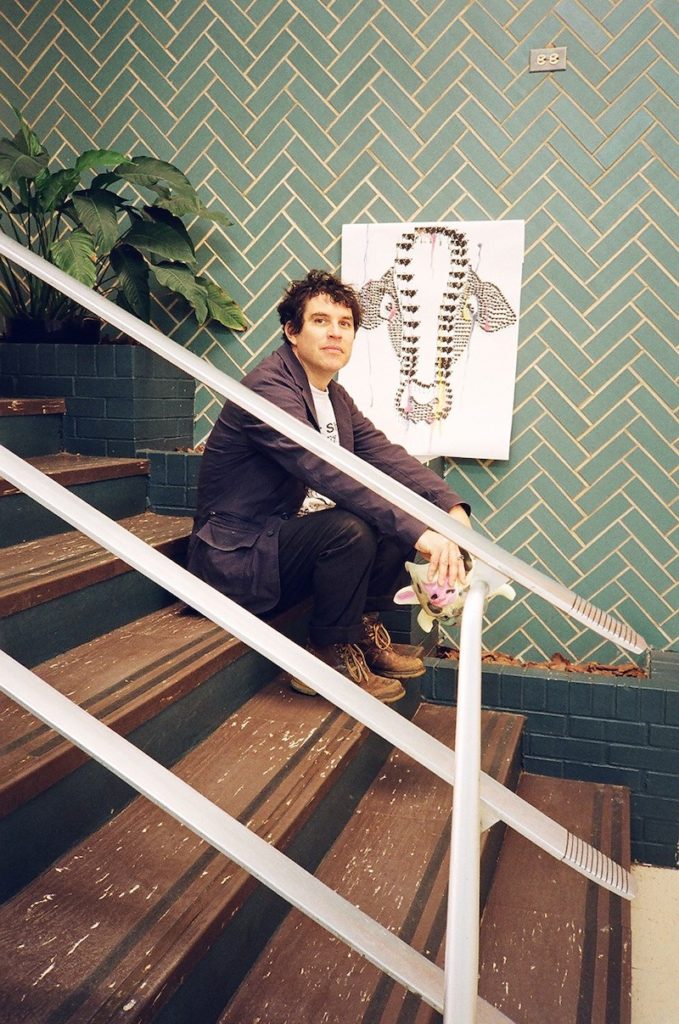 Avey Tare: It's hard to say. It's a crushing, pressing thought for many reasons. Live music is an important foundation of Animal Collective and why we make music and how we stay creative. For any art form, culture, or music, gathering and sharing is super important, even to progress anywhere, like trading of ideas. So much is going to be cut off, and it's a scary thought. As well as, my livelihood mostly comes from playing live music. That's not even the most pressing issue to me. As far as an alternative, there doesn't seem to be something that can fill those shoes right now. It does so much for us. There is no alternative for it really. I appreciate the live Instagram thing, and I want to be a part of that. I'm definitely talking to the other Animal Collective guys and other musicians and everybody that's sort of shut down right now. We're all just trying to figure out, what is the best way to offer something like that?
AD: Did I see online that you released an Avey Tare show from last year to the public? How big is that archive? Are you recording every show?
Avey Tare: I did. For Animal Collective, we started really being serious about it at the start of the Centipede Hz tour. We put out the Live at 9:30 which came from the multitrack recordings we had from touring. We have most of Painting With multitracked. Prior to that, we always tried to document what we're doing because it's such a crucial part of our process, as well as a part of what we have to offer to people. We put out Ballet Slippers at the end of last year, which was sort of like the Merriweather tribute/anniversary record that we wanted to do. In the case of those shows, our sound guy at the time recorded all the shows to two-tracks, as opposed to multitrack. I went through all of those to start with because I had the hard drive. There would be times that we'll all sit down and listen to something together. It's always very rewarding, even when we think, "Oh, that show was terrible." More often than not, it's usually quite surprising and nice to go back.
AD: Do you have a favorite show in the Grateful Dead archive?
Avey Tare: It's funny. Brian and I have been talking about things we can do during this time, and we've been talking about setting up an AC-based Dead Instagram, where we talk about a different show a week or something like that. Between us and a few other friends, we're consistently trading shows. Coincidentally, I just wrote liner notes for Live/Dead for a vinyl release, so that group of shows early in 1969 are on my mind. 1969 is a year I gravitate towards in terms of Dead, and lately a lot of '71. I've been searching for killer versions of "Good Lovin'" where they take the jam unknown places.
AD: Do you think it's fair to say that you're a concept-driven artist?
Avey Tare: No, not really.
AD: Why not?
Avey Tare: Having grown up working in art galleries and playing classical music and taking a lot of time to dive into all different forms of music, maybe it's more of a fear of association with conceptuality being associated with academia and maybe something that doesn't have as much heart or emotion behind it. I feel like I'm so driven by my immediate circumstances and how I'm feeling at any given time that I feel that there's something that doesn't really align with being a conceptual artist. That said, more often than not there is some type of concept.
AD: More like a throughline.
Avey Tare: Yeah, the certain world of any given record that I might create might be. If it doesn't when I'm creating it, I start to look for it. So often records aren't finished to me. My first solo record, Down There, is a perfect example. I definitely had in mind from the very beginning that it was this swampy concept, but all the songs came from such an emotional place that the songs individually didn't have that much to do with the concept. I brought them into that world and created this covering over them to make them fit into that world. We reached a point where I thought I was done with the record. Josh was helping me record it, but I took it back and listened to it to critique it, and I was like, "No, it's not done yet because it's not fully in that swamp world." The concept wasn't fully completed.
AD: While you're making things during quarantine, is there a particular instrument or influence that you're gravitating towards?
Musically, not so much. I feel like I'm leaning towards a textural way of making music right now, whereas maybe the last couple years, I've been doing a lot of stuff with the guitar again and an electric guitar. I have still been playing a lot. I've been playing a lot of bass because that's what I've mostly been playing for the new Animal Collective stuff. It's something we've never really incorporated too much, but it's working pretty well. It's cool to connect with Noah in that way because I'm playing bass, and he's playing drums. That's not to downplay connecting with any of the other guys. I just feel like the other rhythm section, I'm connecting with a person in a way that feels fresh and interesting to me.
AD: What kind of bass are you playing?
Avey Tare: Just a really cheap Danelectro actually. It looks kind of old fashiony, but it came out in the '90s Nirvana era. It has a button where you can add that sort of "Come as You Are" chorus effect.
AD: What brought you to Asheville, North Carolina?
Avey Tare: I was kind of over living in larger cities. I'd done my time in New York and tried living in LA after spending some brief time in Baltimore while I was trying to figure stuff out and we were working on Centipede Hz. It seemed like I wanted to take my quality of life and day-to-day routine in a different direction. This area was one of the few areas where I felt like I knew other groups of people. It was tough to know if going out on my own and moving somewhere was the right decision, or if I wanted to move somewhere where I could still easily fit into a community. I went in that direction, and it's proved to be the better option.
AD: Ever go down to the Grey Eagle?
Avey Tare: I have been there. The last concert it seems like I'll see for a while was at the Grey Eagle. It was Tom Constanten who played with the Dead in that late '60s period. It turned out to be his first and last set of the tour because it was right when everything started getting canceled. I was lucky that I caught it. They were just playing the Dead's set at Woodstock, and it was basically just like seeing a Dead cover band, but I'm glad I got to see him. With the Dead crowd, everybody's in it. That's the energy I'm craving now. Something friends and I have been doing is deciding on a movie to watch and pressing play at the same time, and then texting and briefly video chatting about the movie. Once we watched the original Pink Panther. Another group we watched Romancing the Stone.
AD: Oh man, such a classic.
Avey Tare: It was one of my favorite movies growing up. Eddy Grant from The Equals does the theme song to it. It's a deep '80s dance jam.
AD: I watched Princess Mononoke the other night and found it particularly moving considering all of these images online of animals returning to urban areas while humans are stuck inside. Where does that rank in your Miyazaki list?
Avey Tare: It's definitely up there. Top five. That and Spirited Away are like the intro movies for me. In that sense, it's usually the first things that really knock your socks off and that you remember and cling to. My Neighbor Totoro definitely. We just saw Howl's Moving Castle in the theater. I was told once when I went to Japan that the island, Yakushima, was a big influence on him. It's where all these huge cedar forests are, and it's a small Japanese community living on this island. I was told the flora and fauna of that island were a big influence on him. I went there and stayed, and it's an amazing place. You see how the trees turn into these different creatures and can see how he came up with all the stuff. It's pretty amazing.
AD: One thing that's come to define your music is your visual aesthetic and collaborations, particularly with your sister Abby. What was your first work together?
Avey Tare: We've kind of always worked together, in some sense. We've been close. At a lot of times during our lives, we were each other's best friends. When our parents would take us on vacation for weeks at a time, we only had each other to hang out with. Part of passing the time when our parents would be doing other things was to make things together. Part of our playtime was often creating different things, whether it was a weird fantasy scenario where I could be a villain or something. It always involved us creating some sort of imaginative creative aspect. In that sense, we've been collaborating forever. Then, when my sister went to Parsons, she had to do her first art show, and she asked me to do the soundtrack to it. That was the first time that it was ever talked about that it was like Abby does visual arts, and I'm making music. I'll do what I do, and you do what you do. We'll see if we can do something together. I ended up making one long song for that, and it ended up on the first thing I put out on Fat Cat.

AD: What kind of traits do you look for and admire in a collaborator?
Avey Tare: For the ones that have been around for the long haul, there's ones with Animal Collective that we just consider part of the Animal Collective family now. A lot of it comes from being close friends and getting along really well. The collaborators and musicians that I started getting along with really well and playing with in my New York days like the Copelands, Black Dice, people in Gang Gang Dance, Brian Degraw, Danny Perez visually, my sister – they're just people I feel close to and get along with them as much as a person as a musician. That for so long was kind of my doorway into making music with people. I had to feel comfortable, like I could hang out with them. We had to have the same jokes or like the same movies. I lived with Eric Copeland and was friends with him for a couple years before we ever jammed together. It was the circumstance of living in the same apartment. Like we don't have anything else to do, why don't we try to make a song together? We both enjoyed it and it worked. It's really just that. It's grown into recognizing a special personality in people. I usually gravitate towards musicians and artists that have their own voice and aren't afraid to speak their own voice. They let that shine and let it shine through what they're making. That's why, whether it's with me or Animal Collective, when we work with somebody, we usually leave it up to them. We want them to do their own thing. That's why I'm working with that person. They do something that affects me for what it is, and I don't want to try and change that at all, or make them feel like they need to gear it towards me or what I want.
AD: One of the most singularly defining bonding experiences I've ever had was getting stoned with my friends and watching Oddsac twice in a row when we were in high school. Can you recall a similar mind-blowing moment with the guys in Animal Collective?
Avey Tare: It's a small selective group of people that enjoy that experience. That's exactly why I make the stuff that I do. It's those experiences. I've had a number of those experiences, but one I can recall that's so crucial to me was seeing The Shining with Brian in high school. We were on mushrooms, and it had such an effect. I had seen it before, but he hadn't. He'd read the book. He really didn't know what he was getting into. It affected him so much that he was like, "We need to start that again and watch it." By that point it was 5 or 6 in the morning, and the sun was coming up. I don't think we even made it through that second time, but it had a profound effect on us and pointed us in a direction. It kicked up conversation on art and making things and emotion. We hadn't even begun to start talking about Animal Collective. We were talking about the effect we wanted music to have on people, and the effect that movie had had on us – comparing the two. I'm happy when I hear that kind of stuff because it's important for people to have those. It pushes you in a direction. That's kind of how we spent our time when we were in high school. We weren't really big partiers. It reached a point in 10th or 11th grade where aside from skateboarding, playing guitar was how I wanted to spend my time. We had those experiences all the time. I remember we would all bring different stuff to the table when we were sitting around listening to music. Because me and Brian were in the same grade and had classes together and spent so much time together, our tastes seemed to be the most similar. In that sense, Josh and Noah – that was how we got to be friends with them in high school. They brought different things that they liked that we weren't into. I remember one night, Noah played us Music for 18 Musicians by Steve Reich. We might have been tripping that night. I can't remember. But finding the frequency of that record.
AD: I remember watching Pink Floyd: Live at Pompeii in high school, that was a similar mind-blowing experience.
Avey Tare: That's interesting that you bring that up because my girlfriend and I have been trying to watch a live concert every weekend to keep that vibe alive somehow. I've been asking people for recommendations. Another friend reminded me that Pompeii would be a good one to revisit. It's been a while.
AD: What can we expect from the new Animal Collective?
Avey Tare: It's crazy because it just goes to show you how time is moving and changing now. In January even, I would have been able to say one thing about it, but I'm so affected by my immediate situation and where I am and how I'm feeling that I feel like that stuff – We have 17 new songs that we're messing around with, or at least that's where we left off. We had a jam session in January to keep working on some stuff because figuring out studios and the way we wanted to go about recording the new record was taking a little bit of time. We just wanted to keep playing and working on new music. We're working on a lot of music, and we're really psyched about it. It's just a matter of figuring out how we can actually record it. In a certain sense for us, it's more depressing and debilitating than having a tour be canceled. We have all this creative energy bound up. We're used to living in the moment, and when stuff is fresh, getting in there and recording it. This is a test of our ability to hold onto the energy of certain music and sounds. We toured a bunch of the songs last October when we played Desert Daze and some other shows. It was really fun, and the crowds were responding really well to the new material. We're feeling really good about it. It's really fun to play live. Hopefully, as soon as we can get together, we can figure out ways of sharing it with people. Right now, it's hard to say where it will go. I'm constantly reacting to what's going on. That means songs could change. That song that we were playing in October that sounded one way could totally have a different feeling by the time we get into the studio.
Help directly support Aquarium Drunkard via our Patreon page. As we're not backed by any corporate goblins, your support will help keep an independent cultural resource alive and healthy in 2020 and beyond.