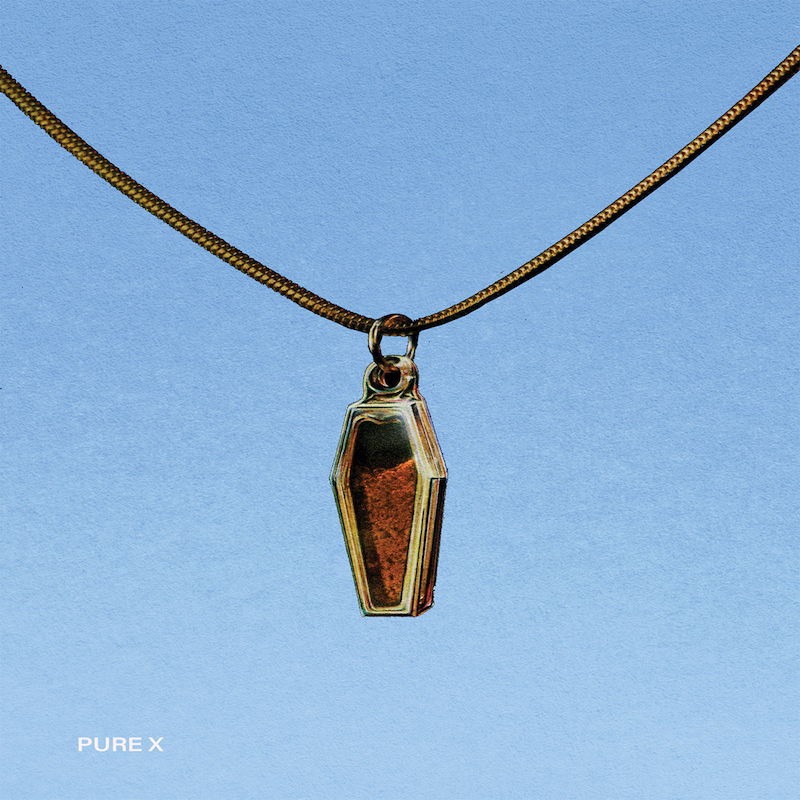 In the first half of the previous decade, the Austin-based psych outfit Pure X crafted three near-perfect rock records. Their taste for hazy guitars and shifting rhythms set them comfortably in the post-bedroom scene of the period, but what set the trio of Nate Grace, Jesse Jenkins V, and Austin Youngblood (with frequent accompaniment by Matt Tommy Davidson) apart was a rapid and robust sonic development. This four-year run—from the shoegaze surreal of 2011's Pleasure, to the gothic song cycle of 2013's Crawling Up the Stairs, to the caramelized Americana of 2014's Angel—marked them out as a band in constant search of their sound's outer limits; one who challenged its fans' devotion, and earned it back again with interest.
And then, as though over the Texas horizon, Pure X disappeared. No one with an understanding of the economic landscape for independent artists (of this or any other moment) required much detail to fill in the blanks. An intimate if understated solo release from Jenkins in 2017 only served to drive home the impression of Pure X as a great lost act of the decade, one of a handful of bands whose unrealized potential might have arranged rock around itself—if not more perfectly, at least differently.
It's for these reasons (and other, more immediate ones) that the arrival of their self-titled fourth album is such a welcome surprise. Less surprising, though just as welcome, is its sonic disposition, a mellowing of the contrast between the band's previous phases that amounts to a reintroduction, as well as a reset. The restless, romantic energy that undergirds all their work, here, floats gracefully into focus. This is Pure X, pure and simple.
Which isn't to say unrefined. Twelve deceptively breezy tracks flicker and swoon like the air around molten steel, the product of the Grace-Jenkins songwriting partnership, now so well-honed it feels effortless. "Middle America" opens the album with the come-up of a hallucination: drum brushes over warm jet-engine guitars, Grace painting a broad canvas with a scattering of lyrics—a climate and a culture strangling itself, and a decision made midway along the journey of life: "Gonna start back to singing, / Gonna quit this living out on the run…"
From middle America we find our way quickly to the cosmos, typified on side A by the bubblegum incantation "Angels of Love," sung by Jenkins. Both he and Grace are gifted vocalists, but it's Jenkins' upper register that gives his by and large more sentimental compositions their soul.
A steady pulse runs throughout Pure X, a game of tension and release between whirlpools of melancholy and eruptions of bliss. Where the album comes up short, and where fatigue can set in, is where the boundary between the two goes slack. Try as I may, I still struggle to pick out "How Long" on the album's back half and, for a band who never pulled punches on a closer, "I Can Dream" isn't quite lovely enough to avoid unfavorable comparisons to U2's "One." Even these lesser tracks, however, don't draw away from the larger emotional texture.
Otherwise, the album is generally populated with gauzy ear candy, like Grace's hypnotic "Man With No Head," and Jenkins' galloping "Stayed Too Long." Pure X bears a natural resemblance to its most recent predecessor, overlaying a subtle but sophisticated rhythm section with the dynamic interplay of reedy acoustic and distorted electric guitars. Aside from the opener, lyrics pointing to love and ragged desperation are largely, and deliberately vague, from a group who have long outgrown pretension, and prefer their expressions unadorned. "I forgive myself, / For how I hurt myself," Grace sighs on "Here in Hollywood," a mixture of guilt and affirmation that reaches for the archetypal through piercing happy-sad prettiness. Such are the riches to be found in the dimestore of human experience.
Nowhere is this clearer than on the album's centerpiece, the Jenkins-sung "Fantasy," a torch song that could be ripped from the Phil Spector songbook. Pure ecstasy is impossible without something to compare it to, and the aura of some darkness—loneliness, addiction, obsession—has always swirled in the backdrop of even the band's brightest songs. But for Pure X, the most intoxicating force is music itself, a mirror in which it is possible to lose oneself, gloriously, desperately, and perhaps forever. Jenkins fixes his eyes on a vanishing point, all the more torturously beautiful because he can watch it disappearing: "Living in a fantasy / I know it's died, I know it's died…" his falsetto straining finally, we sense, to convince himself. Still, the temptation remains.
Such elegies make for unintended eeriness in 2020. America, like rock 'n roll, can be seduced by myths of its own destruction. And yet this is the sound of a band once again living for its music. What Pure X is bearing witness to, unmistakably, is its own will to rebirth. words / r meehan
Do our mixtapes, features, interviews, essays, and original sessions make your listening life better? Help us continue doing it by pledging your support via our Patreon page. Doing so will get you access to our secret stash—including bonus audio, exclusive podcasts, printed ephemera, and vinyl records—and help us keep an independent publication going.