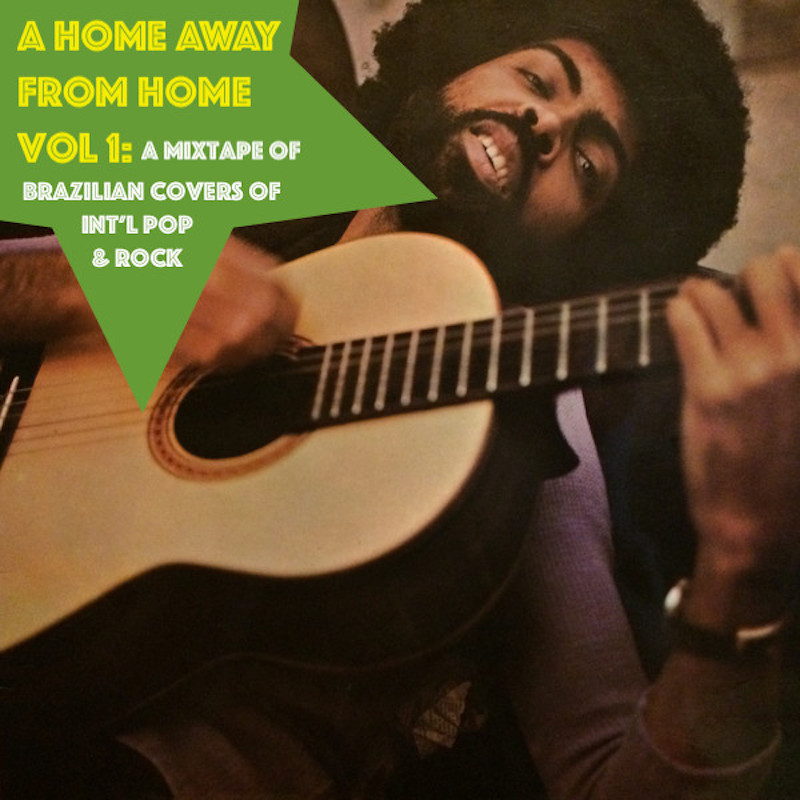 There's something really comforting about a cover song — familiar while still feeling fresh, soothing and confounding at the same time. As a collector and lover of Brazilian music and music inspired by Brazilian sounds, I pulled together a (nearly) two-hour mix of some of my favorite Brazilian covers of international (read: American and U.K.) pop and rock hits, mostly from the late sixties through the mid-seventies in terms of the source material. It kicks off with a three song tribute to Bill Withers and half-way through there's a nine-song string of Beatles' covers, because everyone loves the Beatles, especially Caetano. I hope you dig it and keep your eyes peeled for Vol. 2 coming up of Brazilian covers of Soul, Funk and Disco covers as I have even MORE of those. / Allen Thayer


1. Studio Rio Presents with Bill Withers – "Lovely Day" (2014)
Ok, technically NOT a cover, but I wanted to give some love to Bill Withers (RIP) and I do love this remix/re-edit/re-recording. Don't be fooled by the god-awful artwork and inexcusable lack of notes about who is playing these instrumentals, because Studio Rio Presents: The Brazil Connection is actually quite good. An all star team of bossa nova era musicians, including Marcos Valle and Roberto Menescal, recreated instrumental tracks to fit iconic acapellas. Having listened to this version so many times now, I forget what the original sounds like.
2. Sivuca – "Ain't No Sunshine" (1973)
Long-time Miriam Makeba music-director and musical polymath, Sivuca, recorded this Brasil '66-styled take on Bill's iconic hit in the U.S. with a mostly American band. A perfect cover if there ever was one, familiar yet radically reimagined. I just rewatched the fantastic documentary Soul Power (2009) last night and noticed Sivuca on stage behind Miriam Makeba (he was her bandleader for over a decade) who shared the bill with Bill.
3. Walter Wanderley – "Just the Two of Us" (1981)
From Wanderley's final album, a groovy instrumental take on Bill's collaboration with Grover Washington Jr. I can't get enough of his little staccato organ stabs (at 9:00) that hint at the B-3 bossa coming your way.
4. MPM Propaganda (Erlon Chaves) – "Tatuzinho e Leite Glória" (1972)
This one is a fascinating record given to me by Ed Motta (he had doubles) made by a Rio de Janeiro marketing firm with sample jingles. This one is played, arranged and sung by Maestro Erlon Chaves where he kinda reimagines "Rubber Ducky" from the Quincy Jones soundtrack $ released earlier the same year.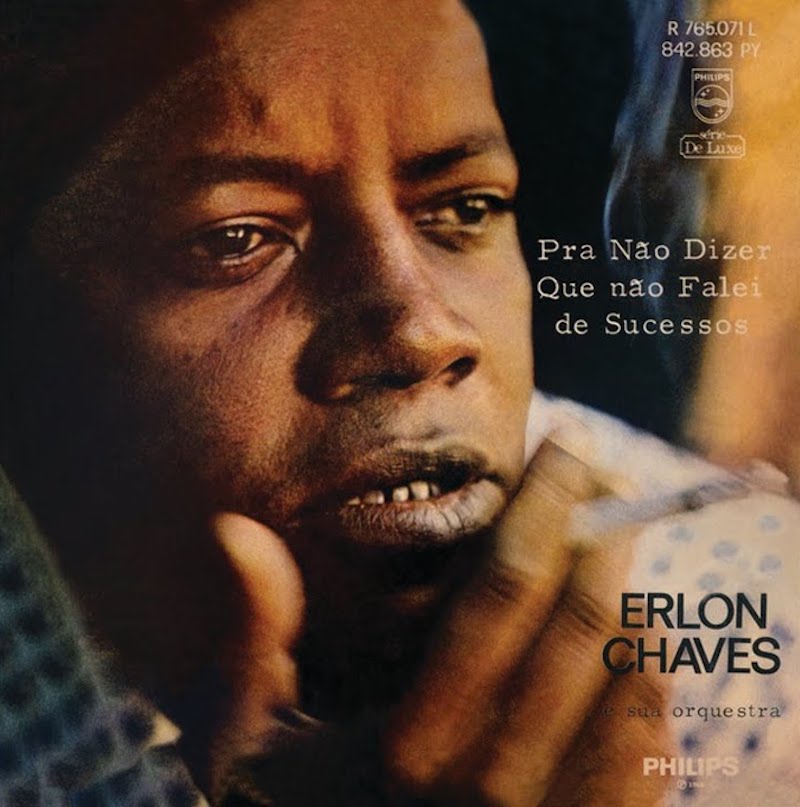 5. Erlon Chaves – "I Say A Little Prayer" (1968)
Erlon Chaves was basically the Quincy Jones of Brazil, a successful Afro-Brazilian composer, arranger and bandleader who did not shy away from the soul and funk trends coming out of the U.S. This album is easily one of the earliest examples of soul music made in Brazil, a couple years before Tim Maia made his break. Here he reinterprets this tune made famous by Aretha as a bombastic samba soul number.
6. Elizeth Cardoso – "Primavera (We Could Be Flying)" (1972)
Cardoso is often referred to as one of the greatest voices to come out of Brazil. She was the first person to sing the first bossa nova song, "Chega de Saudade" in 1958 backed by João Gilberto and Tom Jobim. Here she takes on the Michael Colombier/Paul Williams composition first recorded by the lead vocalist from Sergio Mendes & Brasil '66, Lani Hall on her first solo album from the same year. If you don't know the lyrics, it's about spring (primavera): "There'a a feel that comes in Spring, a touch of hope, a new beginning." How about that for full-circle? Oh, and Erlon Chaves is the bandleader and arranger here, too.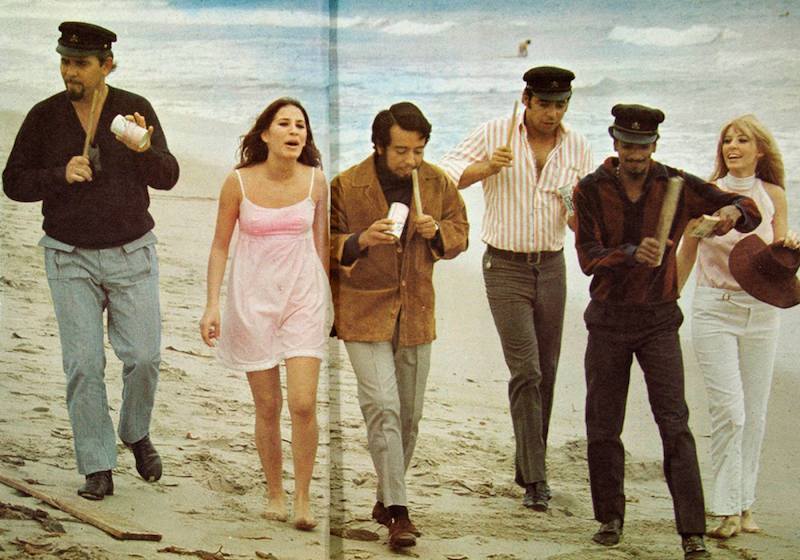 7. Sergio Mendes & Brasil '66 – "Scarborough Fair" (1968)
Of course there would be some Sergio Mendes inthamix (and there's more coming . . .) as the undisputed maestro of brazilian interpretations of international hits. Dave Gruisin on the lush and spare arrangements and when you hear Sergio's Fender Rhodes solo you're reminded he was going ivories-to-ivories with the best piano players (as a teenager!) in Rio at the dawn of the same decade.
8. Zimbo Trio – "Bridge Over Troubled Waters" (1971)
Founded in 1964, São Paulo's Zimbo Trio is the longest running samba jazz trio in a very crowded field. These guys never fail to deliver dynamic interpretations of Brazilian and here, from their "crossover" album, a lovely take on an American pop hit, this Simon & Garfunkel chestnut.
9. Nara Leão – "Pai e Filho (Father & Son)" (1971)
Truth be told, this song is the reason for this mix. I love Cat Stevens and I love Nara Leão and "Father & Son" is probably my favorite Cat Stevens song, so I really like this cover. Released on a 4-track EP in 1971 it pairs the "muse of bossa nova", who never recorded a bad record herself and died too soon, with Cesar Camargo Mariano from Som Três and Elis Regina's bandleaders and husband. Nara and Cesar build the song from a faithful folk beginning to a swinging hard bossa finale.
10. Agnaldo Timóteo – "Esse Amor Que Eu Não Queria (A Whiter Shade of Pale)" (1967)
I don't know much about Agnaldo other than to say if you see his records out in the wild and wonder if they're funky, cuz they look like they might be, let me tell you, they are not. But this tune, a Portuguese take on "Whiter Shade of Pale," is perfect in its spare instrumentation of upright bass, drums and B-3 and Agnaldo's tortured delivery.
11. Seu Jorge – "Rebel Rebel" (2014)
The only thing I'll say about this one is that if you've never heard the Brazilian Lou Rawls sing in his own damn language you should pause this mix and listen to these three songs.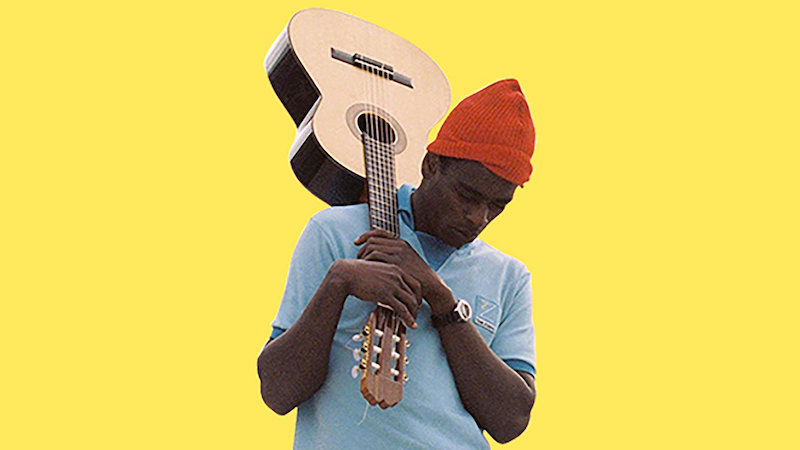 12. Gimmicks – "It's Too Late" (1972)
Swedish pop vocal group? Explain yourself, Mr. The Ambassador! The Gimmicks are indeed from Sweden, but their sound is 100% Brasil '66. Since their first recordings the male-female vocal group has featured Brazilian tunes in their repertoire and for their 1972 album they even recruited Bossa-Jazz Maestro J.T. Meirelles to arrange and play flute and alto sax. Come for the six part vocal harmonies, stay for the sublime instrumental bridge.
13. Gal Costa – "Negro Amor (It's All Over Now, Baby Blue)" (1977)
Gal does Dylan en portugues.
14. Leno e Lilian – "Dias Iguais (Day After Day)" (1972)
Produced by Raul Seixas, this teeny-bopper male/female duo gets a bit heavier and bucolic on this more mature outing. The year before, Leno's solo album got banned for including an earlier version of Marcos Valle's "Jesus Meu Rei (Jesus, My King)" titled, "Pobre Meu Rei (My Poor King)" which hit a little too close to home for the military dictatorship. This Badfinger cover didn't bother the censors though.
15. Salinas – "Atlantis" (1973)
On the heels of Eumir Deodato's runaway success with his jazz-funk version of the "Theme from 2001 (Also Sprach Zarathustra)" countless overblown classical-meets-funk albums flooded the market from all over the world. Daniel Salinas, a talented arranger, conductor and piano player released his first album in 1972 before this one, which was released in Brazil in '73 and then Cadet picked it up and released it in the U.S. in '74. His cover of Jorge Ben's "Tenha Fé Que Amanhã Um Lindo Dia Vai Nascer" is a mutha.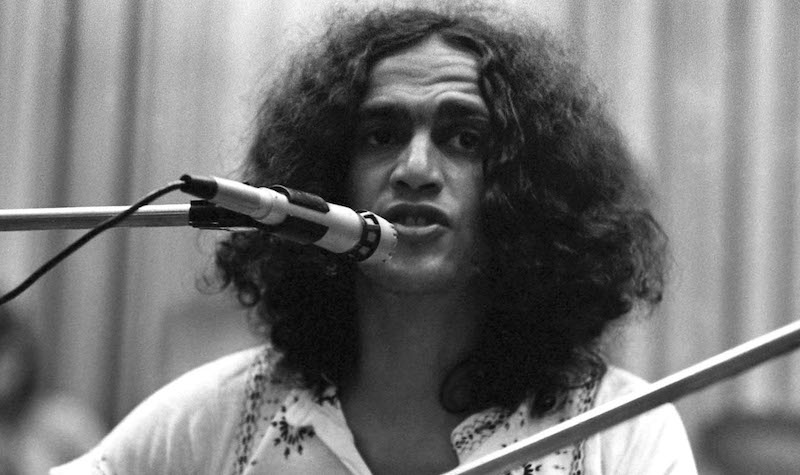 16. Caetano Veloso – "Medley: Nega Maluca/Billie Jean/Eleanor Rigby" (1986)
Caetano loves him some Beatles. For his 1975 album Qualquer Coisa he records three Lennon/McCartney tunes and sequences them all together on Side B and it's perfect. One of those appears later in the mix. I usually hate medleys, but this is a rare exception with it's seamless transitions between otherwise incongruous songs. Caetano's taunting, spare, brooding and sexy version of M.J.'s "Billie Jean" is the real star here, but the "Eleanor Rigby" coda kicks off our nine-song Beatles run.
17. Bola Sete – "Polythene Pam/She Came In Through The Bathroom Window" (1971)
Supposedly the only other guitar player that John Fahey deemed worthy of taking a lesson from, Bola Sete gets overlooked too often among the Brazilian guitar greats of which there are many.
18. Elis Regina – "Golden Slumbers" (1971)
I can't think of many other international pop hits that Elis tackled and she rarely sang in English, better known as a masterful interpreter of modern Brazilian compositions from bossa nova through M.P.B. before her premature passing in 1982. This just goes to show how influential and ubiquitous The Beatles were in Brazil (and everywhere) at this time.
19. Bossa Rio – "Blackbird" (1970)
Sergio Mendes took a page out of the James Brown playbook with Bossa Rio when he started a second touring band in a very similar style as Brasil '66, but recording different Brazilian and international hits. The group, which acted like a farm league for Brasil '66, at times included João Donato, Manfredo Fest, Pery Ribeiro, Ronnie Mesquita and future Brasil '77/'88 and beyond lead vocalist and Sergio's wife to this day, Gracinha Leporace.
20. Sergio Mendes & Brasil '65 – "All My Loving" (1965)
Little known single on Atlantic by what sounds like the same incarnation of the Sergio Mendes Trio that released the best bossa nova album recorded in the U.S. (yep, I'll put it up against Getz/Gilberto). This is Brasil '66's Rosetta Stone, Sergio's alchemy that combined masterful bossa-jazz with excellent song selection from the deep well of Bacharach, Lennon/McCartney and others, delivered by seductively accented female vocals.
21. Caetano Veloso – "For No One" (1975)
Caetano makes the Beatles feel right at home in this seventies sunken living room key-swapping, latin-lover soiree.
22. Rita Lee – "And I Love Him" (1970)
Os Mutantes front lady from her debut solo album. I never thought of this song as creepy, but Rita gives the tune some serious stalker vibes.
23. Sergio Mendes & Brasil '66 – "With a Little Help From My Friends" (1968)
Don't sleep on Sergio. Almost every Brazilian percussionist of note (that made it big in the U.S.) passed through his bands over the years: Chico Batera, José Soares, João Palma, Dom Um Romão, Claudio Slon, Paulinho da Costa, Laudir de Oliveira, Gibi Dos Santos (basically all but Airto Moreira & Paulinho Magalhães)
24. Edu Lobo – "Hey Jude" (1970)
Sergio again in the background, producing and "presenting" the legendary Edu Lobo on his one-and-only U.S. release. Special guests include Hermeto Pascoal and Airto, just to prove that Sergio was up on this emergent rhythmic renaissance man.
25. Sergio Mendes & Brasil '66 – "Chelsea Morning" (1970)
One of many reasons why Stillness is Sergio Mendes' best album. Supposedly this album was recorded at the same time as João Donato's A Bad Donato in the same Los Angeles recording studio.
26. Astrud Gilberto – "Beginnings" (1969)
From Ipanema to Chicago via NYC with Airto on percussion.
27. Sergio Mendes & Brasil '66 – "For What It's Worth" (1970)
This is the track to play if you want to change someone's mind about Sergio Mendes being "corny." Sergio lays in the cut with his B-3 while Claudio Slon's shaker and kick-drum keep time for Lani Hall's sweetly sinister vocals.
28. Manito – "You've Made Me So Very Happy" (1972)
The vocalist, keyboard, and sax player from yeh-yeh-yeh group, Os Incríveis and Som Nosso De Cada Dia stretches out in a decidedly R&B vein on his solo debut, which also includes a Kool & The Gang cover (see note above about volume two of this mix with all soul, funk and disco covers).
29. The Gentlemen – "Não Sei Quem Sou (Baby, I'm – A Want You)" (1972)
Full disclosure: this one I do not own the original of, but am very thankful for the Mr. Bongo reissue. Like everything else on this record label, Rozenblit, The Gentlemen were from the Northeast of Brazil. This version of the Bread classic is just perfectly loose and soulful.
30. Carmindo Trio – "Goodbye Yellow Brick Road" (1978)
So bad it's good? I think so. #notondiscogs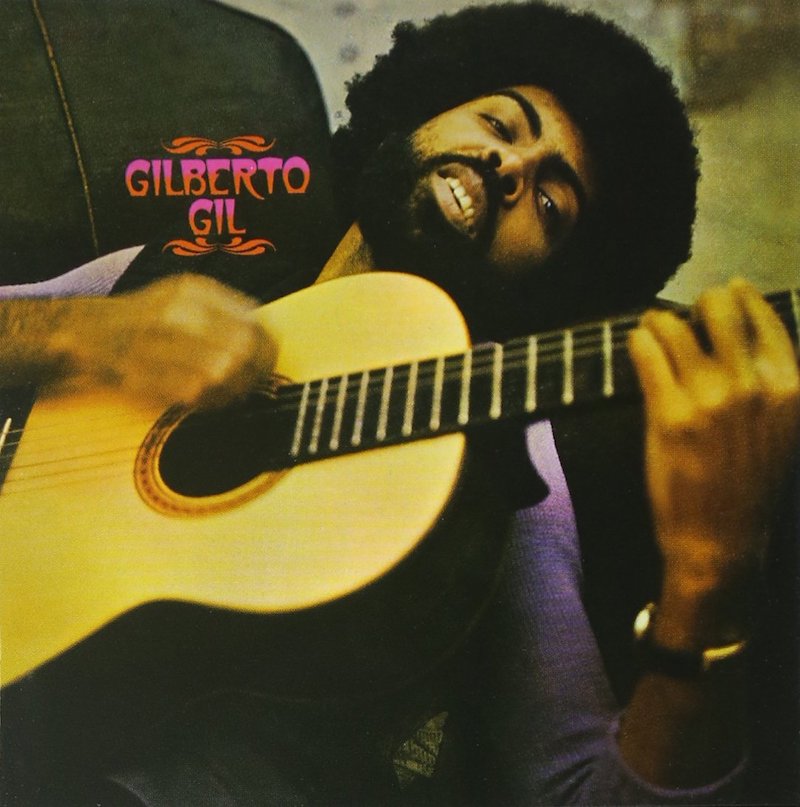 31. Gilberto Gil – Can't Find My Way Home (1971)
From Gil's London album, he takes on this Steve Winwood standard originally recorded by Blind Faith a couple years earlier. The mixtape's image also comes from this album. Like most songs Gilberto Gil deigns to record, he makes it sound like his own composition.
Do our mixtapes, features, interviews, essays, and original sessions make your listening life better? Help us continue doing it by pledging your support via our Patreon page. Doing so will get you access to our secret stash—including bonus audio, exclusive podcasts, printed ephemera, and vinyl records—and help us keep an independent publication going.