In the mid-1960s, the 13th Floor Elevators thundered out of Texas with electrified fury, lysergic vision, and intricate iconography. Led by wild-eyed howler Roky Erickson and bolstered by both the fantastic imagery and amplified crock-jug of Tommy Hall, the Elevators were among the first rock & rollers to label themselves psychedelic, and the term applied on all fronts: musically, visually, and spiritually. Antiquarian bookseller and author Paul Drummond's new book 13th Floor Elevators: A Visual History gathers together a wealth of materials, including photos, press clippings, show flyers, television stills, and legal documents. Assembled together—and paired with writing by Drummond and missives by editor Jon Savage and Nuggets producer Lenny Kaye—this archive illustrates the intensity of the Elevators' collective journey.
While Drummond's 2007 book Eye Mind offered a "straight prose biography" of the Elevators, Anthology Editions editor Mark Iosifescu says Drummond's media archive made perfect sense for a new book. "Paul Drummond has been researching and writing about the Elevators for more than two decades, and in that time he accumulated most of the extraordinary collection of material that's featured in the book," Iosifescu says. "In view of that wealth of imagery…we knew from early on that this book would be oriented toward the visual."
A writer and musician himself, Iosifescu joined Aquarium Drunkard to discuss bringing the mind-bending saga of these Texas psychedelic architects, proto-punks, and honest-to-God-outlaws to life. words/j woodbury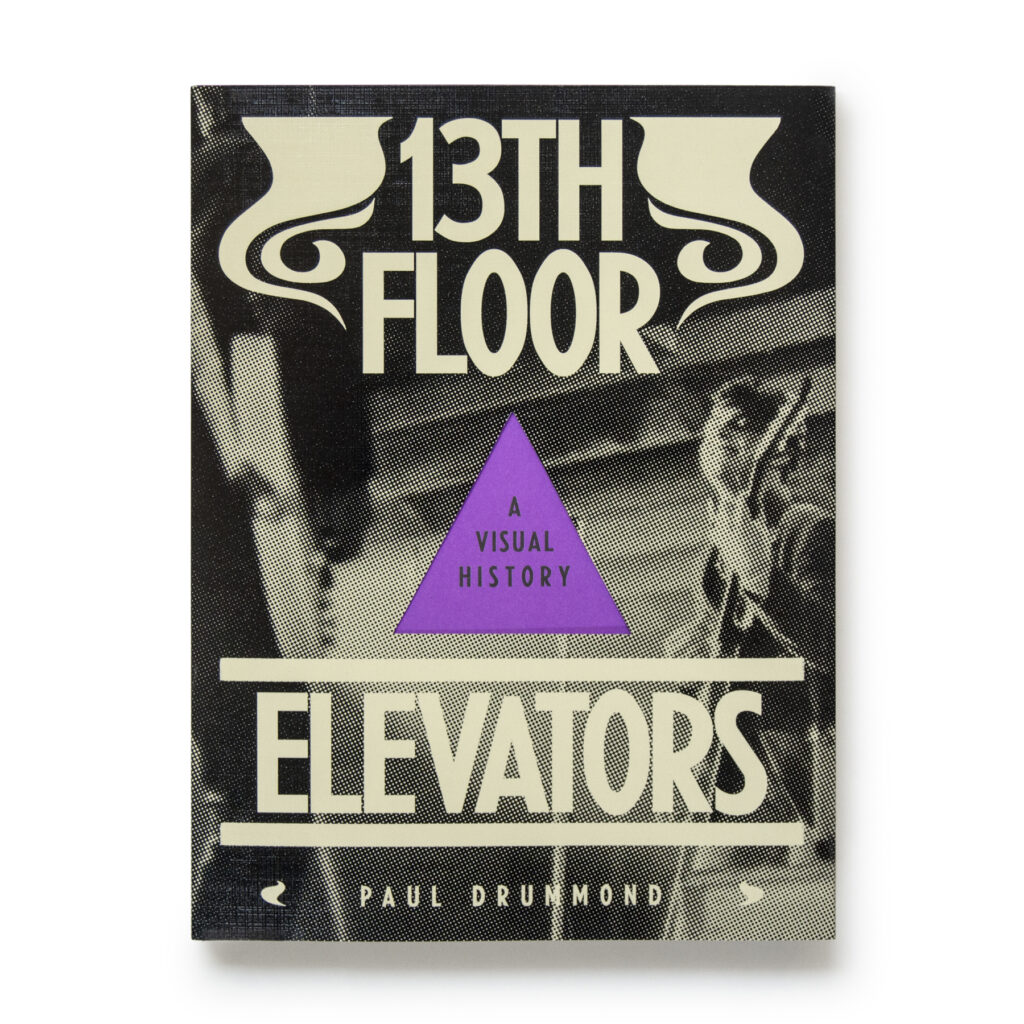 Aquarium Drunkard: This is a really incredible collection of images and writing. How did the team go about procuring these photos, show art, flyers, comix, and paraphernalia? Are is all this material being kept together as an archive?
Mark Iosifescu: Yeah, Paul Drummond's collection of Elevators material is being maintained as an archive. Any other imagery in the book was sourced either from friends and contemporaries of the band, or else licensed from groups or institutions (like, for instance, the Austin Police Department).
AD: The band's iconography is extensive—the pyramid and the eye, the lysergic color schemes. How important was Tommy Hall and artist John Cleveland's work to the band's overall identity?
Mark Iosifescu: Oh yeah, John Cleveland's art, from the pyramid that appeared on an early business card to the cover of the Psychedelic Sounds record, determined the whole Elevators look and feel, and that's remained the case pretty much to this day. But the ideas for all of that stuff came, at least in large part, from Tommy. All of the cosmology, the symbolism in the visuals, etc., it was all part of his vision of the band as an extension of the psychedelic experience, which continued through the artwork for Easter Everywhere.
AD: What conditions were unique to Texas in terms of the 13th Floor Elevators' formation there? Do you suppose that Roky and the band could have come up any other place and still had such a wild element to their sound?
Mark Iosifescu: The fact of the band being from Texas cut both ways. On the one hand, it's totally true that there's something very Texan about the Elevators, the mix of genres and sounds; Jon Savage's introduction to the book points to some Buddy Holly influence in Stacy Sutherland's guitar playing, and there's also the addition of Tommy's jug, which, while not strictly Texan, certainly has an American blues connotation. Like, I'm not sure the Elevators would have had that sound if they'd been from L.A. or London or whatever. But on the other hand, the band members (mainly Tommy) were openly and resolutely preaching the use of acid and other psychedelics in mid-'60s Texas, which was as conservative and oppressive a backdrop as could be imagined for this stuff to be going on in, and as a result, the band members were harassed, jailed, and vilified on a continuous basis. So the Texan factor was far from all positive.
AD: The Elevators took hold of the descriptor psychedelic; in his forward Lenny Kaye says the band itself was "the true psychedelia." In the present day, psychedelic rock is common place, but this book gives a true sense of the outlaw culture that the band was part of—and in some cases, inventing. Does that sense of danger, for lack of a better world, inform the art?
Mark Iosifescu: I think it's inextricable, although when you really get into the story's deeper, more tragic dimensions, some of the romance is lost. There's this idea of suffering for your art, and then there's what happened to the Elevators, which in some cases was a sort of needless, gratuitous suffering. Their music was once-in-a-lifetime unique and special, but they also were victims of bad decisions, a total lack of support or guidance, and just rotten luck. At a certain point you find yourself wishing they could have gotten out of their own way as outlaws or whatever and become the great band they seemed destined to be.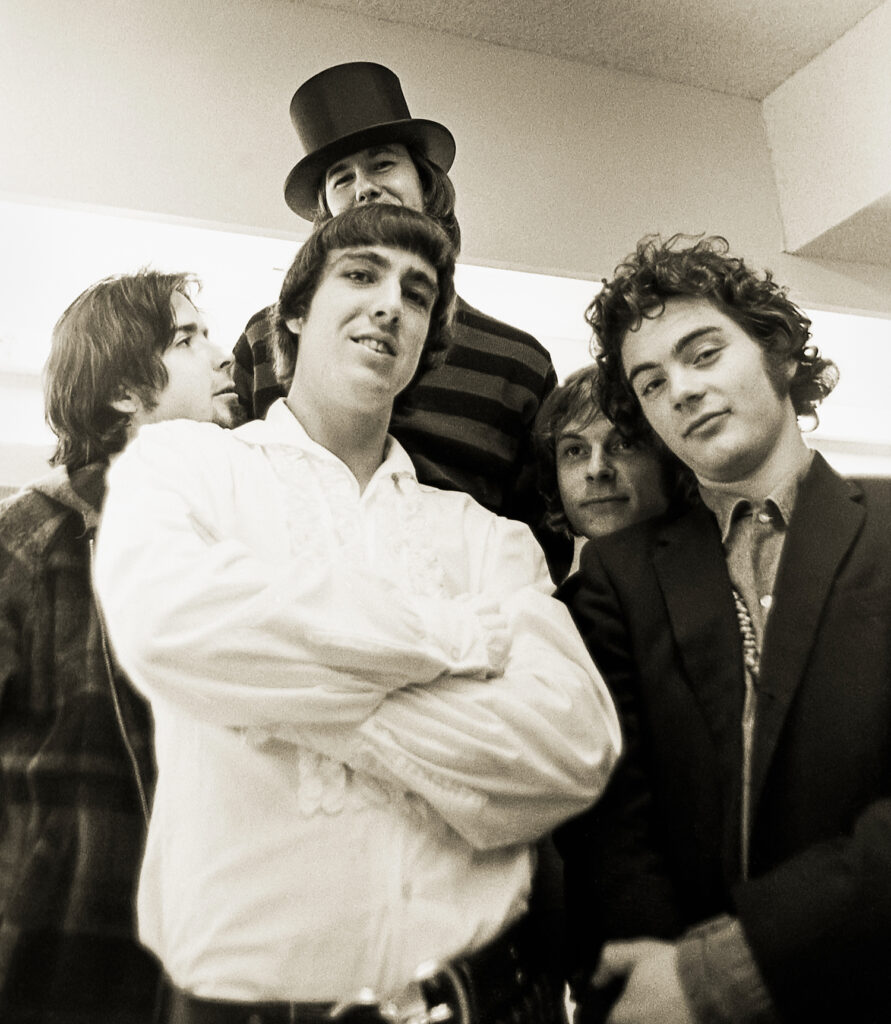 AD: It's easy to glamorize that kind of behavior, but this book doesn't shy away from the trouble, personally and legally, that those who ran in the 13th Floor circle faced down. Do you feel like that "informed paranoia," which is referenced regarding the band's travails, contributed to the desperation or unhinged quality of the records?
Mark Iosifescu: It's certainly audible on the records in the sense that the songs were recorded under deeply hallucinatory circumstances, or left unfinished because of label hassles, or rushed through while the cops were outside questioning Tommy Hall about the "meditating" he claimed to be doing outside at 3:00 in the morning, which is something that happened during the recording of Psychedelic Sounds. But yeah, the "informed paranoia" idea is a perfect encapsulation of the Elevators' bind: they were right that the cops were after them, but they were also loudly and clearly announcing their outlaw extralegal status, constantly—basically, they were asking for it. An Austin police captain sums it up in the book: "The squeaky wheel gets the grease." There's also the extremely apt quote from Thomas Pynchon, an admitted Roky Erickson fan, something along the lines of: "Paranoids are not paranoids because they're paranoid, but because they keep putting themselves deliberately into paranoid situations."
AD: The Elevators made a big splash but didn't last long. Yet they lived on as one of rock & roll's great cult acts. What gives this band such staying power?
Mark Iosifescu: I think the wildness you noted is a big part of it, the mix of psych with the raw garage band feel, basically proto-punk. Obviously on the psych end, the Elevators very quickly influenced the big wave of San Francisco kinda hippie psych bands—they had been in the Bay Area during summer 1966, so they were a year too early for the so-called Summer of Love, and by the time all those bands were taking off, the Elevators were back in Texas falling apart. But in some ways their appeal outlasted that of those other bands, because they didn't quite fit anyway, and when fans and musicians in the '70s and later looked back on their brief career—via Lenny Kaye's Nuggets compilation and other retrospectives—they saw something really inspiring that leaned into the future. And, ultimately, I think the music, at its best, is some of the most lifechangingly great rock and roll ever made.
Do our mixtapes, features, interviews, essays, and original sessions make your listening life better? Help us continue doing it by pledging your support via our Patreon page. Doing so will get you access to our secret stash—including bonus audio, exclusive podcasts, printed ephemera, and vinyl records—and help us keep an independent publication going.