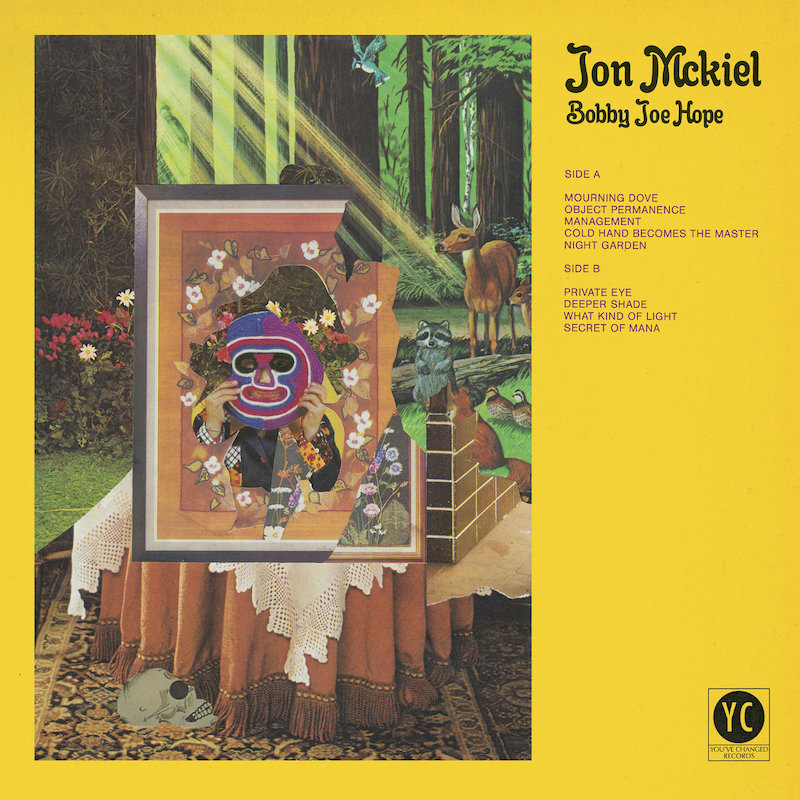 A few years ago, the beloved Canadian musician Jon Mckiel bought a used Teac reel-to-reel tape recorder, tapes included, from an online seller he never met. The first time he tried out the machine at home, he discovered a wonderful surprise: one of the tapes contained a wealth of instrumental snippets from a previous, unknown source. He nicknamed it the Royal Sampler and began to jam with his new ephemeral bandmate. Bobby Joe Hope is the end result of this unconventional collaboration—a homespun cut-up as psychedelic and serene (with occasional glimpses of darkness) as the Paul Henderson collage that adorns its cover.
Bobby Joe Hope was recorded during the summer of 2019, with one overarching design principle: even in the songs organized around Jon's own samples, the stranger would be woven in. A mutual understanding between ghosts. On standout tracks like "Mourning Dove" and "Management," McKiel effortlessly captures a sun-baked and slightly woozy groove not unlike a perfect late morning high. "Cold Hand Becomes The Master" broadens the palette, pairing McKiel's propulsive finger-picked guitar with a Raymond Scott electronic trickle. "Night Garden" and "What Kind Of Light" bring a darker (and more conventional) sort of incidental musical collage, while "Private Eye" takes a strutting bassline out for a moonlight walk. But "Deeper Shade" is the true highlight here—all stately and bright before unfurling upon itself.
For the most part, it's impossible to pull the stranger's fragments from Jon's own, but it doesn't matter. Bobby Joe Hope is all in service of the greater whole—an unlikely masterpiece bringing together two disparate talents and their fleeting impulses. The clues were all there in the album's first moments: "I fell asleep in your beautiful dream." | k. evans
Aquarium Drunkard is powered by its patrons. Keep the servers humming and help us continue doing it by pledging your support via our Patreon page. For heads, by heads.