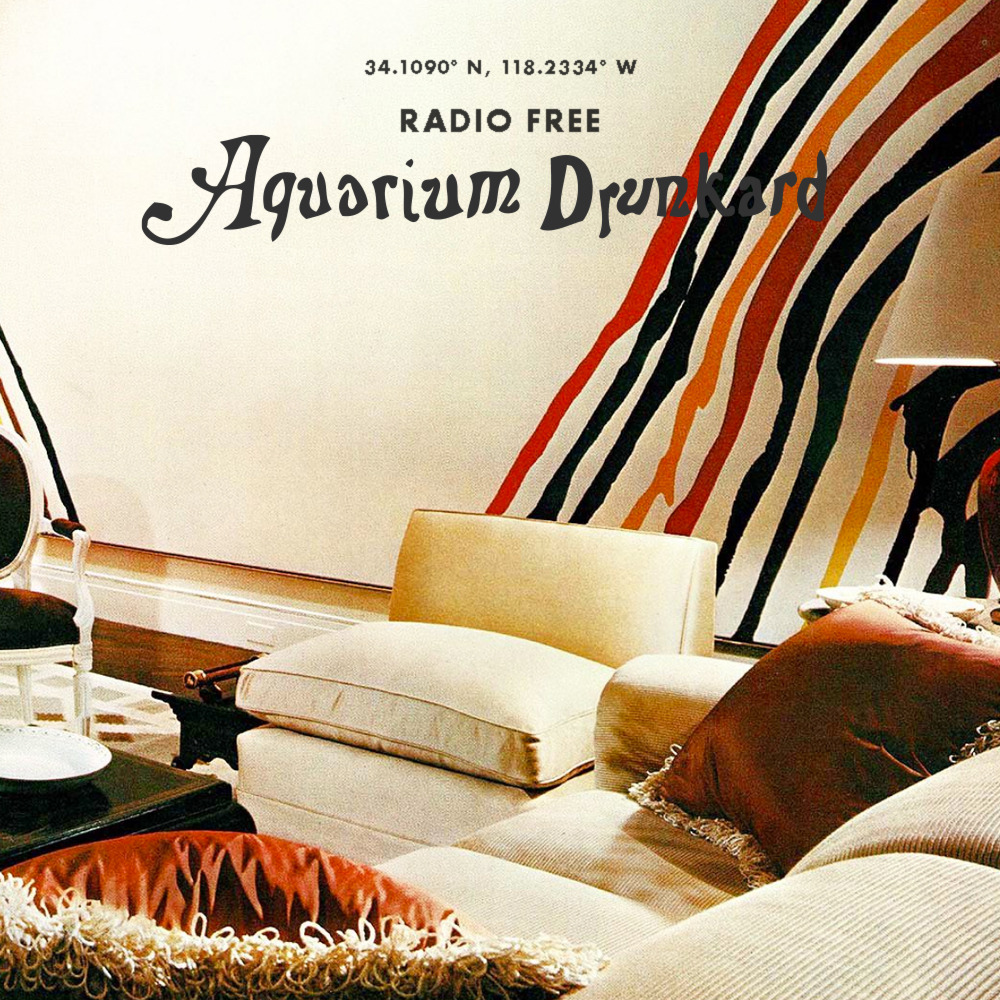 On July 19, Radio Free Aquarium Drunkard recommenced with a four-hour block of programming aired via our new home, Dublab. Kicking off with a set by AD founder Justin Gage, the broadcast featured the return of RFAD shows Range and Basin, Doom and Gloom from the Tomb, and Personal Sky. Future episodes will air every third Sunday of the month and feature guest spots from friends, confidants, spacial appearances and more.
RFAD's July broadcast is now archived for streaming at Dublab. Individual shows are available for Patreon supporters. We'll be back August 16th, with the return of The Tonight Zone and special guest William Tyler.
Justin Gage, opening set: [RFAD Intro] ++ Parsley Sound – Ease Yourself And Glide ++ Jon McKiel – Mourning Dove ++ Orions Belte – Le Mans ++ [UFO scene check, 1978] ++ Daniel Romano – All The Reaching Trims ++ Drug Cabin – Handsome ++ Robert Wyatt – Pigs (In There) ++ Sven Wunder – Black Iris ++ [UFO scene check, 1972] ++ John Andrews & The Yawns – Relax ++ Cotton Jones – I Was Stoned By The Choir ++ Matt Valentine – Continuing The Good Life ++ Fruit Bats – Coal Age ++ The Cave Singers – Man In Hotel Room (Demo) ++ [John Titor on the real value of Time Travel] ++ Modern Nature – Harvest ++ John Frusciante – Skin Blues ++ Quilt – Cowboys In The Void ++ Reverend Baron – Is It True? ++ Allah-Las – Mulberry Jam ++ [The Night The Saucers Came] ++ Help Yourself- Old Man
Jason P. Woodbury's Range and Basin: Sun Ra Arkestra – Seductive Fantasy (excerpt) ++ [Ingo Swann on Astral Projection] ++ The Modern Folk Trio Band – Smokey The Bear ++ Sonny Sharrock – Princess Sonata (Live in Bremen, 1987) ++ Vince Guaraldi – Heartburn Waltz ++ Tuluum Shimmering – Linus and Lucy (excerpt) ++ Bill Fay – I Hear You Calling ++ The Trees Community – Psalm 42 ++ Dana Gavanski – I Talk To The Wind
Tyler Wilcox's Doom and Gloom From the Tomb: Anita Wilkins and Group – One, Two, Three ++ Abdallah Ag Oumbadougou – Thingalene ++ Alice Gerrard & Hazel Dickens –Bye Bye Love ++ Dr. J.K. Sutherland – Neva Tacsim ++ Abba Gargando –I"nor In Tadala ++ Kim Hae Sun – Chinyangjo ++ Pierre Sandwidi–Fils du Sahel ++ Precious Bryant – Going Down to Fannie Mae's ++ Ursula K. LeGuin & Todd Barton Yes—Singing ++ Sosena Gebre Eyesus –Bayenewem Gize ++ Shirley Collins – Calvary Hill ++ Maurice McIntyre –Humility in the Light of Creator ++ Leland Musician – Darlin' Why You Treat Me So ++ Doc Watson & Gaither Carlton, –Handsome Molly ++ Henry Thomas – Fishing Blues
Marty Sartini Garner's Personal Sky: Animal Collective – What Would I Want Sky ++ GAS–Königsforst 4 ++ A. Karavitis & G. Marianos – Kritiki Sousta ++ LSU Tiger Marching Band–Pregame ++ Eddie Harris – Listen Here ++ Dustin Laurenzi – Lament 1 (Bird's Lament) ++ Mamman Sani – Tunan ++ Safe Jazz – Moth's Flight ++ HPRIZM – Another Dream About Jimi ++ Sam Gendel – The Theem ++ Pizzicato Five – Magic Carpet Ride ++ Cornelius – In A Dream ++ KK Slider – KK Cruisin ++ Antonio Carlos Jobim – Children's Games ++ Quin Kirchner– Horizons ++ Tradition – Subaquatic Swerves ++ George Clanton and Nick Hexum – Aurora Summer ++ Tallawit Timbouctou – 3
Aquarium Drunkard is powered by Patreon, which will allow readers and listeners to directly support our online magazine as it expands its scope while receiving access to our secret stash, including bonus audio, exclusive podcasts, printed ephemera, and vinyl records. Your support will help keep an independent cultural resource alive and healthy in 2020 and beyond.