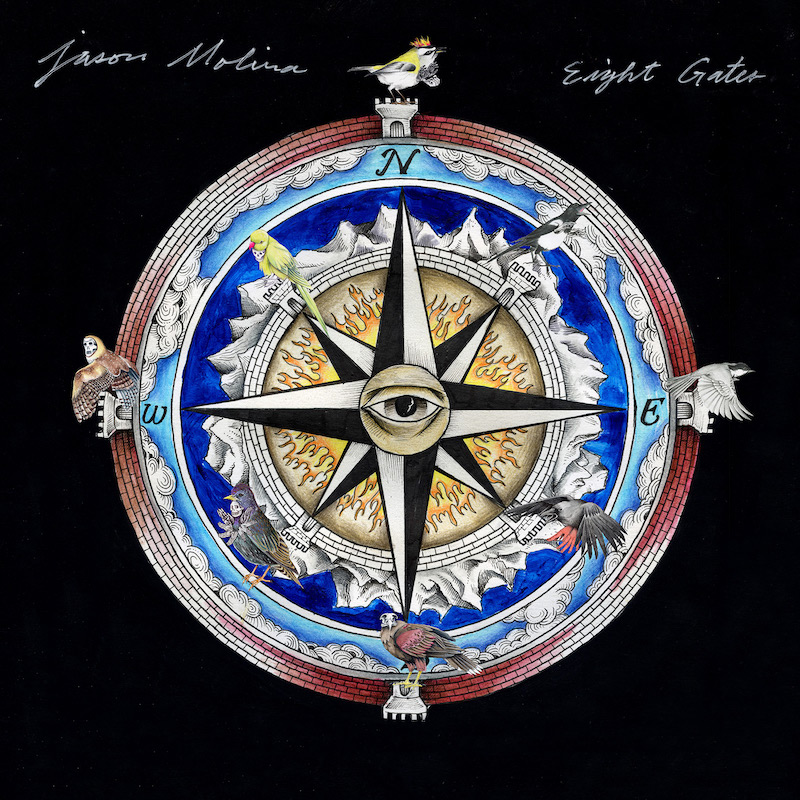 It's been a little over seven years since the untimely death of Jason Molina. Despite his prolific output under a variety of banners, including Songs: Ohia and Magnolia Electric Co., his story still feels like an unfinished one, full of mysterious gaps, especially toward the end of his troubled life.

Eight Gates illuminates one of those dark corners. It's the last collection of studio solo material recorded during Molina's lifetime. Following the release of Magnolia Electric Co.'s Fading Trails in 2006, but before the twin 2009 releases of Magnolia's Josephine and Molina & Johnson, recorded with Centro-Matic's Will Johnson, Molina moved to London and began exploring a new home. The album takes its title from the seven gates in the storied London Wall, originally erected by the Romans in the late 2nd or 3rd century. Upon learning about this history, Molina dreamed up an eighth gate, one just for him, found only in his mind.

Jason Molina :: The Mission's End

"Whisper away the howling universe," Molina sings at the start of album, following field recordings meant to evoke recordings Molina once made of London's green parakeets, imagined descendants of those apocryphally released by Jimi Hendrix back in 1968. "Whisper Away" is one of the collection's most complete tracks, soaked in the language of mythology and sense of terrible awe that inhabits Molina's best and most lasting songs.

Most of the other recordings on Eight Gates are slighter sketches and vignettes, small attempts at understanding the vastness of life and potential incantations against the chaos. "At missions' end is the trembling flame…we're all equal along this path," Molina sings on "The Mission's End," a communique directed to his fellow travelers in the maelstrom.
Though 2006's Let Me Go, Let Me Go, Let Me Go sets a precedent for this sparse tone, there's a looser energy here, attributable to the studio demo nature of the songs, but also the sense that even Molina wasn't quite sure where he was drifting. "What's real is I have no wish," he intones at the close of the aforementioned "Whisper Away," and this sentiment is echoed on album closer "The Crossroad + The Emptiness" when he sings that "though given one, I have no wish." There are only these uncertain paths to follow, uncarved gates to enter, nothing explicit to wish for.

"The perfect take is just as long as the person singing is still alive. That's really it," Molina says to engineer Greg Norman before launching into "She Says" near the middle of Eight Gates. He's referring to his own thoughts about the recording process, but there is a sadness at the heart of the inclusion of this banter for obvious reasons.
Within a year of recording these songs, Molina's struggle with medical issues and alcoholism would lead him to cancel the tour in support of his record with Will Johnson. After that he would only emerge in fits and starts on the internet to tell people he was still around, still sorting through things, even working the land on a farm towards the end, before succumbing to organ failure related to alcohol abuse. Here, at least, he's still alive to sing, the tape still rolling, perhaps without wishes, but not without possibility. | j neas
Does Aquarium Drunkard make your listening life better? Help us continue our independent culture publication by pledging your support via our Patreon page. Doing so will get you access to our secret stash—including bonus audio, exclusive podcasts, printed ephemera, and vinyl records—and help us keep an independent publication going.