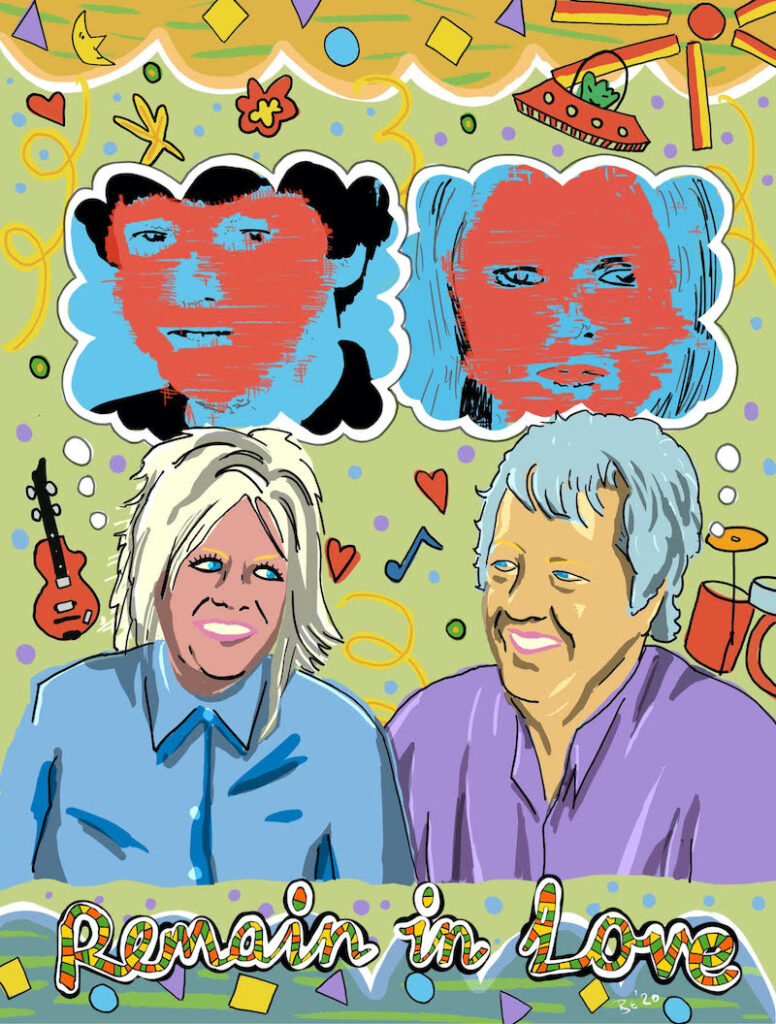 Behind the kit for Talking Heads and Tom Tom Club, drummer Chris Frantz embraced unorthodox approaches. Take one of his Fear of Music classics, "I Zimbra," which found him teaming pairing a sparse hi-hat and bass beat with congas by player Gene Wilder—not that Gene Wilder, Frantz is quick to clarify. "It's basically just a disco beat," Frantz says. "I think for a drummer coming out of CBGB's and all that, that was kind of a different thing to do."
With his new book Remain In Love Frantz continues his search for different approaches. It's a look at his time in Talking Heads and his marriage and creative partnership with Talking Heads and Tom Tom Club bassist Tina Weymouth. He doesn't entirely shy away from rock bio requirements—if you want dirt, it has enough of a dark dusting to satisfy—but it's more a document of extraordinary shows, recordings, and the early days of punk when he, Weymouth, singer/guitarist David Byrne, and Jerry Harrison cracked open the template, building one of the most expansive discographies in all of art-rock history.
Here, writer Rin Kelly speaks with Frantz about the book and his life, paired here with exclusive art by Ben East. Remain In Love is available now wherever you get books.
Aquarium Drunkard: You begin this book describing a show in Rome in 1980, while touring Remain In Light. It that your favorite show ever or is it just your current favorite of the available bootlegs online?
Chris Frantz: It was it was an amazing show. It was my first time ever in Rome. I was there for one night. And that was it, you know? It was phenomenal show, as you just see in the video. I would love to get a copy of that cleaned up properly, get it remastered and everything. It's really well made and very well recorded also.
AD: Yeah, it seems professional.
Chris Frantz: It was Italian national television. It was right [around] Christmas that they aired it. I think the day after Christmas.
AD: You've called your wife and fellow Tom-Tom Head, Tina Weymouth, pioneering bassist and great inspiration to generations who came after, the hero of the book. What makes her the hero of the book for you?
Chris Frantz: When I sat down to write the book, I thought, well, you know, I'm going to take some heat from certain people who are in denial about the reality of seeing us. I knew that was going to happen no matter what I did. So I thought, well, what I'm going to do is find a more positive note. So I said, 'What's a perspective unique to me?" [and I realized I've] only been in a band, but I've also been married to her for 43 years. The romance remains good and love remains very strong. And so I thought to myself, this would be a positive thing to concentrate on, to balance out any kind of other negative feelings.
Tina was, beside being the love of my life, an enormously important part of Talking Heads' sound. Not only that, but she was, quite frankly, a role model. Not just to young women, but also young men that took up the bass guitar after they saw her play. But a lot of people don't know this when they read about Talking Heads. They don't hear about what she did. They don't hear about what Jerry did. From my from my sort of insider perspective, I'm able to reveal certain things. I'm certainly I'm not about to reveal everything. But certain things needed to be told. Other things did not.
AD: It's amazing to see through your eyes: touring while pregnant, playing until her fingers are bleeding all over her bass.
Chris Frantz: You know just how devoted she was to really great stuff.
AD: When does she think she'll be done with her own memoir?
Chris Frantz: Oh, I have no idea. She's very meticulous and it's very early days. You'll have to relax on that and read someone else's book in the meantime.
AD: What was your friendship like with David and Tina when you three were living in a cold-water hell-loft—with many roaches— just three blocks from CBGB? Byrne described himself, as a young man, as being like an anthropologist from Mars. What's a human/alien friendship like, especially when there's no shower?
Chris Frantz: Our friendship was very good. The three of us would go to various events together. You know, sometimes art gallery openings, where you get a free glass of wine and a nice piece of cheese. We hung out at CBGB's together quite a bit.We all three worked up on day jobs on the same street uptown. So we would see each other. I would especially see Tina for lunchtime sometimes, those things, but you know, it was a good friendship. Everybody was supportive of each other.
AD: This book is just overloaded with encounters and friendships with people from all walks of life who are either immensely talented, immensely fascinating, or immensely weird. Or, wonderfully, all three. A favorite series of encounters for me is that when you were still working up at that day job at the furniture store, Kurt Vonnegut came in fairly often. He had a regular uniform with coffee all over it. A duster or something?
Chris Frantz: It was a man's trench coat probably from Brooks Brothers. It always had the same coffee stains down the front. He was he was a super nice guy, though.
AD: Did David Bowie really just show up in your dressing room, fill his pockets with nuts and cheese and just walk away?
Chris Frantz: Well, you know, he was very polite about it. He came in, we had the good cordial greeting. We were getting ready to go onstage and he said, "Are you going to be eating that cheese?' And we said, "No." And he said, "Oh, may I have some?" And so he wrapped it up in a napkin and put it in his pocket. And then he said, "Do you think you're going to be eating those nuts?" We said no, you may have them and said "Oh, thank you," and he wrapped them up and put them in his other pocket. So you know, that was that was our afternoon in Switzerland with David Bowie.
AD: Do you have any other favorite encounters or stories?
Chris Frantz: Well, Lou Reed was kind of a musical hero. Certainly a character that we admired. He came to see us at CBGB's and liked what he saw. We had only been playing for a few weeks, I think, at the time! Not a very long time at all but he liked us. He invited us back to his apartment, regaled us with stories, and ate an entire quart of ice cream in front of us without offering us any of it. And then he wanted pancakes. So we went across the street and he had pancakes. We had the early risers' special, bacon and eggs. Lou was cool.
AD: Who else was a great hangout?
Chris Frantz: Well, there's also, you know, one thing that was pretty exciting, I must say [was] meeting Grace Jones. We met Grace down in the Bahamas when she was recording, and we were recording the first Tom Tom club album. She was she was recording Nightclubbing, I think it was. Anyway, we were working at Compass Point studios. Up there were two studios, we were in one and Grace was in the other with the Compass Point All Stars. Hanging out with her was always something very special and different. She's still an amazing performer, great. One of those people who was super great when she was young, but she's actually improved as a singer and as a performer. Just phenomenal. Wow.
AD: The Talking Heads set out to do something very hard and unique and within only a few years of work, you were there. You aspired to sound completely new and you did. And you did it in an unusually short time, which has to be an inspiration to a lot of people.
Chris Frantz: I think we just had a really good alchemy going on with our band. And we were also very fortunate to be in the right place at the right time, when there was this veritable explosion of young bands coming out of lower Manhattan, CBGB's in particular…but, you know, Patti Smith and Television and Blondie and the Ramones! Lance Loud had a band called The Mumps. There was a band from Brooklyn called The Shirts, and Mink DeVille. All the bands were really good. Wayne County, even The Dictators were interesting. We were very fortunate to be have migrated to New York. We knew it was the place to go, though. We never really considered going to any other city after RISD. Yeah, it was New York. That's where Andy Warhol was and the burgeoning art scene in Soho. We didn't even know CBGB's, but we found out very quickly.
AD: Did you know your place was three blocks down the street from CBGB when you move in?
Chris Frantz: I learned about CBGB's the first day I moved to New York. A friend of mine told me about it. So I was looking for a loft downtown. It was still kind of by coincidence that the one we finally settled on was close.
AD: Later, you and Tina produced the infamous fourth Happy Mondays album. It began ominously with the Mondays headed to Barbados when [lead singer and songwriter] Shaun Ryder broke his bottle of methadone at the airport and ended up licking it up, right? Licking the floor desperately?
Chris Frantz: Happy Mondays were just a terror. Yeah. Not all of them. Just a couple of them. They come from a very, very rough part of Manchester called Salford. From what they told me, it was it was a very hard-knock life that they had. And then they got they got money by doing concerts and selling records. They told me that their concerts were really just a cover for selling ecstasy.
AD: I've read about that, and that part of the reason the nightclub their label [Factory Records] owned went under was clubs made cash at the bar, but you couldn't just sell ecstasy over the bar.
Chris Frantz: They treated the record company like it was their boss. And so, "We're going to get as much money out of the boss as we can before for the company goes bankrupt!"
AD: I'm not a good source on that subject, unfortunately; I don't know the truth vs. the fable thanks to 24 Hour Party People.
Chris Frantz: 24 Hour Party People, that was a great movie. I'm kind of glad they left Tina and I out of it.
AD: It was just a little bit of the Barbados story in there. It depicted Ryder's refusal to write lyrics, which seemed like it was the main problem.
Chris Frantz: Yeah. I'm still afraid we wouldn't have looked too good in that movie!
AD: The stories of Johnny Ramone on tour from your perspective, and from a Talking Heads' perspective general, are amazing. I'm sure you've heard that they're a real highlight for readers in the earlier sections. What was his mantra again? A couple of sentences he just repeated over and over about everything being terrible?
Chris Frantz: He referred to everything he saw as "grim, grim, really grim." That's a sign of depression, so maybe it had a touch of that, I don't know. But the rest of us were having a ball.
AD: He had you looking for a McDonald's in Paris or nothing, late into the night? And then later, he got nicer to people after he had a head injury.
Chris Frantz: Yeah. It took on a little head injury to straighten him up a little bit. Towards the end of his days, for example, like when we were all inducted into the Rock & Roll Hall of Fame together on the same night, Johnny was very, very nice and respectful to us and vice versa. Although Dee Dee still didn't want to sit at the table with Johnny. So Dee Dee sat at our table. And bless Dee Dee; he was so marvelous.
AD: I was shocked to read about David Byrne apparently interfering at the label level to get other people's names removed from writing credits. For Speaking in Tongues, you guys had an original Robert Rauschenberg cover planned both for this special edition and then a similar but different one for the regular edition. You have this great artist of the modern era, but Byrne somehow managed to get his own painting printed on the standard edition, the one most people have. Do you know how in the hell he could have gone about even doing such a thing?
Chris Frantz: It was a surprise to us also. And we thought, "What? What?"
AD: And your credits would vanish too.
Chris Frantz: I don't know how he went about getting people's names disappeared or how specifically…I guess he just went to the printer and or the graphic designer and asked him to make the change. Somebody thought, "Well, David's the boss, so we can change it." David wasn't the boss. But you know, it's not like we weren't paying attention, either. It was deliberately deceptive.
[But] I said in one of my other interviews that Talking Heads was like a dream. It was my dream to get a band like this together. But I had no idea how difficult it would be to keep it together. It sounds old fashioned, but I was raised—and so was Tina—by the golden rule. Do unto others as you would have them do unto you. It's very simple and I think almost everybody I knew was taught as a child. Right? Yeah. I think in business there are some people that will take advantage of other people. And you're not really prepared for that because you always say, well, if I'm nice to this person, [they'll] be nice to me.
AD: People think, well, we're all working together here—nobody is going to come harm us as a collective.
Chris Frantz: The fact is, you would be despite the ups and downs, the twists and turns, we make some quite remarkable music and a lot of it, you know? So we managed to keep it together for a long time. I think we all deserve a pat on the back. I don't want to sound like a victim in any way because I feel like I've been very fortunate in my life. I've been a lucky guy. But I've also worked really hard. So between hard work and good luck and the good people that I surrounded myself with, things came out okay. Everything is all right, I have no complaints. When I was younger, it really bugged me sometimes that people didn't seem to realize that Talking Heads was more of a shared experience. When people talk to me now, they seem to understand that. I'm very happy when I listen to the work together. It still sounds good to me.
AD: The book makes that clear. It's also clear how much your musical tastes inspired things in the band as well. You have an amazing appetite for music. You were listening to people like Fela Kuti, for example. It seemed that your taste really inspired Talking Heads as well.
Chris Frantz: Well, as you know, when Tina, David, and I were getting started as a band we lived together in the same loft for almost three years, and we shared our records amongst each other. We all had what you could very well call "brought-to-light record" collections. I mean, maybe maybe mine was the biggest, the largest. We'd have David Bowie and we'd have Lou Reed but we'd also have you know, Wilson Pickett. And Bohannon and James Brown. And you know, The Fugs! One of our favorite records was Lenny Kaye's Nuggets. So we were listening to the current stuff, but we were also listening to the oldies and soul music—we all loved that. I think each of us, you know, imparted something of ourselves into the songs.
AD: When Bohannon died earlier this year, a huge swath of people I knew were in mourning—it felt like most of the upset people of my generation, at least. I first learned of him through Tom Tom Club. So you passed that passion on through your own music too.
Chris Frantz: He was great. He was great.
Does Aquarium Drunkard make your listening life better? Help us continue our independent culture publication by pledging your support via our Patreon page. Doing so will get you access to our secret stash—including bonus audio, exclusive podcasts, printed ephemera, and vinyl records—and help us keep an independent publication going.