Devendra Banhart is well aware of how good he's got it right now. While he's taken a financial hit by not being able to tour and has the occasional freakout about the state of the world, the singer-songwriter is in a comfortable enough position to be able stay home and stay busy. He's continued to work, demoing a new record that he's making with his regular collaborator Noah Georgeson and, with his longtime backing band, remotely recording a dreamy, elegiac cover of the Grateful Dead's "Franklin's Tower" that was recently released as an Amazon Original. Banhart has also been gearing up for a series of streaming concerts for Noon Chorus that will find him tackling his discography chronologically. The first, which covers material from his albums Oh Me Oh My, Rejoicing in the Hands, and Niño Rojo, aired on September 9th.
Banhart has also kept himself present in the minds of his fans with the July release of Vast Ovoid, a four-song EP featuring three songs that were tracked during the sessions for 2019's Ma, but didn't fit in with that album's focus on maternity and motherhood. Sonically, they are of a piece with Ma, but with his poppier side peeking out from amid the reverb haze. And it's capped off by a gleaming downtempo remix of "Love Song" constructed by Banhart's friend, Helado Negro. With all this and more to talk about, we spent a little time on the phone with Banhart, sheltering in place at his home in L.A., where we went deep on his love for the Dead, his brief obsession with a line from a Beach Boys song, and his recurring pandemic-fueled existential freakouts. | r ham
Aquarium Drunkard: How have you been faring in the strange time we're living in?
Devendra Banhart: The little me—the little ego bubble on the water me—freaks out a lot and gets stir crazy and has horrifying visions of giant spiders coming out of my eye sockets. And then the bigger me, when I step back from my own selfishness, is pretty grateful that I have a home and can record and make music and paint. It's such a fortunate position to be in. Especially when I speak to my cousin who is a surgeon and has a family that he can't see because he's in the hospital 22 days out of the month. I have to remember that when I start to freak out. But I still freak out.
AD: That's exciting to hear that you've been making some new music at home.
Devendra Banhart: Yeah! We just finished a Grateful Dead cover, which is the first time I've recorded with a lot of people remotely. That's not really new where someone sends you the tracks and you do it. I've done that with people in Japan and in Brazil. But this is the first time I did a remote recording with the people in my band. Nicole [Lawrence, guitarist] is a 10 minute drive from me, but she couldn't come here and I couldn't go to her. It's really fascinating to work remotely with people that are right next to you.
I've also started working on a record with Noah Georgeson that we're going to put out for Dead Oceans, and it's our first ambient album. I won't be singing on it. We're going to have different teachers from different wisdom traditions speaking very little on a few of the tracks, but mostly it will be ambient. I kind of thought that it would be a lot easier than it is. You think, "Ambient music… that's so easy. I just hold down a C chord and put a lot of reverb on it and I'm good to go." Turns out there's a little more to it than that! And just because I listen to a lot of it doesn't mean I know how to make it. It's a whole new world of an approach to songwriting. It's really wonderful though because ambient music requires so much attention and focus that you have to be disciplined in order to make it. I need discipline right now. I used to rely on my job and the world to make me disciplined. I need the structure of a tour. Suddenly it's up to me. You're not going to work and having your boss tell you exactly what to do. It's up to you.
AD: I was curious about why you chose that particular Dead song to cover? What about that song spoke to you?
Devendra Banhart: The Dead have been something that I turned to for immediate comfort. Through the day, I'll have a meltdown or a freak out or this wave of anguish, and I'll just turn to my Grateful Dead book and just play whatever. "Unbroken Chain" or "Eyes of the World." And I'll just feel a little bit better. I think they have that quality. It's almost like a benevolent narcotic. Why we chose "Franklin's Tower" was because we wanted to do "Help>Slip>Frank"—"Help On The Way" into "Slipknot" into "Franklin's Tower." We spent the entire European tour soundchecking that. I was so fucking excited to give it a shot. But there's no way you can do "Help>Slip>Frank" remotely. It's so much about the communication and being in the same room and locking into each other. It's kind of embarrassing and lame now that I say it out loud, but "Franklin" seemed to be the most, "Okay, we can do this remotely." Plus that was the one that I wanted to do in the style that felt most appropriate for the time. And because the lyrics are so perfect. That line, "In another time's forgotten space/Your eyes looked through your mother's face," is one of the most beautiful lyrics I've ever heard in my life. It's a joyous song. It's a fun, put it on before you go to the festival kind of song. But sometimes the energy can obscure the lyric so we did a very gentle version of it where we could really give a little more platform to those words.
AD: I had the experience of seeing Phil Lesh and his band playing at Pickathon last year on Jerry Garcia's birthday, and they did a whole set of Dead songs and, when they laid into "Franklin's Tower," it was like the whole field just elevated off the ground.
Devendra Banhart: That's a great way of putting it. That song can fully elevate your whole being. And that's the brilliance of why "Help>Slip>Frank" is this mini masterpiece. It's a journey you go on that ends with that elevation. "Help On The Way" is very terrestrial. You're on Earth and it's groovy and it's a city kind of feeling. Then suddenly with "Slipknot" you go underground into some wild underworld and then you emerge with the elevation of "Franklin's Tower" and it's just beautiful.
AD: You're clearly a longtime fan of the Dead. How did that start for you?
Devendra Banhart: It started when I was 18 and visiting my family in Caracas. There's this open air market where people will sell CDs of whatever's popular at the time. There was one person that always sold more esoteric, older stuff. And they had an album where the cover was all pixelated. I couldn't see what it was—a little red, a little black—but it looked interesting enough that I said I'd take it. I put it on and was in love. It was one of my favorite songs of all time. Years later, I'm going to the Art Institute and hanging out with Andy Cabic of Vetiver and we're starting to write songs together, and the Dead are just kind of part of that L.A./San Francisco life. I'm listening to a little Workingman's Dead and "Casey Jones." I like it, but I always thought it's not really as good as whatever I heard on this weird CD. It turns out, of course, that the CD was "Dark Star" and Live Dead. It just had no writing on it. So I always like the Grateful Dead more than the Grateful Dead. That's how it felt.
So I've always loved them, but was intimidated to talk about how much I loved them because Deadheads are intimidating. Not all of them, of course, but in my mid 20s, I came across a couple of people that were really hardcore. If you didn't know the exact date of a recording, you were bullied a bit. And then you get to the point where it's like, "Oh my gosh. This is absurd." Really, who cares? If you mess up on some technical aspect, it doesn't really matter. They're the only band I'm interested in hearing and they've truly helped me every single day. Why wouldn't I celebrate that and talk about that?
AD: What can you tell me about the new EP Vast Ovoid? Was this material that you recorded for Ma that didn't fit?
Devendra Banhart: It was more that at the end of the recording process, we started working on these songs and realized they were fitting with the theme of the record. They were their own thing, their own world.
AD: On the first song, "Let's See," you quote the Beach Boys' "Surfin' USA." Where did that idea come from?
Devendra Banhart: I think it was on the radio and it just hit me. "Inside, outside USA. Whoa… that's weird." I saw it written out and was reading it over and over in my head, imagining a huge Ed Ruscha piece that's those words. I imagined literally everyone on the planet inside and outside, and in their houses and people outside of them and they're all surfing. But I also thought it was an interesting question. Things already seemed so dire before the pandemic. I remember so many of my friends thinking, "I need to move to Stockholm or anywhere else." Inside or outside USA—that's the question, right? Where do I go?
AD: On the title track, there's an interesting field recording that kicks off the song. What is the source of that?
Devendra Banhart: That's me on a rickshaw in Varanasi. We're going through traffic and he's screaming. At first, it was like, "Oh my God, he's saying, 'I'm going to kill you' to someone!" But he kept screaming nonstop and I realized he's probably just saying like, "See you later… say hi to the kids for me." This could be the sweetest thing ever being yelled so violently. So I recorded a little bit of it and we put that in the song because the idea of that song is that you're an alien that's just arrived on Earth and you're just checking it out for a minute before you leave. Doesn't know the language. Isn't sure what people are saying. And then they're off. There's a lyric about their impressions of the planet and then they leave. [laughs]

AD: The EP closes with a remix of "Love Song" from Ma by Helado Negro. Do you like giving your work over to other people to reinterpret and mess around with?
Devendra Banhart: It's so much fun. It's a bit bittersweet because they always do something better than whatever I did. That's what happened with Roberto. He's a true, true friend of mine and I love his work. So much that I wonder if I'm being nepotistic, but I know I love his work because I'm jealous of him. The remix was fun because I didn't have to do anything and he made it better.
AD: Something else you've been doing during the shutdown of the live music industry has been gearing up for these streaming shows where you've been playing your music chronologically. How has it been to prepare for those performances?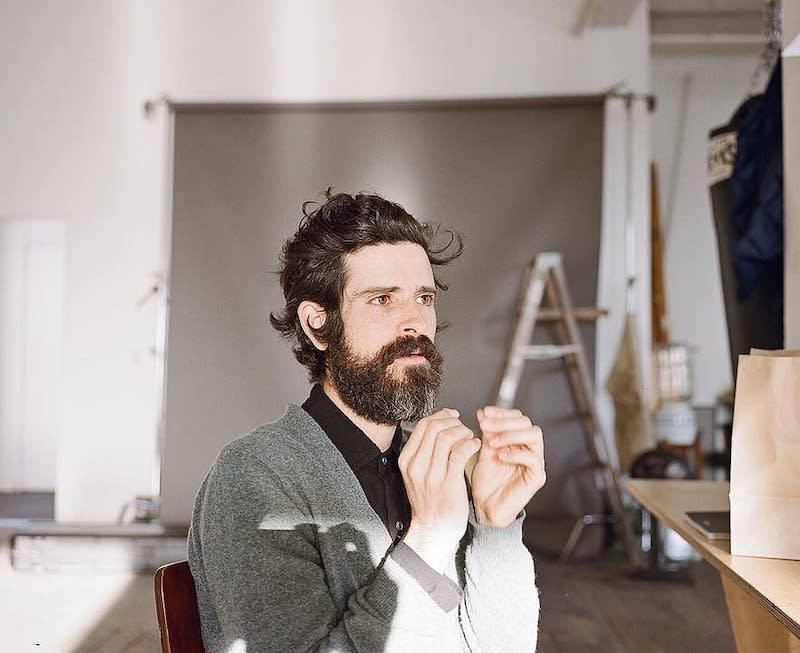 Devendra Banhart: At first I was not really into it because it sounds like a drag. Then I thought this was an interesting opportunity to play songs that I don't ever play or rework songs that I don't really play solo. I was talking to a friend of mine who has been keeping a journal every day since 1962, writing down what happened to them every day. He has volumes and volumes and is taking this time to archive it and maybe turn into something like a memoir. I guess it's time for that kind of reflection. This felt a little bit like that. It's been a strange experience.
AD: Do you have any sense of what the rest of the year looks like for you?
Devendra Banhart: I don't know is a good mantra. When I start to think about what the rest of the year looks like and what's going to happen in the next five minutes from now, I get a little nervous and freaked out. More than a million people are jobless. China is destroying Tibet. Venezuela is near apocalyptic freak out with an oil spill that will take them years to recover from. There's wildfires all over California and I have friends evacuating their houses up north. I have to return to the breath and be grateful for what I have. I think that's where I need to be at the moment.
Do our mixtapes, features, interviews, essays, and original sessions make your listening life better? Help us continue doing it by pledging your support via our Patreon page. Doing so will get you access to our secret stash—including bonus audio, exclusive podcasts, printed ephemera, and vinyl records—and help us keep an independent publication going.