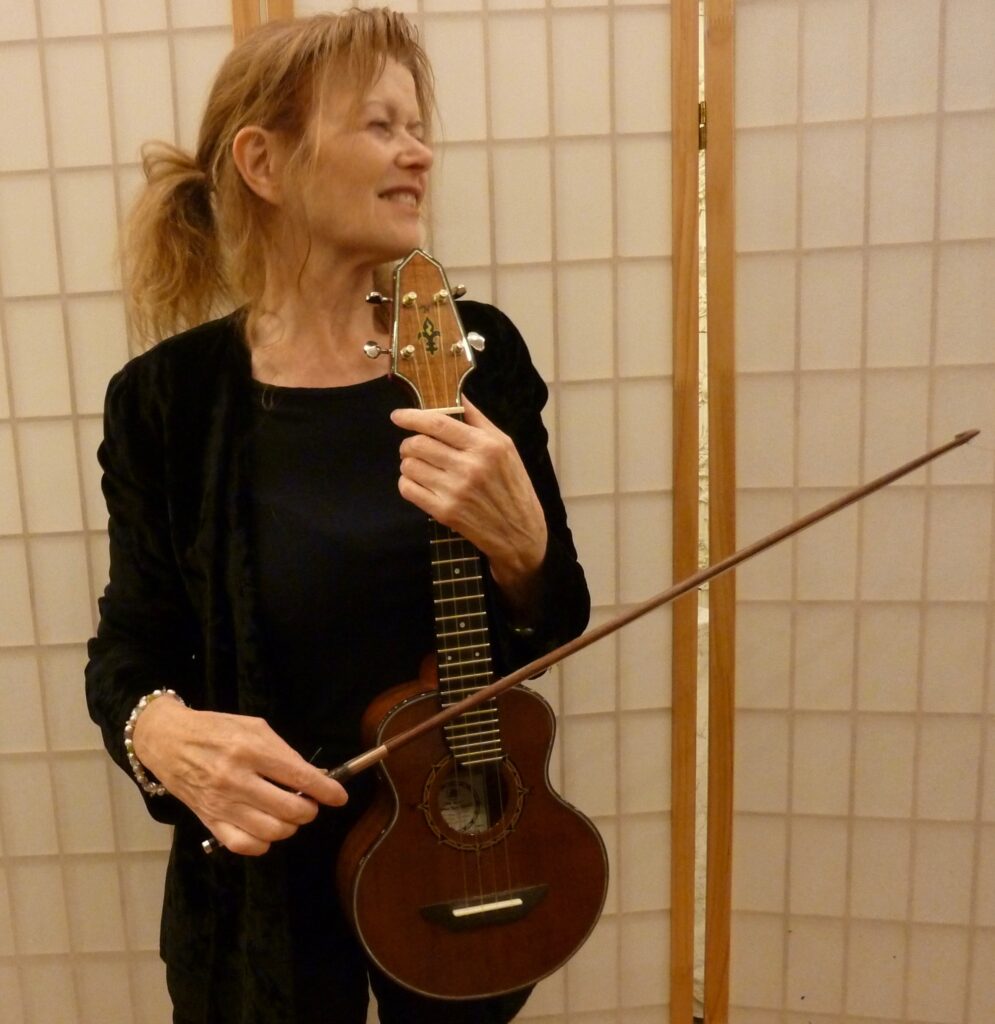 Sylvie Simmons has plenty of war stories. "It's true," she laughs. "I know where the bodies are buried." The Leonard Cohen biographer and rock journalist began making a name for herself on the literary side of rock & roll in 1977. It's easy to see why artists have opened up to her the way they have: Simmons is a quality conversationalist, weaving in stories and asides about Lars Ulrich pulling Diamond Head 8x10s from her trash can, learning to how to replicate Siouxsie Sioux's hairdo from members of Mötley Crüe, and catching the wrath of Lou Reed, who was famously disdainful of music critics.
The old adage says, all music writers really want to be musicians, and Simmons is the first to say it's true. As a teenager, she caught a case of stage fright severe enough to launch a writing career, one that included being a correspondent for Sounds and Creem Magazine, writing Neil Young: Reflections in the Broken Glass and Too Weird for Ziggy, as well as the New York Times best seller, I'm Your Man, The Life of Leonard Cohen. Eventually, that same writing career opened the door for her return to performing. She's quick to give that credit to both Leonard Cohen and producer Howe Gelb. It was at a series of in-stores readings for Cohen's biography that Simmons initially started performing again, and Gelb helped turn the subsequent songs into her 2014 debut, Sylvie.
Her latest album, Blue on Blue is intimate, dreamy and beautifully melancholic. It carries a lifetime of in-depth musical exploration, but also the devastating experience of a life-altering accident. Simmons and I spoke by phone, a 90-minute conversation about working through her accident, separating the musician from the music journalist, and the never-ending mystery of songwriting. | n lekas
Aquarium Drunkard: The opening song, "Keep Dancing," is very literary, "The man said you were dancing with no shoes on amid the broken glass."
Sylvie Simmons: This was the opening line to a short story I was working on, based on a true occurrence. When I went back to it, I noticed that the words had a rhythm, and they became a song.
AD: Isn't there a Dylan quote, something like if he finds the melody it's a song, if he can't it's a poem and if it's too long for a poem, it's a story? How concrete are your boundaries between writing disciplines?
Sylvie Simmons: As far as music journalism goes, that's an entirely separate thing from my music. I don't critique my own songs. Generally, when I'm writing a song, I find the lyrics come hand-in-hand with the melodies, like they made a pact behind my back. But, whether for a song, a poem or a short story, sometimes I'll consult a long document I keep of thoughts and ideas, odds and sods.
AD: There is something about the songs on Blue on Blue that feel almost timeless, I've always considered Nick Drake to have a similar quality. It's difficult to place your songwriting in a specific decade.
Sylvie Simmons: I tend to think of them as timeless too. Or, more exactly, out of time. No real connection to the era from which they came. I had similar feelings about Leonard Cohen's early albums. Cohen wrote those early songs divorced from any kind of scene. Some songs, like Suzanne, were published as poems before he recorded them. These songs were also written divorced of any kind of scene. I didn't have a band to play them to or with; I'm in San Francisco and the musicians I consider my band are in Arizona. I had no-one but myself to tell me if they liked or disliked something. Fortunately, despite being a critic by profession, I turned out to be a complete cheerleader when it came to my songs.
AD: Every song was written alone right?
Sylvie Simmons: Just me, a ukulele and a quickly emptying bottle of wine.
AD: Did they come quickly?
Sylvie Simmons: It was like I'd turned a tap on and something came out that was always there. As soon as I sat down another song would come out. It was kind of freaky.
AD: Is there any relation between Blue on Blue and Bobby Vinton or the term for friendly fire? Both seem applicable.
Sylvie Simmons: No. It's funny sometimes you can choose the right title without meaning to and only realize when people on social media let you know that there is all this background to it. I was aware that a lot of the songs were blue. And due to a dreadful accident after the first day in the studio, things became a whole lot bluer.
AD: You suffered a life-stopping accident. What was working through that like physically and mentally, did it affect your songwriting?
Sylvie Simmons: Oh yes. I had lost all use of my left hand, plus I'd broken my knee in half so I couldn't really move around. But it was also a real psychic injury. Friends would bring instruments they thought a one-handed person could play. I couldn't. It almost made me hate music. The music journalist in me didn't really want to listen to music for a while either. It's hard, every time you go in and they're doing another treatment. It was just a series of horrible procedures and surgeries, over and over again. It took me a while to get myself back to it. I would sit with the ukulele on my lap and put my elbow on it. I wanted to think I might be able to play again.
AD: Sweet California captures a romantic California that many of us moved here looking for. How did that song come about?
Sylvie Simmons: I was house-sitting for a friend in the North Bay whose back porch overlooks Mount Tam. I had my ukulele, just playing a little melody made up of two-finger chords and the words came immediately. When I wrote down the words I though hmm, it's a song about moving on, but it's also about going back. I figured it was from spending so much time with Leonard Cohen, who was great at keeping two opposing ideas in his mind at the same time. But really, I think it was just me singing myself back to music and playing again.
AD: There is a lot of solace in that one. It's quite moving.
Sylvie Simmons: It's a real comfortable blanket that one. That was about the time that I could move my fingers, but it was really hard to keep them where I wanted on the fret.
AD: The Things They Don't Tell You About Girls seems parabolic, almost Cohen-esque in that sense. Is there a real-life story behind that one?
Sylvie Simmons: Yes, but very dark. Which is why I made it sound so cheerful. Life can sometimes send you into a tailspin and I was really low. I have a sensible side in me that was going, "Just stop it. You don't know when to stop," pointing out how unreasonable I was being. And eventually it worked. It made me laugh.
AD: Has interviewing and getting to know so many brilliant songwriters, and writing two of your own albums made songwriting any less mysterious for you?
Sylvie Simmons: In my experience, a lot of musicians don't like to talk about their songwriting process. They're either like Leonard Cohen, superstitious that if they articulate it, it will go away. Or they'll say, "I didn't write it, I channeled it" and I would roll my eyes. But sometimes, it's kind of true. One of the few songs of mine that didn't come with words attached was Carey's Song. I'd given up on it being anything but an instrumental and sent it to a slack key guitar player I'd met named Carey, hence the name. Then before I went into the studio for the last session with Howe, at the last minute the bus turned up and all those words tumbled out, and we recorded it in one take.
AD: The songs run on their own clock.
Sylvie Simmons: They've got no respect for their writers!
Does Aquarium Drunkard make your listening life better? Help us continue our independent culture publication by pledging your support via our Patreon page. Doing so will get you access to our secret stash—including bonus audio, exclusive podcasts, printed ephemera, and vinyl records—and help us keep an independent publication going.