In 2016, David Lerner of Trummors began an email correspondence with songwriter Allan Wachs. What follows is a reconstruction of a conversation they had earlier this summer, paired with selections from their long back-and-forth. Trummors' latest, Dropout City, is available now wherever you get out-there tunes.
Allan Wachs's 1979 LP Mountain Roads and City Streets has a justly acquired reputation among seekers of lesser-known folk, country, and singer-songwriter records from the 1970s and beyond. As its title and cover art suggest, the album is a study in contrasts: the city and the country, solitude and community, and innocence and experience are but a few of the vital tensions animating a song cycle that, 40 years on, still feels as sturdy as the Northwest timbers under which it was composed.
Though recorded in Los Angeles, Wachs wrote most of the songs while living in the remote logging village of Vernonia, Oregon, a former "company town" for the Oregon-American Lumber Company — all but abandoned after the company sawed their last of the earth's finest Douglas fir on September 11, 1957. Allan recalls the Vernonia of his time as a rugged hardscrabble place where survival required neighborly cooperation, a serviceable four-wheel drive vehicle, and the willingness to pick up new skills, and by no means a rural idyll of drugs and free love. There was no music scene to speak of. So, upon the album's release, Allan decamped to his native Los Angeles, where he has since worked in the film industry, performed regularly, produced music videos, and intermittently released music, including a charming acoustic album called Songs for Children and Young Animals.
With very few exceptions, the record business of Wachs's debut operated along the lines of that old Oregon-American sawmill, transmuting buzz and raw material into salable units, while paying mere lip service to any notion of sustainable futures. Thus, despite having garnered radio airplay, critical recognition, and, of late, something of a growing cult following, Allan's music has largely flown under the radar.
On the topic of renewed interest in his music, Wachs emphasizes elements of chance and mystery: "Songs are vibrational…quantum," he told me by phone from his Sonoma County home, still sounding very much like the hippie-adjacent, heart-on-sleeve persona he inhabits in his songs.
Wachs believes musical and cultural resonances are incalculable; they can't be known or quantified, even in our data driven age. But music and "the mystery" can certainly be discussed, which he and I did one afternoon in June, as protests ripped through the nation.
The events likely prompted some déjà vu for Wachs. In 1992, he wrote "Peace is Not a Gun," which chronicled the uprising in L.A. after two of the four cops who brutally beat Rodney King were acquitted. Yet, Allan remains hopeful, both for this crucial moment in linked social justice movements, and also, music's inchoate but powerful role within this process. Perhaps, as the cliché goes, music can be a healing force, if not for the whole damn universe, than at least for many of us in our everyday lives.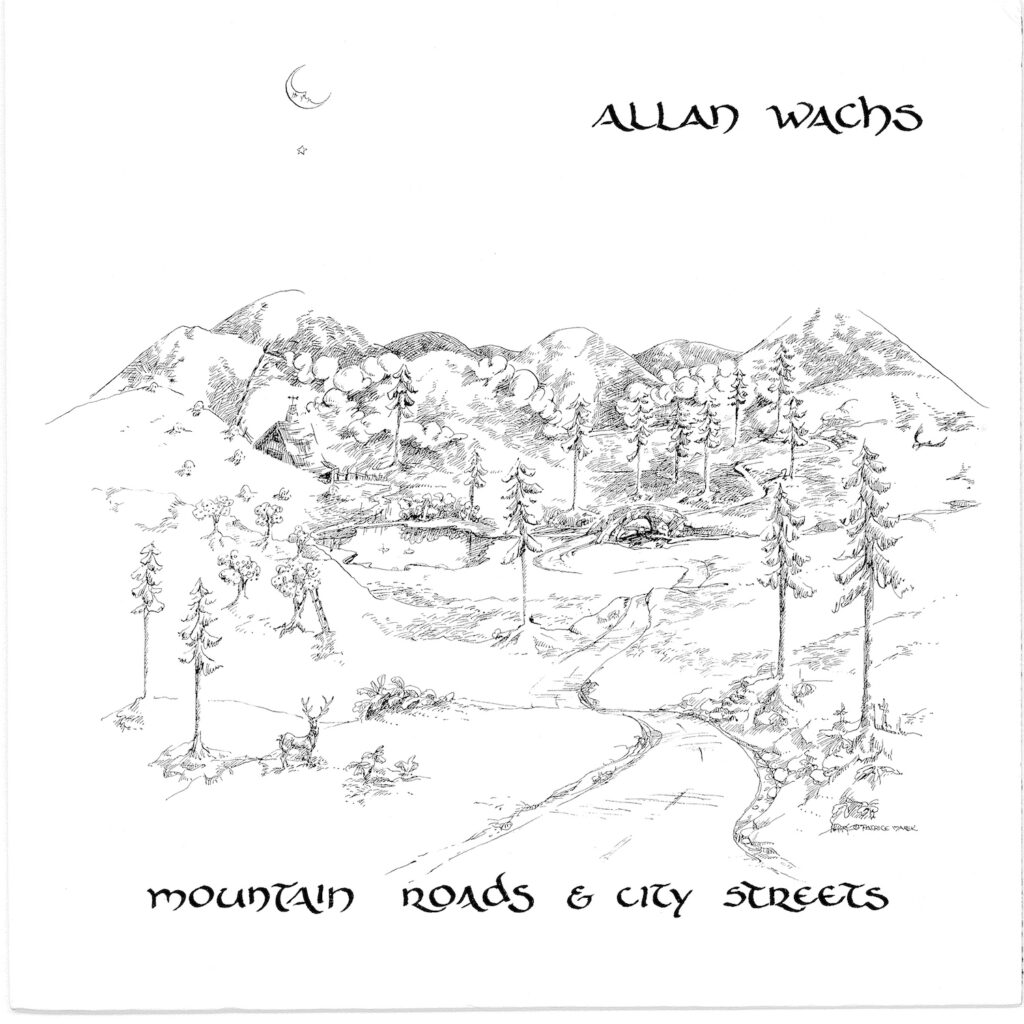 David Lerner: What was it like to come of age during one of the heydays of L.A. music? Any early records or formative experiences you can point to?
Allan Wachs: The album that first made 8-year-old me aware of the folk music boom, and the Troubadour as a local music club, was the New Christy Minstrels' In Person, which was recorded live at the Troubadour in 1963.
David Lerner: The Minstrels have an odd story, right? They became like a franchise or something…and wasn't Gene Clark in the band?
Allan Wachs: Gene Clark wasn't in the original New Christy Minstrels or on the live LP, but I did get to see him live and close-up at the Troubadour on a Monday "Hoot" night in 1968 with the original Dillard and Clark band: Gene Clark, Doug Dillard, Bernie Leadon, etc. That was stunning.
David Lerner: Were you aware then that that was a style of music and songwriting you'd eventually want to pursue more seriously?
Allan Wachs: I've always been song-oriented, words and music from early on, especially story songs, and in the late '60s, there seemed to be this penultimate blend in folk and its intersection with rock that created these song forms that never existed before. Growing up in the San Fernando Valley in those years, just miles from this cultural ground-zero, one couldn't help but be affected by the vibrational fall-out as it was happening, kind of like the fall-out from the nuclear meltdown in Santa Susanna Pass in 1959 that blanketed an unknowing SoCal but to much more positive effect. Have you watched the docu-series Laurel Canyon?
David Lerner: Not yet, but I definitely will. How was it?
Allan Wachs: Well, having just seen it, the Mamas and the Papas also come to mind as a truly important group, too. John Phillips had been in a relatively high profile, successful male trio, The Journeymen, and Cass and Denny were well versed in the harmonic melodic style. They all go back to the folk choral tradition—groups like the Almanac Singers and The Weavers. In a sense the Mamas and Papas vocals were a distillation of that folk sound re-presented in popular music but with great original material. CSNY come out of that same place too, with an emphasis on vocal blend. It all comes from the influence of American Folk and Roots music.
David Lerner: I hear traces of some of the greats in your work: Dylan, Jackson Browne, and Leonard Cohen all come to mind. Are there other, less well-known influences on your music you'd like to talk about?
Allan Wachs: Yes, definitely Dylan and the others you've mentioned (John Prine, Mississippi John Hurt, Joni Mitchell, Judy Collins, Ian Tyson etc. to add a few more specifically) and many others crossing a span of genres, generations, even epochs, have been inspirations, but I've also been moved by great songwriters you've probably never heard of like John Cunnick, Ken Kaganovitch, and Brendan Smith, to name a few.
David Lerner: Let's talk about the Mountain Roads LP and Vernonia, which sounds like a heady place to land in the early 70s.
Allan Wachs: I was 24 years old when I made Mountain Roads and City Streets. I moved up to the Oregon Coast Range outside of Portland by the time I was 18 in 1972. In early 1979 I had been care-taking some property at the end of a logging road with my then girlfriend (and current spouse) Patrice. I had already recorded a single and had some success with it. My songwriting incorporated a lot of different roots styles of music. I played old timey, Celtic, Irish, bluegrass, and rock and roll, and was immersed in a certain authentic back to the land point of view and counter-culture aesthetic that was going around at the time.
When I first moved to Vernonia it was to be part of a traveling marionette/puppet/musical medicine show called the Blue Sun Lyric Theater. Basically we took renaissance forms of entertainment and attempted to fill those post-medieval forms with a modern, New Age (circa 1973) sensibility. We worked together for about three years and this experience planted me in the Northwest arts and cultural scene at the time.
I was young and dumb. I wanted to walk down the same dirt roads that Woody Guthrie or someone like him might have walked down, tromp through the same muddy woods where the big trees used to stand. I was blown away by the forest and the extreme beauty of the place. I wanted to chop firewood, haul water, dig out septic tanks in the middle of winter and eat home baked bread. Growing up in the San Fernando Valley I didn't get to do a lot of that!
David Lerner: When did you start writing the songs?
Allan Wachs: The earliest song on the album is "Least Of My Strangers," from 1973. I was 19 when I wrote it, a mix of influences, mostly Dylan and Cohen. I was an acoustic purist for a while but fortunately I got over that.I wanted to make rock and roll poetry writing modern traditional songs with acoustic instruments or something approximate.
I look at songs as multi-dimensional living organisms and the main criteria for me is if the song was constructed well enough or inspired enough to stand the test of time. I can still find a handle to relate to most of the songs on the album. There are several songs that have continued to evolve and grow over the years that I can clearly see were not completely finished lyrically when I recorded them. "Mountain Roads" and "Travelin' Light" in particular took decades to complete.
David Lerner: Where did you record?
Allan Wachs: At a former Capitol Records mastering engineer's small 24-track studio in North Hollywood behind a florist on the corner of Laurel Cayon and Burbank Blvd. It's long gone now.
David Lerner: The track "Mountain Roads" was included on Numero Group's Wayfaring Strangers: Cosmic American Music. Along with a few other similar reissues, the comp suggests growing interest in privately issued and criminally overlooked folk/country LPs from the past. Why did you release Mountain Roads outside the typical label ecosystem?
Allan Wachs: All I can say is it was a different climate then. I had no choice. It was really difficult to get with a major label. I was living in the woods in Oregon. Somehow that didn't make for a great formula to develop a high enough profile to get labels interested, and none of the songs were covered, which would have helped. There was no commercial or independent music scene per se in the Northwest at that time. It developed just after I left.
I had some friends who were involved in the music business in L.A. and they backed me on spec for a single. One of them had a nice 24-track studio in Studio City and was looking to develop himself as a producer. They liked my music well enough to pay for a run of 45s. They also brought in an old timey record promoter type whose last hit discovery was Captain and Tenille, and who made his bones with an early L.A. rock n' roll DJ Hunter Hancock. They liked "Adventures Of The Invisible Dog" and I let him have a stab at producing it. They brought in some ringers. The rhythm section was from John Stewart's band and I don't recall who else but all great musicians. Gerry Rafferty's "Baker Street" was a hit at the time and Springsteen had Clemens and it got to be kind of a fad with the saxophone so they decided to throw one on in a bid for "extra" commerciality.
I'm not really down with the arrangement, but it was an opportunity, as I got to produce the B side. That song was "Least Of My Strangers." I brought in my friends who I had been picking with off and on for years. Tony Recupido plays a beautiful second guitar part and Steve Pearlman has an absolutely brilliant mandolin solo. It was the same rhythm section as Dog and then there was a guy named Larry who was like a second engineer who played the harmonica parts and came up with these nice vocal harmony parts he double tracked.
The success, such as it was, turned out not to be in sales as I was my own distributor before there were the viable independent outlets that came to be, but the single did get airplay in certain radio markets in the Northwest (Portland in particular) and the South (Bowling Green, Kentucky specifically) and sales as far away as Japan. As it turned out Strangers was the "A" side and Invisible Dog was the "B" though it too got airplay as well. But there was no way to quantify it so it was basically invisible.
There was enough success for the most part, so my "backers" helped me put together the deal to record a full album. All of the musicians were either friends or friends of friends and all of them donated their talents, the studio time (w/engineer) was given on spec as were 2000 copies of the album.
David Lerner: Have you released anything since the LP? What's the latest, and what's next?
Allan Wachs: The most current piece of music I've released is the "Willy Loman Blues" from 2011. There's the children's collection recorded in the mid 80's with Rick Cunha co-producing and playing (plus others) that would actually be the last finished work. That's really a collection of odd songs that I wrote that didn't really fit on a "serious" album.
My song "Northwest Passage" (a personal favorite from Mountain Roads) won Song Of The Year at The West Coast Songwriter Competitions, and I have a lot of archival and new material that's looking for some sort of release. Hope to finalize something during the second half of 2020.
David Lerner: Did you get to see any of the legendary Grateful Dead shows in the Pacific Northwest?
Allan Wachs: I was doing my own thing then, and the Dead weren't so much on my radar, believe it or not. But it's becoming more and more evident to me that no matter what band or who he played with Garcia was one of the great musical spirits of the 20th century. I'd have to say I'm a serious student in that regard.
David Lerner: Heartily agree. Lastly, does the urgency of this moment politically change how you view folk music and/or specific art forms?
Allan Wachs: Folk music is timeless. It's rooted in songs created hundreds and hundreds of years ago, it's morphed and changed as people needed it to change for their own expression. A good song will be malleable enough once it's launched into the world to survive and stay in people's awareness in one musical form or another for many years.
My personal goal has been to write songs that are timeless. All that being said, in the current situation we all find ourselves in, all bets are off. Once we are on the other side of this there will be a whole new set of cultural paradigms that may relegate a lot of current art as moot as our culture moves in an as yet uncharted direction.
Does Aquarium Drunkard make your listening life better? Help us continue our independent culture publication by pledging your support via our Patreon page. Doing so will get you access to our secret stash—including bonus audio, exclusive podcasts, printed ephemera, and vinyl records—and help us keep an independent publication going.