In 1965, Ted Feigin and Lee Lasseff's White Whale Records scored a massive hit with its very first release, the Turtles' "It Ain't Me Babe." For the next five years, the label released over 150 singles and 24 albums. The recently released The Land of Sensations & Delights: The Psych Pop Sounds of White Whale Records, 1965–1970 rounds up stand-outs from the imprint's brief but prolific run, offering 26 recordings you might hear blasting out of Rick Dalton's Coupe de Ville under blue skies and golden sunshine.
From the jazzy psych-pop of Triste Janero to the garage sounds of the Odyssey to the proto-power pop of Horses, it's a buzzy, blissful ride along. There are curiosities—check out the Clique's "Superman," later covered by R.E.M. and Dean Torrence of Jan and Dean singing Brian Wilson's "Vegetables" under the Laughing Gravy banner—and tons of shoulda-been hits, like Professor Morrison's Lollipop's charging, nasty rocker "You Got the Love," a perfect pebble of Sunset Strip abandon.
It's the latest project from Grammy-nominated deejay, author, and producer Andrew Sandoval, who's mined the archives of the Kinks, the Zombies, the the Beau Brummels, and many more, and has assembled expansions in the legendary Nuggets series. He joined us by phone to discuss White Whale, record collecting, his work with the Monkees, and the future of boutique archival material. | j woodbury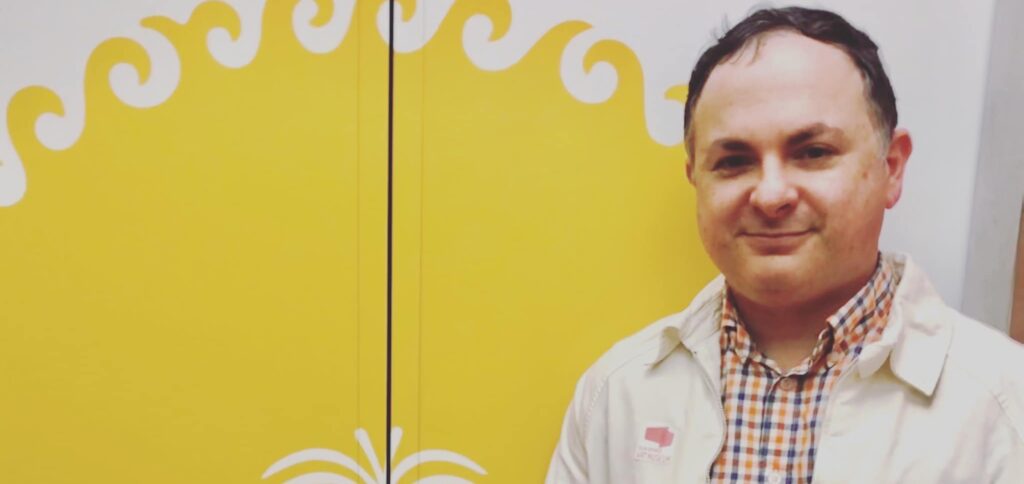 Aquarium Drunkard: Do you remember the first White Whale record that you got your hands on?
Andrew Sandoval: It probably would have been by the Turtles, who are conspicuously missing from this set. [Laughs] [Craft Recordings], who put The Land of Sensations and Delight out owns the White Whale material—except for the Turtles, who won back their material in a lawsuit. But it's fitting: the label itself debuted with the Turtles and basically, its fortunes failed when the Turtles dissolved.
AD: If you were forced to choose one, do you have a single favorite recording featured on the comp?
Andrew Sandoval: I'd have to really think hard and it may take longer than the time we've given for this interview. But I like '60s singles a lot. Being from Los Angeles—a native of Los Angeles, which is apparently a rarity—part of my attraction to label was that I started to become more interested in what was happening in my hometown in that era.
White Whale was one of the few labels that was sort of independent here. Dunhill was another record label started about a year or so earlier, in '64, and that merged with a major and A&M was another independent label that went on to be hugely successful, but White Whale was a very scrappy cousin to them and it's kind of a miracle how they survived. I just sort of took up the torch because I would be looking for 45s, mostly looking for things I'd never heard of. I'd look at the labels, who wrote them, who arranged them, always trying to figure out, "When is this from? Is this from a period that I'm interested in?" I have a little portable record player and I usually give things a spin if they're interesting to me.
AD: I have definitely pulled stuff up on YouTube in a store, real quiet to my ear or whatever, but you have a record player you bring with you?
Andrew Sandoval: Yes, I do. It's saved me a lot of money. [Laughs] You don't want to buy too many mistakes.
AD: The compilation is subtitled "The Psych Pop Sounds of White Whale Records." In that era, pretty much everybody went "trippy." Do you have a favorite example of a "square" artist going psychedelic?
Andrew Sandoval: Oh, I have maybe far too many of those. Those are my favorite types of record, especially the '50s rockers and early rock & roll people who found themselves in the mid to late '60s, changing with the times. They weren't always awkward. I think some were sincere in wanting to do something. You know, certainly "Mary Jane" by the Everly Brothers is a great one. Del Shannon, his The Further Adventures with Charles Westover is a fantastic album and that's a complete psychedelic foray. "Marshmallow Skies" by Rick Nelson—which I included on Where the Action Is! Los Angeles Nuggets: 1965–1968.
AD: How did you get started collecting music?
Andrew Sandoval: When I was four, I became really obsessed with the Beatles and that obsession has not ended. By the time I was 10 or 11, I was more interested in what was happening in current music. There was a lot of great music happening in the '80s. I loved Madness, Elvis Costello, the Jam, Squeeze. Then I started liking to the Kinks and the Hollies, and soon, I'd lost interest to what was happening in current music. I'd gone back to the past.
Furthermore, I stopped being such an Anglophile and I stopped thinking exclusively about British stuff and realized, "Wow. The Beach Boys are one of the most fantastic groups and they're from my hometown. The Byrds are monumental; they're from my hometown. I love The Buffalo Springfield; they started here in Los Angeles." I started becoming more interested in Los Angeles and that stuff.
I worked at a record store too. I worked at the Rhino record store. 45s were very cheap and not very popular. I could just go through stacks of them as I started my collection. I had other friends who were interested in that music and I got into reissues and it just sort of grew from there. Now I have over 5,000 45s and a very curated collection, pared down from many things, you know, getting rid of stuff, trying to condense it down. I've branched off too—now I'm accepting of foreign language music. [Laugh] I've really tried to learn everything about that era of music, and I do my WFMU radio show, Come To The Sunshine, which really explores that. I've been doing that for the last 14 years.
AD: Were you sort of into the Paisley Underground thing, where there was a sort of resurgence of interest in these sounds in the 1980s?
Andrew Sandoval: Sure, sure. I definitely saw the Three O'Clock in the early '80s and I recall going to school and there was a guy who dressed very '60s—he was like one of the guys out of the Dragnet "Blue Boy" episode. A friend of mine asked him, "Where's a good place to see shows?" or "What are some other good bands," and the guy said to him, "It's an underground scene, man." That was it. The door closed to us. It was only months later that the Bangles were successful. I was maybe a bit too young for that, but yeah, it was certainly there in the background. 
AD: Yeah, "it's an underground scene" is just another example of the gatekeeping that happens in record collecting and music circles.
Andrew Sandoval: Completely. [Laughs]
AD: Do you feel like, in this new era we're in, that's lessening? Are more people being welcomed in?
Andrew Sandoval: I always feel that there is a bit of a "You don't get it kid" vibe. The people are generally those who experienced it for the first time in the '60s and feel that, "You don't get it kid because you weren't there." I certainly wasn't born in the 1960s. I wasn't there. But I think that actually I enjoy and I appreciate it more and appreciate a wider array of stuff from that era because I don't have the same baggage of, "Well, my friends in high school said this was lame so I can't like Herman's Hermits" or, "They told me the Bee Gees sucked so I can't listen to them." You know, all that sort of stuff. I don't have any of that and I think what's occurred now is, as you say, people pull up stuff on YouTube. There are so many obscure 45s there, but there's still lots of stuff I find that's not out there.
I meet a lot of younger people and I'm friends with a lot of younger people and they have just as good a knowledge as I do because they have more access to information. They can learn about and read about something much more quickly. I don't resent them for it. In order for the music like this, which is so important to my life, to continue, you have to pass it on to other people. I think there is a really stinginess with some collectors in sort of wanting to hoard the stuff to themselves. It's a shame because there's so much that can be learned from other people when you open the door up. And then they may discover boxes of records in garages that would be thrown out otherwise. There's really a preservation of history that I'm really fascinated by. I'm pushing in my own life. I need everybody on board. 
AD: You've made some truly incredible box sets and compilations. Hallucinations, Where The Action Is! Come to the Sunshine: Soft Pop Nuggets from the WEA Vaults. Where do you see these kind of boutique collector's editions going in the future?
Andrew Sandoval: If I were to hazard a guess, say we were talking in March and we were not in COVID times, I would still be fairly pessimistic about the future because it really has slowed down for me. The Where The Action Is! box set was 10 years ago, and Land of Sensations and Delights is the first various artists record I've done since that. Reissued records have become something of a hobby for me where it used to be my entire career. That's just the way it is because people can do a playlist online, but if you go on Spotify for instance, you won't find a lot of these artists and if you find artists from the '60s you'll find really bad re-recordings of their songs because that's all that has been provided to Spotify. And you can't blame the artist for trying to get their fraction of a penny out of Spotify, but there is still a lot of great music that just can't be found that way.
The upside is that everybody gets to share this music and there's a low entrance fee. You don't have to travel the world and be behind people digging through crates and being yelled at by cranky old guys. The downside is that there's still a lot in the vaults from this era that's really interesting, but it takes money to transfer the tapes and preserve the tapes and to release music. That's the rub there. Where it's great that everybody has more access to and it's more egalitarian in the way that you can find the music, the preservation of the music still costs money and that hasn't come down to free.
Music brings meaning to our lives. As much as it's virtually available and it's wonderful that on the same phone I'm talking to you, I've got access to 30,000 literally songs in my library, most of which I've digitized off my 45s. That's something I can carry in my pocket and I can play it while we walk down the street together. I can play you some obscure 45 that's in my collection. But I still, along with a lot of other people, want some sort of physical element, that reminds them of a time, or shows their allegiance to some specific piece of art.
AD: You've worked with Dave Davies a lot, not only doing reissue work with the Kinks, but actually in his band. What's he like to play with as a musician?
Andrew Sandoval: It was amazing and completely mind-blowing to play with him. I had been in the audience to see him so many times with the Kinks. Being up close to him I learned something really interesting. He had his amp really loud, but he has a gentle touch on the guitar. The Kinks records always made me think he was kind of grinding out stuff and had this really aggressive thing, but he had such an amazing touch and such dexterity.
AD: He's got this one solo song I love so much, "Love Gets You Every Time."
Andrew Sandoval: Yes, we played that one.
AD: What a great song. You've worked a lot with the Monkees too. How did you connect to them?
Andrew Sandoval: It began in 1989 when I was working at the Rhino store. I met people who worked for the Rhino label and I was really interested in reissues. I had a fanzine then and I started going around following this guy, Bill Inglot, who was doing a lot of reissues for CD and he was working on a collection of unreleased Monkee's material called Missing Links. I ingratiated myself to the point where I ended up working on the record with him too and that was the beginning of my career as a reissue compiler and producer. That first record I worked on came out in January 1990. I started meeting them through that and interviewing them, I did a box set in 1991 called This Is The Band. I interviewed all four of Monkees for that. Over the years I became a bit closer to them, if just in familiarity, seeing and interacting with them so much and then working for the Rhino label when the label purchased their catalog. So by the time I did my book, I had a pretty good grasp of things and them.
A few years later Micky Dolenz approached me and he said, "You know, I've thought about it and you're the only person on earth who could talk to all four of us in one day". And he said, "I mean we haven't toured in years, why don't you think about trying to get us back together?"
So I started talking to everyone about it and eventually in 2011, Davy, Micky and Peter went on tour together. Davy fell ill and passed away in 2012. Then Michael, who I've been friendly with for a number of years, went on tour with Micky and Peter. That sort of continued on until this last year and then I did this record that came out in April, The Mike and Micky Show. So it's been a long basically 30 year relationship with them. They didn't know it at the beginning, but it was going to turn into something. [Laughs] The main project I'm working on now, I'm revising my book. I'm completely rewriting it. It's going to be vastly expanded.
Does Aquarium Drunkard make your listening life better? Help us continue our independent culture publication by pledging your support via our Patreon page. Doing so will get you access to our secret stash—including bonus audio, exclusive podcasts, printed ephemera, and vinyl records—and help us keep an independent publication going.