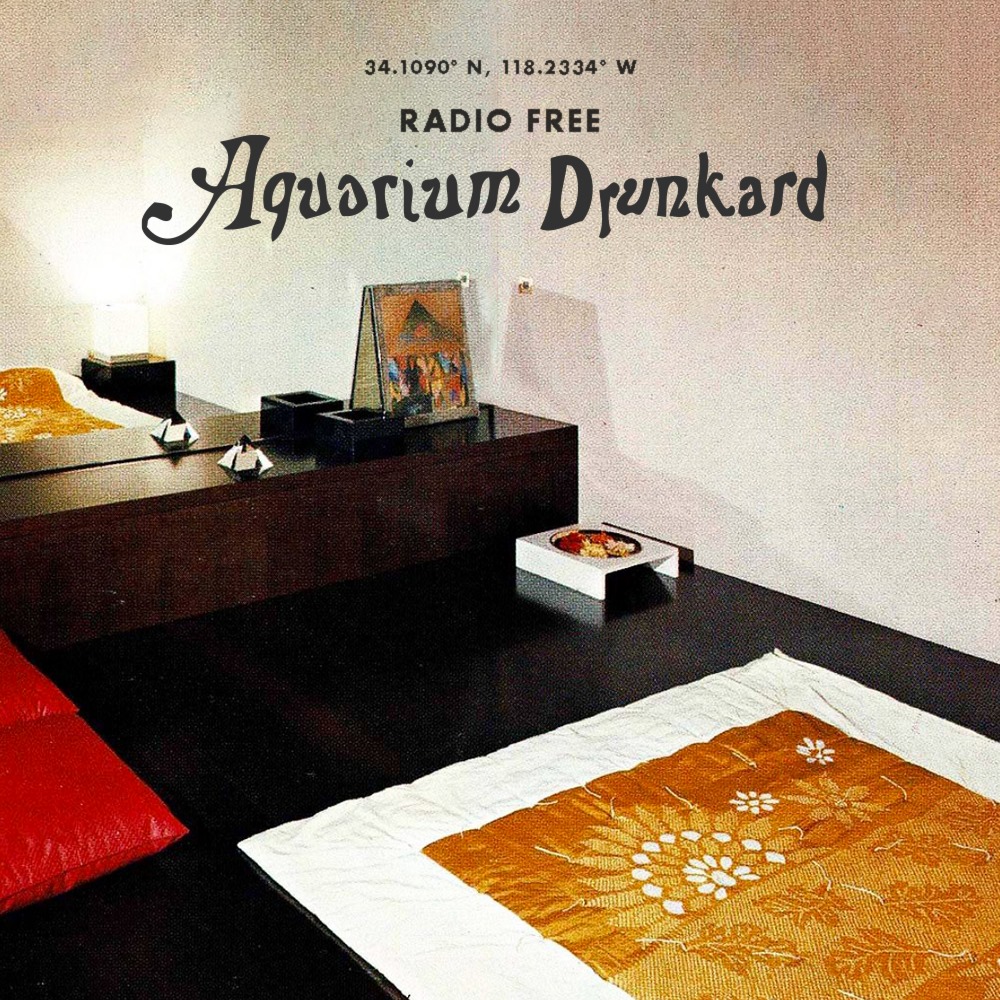 The fourth episode of Radio Free Aquarium Drunkard, our monthly four-hour broadcast every third Sunday of the month, has arrived.
Originally aired October 18, this edition features an episode of Chad DePasquale's New Happy Gathering in the first hour, followed by Range and Basin, Doom and Gloom From the Tomb, and Personal Sky. Individual shows are archived for our Patreon supporters. This month's broadcast engineered by Michael Krassner at the 7-Track Shack.
New Happy Gathering with Chad DePasquale: Javelin, "Estevez" ++ Geoff & Maria Muldaur, "I'll Be Your Baby Tonight" ++ Irma Thomas, "Two Winters Long" ++ Percy Mayfield, "My Error" ++ Sly & The Family Stone, "Spaced Cowboy" ++ Elvis Presley, "Patch it Up" (Take 9) ++ The Chosen Wonders, "Too Late Too Late" ++ Gram Parsons, "She" ++ Love Apple, "Call Me When You Want Me" ++ The Beach Boys, "Be Here in the Mornin" ++ Mort Garson, "Ode to an African Violet" (Alternate Take) ++ The Lijadu Sisters, "Life's Gone Down Low" ++ David Bowie, "Crystal Japan" ++ Peter Ivers, "In Heaven"
Range and Basin with Jason P. Woodbury: Jeff Phelps, "Excerpts From Autumn" ++ United States of America, "Coming Down" ++ Heather Trost, "Love It Grows" ++ Current 93, "The Ballad of the Pale Christ" ++ Max Knouse, "Their Little Garden" (Range and Basin Session) ++ Garcia Peoples, "Altered Place" ++ Philip K. Dick, excerpt from "If You Find This World Bad, You Should See Some of the Others" live at the Metz Science Fiction Convention, 1977 ++ Post Moves, "George Through the Window" ++ Andrew Carroll, "Here Now," "Vitamin C," "Hackers in Love" ++ Carlos Santana & Mahavishu John McLaughlin, "A Love Supreme" (alternate – take 2)
Doom and Gloom from the Tomb with Tyler Wilcox: Richard Thompson, "Dargai" (1982), "Calvary Cross" (1983) ++ Richard & Linda Thompson, "For Shame of Doing Wrong" (1982) ++ Fairport Convention, "Night Comes In" (1991) ++ Richard Thompson, "Can't Win" (2003) ++ Fairport Convention, "Sloth" (1970) ++ Richard Thompson, "Shoot Out the Lights" (1988)
Marty Sartini Garner's Personal Sky: Eiji Nakayama, "Aya's Samba" ++ John Coltrane, "Offering" ++ Chicago Underground Quartet, "Unique Spiral" ++ Gunn-Truscinski Duo, "Curtain" ++ Santana, "Jungle Strut" ++ Scientist, "East of Scientist Corner (11 Pieces)" ++ Tom Zé, "Jeitinho Dela" ++ Super Rail Band, "Diby" ++ Aurlus Mabele, "Stop, Arrêtez!" ++ Etran de l'Aïr, "Tamidtine" ++ Maria Monti, "Dove" ++ Pharoah Sanders, "Astral Traveling"
Does Aquarium Drunkard make your listening life better? Help us continue our independent culture publication by pledging your support via our Patreon page. Doing so will get you access to our secret stash—including bonus audio, exclusive podcasts, printed ephemera, and vinyl records—and help us keep an independent publication going.