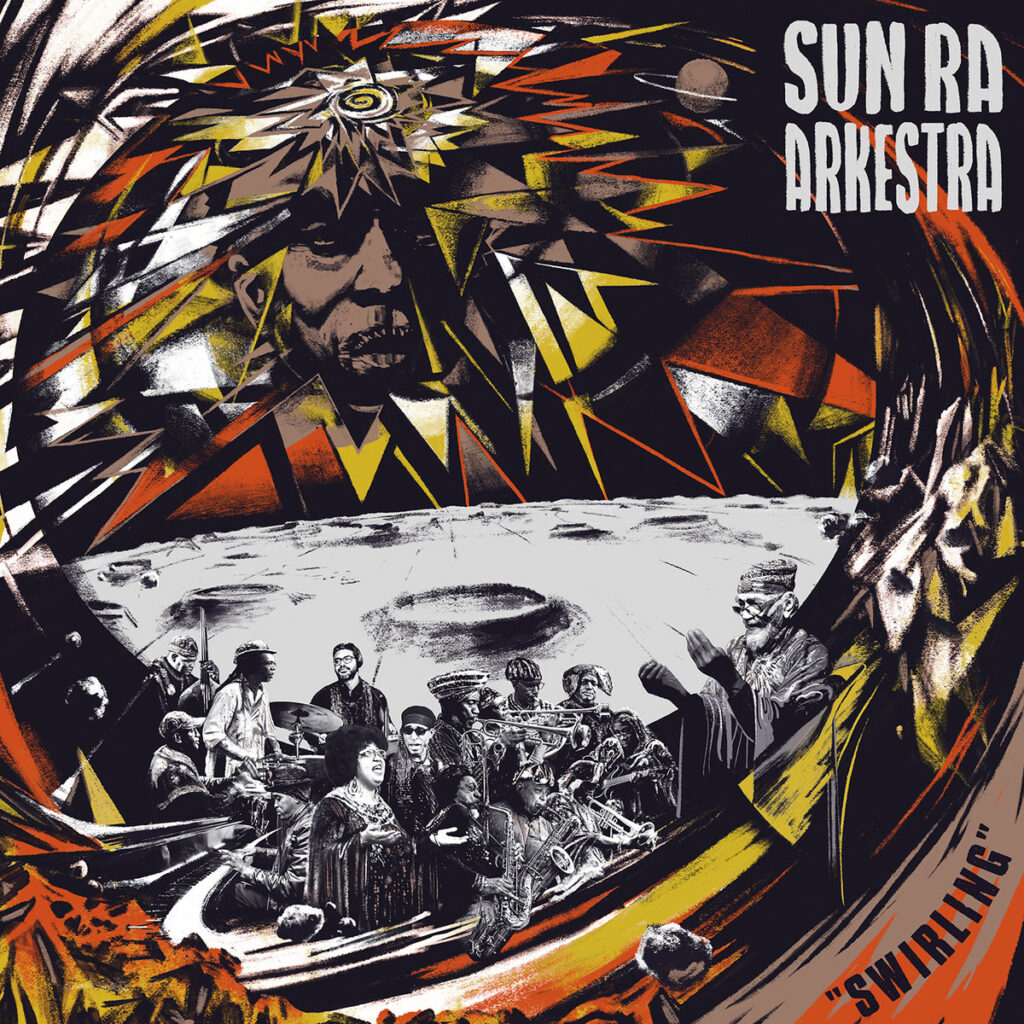 This week sees the release of Swirling, the first album from the Sun Ra Arkestra in more than two decades. To celebrate its arrival, we're joined by guitarist and improviser Brad Farberman, who's written about Ra's lasting contemporary influence and is tweeting his way through the vast Ra discography. Swirling is about much more than music, he explains: it's part of a vast cosmic legacy.
There are a number of tear-jerking moments on Swirling, the new album from the 15-piece Sun Ra Arkestra, but none more intense than the last ninety seconds of the final track, "Door of the Cosmos/Say." As four life-affirming chords march regally toward the sunset, bandleader Marshall Allen squawks brutally on alto saxophone while accompanying horns sing peacefully and the rhythm section churns with purpose. The piece ends with an a cappella chant from the charismatic vocalist Tara Middleton: "Love and life/Interested me so/That I dared to knock /At the door of the cosmos."
Born Herman Blount in 1914, Sun Ra spent many of his 79 years explaining that he was from another world, Saturn, and that his concerns were universal in nature, focused on deeper truths than appeared on the surface. He lived his 79 years as a poet, theorist, and philosopher but also a showman and he made sure the members of his ever-shifting and morphing Arkestra were impossible to miss as they traveled the world decked out in futuristic Egyptian-inspired costumes, blending avant-garde jazz, swing, noise, and spirituals into a sound all their own. When Ra passed away in 1993, the Arkestra continued on, first under the direction of John Gilmore, until his passing in 1995, when leadership shifted to Allen, who conducts the group on Swirling, the band's first studio effort since 1999.
"Space is the place" is one of the group's mottos, but on Swirling, time is the place too. Comprised almost entirely of well-worn compositions from a vast repertoire, Swirling serves as a reflection on the Arkestra's long history and a testament to the lives spent in its service, including Allen, who joined the Arkestra in 1958 (at 96, he is also perhaps the oldest regularly working jazz musician), longtime members Michael Ray, Knoel Scott, Cecil Brooks, Elson Nascimento, Tyler Mitchell, and Vincent Chancey, and a few who have departed the Earth since its recording, including baritone saxophonist Danny Ray Thompson, who joined in 1967, and the late percussionist Atakatune Stanley Morgan. On Swirling, those no longer physically present—Ra, Gilmore, legendary vocalist June Tyson, and many more—continue to inform the feel and scope of these songs.
Recorded at Rittenhouse Soundworks in Philadelphia, the album delights in the communal. On nobly swaying tracks like "Satellites Are Spinning/Lights on a Satellite" and "Seductive Fantasy," soloists do not take off on courageous missions, leaving piano, bass, guitar, drums, and percussion in the dust. Instead, the musicians weave their improvisations into the grand tapestry of the music; solos feel more like stops along a journey than destinations unto themselves. There's a sense of selflessness that pervades every note on Swirling. Each riff and bass line works toward a greater good, a fuller whole.  
Which isn't to discount the presence of abstract thoughts and musical tension. The post-apocalyptic "Astro Black" finds Middleton singing "astro timeless immortality" and "find your place among the stars" over just minimal electronic whirrs and whoops. While the cathartic free-jazz cut "Infinity/I'll Wait for You" doesn't shy away from full-band freak-outs, even when the Arkestra is shaping an unstructured moment, it does so through total collaboration.
The partnerships extend to spicing up the catalog, too. The title track, a traditional big band number by Allen, receives its first recording here, and one could almost be fooled into thinking this was a different band until the vocals come in: "Moonlight is falling / space dreams are calling." Ra's anthemic "Darkness" also finds its way to the studio for the first time. Built on a mountain-moving six-note riff from Thompson's baritone, the piece is a slice of joy in 6/8, with bright, chanting horns and Wayne Anthony Smith Jr.'s unfailing ride cymbal carrying us into the night.
Swirling also deals with the blues. A frisky surf tune once again anchored by Thompson, "Unmask the Batman" sees the Arkestra barreling gleefully through the changes. And the strutting, twelve-minute blues jam "Space Loneliness," also heard on the 1967 album Interstellar Low Ways, starts with a gorgeous solo bass passage from Tyler Mitchell and builds into a loose, ecstatic exploration.
As the pilot of the Arkestra for a quarter century now—about half the time Ra was in charge—Allen is always there with a stinging line or a bubbling sound to lovingly guide his bandmates through thick and thin. When he screams on alto during the romantic "Swirling," it's like a knife cutting through an expensive painting. When he winds up and explodes on the insistent "Angels and Demons at Play," it's a plea for humility and grace. And when he picks up the EWI on "Infinity/I'll Wait for You," his robotic bird calls simmer and take flight.
"Music is not material. Music is Spiritual," Ra said in The Neglected Plane of Wisdom (1966). Swirling is yet another example of what he was describing. It's more than just sound; it's life, death, humanity, and hope. It's about reaching for something more. It's about fitting yourself into a bigger picture. About transcendence and moving on. It's about holding a band together for more than sixty years. It's about togetherness. Happy arrival to Swirling, another masterpiece from the never-ending Sun Ra Arkestra. 
Aquarium Drunkard is powered by its patrons. Keep the servers humming and help us continue doing it by pledging your support via our Patreon page. For heads, by heads.