It's quite possible that you've never heard of Josh Kaufman. However, it's nearly impossible that you've never heard Josh Kaufman. The producer, composer, and multi-instrumentalist is one of the busiest musicians you'll find, playing on and guiding countless artists' records from behind the scenes. He thrives in the background, lives in the liner notes. His list of credits reads more like a year-end, best-of roundup.
In just the last few years, Kaufman's played on records by the National, the War On Drugs, Hiss Golden Messenger, Josh Ritter, and Taylor Swift, to name a few. In that same span, he's also produced Grateful Dead founder Bob Weir's masterful Blue Mountain, Craig Finn's last three solo records, Walter Martin's orchestral, The World At Night, and The Hold Steady's powerful re-entry, Thrashing Thru the Passion. Oh, and he's also a full-time member of the folk trio, Bonny Light Horseman, and indie rock supergroup, Muzz.
Josh was kind enough to take a break from his overflowing schedule to talk with Aquarium Drunkard about how he artistically approaches such a wide range of projects, being more interested in the MG's than Booker T., and recording parts of Taylor Swift's latest album in his closet. |m behrends
Aquarium Drunakrd: Preparing for this interview, my head was spinning because you've been involved, in numerous capacities, with a profound number of bands and artists. How do you keep track of all the projects happening at once?
Josh Kaufman: The calendar aspect of it is anxiety provoking. But the showing up part is not. I have been really fortunate and lucky to find environments and collaborators that seem to be comfortable with me just showing up. So I feel comfortable just being myself and responding to the music.
It may look like these disparate connections, but to me it's all one thing. I can show up on a guitar gig and approach it how I'm feeling in that moment. And I can show up to a production gig or a writing gig the same way …I'm sort of following this larger narrative that's in my head.
AD: What's the larger narrative?
Josh Kaufman: I've always been this guy who obsessed over the people in the background. Like, Booker T. and the MG's. What's up with the MG's? You know? What's going on there? The players on Dylan records and stuff. So much character, so much personality.
I was playing in bands and you show up to rehearsal, drill the same songs over and over and over again, then you go and do the 45-minute set somewhere … For me, personally, I think it's very beautiful to see. I love participating in that from time to time. But I was interested in a more random—more surprising—schedule. So I very quickly just started saying yes to so many different projects, just to see if I could handle it.
AD: Have you ever had the desire to front a band?
Josh Kaufman: I've fronted bands before and it didn't feel like the right fit. But it was definitely part of the journey. Much of the last 15 years has been me kind of happily bouncing around. Go play with someone else, make another record for someone. I think if you don't put a flag down and say, "This is who I am," enough people will kind of do that for you…To someone you're a writer. To someone else you're a guitar player. To someone else you're a friend. Those roles sort of find themselves.
AD: You've played the role of writer, multi-instrumentalist, producer. Is there one that excites you more? Is one more creatively satisfying?
Josh Kaufman: I think they all work together. I think I'd lose the Jenga of it if you pulled one out for me. And I prefer to not go too crazy on just one. Some of the projects that come in, I think afford me the option to sort of switch hats. So a band like Muzz, or a band like Bonny Light Horsemen, when it's important for me to wear a producer hat, I can. But I can also just be a band member … I've done records with lots of other producers and I've learned a lot from them. Being around the Cook Brothers [Phil and Brad Cook] … Working with someone like Danger Mouse. Getting to see how they do their thing from the inside. I'm just endlessly curious with how many different ways it can be done.
I would hope that it's this larger community learning and pushing things forward. And just enjoying the music. It can be such a blissful thing. You can't touch it. Like, what is it? And why does it make us feel so good?
AD: Let's talk about a few very different projects you've worked on. You produced Craig Finn's three latest solo albums, then The Hold Steady's most recent Thrashing Thru the Passion. What did you see in those that you wanted to bring out and bring to life? What did you feel you could add?
Josh Kaufman: So we met up and he [Finn] shows up with these folders. Not like folders on his computer, but physical folders. Pages and pages and pages of lyrics and stories. And sometimes he would have some phrasing in mind. But often we would just start looking at the stories and talk about them. Trying to figure out what sort of elegant framework we can put around these stories. What do these books look like? It was really exciting to start from just the words. That was the beginning of this cool thing.
One record led to another which led to another which led to him pulling me in to working with The Hold Steady, whose music I had heard but I didn't follow it. And that may have been good. You know, I worked with Bob Weir from the Grateful Dead and we made a record together. And I noticed very quickly the people that Bob surrounded himself with weren't Deadheads. I think there's something cool if you can avoid that nature of surrounding yourself with sycophants. You can get to some truth a little bit faster.
So I admire that about Craig. I thought, "On the one hand, I'm a terrible choice for The Hold Steady. But on the other hand, maybe I can find some stuff in this music that would give them a new sort of venue to prove themselves in, as a band that's been around for a long time."
AD: You mentioned Bob Weir. You produced his Blue Mountain LP. How did you two originally get connected?
Josh Kaufman: Maybe 10 years ago, I get a call from Bryan Devendorf, the drummer of The National…He's like, "We have this opportunity to back up Bob Weir as part of this charity concert in the Bay Area. We need a music director to help it all make sense—The National and Bob Weir together. So they hired me to do that.
I became friendly with Bob. He was like, "Why don't you come in early tomorrow and we'll make a set list together?" So I show up early, Bob shows up, and we're having breakfast at his studio together. Just the two of us. I'm like, man, I'm hanging out with this guy who's older than my dad, and he's so charged and so keyed in to some deeper things still. I was so moved by that, you know? I saw something in him that I wanted to chase down. There's a spirit that's moving this dude, still, after all this time.
He'd tell these stories about getting kicked out of high school and hanging out with these cowpokes on these farms out in Wyoming and stuff. I was like, "That's so cool. I wonder if there are songs in there?" So, I call him and he starts singing this song to me over the phone called "Blue Mountain." (mimicking Weir's warble) "Blue mountain… I can't remember the second verse." And I said, "Maybe we could write a new one. It's a traditional song. We can have our way with it." So I started talking to my buddy, Josh Ritter, who's steeped in this rural American poetry and traditional music. We started sketching out ideas for some lyrics. I sent those to Bob and the next thing I knew, I'm on a plane headed out there. Over a couple years, we made a record. It was totally surreal for me. I'm not sure it ever went away.
AD: Live music's on hold but you've remained busy. Has being primarily behind the scenes allowed you to continue working?
Josh Kaufman: Yeah, I think that's exactly right. Because I can sort of work from inside the music it's been a little easier for me to stay busy … When I was producing the This Is The Kit record at the beginning of the pandemic, I was in my closet in Brooklyn. Literally in my closet with some speakers, my laptop, and a couple of preamps.
That's just the workflow, I think, in the modern world. We're fortunate in some ways, as recording artists, to be in an environment where we can work around these obstacles and still be productive.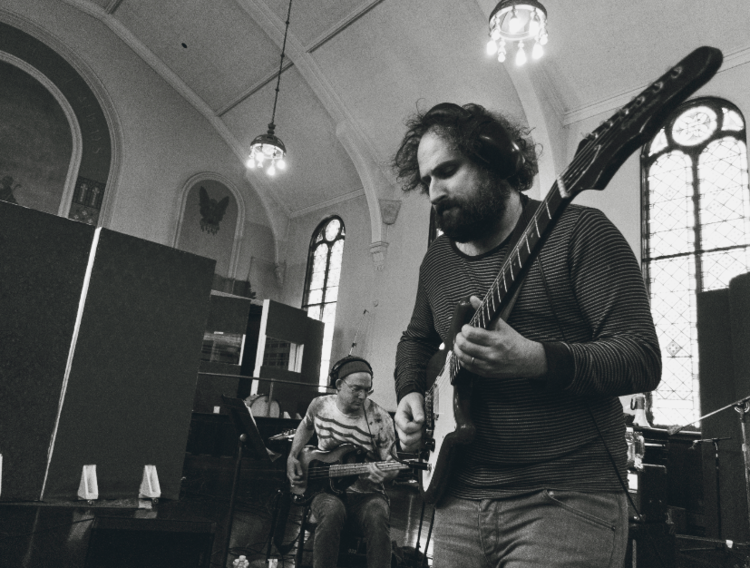 AD: You played on Taylor Swift's folklore record, which was released out of the blue in July. Was that the same situation? You just set up in your living room or in a closet?
KAUFMAN: Yeah, that was weird because of how secret it was. Aaron [Dessner, of The National, who produced folklore] sent me that stuff, we had some dialogue about it, and then I recorded my parts in my closet. (laughs)
AD: What projects are on the horizon for you?
KAUFMAN: There's a This Is The Kit record that's coming out real soon. That was the last thing I worked on right before the pandemic. We did it over in the UK at Peter Gabriel's studio, Real World. They're an amazing band. Just this very pure sense of UK folk mixed with these, like, African polyrhythms.
I produced the new Mandolin Orange record… What else? Oh! The new Fruit Bats record, I did that since moving up here to Kingston [NY]. I go into the studio with Guster next week. Then after that, I'm starting work on Anaïs Mitchell's new music. Then all throughout this time, I'm sort of writing some new Bonny Light Horseman songs. And we're maybe three-quarters of the way into a new Muzz record.
Does Aquarium Drunkard make your listening life better? Help us continue our independent culture publication by pledging your support via our Patreon page. Doing so will get you access to our secret stash—including bonus audio, exclusive podcasts, printed ephemera, and vinyl records—and help us keep an independent publication going.