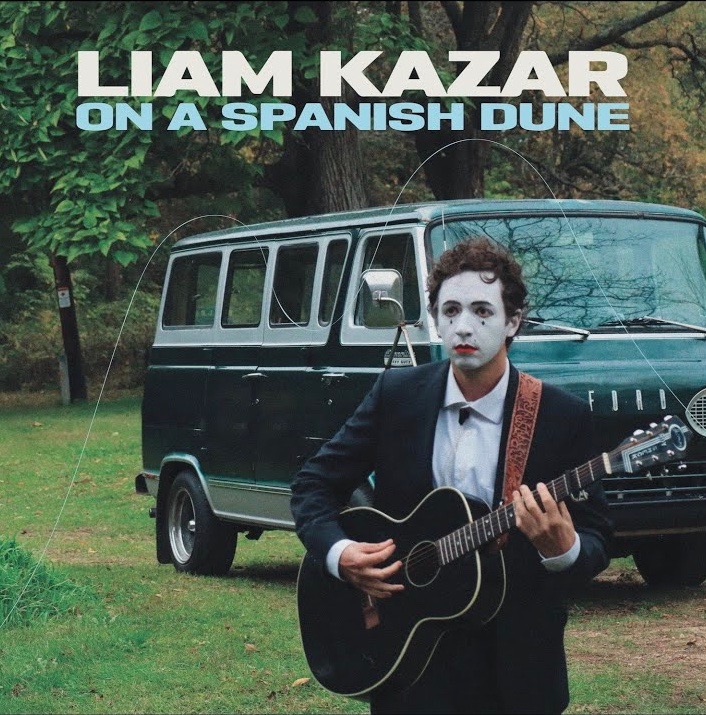 You'll be forgiven—what with it all—for missing Liam Kazar's first single, "Shoes Too Tight," when it brazenly jaunted into our ears back in early April. Part Richard Swift, a dash of Rufus Wainwright, a helping of Randy Newman, aided and abetted by family and friends, Kazar's sound was a dose of fresh air right as the very thought of "fresh air" became fearsome.
Kazar returns now with his second track, "On a Spanish Dune." Within twenty seconds, the comfort and beauty created by Kazar on "Shoes" comes into a new, thrilling focus. As an arranger and composer, Kazar's songs are not "lush" so much as they are precisely plucked—in his small-sample-size-songs, he layers textured pianos and synths, delicately entering and exiting Kazar's production. His voice—particularly, his deployment of syncopation—shines with confidence. There's a swagger that Kazar has tapped into on both of his solo tracks, but it derives from different places.
Where "Shoes" bounced along with an oddly infectious dance groove, "On a Spanish Dune" astounds in the beautiful small moments like Kazar's voice hanging on "chewing gum" or the suddenly-there backup vocals on "true North Only." When he opens the track stating, "Everybody's asking me/what you gonna do/gonna be?" though, it's hard to find much sympathy. Writing songs like "On a Spanish Dune" logically leads to a clamoring for more. |b kramer
For heads, by heads. Aquarium Drunkard is powered by its patrons. Keep the servers humming and help us continue doing it by pledging your support via our Patreon page.