(…the latest entry of 'blanks and postage' — author jesse jarnow's monthly column for aquarium drunkard highlighting the fringe and beyond.)
The importance of the Hampton Grease Band is almost always reduced to factoids. Mainly that their sole album, 1971's Music To Eat, was allegedly the second worse-selling double-LP in Columbia Records' history, after an instructional yoga set.
The Hampton Grease Band deserve better. The Hampton Grease Band were the South's first freaks, and still their most incredible.
What the MC5 were to Detroit, what the 13th Floor Elevators were to Austin, what the Mothers of Invention were to Los Angeles, what the Fugs were to New York, what the Haight-Ashbury groups were to San Francisco, the Hampton Grease Band were to Atlanta. Formed in 1967, they were the house band for the local counterculture, beloved by the staff of the underground newspaper the Great Speckled Bird, and the first musicians to make use of an unprotected electrical outlet in Piedmont Park, soon the hub of the exploding free live music scene in town. They jammed a lot. There were chainsaws onstage.
In the spring of '69, when the Allman Brothers Band made it up from Florida, the Hampton Grease Band were there to welcome them, playing a free show together at Piedmont Park. When the Grateful Dead came to Atlanta for the first time a few months later, the Hampton Grease Band joined them at Piedmont Park as local ambassadors. In Gainesville, when Tom Petty's band Mudcrutch decided to throw their very own Mudcrutch Farm Festival, it was the Grease Band who headlined the night.
The other unfortunate factoidization of the Hampton Grease Band is when they are remembered as a footnote to the career of absurdist frontman Bruce Hampton, who would promote himself to Colonel some years later and make a name as an elder weirdo on the jam circuit. And it's true, Hampton was at the front of the band, a legendary showman who lived (and even more legendarily, died) on stage. But the Grease came from beyond.
The story of the Hampton Grease Band qualifies as one of the most lost in underground music history relative to their significance, but more importantly relative to the sheer originality of their music. It was a collective and group-minded endeavor, and if Hampton is sometimes remembered a kinetic and wild frontman, his bandmates usually fall more into the "lost" category, but all were equal contributors. One story I missed at first is that of Harold Kelling, one of the Grease Band's dazzling guitarists, whose wordplay shaped the group's vibe, whose visual art was on the front and back of their LP, and whose guitar seemingly went silent after the Hampton Grease Band, besides a lone obscure 1982 7-inch on the same label that released R.E.M.'s debut single.
I first encountered the Hampton Grease Band's music after seeing Hampton's Aquarium Rescue Unit perform in the summer of 1993 and reading about his previous ventures. When I spotted his very out-of-print discography on a fellow tape trader's list a year or so later, I happily acquired copies. His '80s albums didn't get much play besides some mixtape faves, but Music To Eat lodged in my Walkman when I got it, coming out to run off copies for friends.
Certainly, I was taken by Bruce Hampton's presence on Music To Eat. His voice was bluesy, but he wasn't one of those longhairs who was trying to sing blues. But it wasn't just the lyrics or singing so much as the way the vocals fit into the music, which didn't seem to be written in any traditional sense, even though there were sometimes verses and choruses. It seemed like music remade from the ground up in a new and pleasing way. The words ricocheted off the meticulous and always-moving instrumental parts, twin guitars springing into conversations that might be telepathic improvisations or bananas compositions.
A few years later, in 1996, Shotput Records reissued Music To Eat as a double CD with extensive liner notes by guitarist Glenn Phillips, which opened up massive worlds for me as a teenage head. In 20 or so CD-booklet sized pages, it laid out a basic history of Grease with a few righteous pieces of visual evidence. As maybe the first semi-forgotten band I'd stumbled onto, they'd become an in-joke freak-flag for a few friends. It was all alluring, from their self-declaration as "suck-rockers" (maybe that's what we were, too?) to their invention of new words (I definitely cribbed "strenturgent" for a few papers and got away with it more than once), but mostly there was the music, and the lack of anything else like it.
The musical story seemed to stop cold after the 90 minutes on the album and a few anecdotes in the liner notes. There was one undated Hampton Grease Band live tape floating around, recorded by a later incarnation of the group, and I eagerly tracked it down. It didn't sound much like the band that made Music To Eat. I filed it with my cassettes, a bit puzzled.
After Harold Kelling died, there was a brief reunion with Hampton and accompanying DVD, playing Music To Eat straight through. Even more tantalizing was a CDR with an awe-inspiring 13-minute jam from Emory University in June 1970 that seemed to deliver on every promise on Music To Eat. I remained happily (and hungrily) baffled. Then came a fragment of their triumphant set from the 1970 Atlanta Pop Festival that revealed a few of their covers, including Bill Haley's "Rock Around the Clock" and Claude King's country narrative "Wolverton Mountain," and also confirmed that the Music To Eat songs shredded as hard live as they do on the album.
Hampton Grease Band :: Hendon (Atlanta Pop Festival, July 5th, 1970)
In 2019, two years following the death of Bruce Hampton, the Grease once again cracked the surface. Guitarist Glenn Phillips published a lucid and extremely intimate memoir with the accurately soul-baring title, Echoes: The Hampton Grease Band, My Life, My Music and How I Stopped Having Panic Attacks. Aquarium Drunkard's Jason Woodbury interviewed Phillips when the book was published. The book came paired with The Dark Parade, Phillips' first new album of expressive guitar music in several years. The guitarist's account of the Grease Band is at once inspiring and tragic. There really is nobody else who sounds like them, Phillips and Kelling's raw two-guitar acrobatics predicting some of Phish's intense internal language and precision (but minus a lot of the other parts).
From my perspective, along with Echoes, the missing piece was the launch of the Independent Voices database in 2017, Reveal Digital's stunning open-access collection of scanned, searchable underground newspapers, which include a nearly full set of Atlanta's Great Speckled Bird as I discovered late one evening when I entered "Hampton Grease Band" and got many, many pages of hits. Combined with the stories and memories in Echoes, it raised a series of concrete questions that might actually have answers: How did the Hampton Grease Band get to sound like that? What were their live shows like? When and where were they? What did they play besides the songs on Music To Eat?
And so–in an obsessive act of self-soothing in the early days of COVID-19–I made GreaseBase, a list of every single live Hampton Grease Band performance I could find, and filling in whatever songs I could from reports. Putting the story together chronologically revealed that the group followed the same ultra-compressed scale as many acts of the era, packing amazing amounts of playing and development into what seems like the briefest of time frames. As an attempt to pin down dates, setlist fragments, and a repertoire of covers and originals, it's a work in progress. (Please get in touch with missing information.)
As Echoes reveals, the band's extended metaverse also included the Stump Brothers, the Glenn Phillips and Jerry Fields-led jazz-driven spinoff ensemble somewhat equivalent to the Grateful Dead's jamming sub-group Mickey and the Hartbeats, had the Hartbeats gone on to play as frequently as the Dead. It likewise included Harold Kelling's post-Grease act, the Starving Braineaters. And it included, to some extent, Avenue of Happiness, another local project whose earliest lineup included anti-musician Bruce Hampton on guitar. None of these projects released any music during their lifetimes, or since. History can be greasy like that, but it's not always lost.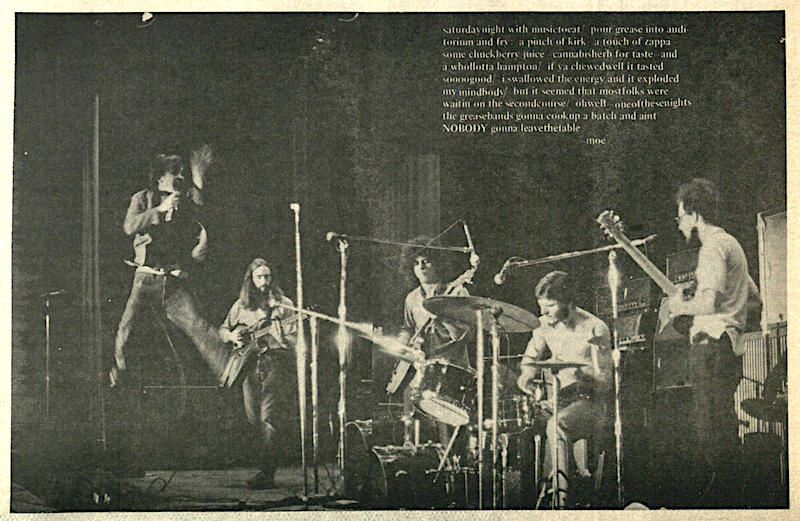 In some ways, perhaps most ways, the Hampton Grease Band began with Harold Kelling.
Harold Kelling was the slightly older and definitely cooler guy in the neighborhood. He led the IV of IX, a local party and dance band that specialized in Ventures covers. He could play. Really play.
Glenn Phillips couldn't play. Yet. That would change. Glenn's older brother Charlie was tight with Harold, and Charlie was the secret weapon. With Harold and Bruce Hampton, another local teen, they made a nucleus of absolutely serious, hungry, and committed music freaks. In the mid-'60s, Charlie had gotten a job at Northside Record Shop. The owner made him manager, and soon the Phillips brothers and their friends were drowning in the era's music.
"Charlie would explain it all," says Bill Hardin, a neighborhood pal, in awe then and now. "He would have Max Roach albums, and explain who Thelonious Monk was, or why this passage was so good. These guys were so into music. Charlie and Harold and Bruce were relentless about this. Sometimes they would go to New York to see music. But pretty much every week they would go downtown and see music at the Black clubs in Atlanta, like Otis Redding or Wilson Pickett or the Isley Brothers, which was pretty bold coming from the side of town we came from. Before Jimi Hendrix came out, Charlie told everybody well in advance that he was the best guitar player in the world. They saw him at the Royal Peacock with the Isley Brothers. When that record came out, we were ready."
Glenn caught Dylan and the Hawks when they came through in '65, lost himself in the modal title jam of the Butterfield Blues Band's epochal East-West, and dove into the deep end of John Coltrane, Pharoah Sanders, and others. He practiced relentlessly. "That's all he did in his waking hours it seemed like," says Bill Hardin. That and high school. "He got really good, really quick." Harold Kelling and Glenn Phillips convinced Charlie to learn bass and their friend Mike Rogers to learn drums.
The Grease Band launched with a repertoire of blues tunes borrowing a bit from Cream (like Elmore James's "I'm So Glad") and the vibe of the Butterfield Blues Band, including an early raga-inspired original called "Agony." After debuting at a Dykes High School dance, they played many of their first shows at the Poison Apple Room of Stables Bar and Lounge, owned by musician Abner Jay. That was where a patron pulled a gun and demanded a James Brown cover.
"They were very danceable and they were a whole lot of fun," says Bill Hardin, who watched the IV of IX transition into the Hampton Grease Band at local battles of the bands at Chastain Park and in practices in Harold Kelling's basement. For the next few years, Hardin attended nearly every single Hampton Grease Band show. He remembers, "They would play dances and girls liked them. Every single time they played, they got a little better, and they were never the same. From one week to another or Tuesday to Thursday. They were doing songs like 'I'm So Glad' and 'Bony Maroney' and they started opening up, because Glenn and Harold were getting so good together."
"I started writing songs in '67, right when we started, and we were doing them onstage," says Glenn Phillips, "but I can't say they were good or anything. It evolved gradually, basically Harold and I were driving the train. Harold started writing songs as well and we just started feeding off each other. It did start pretty early, but it wasn't like a conscious thing."
"We started doing blues, and instrumental songs that were sort of like blues progressions, and oftentimes evolving into one-chord type jams, and then getting more complex as it went along, and evolving a language where we communicated." One recording of an early rehearsal captures the story of the band in under 10 minutes. They start by playing a somewhat generic blues song called "I'm Bad" with shaky vocals by Hampton before Phillips and Kelling "start playing off each other and won't shut up," as Phillips describes. After their drummer du jour drops out and comes in with a new beat, it's pure free-flying improv.
"They were good then, too, believe me," says Mike Holbrook, who would go on to be the Grease Band's permanent bassist, but started as a friend and fan. "When I first saw them, they were still doing blues numbers, but starting to stretch them out, like an 'East-West' thing."
One of Phillips's early originals was "Eggs." It was "more or less a vehicle for jamming," as Glenn put it. Harold Kelling posted a version on his MySpace page in the early '00s, with the early rhythm section of Charlie Phillips and Mac Reynolds recorded, in Glenn's memory, either at Harold's or a friend's makeshift basement studio. Enormous thanks to Jordan B. for rescuing the file.
Hampton Grease Band :: Eggs (1968)
Bruce Hampton was a dynamic frontman. For a group of teens from Atlanta, he was a powerful blues singer and with a devastatingly charismatic presence. With a deep reverence for his influences, Hampton was also a kinetic force, as well, capable of screaming nonverbal vocalizations and onstage leaps. Drummer Jerry Fields would describe the Hampton Grease Band's dynamic as "music vs. anti-music," with the band on the left side of the formulation with their serious chops and discipline and Bruce on the right. But in some ways, the civilian Bruce Hampton was the most grounding part of the Grease Band.
"A lot of what happened was a result of me wanting to get deeper into understanding music," Glenn Phillips says. "There's a lot about music theory that's common knowledge today — scales, modes, all that sort of stuff. But at the time, that stuff was not common knowledge. I would listen to records and hear people like John Coltrane and Ravi Shankar and get interested in how they were doing this stuff, and would have to go to libraries, read music theory books, and I took piano lessons. And then once I started getting that information, sharing that stuff with Harold, we just started evolving an understanding of how music worked, and what the basis of these things was, although we were very much into breaking rules.
"We rehearsed a lot because we were just into it. In the beginning, the headquarters was Harold's basement. Harold lived at his parents' house. It was close to all of us. And that's where the band started. That's where Harold was living when he passed away all those years later. Right up to when he died, I'd go over and visit him, and every time I walked into the basement, I would just be flooded with memories.
"I don't know that we thought of it as practicing all the time so much as that was the clubhouse, and we always wanted to go to the club meetings. I think all of us felt like outcasts. And that was the one place where we felt connected. And free and alive. It was a great environment, really free and open, and our connection with each other was a great thing to have. And we did practice all the time. There were years that we were down there just doing that. Every day after school, I'd just go over there and we'd hang out and play and come up with ideas or just jam with each other. Or I'd tell Harold things I'd learned and he'd show me something. He had been playing long before the Grease Band, and the Grease Band was the first band I was ever in. He was just a naturally talented guy. He had a great ear. He didn't know music theory or anything yet, but he was playing this huge variety of music. He was a huge Ventures fan, and you think of the Ventures as just being like a commercial pop instrumental group, but they had a different theme on every record and covered this wide spectrum of music. So that in itself was an incredible musical education for him to get."
Though Kelling was first reluctant to share co-lead duties with the less experienced Phillips, the younger guitarist put in the work, and the Hampton Grease Band gained perhaps the most identifiable part of their sound.
It was during this period, too, that the band's personality appeared, welded fully with their music. "I had an incredible comic book collection," Glenn remembers. "And Harold was very much into science fiction. A lot of it predated Harold's time but it was shown on TV all the time when he was growing up, like the Flash Gordon serials. There are lyrics in 'Six' that are exactly taken from a Buck Rogers serial from the '40s, hearing them talk about the power house. Then there are lines that aren't from those serials, but from that world. He had this great rhythm, he was really able to fabricate words that often didn't connect to anything, just totally invented. He would also take people's names, like in 'Hendon' there's a whole section, but when Harold said those words, he would just have this way that he would say things. Harold and Bruce grew up together and Bruce was closer to Harold's age. That very much influenced Bruce. He would get this sort of pronunciation and the rhythm of the language from Harold. Of course Bruce contributed to it as well, but the originator of what I would call the Grease Band's language was Harold."
It was Harold Kelling who named the Grease Band, of course. Just after the dissolution of the IV of IX, Kelling, Hampton, and Charlie Phillips encountered Frank Zappa on a trip to New York in mid-1967 to see music and (in Kelling's memorable phrase) they "communicated our compatible weirdness."
"I just walked up to him and said 'Grease' with no particular context in mind," Kelling told Phil McMullen in 1996. Almost improbably, weird truly recognized weird, and Zappa invited them to hang out in the studio. When Lumpy Gravy appeared the next year, it included a thank you to "Sammy, Harold, Charlie, Bruce, and the rest of the guys from Atlanta." They're there, somewhere in the chorus of voices. The Grease concept stuck, adding Hampton's name when they discovered Joe Cocker and company.
The songwriting developed its own kind of collaborative language. "Harold had a song called 'Hey Old Lady' that he wrote the music to, and my brother Charlie, who was the bass player at the time, wrote most of the lyrics, with Bruce," says Phillips. "And we had this song called 'Bert's Song' that was a separate song that we did. Harold had a chord progression that he had made up, and Bruce had these lyrics that came from an old spiritual, I've never been able to find out what the original song was. But then Harold wrote a little instrumental section and stuck them together. It was just two simple songs and sticking them together with a little interlude. We weren't consciously thinking about it, but I can see that was the first time we did that, and it just started leading to more and more."
Drummers came and went throughout 1968. They blew through them: Mike Rogers, Mac Reynolds, Nathaniel Reed, and Ted Levine. They found a promising guy named Steve, but he changed his name to Paul, decided to start playing left-handed, and didn't make the cut. Almost-finally and then finally there was Jerry Fields. A jazz-trained fireball, Fields matched the rising energies of Phillips and Kelling in pushing the music further and further out.
He recalls, "I saw the band at the Catacombs with Charlie Phillips on bass and a drummer named Mac, and the drummer was just not happening. A few weeks later, I got a call from Harold Kelling, who'd got my number from the manager at Metro Music. We'd never met."
Though he was clearly exactly the right drummer, Fields was in and out of the Hampton Grease Band at first. He says, "I can't even remember why," he says, though it's easy to see why when Fields recalls his life at the time. "Even though I was in high school, I was living in a hotel and working six nights a week in a black discotheque. I'd be up there with my drum kit, with a conga player and a bongo player, and we'd play along with a jukebox, like R&B and James Brown."
Escaping a violent household, Fields says, "I was playing the clubs, earning my money as a musician while in high school, really just seeing things I shouldn't see. I came from a real poor background. Those guys [in the Hampton Grease Band] weren't exactly earning money. But I was actually on my own."
Fields brought a rhythmic headiness to match Glenn and Harold's conversational flights. Remembers Glenn, "Jerry suggested an idea that was just a technical a challenge, more than anything, of having half the band in one time signature and the other half in another. There are sections on the record like that, so half the band would be in five and the other half would be in four and then every 20 beats we'd all come together at one thing. It was really a challenge and an exercise, but to me the music that really holds up, that has an emotional weight and power, is the stuff that evolved organically, where we weren't consciously planning something out."
"We didn't have regular rehearsals with all our gear that often," says Jerry Fields. "I was living in an apartment over a garage and they'd come over with guitars and I'd drum on practice pads or phone books. There was so much trust, and nobody ever told me what drum part I should play. It was a band that really developed organically based on personalities and backgrounds."
It could be a bit of a culture shock. Not long after Fields joined the band, his father came to check them out. "My dad was a drummer who gave it up and never got to pursue it," Fields remembers. "He worked at a factory and brought some of his friends from work. It was an underground theater and they were showing Lenny Bruce and weird underground movies where guys are picking up dog shit. The band had a Kustom speaker that said 'Eat Vomit' or something, and my dad just lost it. He told me, like, 'those are two of the best guitar players I've heard, but you're wasting your talent.' He said Bruce sounded like he had a cactus up his ass."
Not yet 20 years old, Glenn Phillips leaned into the music as hard as he could. "I just wanted to play all the time, that was the impetus for the Stump Brothers," says Phillips. When Phillips and Fields started booking gigs on off-days in early 1969, Hampton and Kelling didn't react well, and the Grease Band dissolved for a few weeks.
"It wasn't like we wanted to replace the Grease Band," says Phillips. "Jerry had joined the Grease Band and then left, but he and I had a really good friendship and we still liked playing together. There was a friend of mine from high school, this really talented bass player, singer-songwriter guy, Steve Dempsey. We're still playing together. And we just started playing for the fun of it and went out and started playing jobs. At some point Steve Dempsey moved away, and Jerry and I just wanted to keep some sort of connection going where we could out and jam with people, and that's how it evolved. And and at some point, it morphed into him rejoining the Grease Band."
The Stump Brothers gigged constantly alongside the Grease Band for the next four years and sometimes sharing bills with the mother-group. "We would do Miles Davis songs, and stuff by Coltrane," says Phillips. "We did [Herbie Hancock's] 'Maiden Voyage.' Jerry was a very accomplished jazz drummer. When you listen to the Grease Band, we're a rock band, but he contributed something completely different."
"We did some Ornette Coleman stuff that was very arranged," remembers Mike Holbrook. "Some of the Coltrane stuff, like 'Afro Blue,' we learned off the records, but I remember we actually had sheet music for some of the Ornette."
Says Jerry Fields, "One time, Harold and me and another bassist tried to break into the astral plane with music by not listening to one another. You're always trying to quantify, to make a hierarchy so that you can feel safe. To do something without a pattern is very difficult to do. We were deliberately trying not to be influenced by what the other person was doing. But at some point we all just landed in the same place, and that was a magical thing, too."
If there was one musical element that united the members of the Hampton Grease Band, it was that they were all serious jazz freaks and music heads. And if Bruce Hampton wasn't quite considered a musician by the other members of the band, he certainly joined them in their pursuit of new sounds.
"They were all curious, that was one thing they all had in common," says Bill Hardin, friend and original Grease Band super-fan. "They were always the most curious people, always looking for something."
"We would go to New York just to hear music," Phillips remembers. "We would drive from Atlanta just to stay there for a week. I remember going to hear Charles Mingus, Pharoah Sanders, and hearing Tony Williams Lifetime with John McLaughlin. There were these tiny places like Slugs', small clubs. We would just drive up and oftentimes we wouldn't even know what was happening, we would just find out what was happening when we got there. I remember going to the Fillmore East. There was nothing like that in Atlanta until the Grease Band got going, and we were just voracious to absorb and see music that was nowhere in the South. I don't think we really thought about getting jobs there because we didn't have any connections yet." It was on one such early trip that Harold and Bruce had met Frank Zappa.
"We were definitely very much into New York and what was happening there," says Phillips. "Had San Francisco been closer, we would have been doing the same." And had Atlanta been more like either of those towns, things might've been different for the Hampton Grease Band.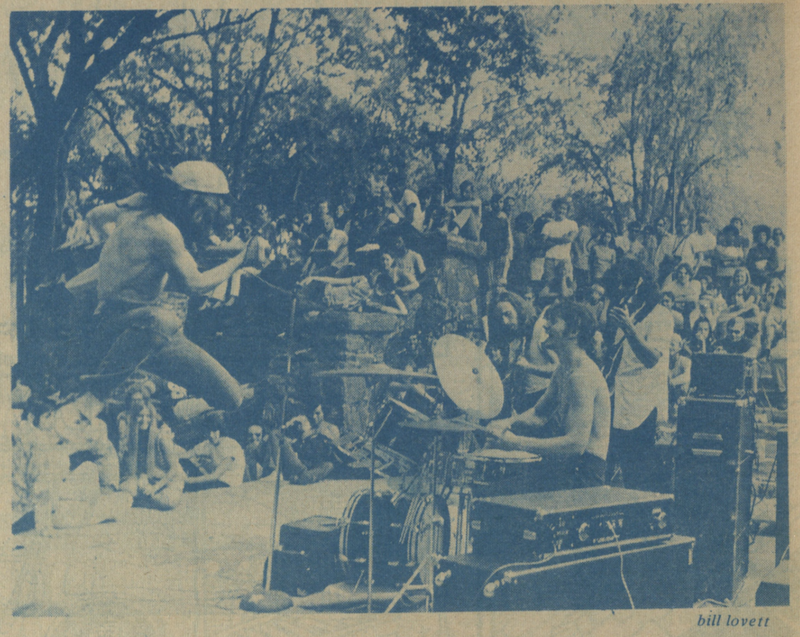 The Hampton Grease Band played for free at Piedmont Park perhaps two or three dozen times between spring 1968 and late summer 1970. They played the summer '68 Be-In with the Celestial Voluptuous Banana, Strange Brew, and others. They played with the Allman Brothers on multiple occasions, and numerous other acts, both remembered and not.
As much as the Hampton Grease Band intersected with politics and counterculture at large, it occurred largely at Piedmont Park. Adjacent to the Strip, Atlanta's hip neighborhood equivalent to New York's East Village or San Francisco's Haight-Ashbury, Piedmont Park was the center for the free music as well as the burgeoning antiwar and radical political movements. It became a teargas-scented locus point in summer of 1969, detailed at length by Christopher Huff in "Parks are for the People: The Piedmont Park Riot and the Politics of Late 1960s Atlanta."
Long harassed by law enforcement for hanging out in the park while longhaired, the political tensions ratcheted up in the summer of 1969 with a series of drug raids. In early September, the firebombing of the Atlantis Rising collective–a community meeting spot used by political groups–brought the situation to a head. A few days later, a Black police officer publicly accused other Atlanta police officers of unprovoked violence against Black prisoners. He also noted the department's targeted harassment of heads. "If your hair is long and you're wearing bell-bottoms you are in for it," he said.
That week, the underground paper the Great Speckled Bird and local civil rights organizations filed parallel lawsuits against Atlanta police. A few days after the Atlantis Rising bombing, the Allman Brothers had played a peaceful benefit for the collective, but the following Sunday wasn't quite so tranquil. The Grease Band headlined. With lawsuits and anti-police sentiment building, there were rumors of narcs in the crowd. Riots ensued. The Grease Band played minus Hampton.
One of the most stacked bills was in early July 1969 with the Grease Band, the Grateful Dead, Chicago Transit Authority, Spirit, and Delaney & Bonnie & Friends. The Allman Brothers are sometimes remembered as being on the bill, too, though attendees confirm they weren't.. Technically, it was the Hampton Grease Band's reunion show, their first gig after their brief split when Phillips formed the Stump Brothers.
The Dead tape from that day circulates, recorded by Owsley Stanley, and there's a big jam at the end of "Turn On Your Lovelight" with many guests, though Glenn Phillips says that the members of the Hampton Grease Band are not among them. "I said hello to the Dead, but it was nothing substantial," Phillips says. "I was obviously a big fan of the Dead, but it was more just a crossing of paths.
"It amazes me when I look back and there were all these moments that were so historic, shows with the Dead, shows with Peter Green's Fleetwood Mac and the Mothers and Captain Beefheart, and it never once occurred to me to get a picture of any of us together. I just had no comprehension of how rare it was, like it was going to go on forever. I was really close friends with Lowell George and I sat in with Little Feat many, many times, and I don't have a single photo of any of that happening. There was nothing in the world I would have loved to have done more than to have sat in the Dead, or had conversations further than 'hi, how are you,' but I didn't think it was ever going to end, which is incredibly naive and stupid."
"I'd see Glenn at shows and he was totally focused on the music," Bill Hardin remembers. "He didn't see anything. All he did was haul equipment. He did not stop and talk."
"We were always doing our own equipment, which also explains part of why the exchanges were so quick, and maybe why we didn't stop to take a picture," says Phillips. "There's a picture of us in [Echoes] of us playing in Piedmont Park where we're just surrounded by people, really up close. As a musician, you are always just focused on getting your equipment in and getting your equipment out, you can't just leave that stuff, and we didn't have road managers and stuff. We didn't have a crew like say the Grateful Dead had a crew, we were never that successful, though our friend Sam Whiteside [also among the "Guys from Atlanta" on Lumpy Gravy] helped us out a little after the record came out."
With the notable exception of Harold Kelling–and to a much lesser extent Mike Holbrook–the members of the Hampton Grease Band weren't drug users or even pot experimenters. But they were still very much heads, aligning themselves with the counterculture in other ways.
"Harold did acid and mescaline and stuff like that, but I was into Kundalini yoga," says Jerry Fields. "Glenn got into it too. That's where the song 'Lawton' comes from on the album, just me and Glenn. That comes from us being in a yoga class, and that was our teacher's name. I became macrobiotic. I remember when we played at the Atlanta Pop Festival, and people went apeshit, which is how we got signed to Columbia, people were asking, 'Oh, man, what are you on?' and I was like, 'Yoga and vegetables!'"
The Hampton Grease Band were unquestionably busy. Throughout 1969 they played long stands at local clubs like the Bottom of the Barrel and the 12th Gate, short-lived venues like the Georgian Terrace Hotel, and occasional happenings like Element, held at the High Museum of Art, where the Grease Band were accompanied by Dick Robinson on electronics and projections by the Frank Hughes Light Show, an offshoot of Discovery Inc., their management company.
Practicing constantly, the songs kept getting weirder. Remembers Glenn Phillips, "On 'Hendon,' Harold wrote the whole beginning of the song, and that's when Bruce picked up a can of spray paint and just read off it, because he wasn't really into writing lyrics and necessity is the mother of invention. And I would just come up with things that would be open-ended loose jam sections and attach them to the song. On 'Hendon,' the song itself was those first three minutes and the rest of it was us having jam sections and trying to capture it in the studio. I don't think the thing on the record is terrible, but I don't think it's as good as something like that jam at Emory.
"Bruce contributed a spirit and a feeling of recklessness in a great way, it just couldn't have been the same without it, but he did not write songs. When we worked up 'Halifax,' I had all that music written, I had all the melodies, but I knew Bruce would never come up with any lyrics. I just pulled an encyclopedia and opened it up to Halifax, and I took parts of the text and combined that with whatever words came to mind and fit it into the song's melody line."
Over Thanksgiving 1969, one of their last gigs before their classic lineup locked into place, they played the Turkey Trip with the Allmans at the Georgian Terrace Hotel. Miller Francis Jr., one of their fans at the Great Speckled Bird, raved, "the Hampton Grease Band outdid themselves, performing a mostly all-new set of extended musical explorations that included a longer ['Hendon'] and ode to 'Charlie,' an incredible hymn to the city of Halifax, Nova Scotia (its lyrics sounded like they were taken from the pages of the World Book Encyclopedia!), a great moment by Hampton on (of all things) 'Has Anybody Seen My Gal?' in which he combined vocals with dance and comedy and reached the level that he has worked for these many years, unbelievable instrumentalizations by Glenn and Harold, Charlie and Ted, and a closing 'Wolverton Mountain' that drove the crowd into hysterics and brought Hampton & friends back for a fantastic 'Rock Around the Clock' — All Hail the Sounds of Suck Rock!"
Hampton Grease Band :: Upper and Lower Dresden (July 5, 1970, Atlanta Pop Festival)
The last missing piece was bassist Mike Holbrook, who joined the band just out of high school at the end of 1969, replacing Glenn's brother Charlie–not without some friction–who would go on to an illustrious career in the music business.
Holbrook was a longtime fan, in addition to being Bruce Hampton's housemate, close to the band's new clubhouse at Glenn's place in Brookhaven. "I started playing with Glenn and Jerry in the Stump Brothers and sort of eased into the Grease Band," he says. "For the first Grease Band job, we had a lot of rehearsals, and then we went to Charlotte.
"We had a long time before we played, and Harold went next door to this junkyard and got practically an entire car and brought it up on stage. We gathered up all these rims and fenders, anything we could carry. And then Harold pulled me off to the side and he said, 'Listen, I've been talking to Glenn, and we've decided that tonight we're not going to play any F notes.' 'Really?' 'Yeah, no F notes tonight.' And I'm thinking 'oh God, what am I going to do?' and starting to transpose all the songs. And then as we're standing there tuning up getting ready to go, he comes over and goes 'Well, we changed our minds. The F notes are okay.' So that was good."
With Jerry Fields back for keeps, this is proper beginning of the Music To Eat version of the Grease Band, with Kelling and Phillips now accompanied by a rhythm section as fully freaked and disciplined as them, in Fields and Holbrook. The year would pass in a blaze of big gigs and gloriously odd moments.
From Charlotte, the Hampton Grease Band traveled to New York in January 1970, where they saw Pharoah Sanders and Tony Williams Lifetime at Slugs' and recorded a session at Apostolic Studios on East 10th Street with producer David Baker, the same studio where Harold and Bruce had hung with Zappa. An old friend and fan who'd moved to New York, he'd offered the band some free studio time. "Musicians love the phrase 'free studio time,'" Phillips says. It didn't take much to get the Grease gang to New York. Some of this tape is on YouTube, though Glenn observes that it's missing a channel and Harold Kelling's guitar is absent entirely.
"David Baker even found us a place to stay," Mike Holbrook remembers. "We stayed at [guitarist] Larry Coryell's place out in Nyack. He was out of town. I'm not sure he ever knew." Jerry Fields recalls a trip to Slugs' during this trip, encountering Black Panthers wearing bullet belts.
Back in Atlanta, the Hampton Grease Band spent most of their time rehearsing intently. "Sometimes six or eight hours a day," says Mike Holbrook. "I lived with Bruce, and he'd just get up like 15 minutes before practice, slip on some flip-flops, and drive over to practice in his pajamas."
There were sectional rehearsals, too. "I'd go rehearse with Glenn, and then Glenn and Harold would rehearse," Holbrook remembers. "And there were several times when only Glenn and Bruce would rehearse, to get the rhythm of the lyrics down, and then we'd all get back together the next day."
Recalls Jerry Fields, "Sometimes Glenn and me, sometimes Glenn and Mike and me, would practice odd meters. Sometimes Glenn and I would just get together and listen to African music."
Recording casually was not part of the Hampton Grease Band working method. "We didn't have any tape to rehearse by, we had to learn it," says Holbrook. "I wrote down a bunch of stuff, but we learned it verse by verse. On a song like 'Halifax,' Glenn and I would work on our own and come up with a lot of those little fills, then we'd bring it back to the next day's rehearsal. We just learned them really slowly. We didn't do a lot of improvising at the rehearsals. We spent a lot of time going over the same stuff day after day. It had to be done in small sections. We never made any tapes of the rehearsals, which is kind of crazy. But it was good for us to rehearse so much. We really learned it all as a band, at the same time."
"We had a booking agent at Discovery Inc., and we were playing out of town a lot," says Glenn. "No real touring, nothing on the level of somebody like the Grateful Dead but we were busy," remembers Phillips. Run by Steve Cole and Electric Collage light show operator Frank Hughes, Discovery and the Hampton Grease Band represented the core of the burgeoning local scene.
The Hampton Grease Band made it as far north as Cincinnati (where they played with Mountain and Captain Beefheart and the Magic Band) and down to New Orleans, where they shared a bill with Country Joe and the Fish and opened with their own variation on the Fish Cheer: "Gimme an S! Gimme an O! Gimme an F! Gimme an A!"
"We had a really good set there," Mike Holbrook recalls. "The crowd really got into it. [The band] hated us. They were all standing outside the dressing room or the side of the stage or wherever. They just had no sense of humor about it. We had to share a dressing room."
"Live, there was a real spontaneity to Jerry," Glenn says. "When we did a show at the Municipal Auditorium [opening for Fleetwood Mac, 8/30/70], just before we went on, Jerry said, 'Okay, I'm going to count to four, no song, no key, no nothing. We're just going to go for it.' And we went out and started the show with like a 20-minute jam. That's the review we printed inside the Grease Band album, the worst review we had ever received."
The review came in the Marthasville Vacuum, a briefly-lived competitor to the Great Speckled Bird: "On stage with the Grease Band were friends who danced, watched TV, listened to the music and marched around stage as if at home in their living room. One girl even read a book and another sewed on an American flag during the Grease Band's performance. As to their `music'–and I use the term loosely–the band performed much the same way. Very little of what they did had any context within itself. The casual actions on stage relayed directly to the audience and caused wandering, talking and virtual unrest." (Virtually no traces of the Marthasville Vacuum survive online, save one issue that appeared on auction site. Glenn Phillips remembers that it may've been published by a rival booking agency.)
The band's champions at the Great Speckled Bird were more prepared. "The real show that night was the Hampton Grease Band and their traveling asylum—two or three dozen people in various activities: reading, sewing on a flag, meditating, watching TV, and two go-go girls dancing in black tights, and the band played on! Unbelievable was the guitarist from Avenue of Happiness (which is a whole other trip in itself) coming out and playing a chainsaw during one frantic song. The playing included an attack on a log! The Grease has never been so insane, except maybe the night they flooded the Catacombs by ripping out the plumbing by swinging from the pipes! Another in the continuing saga of 'Thick Grease.'"
Among those onstage was Hampton Grease Band super-fan Bill Hardin, the neighborhood friend who watched the band's birth. "Stuff like that came out of the IV of IX when Harold used Bruce as a foil," Hardin recalls. "He would give Bruce ideas and Bruce would do a little shtick on stage, or they'd have him dressed up in some way." This continued into the Grease Band era.
"We would do whatever Harold or Bruce asked us," remembers Hardin. "It was always just part of the show and never in the way, he says. "I remember that night opening for Fleetwood Mac, the band was just laughing and tearing it up. But every single time was different."
The band had a group of devoted fans that would follow them from Piedmont Park to the 12th Gate and other clubs. "Every single time I went to see them, we always had anticipation because we didn't know what was going to happen," Hardin says. "You just never knew."
One especially weird night was spurred by Jerry Fields. "Everybody thought because I had a long hair, I was doing drugs," Fields explains, "so I shaved my head."
The drummer brought a very specific energy to the Grease Band, which on this on particular night resulted in the band getting a gig opening for Three Dog Night. "I'm proud to say I did 15 cloves of garlic a day for three days doing a blood purification fast," he explains. "We were playing the 12th Gate. People were walking in and going, like, 'What the fuck?' Every time I said something to the band, they'd recoil. It was great.
"So one of the nights at the 12th Gate, I went into a trance. The guitarists would take forever to tune, so I would do one of these Gretsch drum poses from Downbeat magazine, from the Gretsch ads. This one night, we played one song and it was a big tuning fiasco, and I said to myself, 'I am not going to move until everybody in this fuckin' club leaves.' And I stayed like that for at least over 30 minutes to the point where people were getting concerned. But nobody in the band tried to stop me. I was just standing with my sticks in a drum pose, not blinking, slowing my breathing down.
"When I came out of it, all hell was breaking loose. They were just going apeshit. Crazy guitar and bass. Total kinetic crazy shit happening. Bruce was climbing up in the corner, he had really strong legs. And he was pretty much suspended from the ceiling. As I was sort of coming back in, I heard Bruce saying 'What's a nice joint like that doing in a girl like you?,' like a punchline."
The booking agents who'd stopped by to see the band had no idea what hit them, and hired the band anyway. Subsequently, they opened for Three Dog Night at the University of Alabama, another night infamous in Grease Band lore, where they opened with the instrumental classic "Apache" before heading into their original material and got pelted by unidentified flying objects. "Come on down and here I'll whip your ass," Harold Kelling announced. Holbrook flipped off the crowd.
The Crimson White reported the next week under the headline "Grease Music Bizarre," entirely matching with the band's memories of the night. "Either you liked the Grease music or you didn't like it, very loudly," Courtney Haden wrote. "No in-betweens."
It became a point of contention on campus, earning a longer write-up than the Three Dog Night Show. "A lot of folks couldn't make contact with the 'Hampton Grease Band,'" Haden wrote, "That doesn't mean that all the 'Three Dog Night' freaks (and I use the term loosely) are supposed to yell and scream and throw things at the other band. That ain't Groovy and Getting it Together."
Hampton Grease Band :: Jam (June 1970, Emory University, Atlanta, GA)
"Oftentimes we would go out and incredible things would happen," says Glenn Phillips. "There was a 13-minute instrumental jam [recorded at Emory University, June 1970] that captured Harold and I, this chemistry that we had. A problem with a lot of other old tapes is that they're recorded terribly and that one's recorded great, you can hear everything real clearly. And you can hear what's going on between the two guitar players. We would just go out and start sets like that and do that. This chemistry that we had was just intuitive and natural, just walking out on a stage and playing and seeing where it goes.
"When we played bigger jobs like the Fillmore East, and we only had a short time to fill, we probably made a setlist. But when we played clubs like the Bottom of the Barrel or the 12th Gate, we just had a repertoire of songs we knew we could do, and we'd go out without a plan and mix them up. We'd go off into oftentimes ridiculous things. It might go from an original song to an old blues to Harold playing a Ventures song like 'Walk Don't Run' or 'Slaughter on Tenth Avenue.' I was into movie soundtracks. I remember us working up the theme to The Magnificent Seven. Harold loved the music on this Gillette razor commercial, and we worked that up. We'd do little snippets of songs that Harold or I would hear from TV commercials and movie and television soundtracks. We'd just work them up for the fun of it and slip them in between all the other songs we did."
In addition to the swelling songs, the band also had shorter modular compositions that could be inserted into sets as standalone instrumentals or to build spontaneous suites. One, heard on the Atlanta Pop tape, was named "Upper and Lower Dresden," in tribute to Pharoah Sanders's "Upper and Lower Egypt."
Though the Dead would occasionally throw in cartoon themes as tuning breaks, the Grease Band's sequences more resembled the hyperactive and referential jam acts of the '90s. While Frank Zappa and the Mothers of Invention were swimming similar waters, Zappa ran his band with an authority that wouldn't fly with the Grease crew. The guys from Atlanta may've been surrealists, but they couldn't have been more serious about it.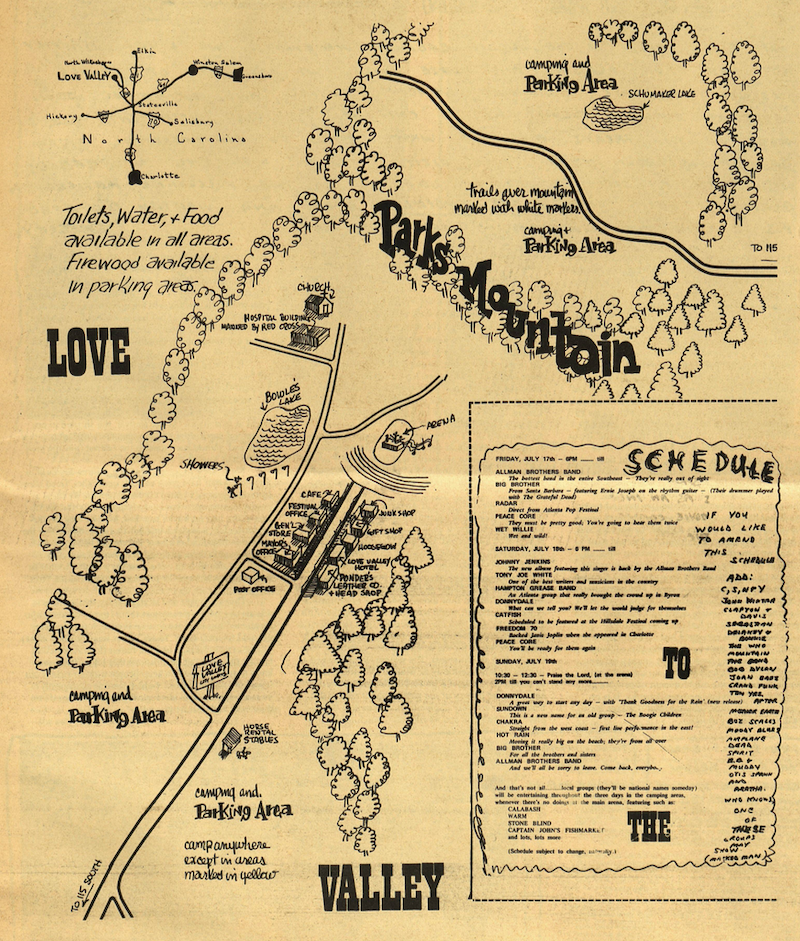 In July 1970, the Hampton Grease Band played the Love Valley Rock Festival, which Jerry Fields would describe in Echoes as "a redneck Woodstock. Guys were walking around with six-packs of beer on their hips and shooting fireworks at ground level, like parallel to the ground." The group before the Grease Band performed naked with a fog machine and covered "With A Little Help From My Friends." The Hampton Grease Band opened with their sped-up arrangement of "Ascendent," written by John Coltrane bassist Jimmy Garrison, and received one of the more bizarre reactions of the band's career: total silence.
The big gig came the week before, at the second Atlanta Pop Festival. They'd missed the first because they'd been temporarily broken up. At the second, they hit at full force, and the vibrations made it back to Columbia Records.
In the canonical and perhaps partially-true telling, the story is that Columbia Records heard about the Hampton Grease Band and, assuming all Georgia-based bands knew one another, contacted Allman Brothers' manager Phil Walden and asked if he knew how to contact the local weirdoes in Atlanta. Instead of passing the label along to Steve Cole and Frank Hughes–who operated Discovery Inc., ran a light show, and managed the Grease Band–Walden inserted himself into the deal as a broker.
But if that's what happened, then someone at Columbia Records forget to check with A&R.
Tom McNamee was a 23-year-old working in the Columbia A&R department at the time, through the strange machinations of hippie-era pop music. "Col Recruits 5 as A &R Trainees In Plan to Tune in to Now Sound," a Billboard headline read that June.
"I was just out of college," says McNamee, now an author and Guggenheim Fellow. "At the time, the head of A&R, Jack Gold, was based in Los Angeles. And he had Parkinson's disease. So we had no boss, except Clive Davis, and he had no time to talk to us. We had secretaries, unlimited expense accounts. You can just go and get on an airplane and go to Kansas City and hear some blues guy playing in an underground club. If you wanted to audition somebody in the studio, you just booked three days in the studio."
So it was that Tom McNamee encountered one of his fellow A&R trainees reviewing the raw tapes from the Atlanta Pop Festival. McNamee was flattened by what he heard of the Hampton Grease Band. Unlike the mythical stories, McNamee seemed to have no trouble tracking down the Grease Band's managers at Discovery Inc. McNamee booked a flight to Atlanta, they picked him at the airport, and brought him promptly to the 12th Gate. "I made the mistake of getting stoned," McNamee says. When they arrived, the band was in full flight.
"I think one of their high school friends was eating cereal on the stage. Hampton was just leaping around like an ape, swinging from the overhead pipes and just crashing down. At one point, I think he dropped onto the drum kit, and knocked over one of the cymbals or tom toms and bent the stand and Jerry was pissed. Just the usual Hampton Grease Band chaos.
"Then they would play those long extended instrumentals. And I'd studied music at Yale, so I had some general notion about the formal complexity of what they were doing. I really thought, this is not just a rock band, these are avant-garde composers posing as a rock band, but they're also a performance art group, and they're also just incredible rock musicians. When they would get down into a rock and roll beat, they really rocked out. It was dance music. It was fantastic. Unlike a lot of people, I found Bruce's singing to be extremely musical from the beginning. I'd grown up in Memphis and was familiar with Delta blues. I just loved everything about it.
"I was there maybe two nights. I was no longer stoned the second night. I got to meet with Bruce. Maybe we had lunch or something the next day. I don't know if we played Scrabble that day, but very early in our friendship we started to play Scrabble. I was good at Scrabble, and I never won. He always beat the shit out of me, because he had such an amazing mind and memory, and that was my first inkling of that.
"I knew immediately just from listening to Glenn and Harold that nobody could play guitars the way they did without intense intelligence, just the memory necessary to be able to keep up with what they were playing, like in different time signatures, to then be able to come back down to the downbeat. And Jerry's drumming was like nobody I'd ever heard, maybe a few jazz players. Mike Holbrook was still kind of getting the swing of the band, but he got it quick. And he had that quality, a real precision of hitting just a hair fraction behind the beat. It gives it a forward pulse."
Back in New York, Tom McNamee fired off enthusiastic memos to the company brass. What happened after that gets fuzzy.
"I was the first one to bring the Grease Band to the record company. I have these memos that I was writing to everybody. I was just over the moon. And I don't think they signed them up just on my recommendation alone, because I was just this kid. Then Phil Walden showed up and he was sort of more blue chip. So the contract ended up being way past me. But the contract was for a lot of money. A lot. I have in one of my memos that they only wanted enough money to get some new equipment and a truck. They ended up getting an advance of like $70,000 or $75,000. But they never saw the fucking money, I am convinced of this."
It took him time to put together the pieces, but Tom McNamee is sure the fix was in against the Hampton Grease Band from the start, at least from a financial point of view.
In October, they recorded more than an LP's worth of material at Lefevre Sound Studios in Atlanta, tracking a trio of their live epics "Halifax," "Hendon," and "Evans," all around 20 minutes each. Parts of the Apostolic sessions earlier in the year were spliced into "Evans."
Though McNamee isn't totally clear on how it unfolded, it became obvious that Columbia was less than thrilled with their new signees. Financial malarkey aside, instead of making the band ditch any of the three tracks, Columbia made the remarkably equitable suggestion of asking the band for a second LP's worth of material that might include a short song or two.
McNamee was assigned to these sessions, which took place at Studio One in the Atlanta suburb of Doraville. These yielded "Hey Old Lady/Bert's Song," the Phillips/Fields duo of "Lawton," Phillips's "Maria," and one more extended piece, "Six," for good measure.
"We agreed that there was going to be no pressure on them," McNamee remembers. "They had complete creative freedom. The band wanted it to sound like a live performance, with as natural a sound as possible. These were the days of, like, Elton John records that were produced to the nines. And Simon and Garfunkel records, which had been made in the same studio, had layer upon layer of modified sound. But that's not what the Grease Band wanted. They didn't want to mess around with the length of their songs. So we made separate bands within the songs, so if the DJ wanted to play just one section, they could do that, and on they're noted as sections on the label of the LP with their own tracks. And that was in obedience to the urging that I was getting to try to make something that was playable on the radio. (Glenn Phillips doesn't recall any Music To Eat pressings with separate track bands.)
"As a band, they got along perfectly. I never saw them disagree about anything they were going to play. I never saw them in conflict about the music in any way. And it was obvious when they went into the studio, or you saw them on the stage, they were really rehearsed. They knew what they were doing, and you could tell how much they enjoyed it.
"Harold was mysterious. But not in a way that some people are mysterious, like they're trying to confuse you. Harold just was, and he was also extremely funny. He was always making up weird words, and had this sort of elaborate science fiction universe in his head. He kind of really lived in this alternate reality — you know, all these terms, like 'suck rock' and the word 'grease' itself. 'Eggs,' 'egg fry.' He and Bruce really communicated in that language. And I think there was a particular sort of dialogue between Bruce and Harold that gave rise to that comic sensibility and the sheer wackiness of the band. Their minds were really bound together. Harold and Glenn were sort of the nuclear reactor of the music. And Harold and Bruce were the nuclear reactor of the spirit."
The album was finished in New York. According to his memos, McNamee's fellow A&R trainees continued to despise the Hampton Grease Band. It was never exactly easy being greasy.
Remembers Glenn Phillips, "I remember being in Harold's basement when we were putting the cover together and he and I started talking about how great it would be to use the worst review we'd ever gotten as part of our album notes. They plucked out a recent item from the Marthasville Vacuum. For the front and back covers, they used art by Harold Kelling, perfect mirrors to the band's music.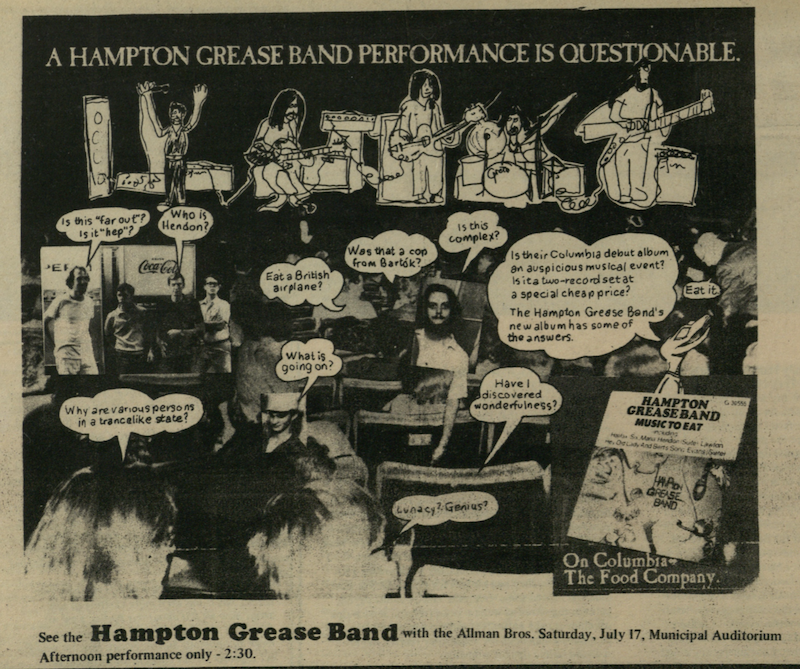 In June 1971, a few months after Music To Eat made it to stores, the Hampton Grease Band finally played New York, opening for Frank Zappa and the Flo-and-Eddie-era Mothers of Invention at the Fillmore East. It was the weekend John Lennon and Yoko Ono sat in with Zappa, and the shows were immortalized on both Lennon and Ono's Some Time In New York City and on Zappa's Fillmore East – June 1971 (and shown briefly in Alex Winter's new Zappa documentary).
Columbia A&R rep and engineer Tom McNamee had his brain annihilated by the Hampton Grease Band. "I'm pretty sure that the madman performance artist Gershon Friedlin–an apostate rabbinical student, later an actual rabbi–burst onto the stage when the band did one of their well-known tricks of totally freezing into silence and paralysis in mid-measure. In this frozen moment, Gershon, wearing only an aluminum foil diaper–and he was a hairy motherfucker–paced up and down stage front making bizarre gestures and hideous faces at the audience. When he disappeared into the wings, the band lurched back into whatever number they were playing–I'm pretty sure it was one of their extended instrumental pieces."
The Fillmore East audience lost it, too. "Their reception was just sensational," says McNamee. "I'd been to a million concerts at the Fillmore, and I'd rarely seen the audience so blown away. It was fantastic."
Kip Cohen, the Fillmore East's manager, wrote a letter to Clive Davis that read in part, "As you know, this is the first time I've ever written a letter like this one to you–but even though John Lennon and Yoko Ono guested on our stage last night, my memories of the past weekend will reside exclusively with the Hampton Grease Band."
"The Hampton Grease Band could become cult heroes with the right kind of publicity," read an internal Columbia memo. The publicity never came. The budget for the band disappeared in a poof of smoke and the album was already hard to find in stores, according to Tom McNamee.
The Hampton Grease Band, though, had hit a turning point.
The gigs at the Fillmore East were also the Hampton Grease Band's first shows without Harold Kelling. It's still a bit of an elusive subject, though Glenn Phillips addresses it with some nuance and regret in Echoes.
The Hampton Grease Band might have been freaky longhairs, but they barely drank, let alone smoked weed or took psychedelics or anything else. Except, that is, for Harold Kelling. After some increasingly sketchy performances, the band called a meeting and asked Kelling to curtail himself until after gigs. By the end of the band meeting, a defiant Kelling had quit the Hampton Grease Band. It wasn't what anybody expected to happen.
"We went and did the Fillmore show and got a great reaction," says Phillips. "It was exciting to do and I'm glad we did it, but it just wasn't the same. I guess it's kind of like once a car gets a flat tire, it keeps rolling down the hill for a little while. We still had this thing carrying us."
"I think we opened with [Jimmy Garrison's] 'Ascendent' at the Fillmore," Mike Holbrook recalls. Fields remembers it as Herbie Hancock's "Maiden Voyage." There were two nights with two shows a night, it could've been both.
For the Fillmore show, they added classical-trained keyboardist Syd Stegall, a non-rock player. "Syd was kind of our music teacher," Mike Holbrook says. "He was classically trained and had worked with John Cage, but you could never really hear him." Stegall didn't last. "He didn't understand the travel and the gig stuff and the hours, and Bruce was always giving him a hard time."
The momentum from the Fillmore East carried the post-Kelling Grease Band to some moderate out-of-town gigging. They returned to New York over the summer, playing a week at the former Cafe Au Go Go, where Grease Band favorites the Butterfield Blues Band played frequently. One of the nights, the label threw them a belated record release party. Charles Mingus came. So did Patti Smith.
But it wasn't nearly enough. "It was just a scam," Tom McNamee says about the band's deal with Columbia. "They never supported the band. They never supported the album."
Hampton Grease Band, "Hubbler," July 15, 1972 12th Gate, Atlanta, GA, released on Glenn Phillips' Lost at Sea in 1975.
"There was definitely a musical intensity between myself, Jerry, and Mike Holbrook," says Phillips. "And Bruce was just a really gifted performance artist. Bruce could get out and just bullshit his way through things and make it incredibly entertaining. He just had a gift for it, always did, just a natural performer. It was something that was totally intuitive to him. But without that chemistry going on, it didn't carry the same weight, that clubhouse thing between myself and Harold and Bruce. We didn't want it to be the end and kept the band going because it meant so much to us. I don't want to say there was nothing there, because there were good things, but it wasn't the same."
The band added horn player Mike Greene, who'd been playing with the Stump Brothers. Jerry Fields had expanded his live palette to include vibraphone, and the band replaced their repertoire with a new batch of songs written for the Kelling-less lineup. One tasty live recording from the 12th Gate, "Hubbler," would find its way to Phillips's 1975 solo debut, Lost At Sea.
A show from Sports Arena is the only full circulating document of the post-Kelling lineup. Long traded without a date, it was recorded May 7th, 1972 opening for Mahavishnu Orchestra. (It is datable from Hampton's announcement about a Roland Kirk, Gene Ammons, Sonny Stitt triple-bill the following night at the same venue.) Broadcast several weeks later on Georgia Tech's WREK, it includes new tunes like "Pump Face" and "Alphonso and Louise," along with Mike Greene's gospel-fusion original, "Creator" and Grease Band staples like "Rock Around the Clock."
"It couldn't've been a worse combination," says Phillips of the Greene lineup. "He was not an untalented guy, but just not the guy to have in the Grease Band. We were trying to come up with new material and thinking about making a second record. At that point, coming up with lyrics, rather than being fun, was just like a chore after Harold was gone, just coming up for something for Bruce to sing because he didn't write lyrics. Just all the directions we were coming from were all wrong. That's what I hear when I hear the Sports Arena tape. We're up there calling it the Hampton Grease Band, but it's not the Hampton Grease Band."
Harold Kelling's Starving Braineaters, live on WREK 1972 from12th Gate, Atlanta, GA.
Harold Kelling died in 2005 from complications related to alcoholism. After leaving the Hampton Grease Band, he would release only a single instrumental 7-inch, "Jezebel" backed with "Harlem Nocturne"–both standards–on the local Hib-Tone label in 1982.
But Harold Kelling was no Syd Barrett, and in recent years a shadow discography has emerged from Kelling's post-Grease Band world. In 2016 and 2017, a friend of Kelling's son digitized and posted a half-dozen full-length recordings of various projects. Combined with Glenn Phillips's own solo discography, they provide a hint of how the Hampton Grease Band might have developed–but only a hint–still missing that telekinetic, holographic two-guitar combination.
The Starving Braineaters emerged about a year after Kelling's split with the Grease Band, only a week or so before the Hamptons' broadcast from the Sports Arena. The Braineaters jumped right onto the same circuit of local clubs the Grease Band played. There's a recording of the band playing at the 12th Gate, broadcast live on WREK. It's unclear who is playing–probably it includes guitarist Robert O'Toole, keyboardist Bill Porter, bassist Ken Gregory, and drummer Tom Rafferty–but the lineup includes saxophone, Rhodes, and Kelling's soaring guitar diving through 11 mostly instrumental tunes. They're all seemingly all-new compositions besides a version of the Hampton Grease Band's "Six" (minus Hampton's vocal part but including Harold's vocalizations). It sounds far more like the Hampton Grease Band than anything on the Sports Arena tape.
The core of the Grease Band, minus Hampton, reunited for a September 1972 jam at a Stump Brothers gig at the 12th Gate also broadcast on WREK, though no tape currently seems to survive, nor do the other Grease Band-related broadcasts listed (and not listed) in the Great Speckled Bird. The Hampton Grease Band and the Starving Braineaters gigged in parallel throughout 1972 and early 1973. There was management furriness and an ill-deal with Bizarre/Straight, Frank Zappa and Herbie Cohen's label and management firm. The Grease gang had more run-ins (opening for Alice Cooper in New Jersey, sharing bills with pre-fame Bette Midler and Barry Manilow in South Carolina) but the band was winding down. In early 1973, Bruce Hampton announced he was headed west to audition for Zappa's band, an opportunity his bandmates did not begrudge him. He didn't get the gig.
That spring, the Hampton Grease Band played their final shows — at Great Southeast Music Hall, featuring a marching band, followed by a proper farewell at Georgia State's Recital Hall that included a reunion with Harold Kelling. In the Great Speckled Bird–which would itself fold three years later–listings for the Starving Braineaters disappear a week before the last Grease Band show. The Stump Brothers blip out of the historical record at the end of July.
Glenn Phillips, "Dogs," Lost At Sea, 1975.
Glenn Phillips released his brilliant home-recorded solo debut Lost at Sea in 1975, a deeply emotional album of instrumentals that painted Phillips' songs in an expressive palette, neither rock nor jazz (nor fusion), featuring Mike Holbrook on bass and–on electric piano and vibes–future Ohio Congressman Martin Hoke, then known as Sant Ram Singh. Phillips invited Harold Kelling to contribute, but Kelling declined. One Lost at Sea track ("Hubbler") was a live recording from late period Grease Band. Soon, Phillips established a group, also featuring pedal steel player David Byrd, charting a path towards the Glenn Phillips Band and a solo instrumental career that continues quite actively to the present, with his hard-to-find early albums compiled on the dizzying compilation Echoes and his latest, The Dark Parade, packaged with his new memoir, all available via his website.
Harold Kelling's non-career can be tracked through the projects that have appeared on YouTube, including the experimental Electric Chainsaw (with Richard Robinson and Bill Porter) in 1975 and a pair '80s projects, Creatures Del Mar and Masters of the Edge, each fusing Kelling's love of surf music and fantasy movies. Many of the projects had occasional live incarnations, too, sticking to the same level of small local clubs where the Hampton Grease Band flourished. In the mid-'80s, Kelling played live for a time with a reconstituted version of the IV of IX, his early '60s party act.
The various members of the Hampton Grease Band filtered in and out of one another's projects. Jerry Fields (playing as Bubba Freon) joined Hampton's Late Bronze Age project for their 1982 album Isles Of Langerhan and live gigs. Hampton was going by the stage name of Hampton B. Coles (Ret.). At some point midway through the decade, he switched some letters around and, on 1987's Arkansas, officially–for discographical purposes, anyway–became a Colonel.
Phillips and Holbrook played together often, most recently on Supreme Court's Sun Hex in 2010, and Phillips' The Dark Parade in 2019. Bruce would play with Phillips occasionally in the late '70s, too. Those wondering what the Hampton Grease Band playing "Dark Star" might've sounded like would be well advised to check out the B-side to Henry Kaiser's 1987 album Those Who Know History Are Doomed to Repeat It, featuring Phillips finding a new (and bonkers) twin guitar chemistry with Kaiser, also featured on this 1990 live set, the Guitar Party album, and elsewhere.
At Atlanta's Capri Theater in January 20th, 1978, though, the three primary members of the Hampton Grease Band members played music together for the last time. After the Glenn Phillips Band's triumphant visit to London, Hampton opened for Glenn at the Capri with a set of stand-up comedy. Harold Kelling sat in with the band, and both returned for the encore, playing a few now-unremembered probably-untaped suck-rock favorites.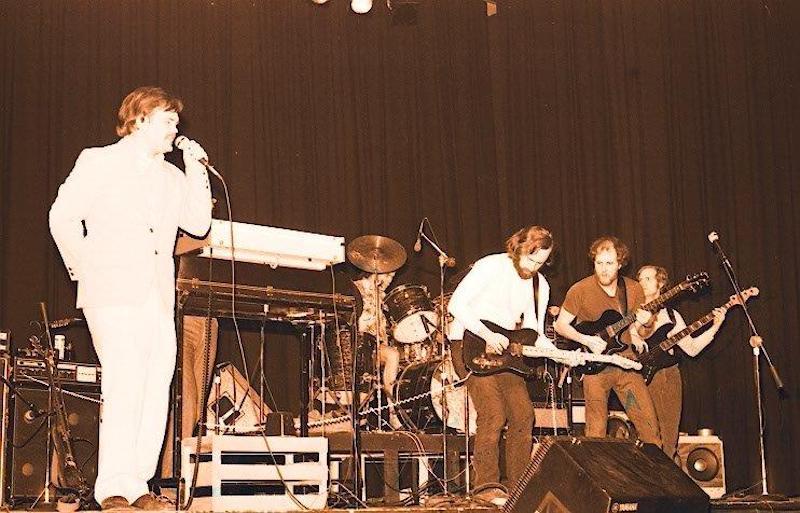 In the early '90s, as Bruce Hampton's new band the Aquarium Rescue Unit was getting going, he told the zine Black to Comm about his first gig after the Hampton's Grease Band's demise. They were called Russian Butt Broil, he said, and they featured three drummers plus Hampton on guitar, writhing onstage. They existed for one gig, opening for Pink Floyd and Fleetwood Mac.
"Russian Butt Broil," in fact, appears on Discovery Inc.'s list of acts in the early '70s, alongside the Stump Brothers and others. "'Russian Butt Broil' was one of those Harold phrases," says Phillips. "I don't think it was ever a real band." There's no record of Fleetwood Mac and Pink Floyd sharing a bill in Atlanta with each other, let alone with Russian Butt Broil.
By the time the Aquarium Rescue Unit launched, Bruce Hampton had built himself a reputation as a southern Captain Beefheart ("Greaseheart," as the Bird referred to him once in ye olden days), with an ear for talented musicians and a penchant for cosmic myth-making. And though Bruce Hampton spouted plenty of entertaining absurdities, some of them–according to Glenn Phillips–came straight from the verbal repertoire of Harold Kelling.
"Lots of the things Bruce was using were things that Harold came up with," says Glenn Phillips. "Until the day [Harold] died, he was going over there and getting material from Harold, song titles, names of bands, and things, because Harold was incredibly inventive with language. And Russian Butt Butt Broil was a name he called something, but I don't know that it was an actual band."
In the early '90s, as Bruce Hampton was returning to the national stage for first time since the Hampton Grease Band, things got weird, and not in a good way. Various musical bits of the Grease Band turned up in the Aquarium Rescue Unit, with Hampton often reciting Kelling's lyrics to "Six" as a bit of spoken-word dadaism over various jams. The gap between him and his ex-bandmates widened. The ins and outs and the various non-reunions over the next two decades are sad and fragmented (and documented in Phillips's Echoes), as the band fell into fractional confusion over rights, reissues, and song credits, with no psychic space left for actual music.
Harold Kelling's secret career continued onwards, filled with basement jams and perhaps further home recordings, until it didn't. His drinking grew worse, and even attempts to play music with Glenn Phillips failed. After Harold died, the remaining Grease Band members-without Bruce–played a tribute with Jeff Calder and Bob Elsey of the Swimming Pool Qs subbing on guitar and vocals. And then–with Bruce and Elsey–a full performance of Music To Eat, released in a small DVD run in 2008.
Phillips's not-secret career continued onwards, too, often in collaboration with his compadres from the Grease Band and the Stump Brothers. Some of the last chapters of Phillips' Echoes are tragic. Harold Kelling's story is tragic. But their music isn't. It remains joyful and life-affirming in its singular, beautiful suck-rockage.
Not long after the Hampton Grease Band's lineup solidified in early 1970, they played at the Sports Arena with Fleetwood Mac, and the Great Speckled Bird quoted an audience member about the impact of the Hampton Grease Band. "They play music that sounds like music feels," she said. Long live Grease.
Enormous thanks to Glenn Phillips, Mike Holbrook, Jerry Fields, Bill Hardin, Tom McNamee, and Joel Berk.
Dig what we do at Aquarium Drunkard? Do our mixtapes, features, interviews, essays, and original sessions make your listening life better? Help us continue doing it by pledging your support via our Patreon page. Doing so will get you access to our secret stash—including bonus audio, exclusive podcasts, printed ephemera, and vinyl records—and help us keep an independent publication going.