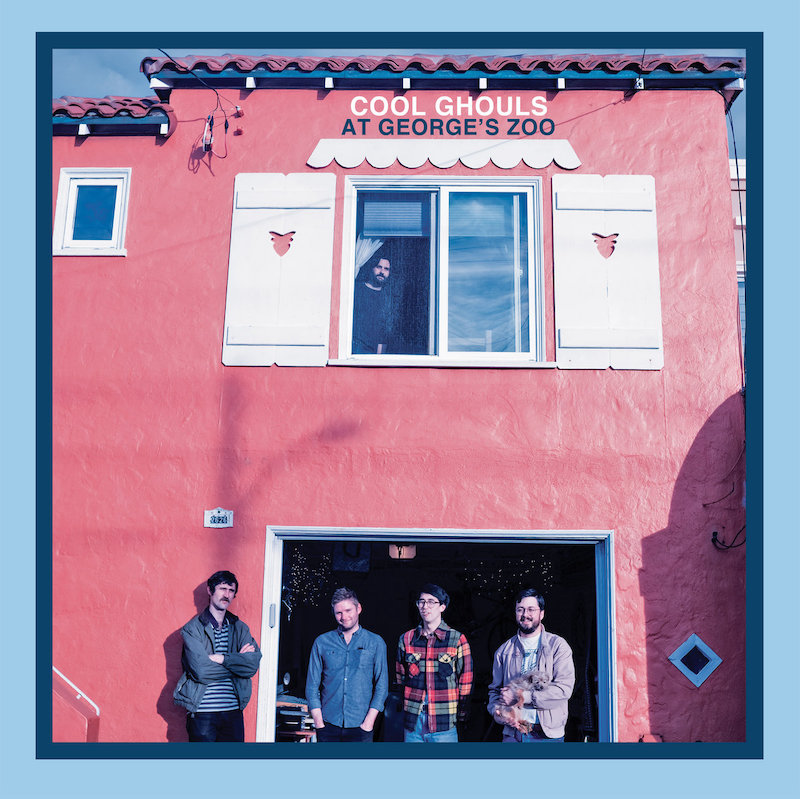 There's something so quintessentially, bone deep Californian about the music of Cool Ghouls. That was the case back in 2012 when the Bay Area group released a self-titled debut rife with baggy garage pop and jangly soul rock. Their Golden State-ness has only grown more acute in the years leading up to their latest album At George's Zoo. 
The new full-length feels like it has been baked both by the sun and by the substance they lovingly pay tribute to on "Feel Like Getting High." According to the press notes, the quartet spent a comfortable five months in 2018, slowly working and honing the new material at their friend's garage studio on the weekends. As guitarist Ryan Wong told Say It With Garage Flowers, "We started every session with a beer run and a family meal and talked about what we were going to do that day." That resulted in an album that finds the members of Cool Ghouls—Wong, guitarist Pat McDonald, bassist Pat Thomas, and drummer Alex Fleshman—even more relaxed as an ensemble yet more intricate and precise in their songwriting. 
That's evident from the jump on At George's Zoo as the song starts off with the meditative sound of a zill before a guitar drone arises from the ground followed by the group's incredible vocal harmonies. The song soon becomes a rambling acid rock jam with horns and a lyrical reference to Little Anthony and the Imperials' "Shimmy, Shimmy, Ko-Ko-Bop." That may sound like a wild ride, but, like the rest of the album, it is handled with such ease and comfort—as if the songs were spontaneously unfolding in real time rather than being the product of copious rehearsals.
As the album rolls along, Cool Ghouls conjure the ghosts of various Cali icons. "Smoke & Fire" burns with the frug-happy joy of The Association, while the ruminative "Land Song" evokes Forever Changes-era Love with its burned out vibe and string melodies. And the band touches on various eras of the Beach Boys throughout, going from chirpy joy ("Surfboard") to zonked introspection ("Look In Your Mirror"). 
Sitting here with the sun finally, blessedly streaming into my office windows and listening, yet again, to this wonderful album, I have to think that Cool Ghouls and their label timed At George's Zoo's release perfectly. It gives us enough time to let the music sink in and take hold of our senses so it will only seem natural to add into the mix of our summertime playlist. |r ham
For heads, by heads. Aquarium Drunkard is powered by its patrons. Keep the servers humming and help us continue doing it by pledging your support via our Patreon page.