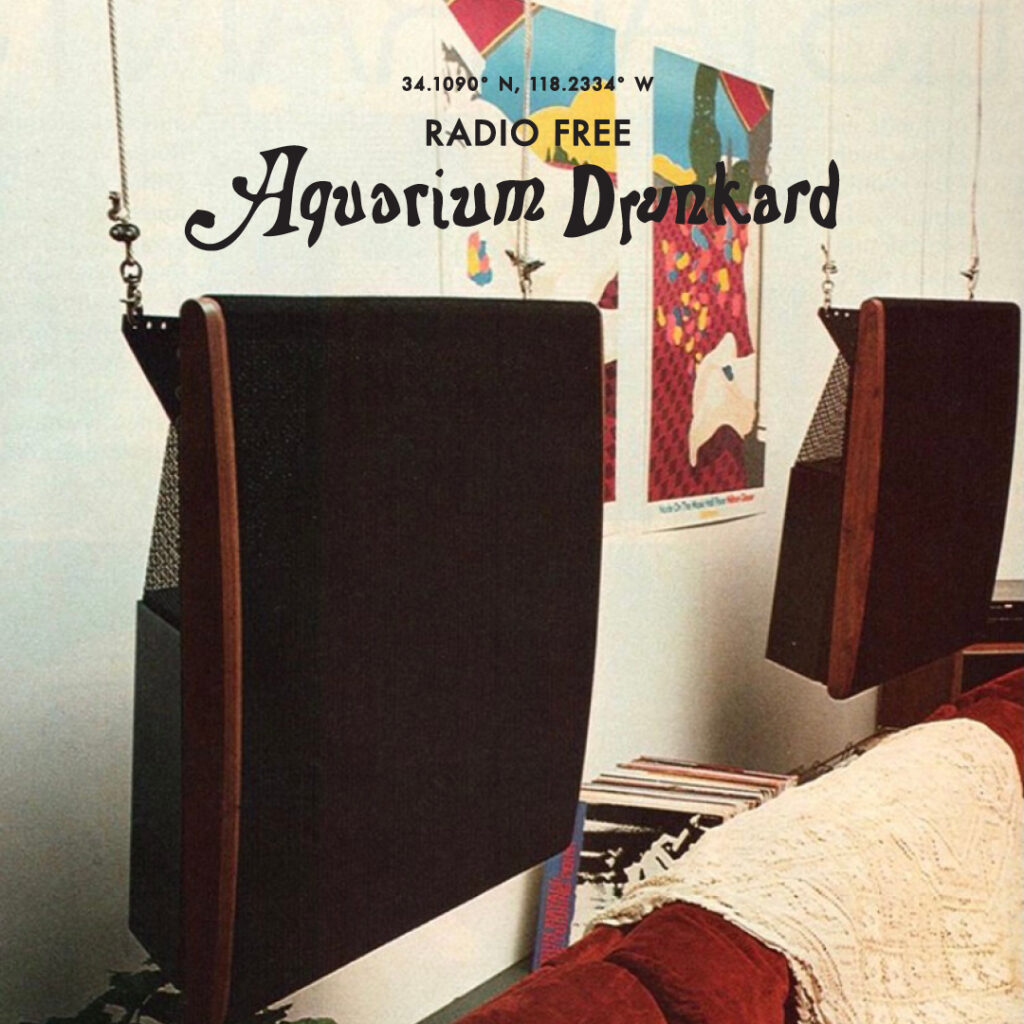 Freeform transmissions from Radio Free Aquarium Drunkard on Dublab.
Airing as a four-hour block every third Sunday of the month, RFAD features regular shows, friends, and collaborators, in the spirit of our original 24-hour pirate incarnation. The March broadcast features new episodes of your regular programming Range and Basin and Doom and Gloom from the Tomb, and special guests Ana Gavrilovska of Maggot Brain from Third Man Records and Kaley Evans. Airing March 21st on Dublab from 4—8 PM Pacific.
In hour one: Sick Sad Motherslug with Ana Gavrilovska, featuring jazz, minimalism, and avant-garde explorations, presented as a continuous drift. In hour two, Jason P. Woodbury's Range and Basin, presents a spring equinox radiophonic special. In hour three, Tyler Wilcox's Doom and Gloom from the Tomb, featuring 1990s instrumental indie rock excursions. To close things out, Kaley Evans' Astral Plains, a languid projection of hypnotic folk, pastoral electronics, and a surprising amount of searching harmonica.
Sick Sick Sad Motherslug with Ana Gavrilovska: Kamasi Washington, "Humility" ++ SubRosa, "Il Cappio" ++ Patrick Shiroishi, "Above the Black Heavens is Endless" ++ Ahya Simone, "Frostbite" ++ SPELLLING, "Haunted Water" ++ Laurie Spiegel, "A Folk Study" ++ Zeena Parkins & Jeff Kolar, "Koala" ++ Jane Inc., "Gem" ++ Melissa Laveaux, "Nan Pwen Lavi Ankò" ++ Jacqueline Humbert & David Rosenboom, "Bareback" ++ Bumbo's Tinto Brass Band, "Rubber Mother" ++ Scott Walker, "Jesse" ++ No Trend, "Teen Love" ++ Ut, "Evangelist" ++ Fief, "The Road Through Town" ++ Gunn-Truscinski Duo, "Shell"
Range and Basin with Jason P. Woodbury: Jeff Phelps, "Excerpts from Autumn" ++ Molly Drake, "The Road to the Stars" ++ Dirty Beaches, "True Blue" ++ This Heat, "Repeater" (R&B Edit) ++ Thee Midniters, "Down Whittier Blvd." ++ Damon Locks Black Monument Ensemble, Angel Bat Dawid, "Now (Forever Momentary Space)" ++ Moondog, "OO Solo (6/4)" ++ Nick Cave and Warren Ellis, "Old Time" ++ The Beach Boys, "Wild Honey" (Mike Adams Edit) ++ Nathan Salsburg, "Landwerk 1" ++ Hal Wilner, "We Travel the Subways" ++ Vic Berger IV, "Harmony IV" ++ Colleen, "Implosion-Explosion" ++ Sun Ra, "The All of Everything" ++ Kid Congo Powers and the Pink Monkey Birds, "He Walked In" ++ Heard throughout: untitled compositions by Michael Krassner (Boxhead Ensemble) and assorted players.
Doom & Gloom from the Tomb with Tyler Wilcox: Tortoise, "Gamera" ++ Mogwai, "Tracy" ++ Aerial M, "Dazed and Awake" ++ Cul de Sac, "Nico's Dream" ++ Pell Mell, "Butterfly Effect" ++ Yo La Tengo, "Superstar Watcher" ++ Dirty Three, "Sirena" ++ Acetone, "Pico" ++ Night For Us, "Scale Model" ++ Friends of Dean Martinez, "The Warmth of the Sun" ++ High Llamas, "Glide Time"
Astral Plains with Kaley Evans: Alan Hawkshaw, "Saturn Rings" ++ Julie Tippets, "Now If You Remember" ++ Willie Dunn, "The Carver" ++ Nathan Abshire & The Pinegrove Boys, "The La La Blues" ++ Evan Cheadle, "Float On Down The Line" ++ Alanis Obomsawin, "Odana" ++ Smokey Haangala "Maybe Tomorrow" ++ E Ruscha V / Woo, "Woo Are You" ++ Holy Drone Travellers, "Journey To Everywhere And Nowhere" ++ Belbury Poly, "Wetland" ++ Anne Laplantine, "Untitled (Hamburg A1)" ++ Medicine Head, "When Night Falls" ++ Bunny Wailer, "This Train"
Radio Free Aquarium Drunkard shows are provided directly for our patrons. Keep the servers humming and help us continue doing it by pledging your support via our Patreon page.