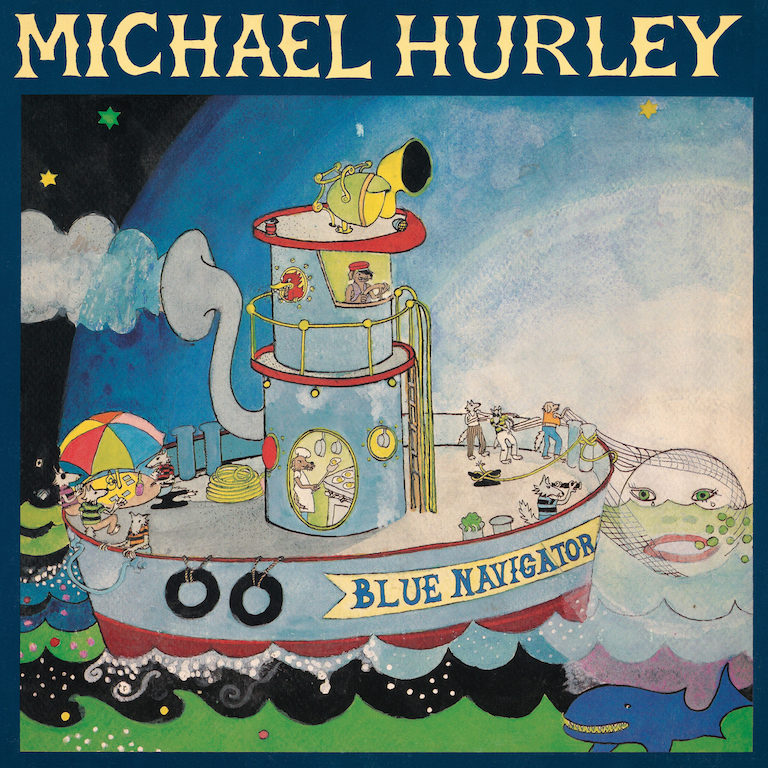 Recently reissued by Feeding Tube Records, Michael Hurley's 1984 lp Blue Navigator. It's sold-out now, but don't fret—a second pressing is underway. And you'll want to track it down. Loaded with the characteristic Snock wit, the mood here is light, fit for the après ski venues Hurley frequented in Vermont, with pedal steel, bar room piano, and percussively strummed acoustic guitar keeping his voice company. No album since First Songs exhibits his quiet side like Navigator. When Hurley first got a guitar, he would play all night in an abandoned cellar, songs meant for him and him alone. That's the feel on "Code of the Mountains" and "Ghost Woman Blues," immediate, vulnerable.
But Hurley can't stay lonely for too long: he's a world builder. He expands his musical universe on Navigator, fusing Day-Glo Americana with R. Crumb's libido and the perpetual unreality of The Twilight Zone. We traverse lonesome graveyards, run with wolves (Hurley's Boone and Jocko cartoon creations), die, and come back to life. Hurley's personality pervades the record, like on "54 Chevy," a song documenting his penchant for old cars. The standout title track—a revised version of "Blue Driver" from 1972's Hi-Fi Snock Uptown—is a surrealistic fable, lovesick Hurley intercepted by musical Martians on his way to NYC. The duality of the title exemplifies Hurley at his best: he is himself the blue navigator, drifting the world with ennui, and yet the name also refers to the spacecraft he pilots, overtaken by extra-terrestrials. At first an interruption, the aliens snag instruments, and soon everyone's dancing to the slippery guitars.|e weinstein
Excursions in sound. Dig this flavor of culture reportage? If so, support us through Patreon. Help us continue to produce mixtapes, podcasts, radio shows, a/v joints, interviews, features, and much more.