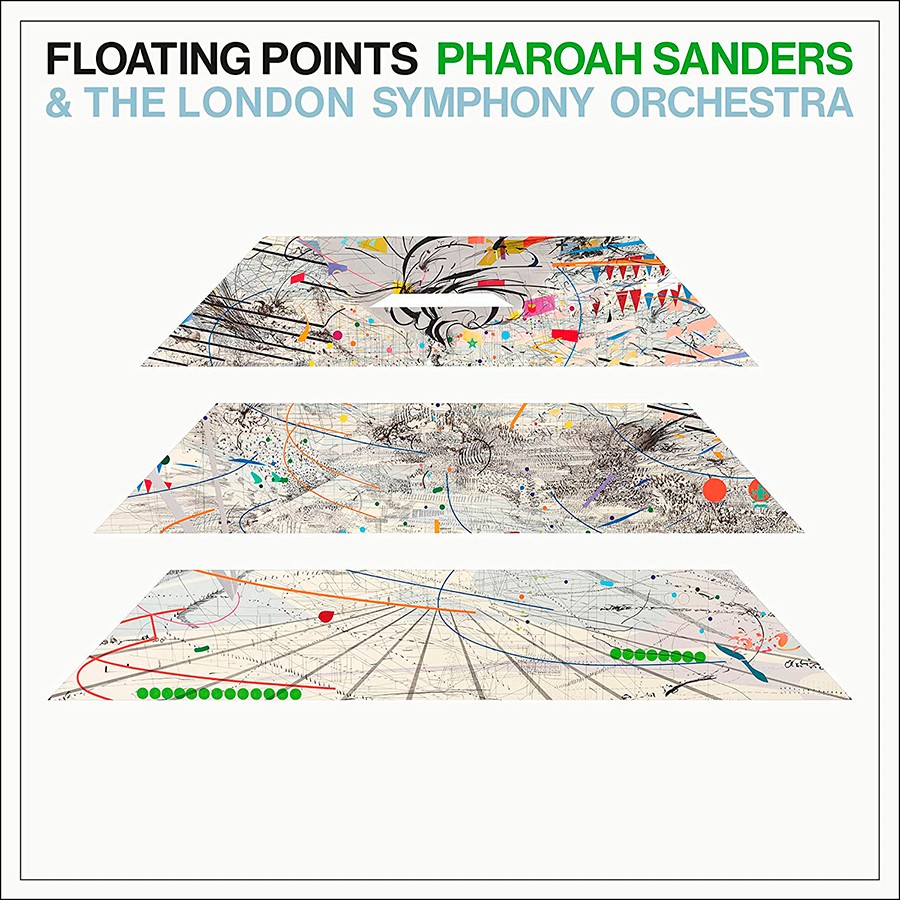 At 80 years old, Pharoah Sanders has spent over half a century pioneering complex, psychedelic free jazz. Heralded by Ornette Coleman as "the best tenor player in the world," the saxophonist has appeared on timeless recording by John and Alice Coltrane, Don Cherry, and McCoy Tyner, on top of putting out a hefty catalog of sticky, surrealistic kozmigroov under his own name. "If you're in the song, keep on playing," he told The New Yorker in 2020. The newly released Promises, a collaboration with British IDM producer Sam Shepherd, better known as Floating Points, and 29 members of the London Symphony Orchestra, indicates Sanders is still deep in the song that is his life's work. With the new album, he doesn't just deliver a standout performance in his own canon—he presents a late-in-life wonder, an engagement with modern electronic music and orchestral tradition.
A nine movement piece centered around a staggered, seven note motif, numbers live at Promises' core. While Shepherd may have painstakingly arranged the record over the course of a year, Promises feels fluid like Sanders' work on albums like Karma or Thembi. Living in the grey area between ambient and neoclassical, it's a lush listen, pairing Sanders' hot-blooded saxophone with swelling strings and synthesizers. The saxophonist appears and retreats, ceding the floor to his collaborators the way he might in concert, only to return back to the mic with a peel of tones or wordless vocals.
A soundtrack-like quality courses through Promises' veins—"Movement 6" through "Movement 9" evoke a romance scene in a mid-century spy thriller or a Bernard Herrmann score. In between these grand peaks lie much quieter valleys. Promises requires patience, and at times the volume drops out almost completely, like the near minute of room noise and hushed breathing that spells out the transition between "Movement 8" and "Movement 9." Jarring but peaceful, this stillness is one of Promises' most powerful, memorable sections, especially in the wake of the ominous pipe organ rise that precedes it. Miles Davis once said "It's not the notes you play, it's the notes you don't play," and here there are no notes, only a heavy air of expectation and tension. "Movement 9" makes its entrance and once again concludes with a moment of contemplation.
Sanders is often noted for his ability to conjure apocalyptic storms of sound, but Promises brings to mind his softer material, recalling in part the 1996 album Message From Home, another effort with a younger producer, his Ask the Ages bandmate Bill Laswell. But most of all, it evokes his playing on Alice Coltrane's Journey To Satchidananda, or can even be heard as an answer to her synthesized ashram tapes, which were also put into the world by the Luaka Bop label. Moments like the gloomy, romantic strings in "Movement 6," or the cosmic analog synth deluge midway through "Movement 7," bring to mind Sanders' subtle features on dynamic Coltrane tracks like "Shiva-Loka" and "Something About John Coltrane." The harp and skittering drum brushes may be replaced with immaculately conducted musicianship and Autechre-esque electronics, but the alluring mysticism is as alive now as it was on the most prolific Sanders recordings from the late '60s and early '70s like "Love Is Everywhere" and "The Creator Has A Master Plan."
A notably quiet person, Sanders has laid especially low over the past year, letting the commanding poignance of this work speak for itself. Granting a rare interview to the Los Angeles Times this past summer leading up to a birthday performance at the Silver Lake venue Zebulon, Sanders was asked about his relationship with divinity in the wake of our period of isolation and prolonged tragedy. He responded simply: "The creator has a master plan. That's it." Released in the twilight of the global pandemic that ushered in Sanders' eighth decade on this earth, the soft bluish grey glow that illuminates Promises' edges feels suited for the melancholy that surrounds us. Sanders has long embraced new sounds, here he continues to explore the allure of new possibilities.|t davis
Dig this flavor of culture reportage? If so, support us through Patreon. Help us continue to produce mixtapes, podcasts, radio shows, a/v joints, interviews, features, and much more.