(Welcome to Videodrome. A recurring column plumbing the depths of vintage and contemporary cinema – from cult, exploitation, trash and grindhouse to sci-fi, horror, noir, documentary and beyond.)
Over the last decade, brothers Bill and Turner Ross have quietly built one of the most singular and idiosyncratic careers in non-fiction cinema. From Tchoupitluas to Western to Contemporary Color, their unique take on the world is visible in every composition and in every release.

Their latest effort, Blood Nose, Empty Pockets, tells the story of an off-the-strip Vegas bar on its last night of business before the lights go off for good. It's a boozy, fly-on-the-wall hang-out movie that plays something like Cheers by way of Harmony Korine. Unlike Korine, however, the Ross brothers' lens is always empathetic and deeply human. The barflies who populate their film are treated with respect and their stories are conveyed with fellowship and care — which makes the ruse at the heart of the project that more confounding. 

Though you wouldn't know it from watching Bloody Nose blind for the first time, the film's circumstances were manufactured by the Ross brothers. In fact, 90% of it — including the bar's interior — was shot in Louisiana, fifteen hundred miles from the Vegas strip.  

We recently connected with Bill and Turner to talk about their unconventional approach to crafting this film, their comfort navigating the thin, blurred line between documentary and the traditional narrative feature and what they've got spinning on the stereo during lockdown. | e o'keefe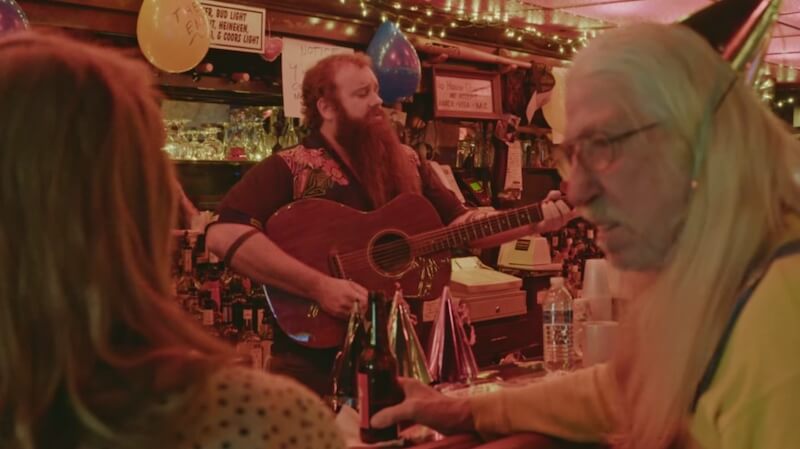 Aquarium Drunkard: What was the genesis of the idea?
Bill Ross: I have your 'L.A. Burnout' playlist keeping me company while I write you back and Neil Young's "L.A." is playing (I love the album it's off Time Fades Away). It's fitting because a lot of the dreamin' and schemin' for BNEP took place in Los Angeles. We'd talk about it at places like Hanks, The Smog Cutter, The Roost, The Living Room, Drawing Room, Gold Room, Club Tee Gee…had to do the research, ya know. We had been going to bars since we were kids when our uncle would take us to watch WWF pay-per-views. We were always enamored by the larger than life characters and the storytelling. Even as little kids we knew they weren't all necessarily true but it didn't matter. It was a place where things were happening. The idea had been in our backpockets for a long time and in 2016 when things were so divided and folks weren't talking to each other it seemed right to get people together and see what was what.

Turner Ross: That and a true fascination with Las Vegas – as a manifestation of America's fantasies and excesses, and as a real place of lives lived in the shadow of all that splendor. Where do the real lives find oasis within the oasis? And generally, how does the darkness of a barroom seduce us in from the light, turn strangers into confidantes? The intimacy, the solace, the inebriation – they provide a theater of refuge into which we enter one way and exit another. It's a place of forgiving and forgetting, of stories told and stories written.
AD: Was the intention always to manufacture the film's situation or did you spend time actually looking for a bar and a set of circumstances that matched the premise?
Bill: Oh yeah, I think we scouted every bar on the outskirts of Vegas but we quickly realized that we needed a type of control on this one where we could create a safe space for folks to be themselves and know that they'd be taken care of. We always want to be shooting WITH people and not AT people. We need to be a part of whatever's happening and not an accountant. Folks need to know that we're there with them.
Turner: That simple distancing mechanism allowed people to be hyper realized versions of themselves, thereby creating conditions conducive to letting go, rather than withholding. Everyone was coming to this on their own terms. We were all authors of the experiment.
AD: Was there a script? If so, can you talk a little bit about what that document looked like? If not, how did you go about structuring the shoot?
Bill: No script. Just an 18 hour shoot and a mountain of notes and a playbook for what should be happening at each point of the day but only Turner and I saw that.

Turner: We didn't want performances. We wanted everyone to be searching in the moment. Certainly Bill and I had a gameplan, but a big part of that was being available to the actuality of the experience alongside our cast.
AD: How do you feel the film's formal exploration of fact-versus-fiction (or traditional film versus doc) interplays with the content, characters or thematic elements of the story?
Turner: All the world's a stage.
AD: I read that you guys started shooting the day after the 2016 Presidential Election. What was the mood like on set and how did the surreal magnitude of the previous 24 hours effect the shoot?
Bill: Honestly I feel like it helped. Everyone was feeling some kind of way that day. A whole range of emotions were closer to the skin and folks wanted to TALK.
Turner: We saw the moment as a catalyst for catharsis.
AD: What was your approach to casting? How did you assemble the cast? Did they meet before the shoot? Were you concerned about the chemistry?
Turner: This film wouldn't have worked without barroom alchemy. It was essential that we bring together a dynamic group of people who both reflected the archetypes of a barroom and reflected a cross section of society and experience. They came from all over – from our lives, from copious bar casting… Some alliances were pre-existing, some were forged in the moment. When go time arrived, we were able to tell everyone: "You're the only you in this place."
AD: Was the cast actually drinking throughout the shoot? If so, how did that affect the production?
Turner: Absolutely. There were no amateurs in that bar. We were all speaking for something that we know. Our films follow a consistent ethos: "Don't talk about it, be about it."
AD: How are your roles as co-directors (and siblings) different — on set, prior to production and after? How do you guys manage disagreements or creative differences?
Bill: We work and live very closely. Turner lives a block from me here in New Orleans. He does a lot of the producing and I do the editing on the back end otherwise we share all the other hats. As far as disagreements they are much more civilized now, on this 5th film, than they were on the first two films. Those early disagreements would occasionally end up being physical and, well, that wasn't very productive. Now they are just conversations.
Turner: We've got too much skin in the game to sweat the small shit.
AD: There are some rather famous songs throughout the film via the jukebox in the bar. Was music actually playing throughout the day? How did that affect your ability to edit? And did you have to license any of the music or were you protected by its "documentary" nature?
Our films follow a consistent ethos: "Don't talk about it, be about it."
Bill: We tried to keep it a quiet set for audio purposes but the cast mutinied quickly saying it's not a bar without the jukebox and of course they were right. The film wouldn't have worked if we had not had the jukebox on just like any good bar doesn't have any life without it. So yes that created a nightmare editing scenario but it had to be that way.
AD: How does music plays a part in your work? There's a musicality to everything you guys do.
Bill: Music is considered well before we even shoot anything. Right now I have a folder of about 40 songs for our 6th film which we haven't shot a frame of. Those songs are mostly to set a tone for us to feel the film while we're thinking about it. From there they sometimes pop up later when we consider the score. Only a handful are actually being considered to be part of the soundtrack. And they are all over the map. I'm looking at the folder now and there's a soundtrack to an obscure movie about nuns from the 1940s, Charles wright & the watts 103rd, Purcell, and Snoop.
AD: What are you listening to right now?
Bill: Right now? Right now? I'm still listening to your L.A. Burnout playlist and this track "Why I Came To California" is on and its making me laugh. Will certainly be playing it next time I fly out there. Otherwise the tracks that have been our bangers on our recent location scouts have been: Esperanza by Banda de CornetasSex, With Me by Tramp Stamps, Tragedy by the Bee Gees, Money by Leikeli, 47Salgan al Sol by Billy Bond, I Don't Feel Like Dancing by the Scissor Sisters, SUCKA! by Teezo TouchdownBoys in the Better Land by Fontaines D.C., Don't Huzzle for Love by The Apostles, Bedroom by Litany, Make Me Believe In You by Patti Jo, Six Days On The Road by Dave Dudley, Toothpaste by Wacotron, Levitating by Dua Lipa.
AD: For viewers who might be unfamiliar with the docs like Bloody Nose — docs that color outside the lines of the genre's rules — what are some films you'd recommend as a primer? What movies most influenced not just Bloody Nose, but your careers as a whole?
Turner: Dusty and Sweets Magee, The Exiles, Husbands, On the Bowery… Bukowski, Eugene O'Neill, Townes Van Zandt.
AD: What are you working on next?
Turner: Film #6.

Bill: What he says is true. It'll be another high wire act. Hoping the dice remain hot.
AD: You guys live and work in New Orleans. Can you speak a little bit about how that city infiltrates the work you guys do and what the filmmaking community is like there? Can. You imagine living/working anywhere else?
Bill: Can I imagine being somewhere else? Of course. We're away a lot to make films. Do I want to have home base anywhere else? Absolutely not. What you do here isn't nearly as important as how you do it – and filmmaking takes a back seat to festivity. There's no filmmaking bubble here so there's no fear of getting your head stuck up your ass. Lots of talented folks here but they're not defined by their work.
AD: Bloody Nose has one foot in the world of doc and another in the world of the traditional narrative feature. Do you guys have intentions to work in the world of scripted independent or studio film? Do you think you could do your thing and be true to your artistic spirit in that forum?
Bill: We never discuss ideas in a doc or fiction way. Whatever it takes to execute an idea is how we go about it. Sometimes its more doc, sometimes its more fiction, usually its somewhere in-between. What I don't ever want is to be on a set. I want to be in the real world, with real folks. We've spent a lot of time on other filmmakers sets and it bores me greatly.
AD: What was the film that lit the fuse for you guys? Where after watching it, you knew you wanted to become filmmakers.
Bill: Hoop Dreams for me, though when I saw it as a kid I wasn't like "aha, ill be a filmmaker" that didn't happen until I was in my early 20s. What I saw was that you could make a film like that and it didn't involve actors or sets. You could be in the world and make something even better than what comes out of Hollywood. So yea that lit the fuse but it wasn't until I took an intro to video course that I was like "whoa, you can do this for a job?" People didn't tell us that in Sidney, Ohio.
Turner: Long Gone. I didn't have any ambitions of working in film until I made friends with a photographer hobo after seeing his film. The synergy of life and art and the potential of the form for adventure and discovery and empathy opened up new realms of possibility far beyond the slow solitary two-dimensional world that I'd immersed myself in.
Only The Good Shit. Aquarium Drunkard is powered by our patrons. Keep the servers humming and help us continue doing it by pledging your support via our Patreon page. For heads, by heads.