Snapping at the heels of last year's Eastern Flowers and Wabi Sabi lps, prolific polymath Sven Wunder returns this June with his third full-lengh, Natura Morta. In anticipation, Wunder recorded the following vinyl mix for AD, via his home studio in Sweden, leaning into aesthetic influences and inspiration.
Track provenance and Wunder's notes, below…and don't sleep on his Lagniappe Session from last year reinterpreting a pair of Japanese traditionals.
Natura Morta (A Sven Wunder Mixtape)
1. Jan Johansson & George Riedel — Unreleased Music from Pippi Longstocking: Wonderful music from Pippi Longstocking with a light feel and beautiful arrangements including piano, vibraphone, woodwinds and cymbals.
2. Janko Nilovic — Pop Avenue: Stunning library record with fantastic pop impressions.
3. Giuliano Sorgini — Immagini Sospese (also known as "Casa Dolce Casa"): A personal favourite of mine with a soft chord structure, lovely drums and a lush melody.
4. Bruno Nicolai — Incantesimo: Music by Maestro Nicolai, from Love Birds, that simply will put a magic spell on you.
5. Jay Richford & Gary Stevan — Walking In The Dark: Incredible music from the album Feelings that needs no further introduction.
6. Piero Umiliani – Pianure D'Asia: Hypnotic storytelling with the flute with flavours from ancient worlds by Maestro Umiliani.
7. Arawak – Accadde A Bali: Another beautiful library track with flute and stunning artwork.
8. Piero Piccioni – Fiore Nero: Avant-garde blues with lovely drums and a laid back feeling.
9. Ennio Morricone – Il Girotondo Delle Note: Morricone is one of my biggest source for inspiration and one of my all time favourite composers, here with an intense piece with choirs from the soundtrack to Chi L'Ha Vista Morire?.
10. Ennio Morricone – Eat It: Another Morricone banger from the Eat It soundtrack.
11. Bruno Nicolai – Teorema: Lovely moment with the guitar, like a fuga by Bach. Stunning artwork as well.
12. Rino De Filippi – Philarmonia: Unique melody by Rino De Filippi that sounds like nothing else and with stunning second part featuring English horn.
13. Oscar Rocchi – Tattile: "Tattile" is pure bliss. Oscar Rocchi and Giancarlo Barigozzi has been a huge inspiration working on my Natura Morta album.
14. Piero Piccioni – Incontro All'Aeroport: I'm happy to that Maestro Piccioni got a garden dedicated to him in Rome in 2019 called Giardino Piero Piccioni. He is personal favourite of mine who wrote unforgettable melodies and with strong emotions.
15. Francois de Roubaix – Les Dunes D'Ostende: It's sad that Francois de Roubaix died young, imagine all the fantastic music he could have written? "Les Dunes D'Ostende" from Les Lèvres Rouges is a favourite, among many.
16. Stefano Torossi / Giovanni Tommaso – Sixth Dimension: Pulsating track with a strong groove and interesting layers.
17. Giuliano Sorgini – Prairies: 
Exciting wildlife track with psychedelic rhythms and adventurous arrangements.
18. Giuliano Sorgini – Clessidra : Another incredible Sorgini track (and album too) with stunning artwork.
19. Rahul Dev Burman – Dance Music: This fantastic track from Mukti is a Bollywood beauty that needs no further introduction.
20. The London Studio Group – Pageing Sullivan: Strong rhythmic jazz waltz by Basil Kirchin & company.
21. Nuan – Metropoli: Another beautiful jazzwaltz in 6/8 credited to Nuan alias Antonello Vannucchi.
22. Bruno Battisti D'Amario – Valle Celeste: Stunning ballad with haunting vocals by Edda dell'Orso.
23. Pat Prilly – Indicatif Spatial: Jean Jaques Perrey under pseudonym, referring to his daughter Pat (who didn't compose these tracks, but apparently gave him ideas by playing her organ).
24. Berto Pisano – To Jean: Beautiful lounge pop with fantastic arrangements by Pisano and haunting vocals by Edda dell'Orso.
25. Alessandro Alessandroni – Foggy Town: Beautiful dreamy guitar-led track by Alessandroni. His work has been a strong influence working on Natura Morta as well.
26. Ennio Morricone – Escalation: A track featuring a stunning harpsichord performance. As often with Morricone, his songs create a world of its own… a true genius.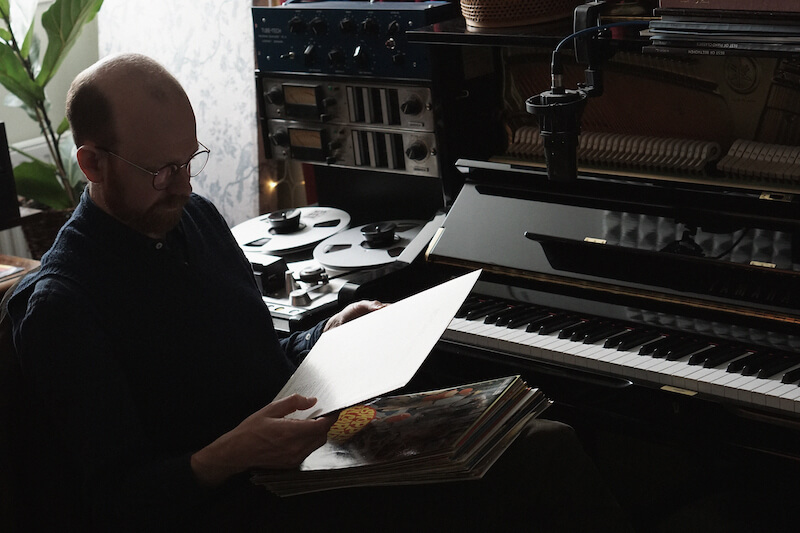 Further: Sven Wunder :: The Aquarium Drunkard Interview
Aquarium Drunkard is powered by our patrons. Keep the servers humming and help us continue doing it by pledging your support via our Patreon page. For heads, by heads.