It takes a minute for Matt Sweeney and Will Oldham to get down to business, but when they do, they do so fully.
But the duo likes to ease in. The first 20 minutes of our Zoom chat is devoted to catching up, joking around about weed consumption, and the evening's snacks. Oldham shows off some sweet-but-healthy sounding confection worked into existence by his wife, the artist Elsa Hansen Oldham. The great guitarist and archivist Nathan Salsburg pops up the screen. He's had dinner with the Oldhams and is heading home now.
Meanwhile, Sweeney's in the process of moving into a new apartment in NYC. He offers a quick tour, carting his laptop around the place. There's a new guitar too. It has a striking mother of pearl neck and is adorned with a hand of cards featuring blues players like Charlie Patton and Blind Willie McTell. Will's daughter Poppy, seated on her father's lap, wants to know more about it. Sweeney strums a few chords.
I ask Sweeney if it's often like this in the studio with people like Rick Rubin, Margo Price, Blake Mills, Adele, or Endless Boogie: a few minutes of goofing around and getting settled, then you get into it. This inspires a back-and-forth about a session Sweeney recorded with the Chicks, then known as the Dixie Chicks, in which Sweeney never actually met the band, which turns to a discussion of Oldham's 2021 long-distance collaboration with Bill Callahan, as what they're "now calling the Blind Date Party" with Cooper Crain.
Oldham and Sweeney have dozens of excellent records to their names, but when they released Superwolf in 2005, it arrived with a fully-formed identity, the way a Led Zeppelin or ZZ Top you inherit from an older sibling record might. It had a specific quality to it, arcane and majestic. Their new one is called Superwolves. Like that first outing, it's tremendous. Joined by sympathetic set of collaborators, the elemental dynamic remains clear at the center: Sweeney sings and plays electric guitar, Oldham sings with boundless grace about grim realities, tender moments from hard people, and destiny.
Oldham decides to relocate from the kitchen to the basement, so we can pick up where some email questions left off. Queries attempting to explore the spirit that brings forth "the creature form of Superwolf." | j woodbury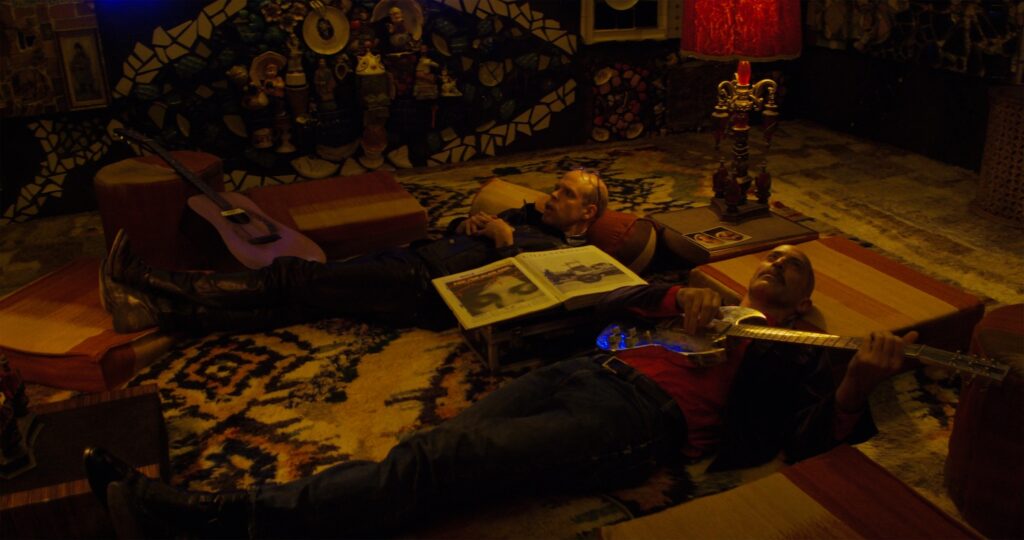 Aquarium Drunkard: The world is very different than it was sixteen years ago when you released the first Superwolf album. Do you hear those years in some perceptible way when you listen to Superwolves?
Will Oldham: When I listen to it, I feel really good about it, especially when I listen to it from beginning to end. Probably one of the undercurrents of our process had to do with the fact that we took the time. We didn't want to make a bad record and we have enough going on in our lives otherwise, musical and personal, that we didn't have to make this record. We actively began this record five years ago, but in terms of writing the songs, you could of course say that we had begun subconsciously making it before then at any given point.
But there was no pressure to do things unless it felt like we were contributing to what the record ought to be eventually and what it is now. There was never any pressure to do something that like, "Oh well, fuck, we really should do this at this point." We never felt that way. It was more like: We should do this at this point. I'm ready to do this, you're ready to do this, the music's ready, let's move to the next step, that kind of thing.
Matt Sweeney: This is easily the most unforced music I've ever made.
Will Oldham: It's unforced but it's not. We've all listened to records that are made at the right time, but it's not that this record is lacking in an urgency. There are moments of forcing. Forcing is part of the process. Okay, it's time to squeeze that toothpaste tube.
Matt Sweeney: For sure.
Will Oldham: But also, you know, there's a certain degree of striking while the iron is hot, multiple times. Like, "Oh shit, Matt, the iron is hot, you ready to strike? The iron is hot, we're either gonna strike it now, or we'll let it cool down and then maybe…"
Matt Sweeney: Then a year passes. [Laughs]
Will Oldham: A couple months or a year and we'll wait until that iron looks hot again.
AD: I think about the country singer Willis Alan Ramsey. He put out this great record in 1972 and he waited more than 40 years to make another. Every time he was asked where the next album was he'd say, "What's wrong with the first one?" Your first get together resulted in a stone-cold classic record. Did that pressure factor into how you thought about the new album?
Will Oldham: All due respect to Willis Alan Ramsey, but when you're making a record, you understand what the inherent problems are with it. That's part of the motivation for making another record, being able to fix the problems with the next one. That being said, we didn't have that kind of experience with the Superwolf record. The one "problem" that arises—you can view it as a problem, or just an issue—is that time is passing in which we have the ability to make another record. So if we're not making another record, then that's a problem.
AD: Both records have occasional drums—there are really powerful percussive moments—but very often, there is no drummer on these songs. It's interesting how much space that opens up.
Matt Sweeney: One of the things I've been interested in since I was in high school was doing a drummer-less rock band. Growing up, I would play my grandmother songs I liked. I remember particularly the summer between junior and senior year, I had a cassette of the Velvet Underground's third record and I played it for her. My grandmother was really into music. She had a good ear. I had grown up with her playing songs for me. I'd play her songs and she's say, "Sometimes you do play me good songs, but then why is this damn banging on top of it?" [Laughs]
Will is such a strong singer. By the time that we were making Superwolf, I felt confident enough on guitar that I could just be alone with it. I guess the other big idea with it was to use an electric guitar instead of an acoustic guitar. I feel like that's sort of an under-explored thing too, just a voice and electric guitar.
AD: Matt, the songs start with Will sending you lyrics. Have you worked with other songwriters in a similar fashion?
Matt Sweeney: Nope!
AD: When I think of "Blood Embrace" from the first record, or "Make Worry for Me" on this new one, there is a very particular and spooky thing you two do together. Do the lyrics tend to suggest the melody?
Matt Sweeney: "Make Worry For Me" was one where the music really needed to match the spooky vibe. I'm trying to mirror the way the lyrics make me feel, suggest this creepy crawl, dark and majestic. I was thinking about Peter Green, but also there's an Al Green song where it's a hypnotic thing…
Will Oldham: "Simply Beautiful."
Matt Sweeney: Yeah, maybe it's "Simply Beautiful." Whereas with a lot of the other songs, I'll play a lot more like contrasting role or be more open with it, with that one it was like, "I have to write this bad ass song. I have to fucking come up with a cool flatted fifths riff. I have to support this lyric exactly this way." It demanded a certain kind of sound.
AD: The spoken parts in the cover of Vern Gosdin's country ballad "There Must Be a Someone" are incredible. What are some of your favorite songs with spoken parts like that? 
Will Oldham: The Velvet Underground's "I Found a Reason" is a great one. "Hand-in-hand with myself," says Lou Reed. Reed's "Women" from The Blue Mask has a strong recited verse. Johnny Cash's recording of the song "Tony" from Johnny Cash and His Woman has a mighty powerful spoken verse, as does the Everly's "Ebony Eyes." The entirety of the verses of Sam Shepard and Bob Dylan's "Brownsville Girl" are spoken, and magnificently so. Nick Cave's "The Carny" and "Slowly Goes the Night"—both use speech to highly musical effect. And George Jones' performance of "He Stopped Loving Her Today" is always a show-stopper, as are David Allan Coe's spoken interludes in "Dakota the Dancing Bear" and "You Never Even Call Me By My Name." Gladys Knight's spoken intro to "The Way We Were" always, but always, gives me goosebumps. And the Mekons' great spoken-word section in "Memphis, Egypt," about meeting Satan, shaking him by the hand, and thinking his stinking breath was like fine perfume. That's indelibly branded upon my mindbrain. Also the spoken introduction to Willie Nelson's Yesterday's Wine record—"You do know why you're here?"—sets the tone for that trip quite well.
Matt Sweeney: Our first contribution to the spoken verse tradition was the guest spoken duet verse in "Blood Embrace" on the Superwolf album. [The song samples spoken dialog from the 1977 thriller Rolling Thunder.]
AD: In 2008 you two reconvened the Superwolf duo to produce Baby Dee's album, Safe Inside the Day. Both that record and the new Superwolf outing feel like they share an incantatory quality. How did working with her affect you?
Matt Sweeney: Andrew W.K. was so incredible on that record. He played a lot of everything, drums, bass. I put that record on within the last two weeks for some reason and I was fucking floored. Back when we made it, I would listen to it all the time afterwards. It's the best fucking record I've ever been involved in.
Bonnie Prince Billy: Every time that I've been in Dee's presence—whether it's recording, watching one of her shows, playing a show with her, or just sitting down and having a meal with her—every single time is memorable. She's a very specific and powerful entity. I work a lot with a musician here named Cheyenne Mize, who's a music therapist, and it's a unique thing playing music with somebody [who has that kind of] relationship with music and listening. They affect everyone who's in the room. Dee was a fucking funeral organist and a circus performer. She understands how she's relating to people who are grieving or people who are seeking a release through entertainment—and she understands her own need to express her evolution as an individual. Being in a room with someone like that…Baby Dee is who I want to be when I grow up, you know?
Matt Sweeney: She's definitely an influence. I mean if you have half a brain, you want to fucking get with Dee in any way that you can. It's crazy, you know, and I was lucky enough to play her farewell show with her, which I think was a year ago in December. It was fucking phenomenal.
Bonnie Prince Billy: Everything we recorded in Brooklyn was probably within a half a mile of where we recorded Safe Inside the Day. [It felt like that] working with Mdou Moctar too, there was a feeling of anything can happen right now, the only rules are the rules that we're making.
AD: That sense of openness is evident on Superwolves. It goes off in very different directions. A song like "My Popsicle" is so different from "Hall of Death."
Will Oldham: It does go far in different directions and still coheres.
AD: Well yeah, that's exactly what I mean, it still feels of a piece. It almost feels like a "concept album," though I don't know if the term fits.
Will Oldham: Totally. Like an early Sinatra record or something like that. It kind of functions like one, but then you realize, wait a minute, the only "concept" is whatever I'm gonna end up imposing on it. And when I say I, I mean any given listener. But then it works in such a way that any given listener could impose a concept or a theme to the record that suits them and it's appropriate.
Matt Sweeney: That's the ideal kind of record, I think.
AD: It's a generous thing to give the listener a little space to wander in and make it their own. Is some of the appeal of this project you doing that for each other?
Will Oldham: With the many years now of our musical and nonmusical relationship under our belts, there's a generosity quotient, I guess. And then in another way, it's not generous. It's an exchange. The first time, each of us were giving a lot to the other person, [asking] "What's gonna happen? I don't know." At this point, there's an expectation, like when we offer what we're offering, it's like because I know—unless I'm completely fucking insane—I know like I can throw this much on the table, and you're gonna throw that much and a little bit more, and I'm gonna throw a little more, and we'll just keep going from there. But it's a expectation at this point almost, a wonderful expectation.
Matt Sweeney: Yeah, whereas maybe the first one was us giving to each other, now it's like I'm giving it to you because you're gonna give me something back. I know you're gonna give me something back and I have no idea what it's gonna be, but it's gonna whip my ass on some level.
Only The Good Shit. Aquarium Drunkard is powered by our patrons. Keep the servers humming and help us continue doing it by pledging your support via our Patreon page. For heads, by heads.