(Welcome to Videodrome. A recurring column plumbing the depths of vintage and contemporary cinema – from cult, exploitation, trash and grindhouse to sci-fi, horror, noir, documentary and beyond.)
In 1971, Clint Eastwood announced the release of his directorial debut, Play Misty For Me. After spending the previous decade playing lawless cowboys in spaghetti westerns (1964's A Fistful Of Dollars) and heroic soldiers in WWII dramas (1968's Where Eagles Dare), Eastwood feared he was not only typecasting himself as a one-note tough guy, but also as an actor.
Eastwood considered himself a multi-hyphenated creative, interested in all aspects of filmmaking. After spending twenty years performing in film and television, the forty-one year old actor had become irritated watching productions waste time and money over trivialities and endless takes. This would inspire the entrepreneurial Eastwood to take his earnings from the successful Dollars trilogy and strike up a deal with famed producer, Irving L. Leonard. Together, they would found The Malpaso Company, a production company that allowed Eastwood the creative control he desired.
"After seventeen years of bouncing my head against the wall, hanging around sets, maybe influencing certain camera set-ups with my own opinions, watching actors go through all kinds of hell without any help, and working with both good directors and bad ones, I'm at the point where I'm ready to make my own pictures," Eastwood would say of his endeavors with Mariposa. "I stored away all the mistakes I made and saved up all the good things I learned, and now I know enough to control my own projects and get what I want out of actors."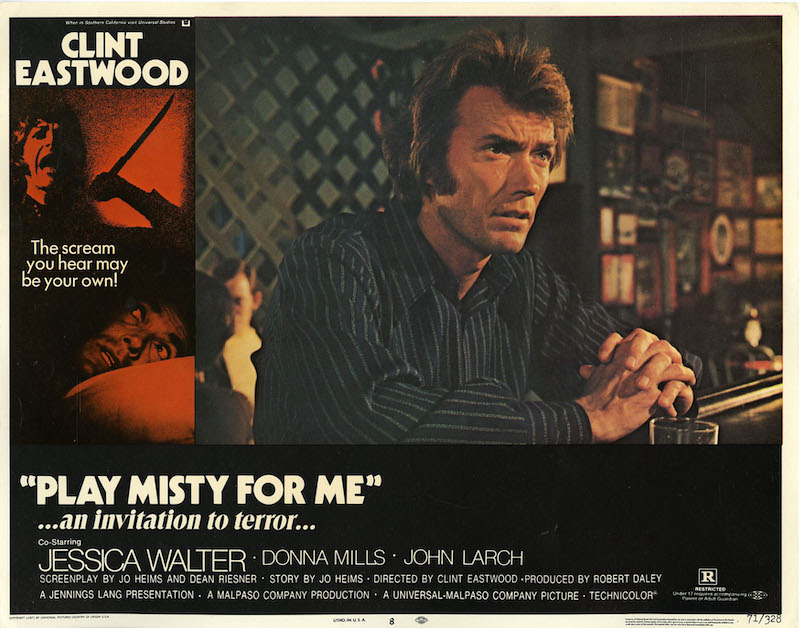 Shot on location in Monterey, CA around Eastwood's hometown of Carmel-By-The-Sea, Play Misty For Me wrapped principal photography in under a month, finishing four days ahead of schedule and $50,000 under budget. The economical approach to filmmaking and budgetary efficiency that Eastwood displayed on Misty would continue throughout the course of his career, putting him in the good graces of major studios such as Universal and Warner Brothers. Grossing $10.6 million against a budget of $950,000, the film was a financial success and well received by critics. In his 1971 review, Roger Ebert wrote, "Play Misty for Me is not the artistic equal of Psycho, but in the business of collecting an audience into the palm of its hand and then squeezing hard, it is supreme."
Eastwood's transition from actor to director happened during a change of guard within Hollywood. Following the box-office downturn of the sixties, studios were seeking out young filmmakers with original voices that spoke to the changing landscape of America. This would usher in the New Hollywood: a period of cinema that gave filmmakers an unprecedented amount of control over their material. For the first time, producers and studio executives would take an authorial backseat to the writers and directors. This would allow filmmakers the freedom to play musical chairs within the industry, shifting from actor to director to producer to screenwriter and beyond. Film editors like Hal Ashby would transfer into the directors chair, leading to films such as Harold and Maude (1971), and actors such as Jack Nicholson would step behind the camera, resulting in directorial debuts such as Drive, He Said (1971).
Within this modulation of the entertainment industry, Eastwood was able to actualize his longstanding dream of directing a feature film. The screenplay that caught his directorial eye was penned by Jo Heims, a former model and dancer turned screenwriter (Heims would also collaborate with Eastwood on the screenplay for Dirty Harry, though she'd go uncredited). Some speculate that Heims got the idea for the screenplay from the real life story of Jean Shepherd, a radio disc jockey who rose to fame on WOR in New York City. According to Shepherd, he began receiving anonymous call-ins from a deranged woman who had become obsessed with his on-air persona. Shepherd began to believe he was being stalked, and one night found himself assaulted by an unknown female assailant brandishing a knife. She would later be identified as the killer of six victims, claiming that Shepherd's nightly radio show drove her to murder. "There are very close parallels in that film [Play Misty For Me] – not only close parallels but actual repetitions of actual events that have happened to me," Shepherd would later say. "It's long been my feeling, working in media, that we've created a new kind of psychosis for our time, a new kind of mental health problem: the media sicky."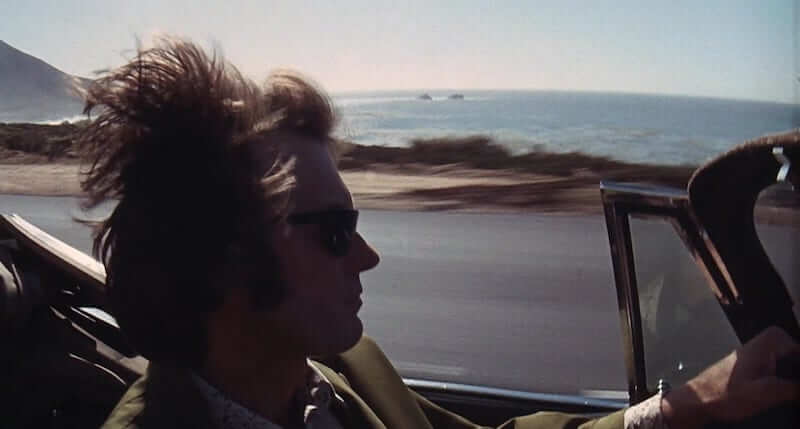 The basic plot of Heims' script is eerily similar to Shepherd's story: a disc jockey begins receiving nightly calls from an anonymous woman, which intensifies into a bizarre stalker relationship. Apart from directing, Eastwood would star in the lead role: the effervescently cool Dave Garver (a role originally intended for Steve McQueen). When he isn't cruising around the PCH in his 1957 Jaguar dropped coupé – sunglasses on, radio turned up – Garver is a late-night disc jockey at KRML, a jazz station broadcasting to the greater Monterey area. In between reciting Kenneth Patchen verses and spinning Johnny Otis records ("This is Dave Garver with a little verse, a little talk, and five hours of music to be very, very nice to each other by"), Garver takes requests from his listeners. One of the most frequent call-ins on the request line is the "The Misty Chick" – a nickname coined by Garver's co-worker and fellow smooth talking disc jockey, Al Monte (played by James McEachin). "The Misty Chick" is no stranger to Garver's hip, after-hour's program. She calls in nightly requesting Errol Gardner's "Misty."
After a long night of romantic poems and far-out jazz at KRML, Garver goes to his local haunt, The Sardine Factory. He makes small talk with the bartender, Murphy (played by director and frequent Eastwood collaborator, Don Siegel). As he orders a beer, Garver notices a brunette in the corner of the bar, sitting alone and drinking Coke. "She's waiting for someone," Murphy informs Garver. "You sure?" Garver asks. Murphy shrugs, "That's what she says."
The brunette introduces herself as Evelyn Draper (played by Jessica Walter) and Garver invites her to pull up a stool. He orders her a drink, she flirts with him, and in a few quick cuts were back at Evelyn's place. As she stabs at an ice tray with a pick (a purposeful bit of foreshadowing for both the third act of the film as well as it's unofficial remake, 1987's Fatal Attraction), Evelyn thanks Garver for driving her back home, insisting that he stays for a drink. As she fixes cocktails, Garver settles into the living room, taking off his jacket and lighting the fire. It is here that Evelyn finally confesses she lied about having a date. She only went to The Sardine Factory because she knew Garver would be there (he talks about it on his program all the time, of which she's a loyal listener). The audience now realizes that when Murphy told Garver, "She's waiting for someone" he wasn't giving faulty information. Evelyn was waiting for Garver, and Garver ending up at Evelyn's place is all part of her ploy. Cinematographer Bruce Surtees (another frequent Eastwood collaborator) shoots this sequence from a low angle, looking up at Evelyn as she looks down on Garver, visually establishing the power dynamic that'll play out throughout the rest of the film.
Garver begins to put two and two together – Evelyn Draper is "The Misty Chick." Aware of Evelyn's sexual intentions, Garver professes he already has a "nice girl" in his life and doesn't want to complicate things. In a very matter of fact tone, Evelyn replies, "That's no reason we shouldn't sleep together tonight if we feel like it." Underneath the guise that this is nothing more than a one night stand, Garver makes his biggest mistake: he spends the night with Evelyn.
It's not long before Evelyn begins showing up at Garver's house unannounced, bringing him groceries and stuffed animals. She waits for him outside of bars, follows him around town, interrupts business meetings, and even attempts suicide in his bathroom. This is further complicated by the fact that Garver's ex-girlfriend, Tobie (played by Donna Mills), has reappeared in Monterey. As Garver attempts to reconnect with Tobie, he's smothered by the increasingly erratic behavior of Evelyn. "You start a relationship thinking you're going to be completely honest and all of a sudden the whole thing gets out of hand," Garver laments to Monte. "I've been trying to uncomplicate my life and now I can't even answer the doorbell." Garver's attempts to set things straight with Evelyn only serves as fuel for her manic episodes, which take a sadistic turn midway through the film, resulting in a violent third act that plays out like a sun-kissed California version of a giallo horror.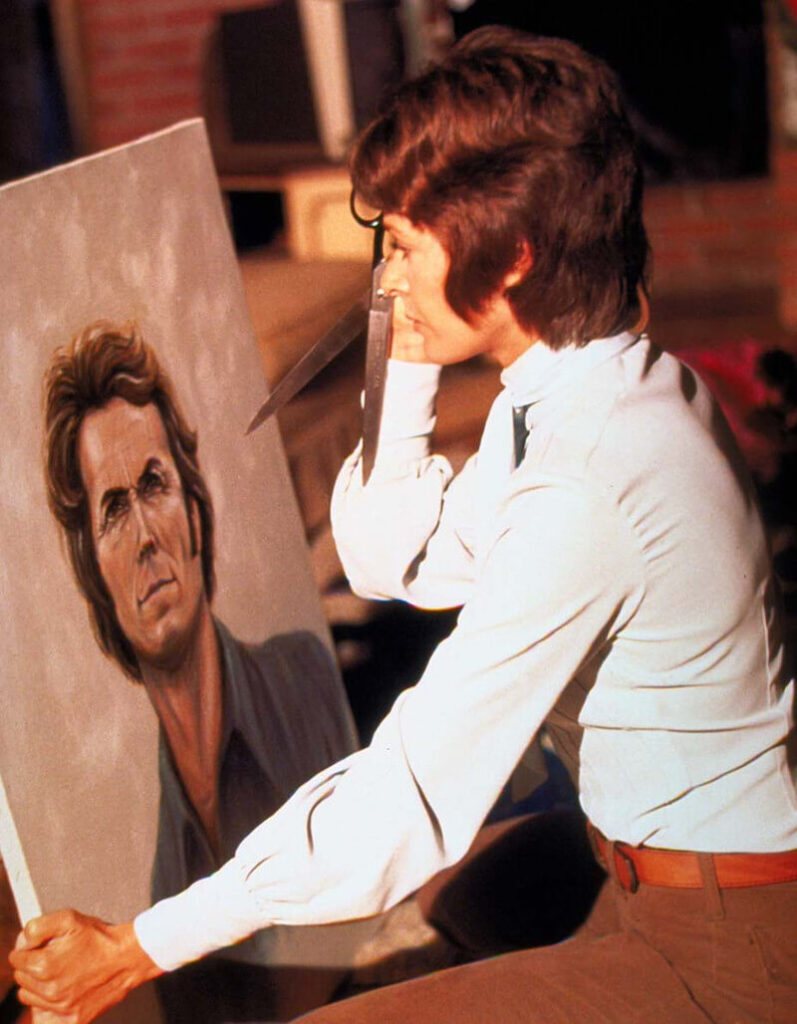 Play Misty For Me is the primordial psychological thriller in a peloton of films that serve as cautionary tales for those who casually enter into relationships without considering the consequences. The thematic DNA of Misty is splattered across salacious thrillers such as Basic Instinct (1992), Swimfan (2002), and its most obvious companion, Fatal Attraction (1987). Even films such as The Cable Guy (1996) pay direct homage to the stalker/stalkee relationship in Play Misty For Me; during a flashback sequence, the young Cable Guy is left alone in front of "The Babysitter" (the television), watching a scene from Play Misty For Me.
Following in the celluloid footsteps of John Ford, Eastwood is considered one of the greatest American political filmmakers. From American Sniper (2014) to Gran Torino (2008) to Heartbreak Ridge (1986), Eastwood's directorial vision is always framed by a politically comprehensive view of the world. While it's easy to draw surface level comparisons to Fatal Attraction due to obvious similarities in plot and characters, Misty shares a stronger political resonance to films such as Oliver Stone's Talk Radio (1988) in it's examination of the confluence and divergence of public and private life. Garver is a local celebrity with an audience, giving him a certain amount of clout and prestige. His lustrous on-air persona is broadcasted to an audience of lonely lovers and insomniacs who listen to him religiously – five hours a night, every night. Devoted listeners such as Evelyn believe they personally know Garver although never having met in real life. Much like fellow radio personality Barry Champlain in Talk Radio, the power and privilege that comes with Garver's public identity becomes at odds with his personal one, and at this crossroads conflict ensues.
Evelyn Draper is what Jean Shepherd would crudely refer to as "the media sicky," emblematic of a new kind of mental health problem that was becoming increasingly prevalent in the early seventies as a result of the American publics insatiable consumption of media. In her delirious state of mind, not only does Evelyn feel as though she knows the ins and outs of Garver's life, she feels as though she belongs in it. When her fantastical illusion of Garver based on his public persona is destroyed by the reality of his private life, Evelyn stops at nothing to destroy everything that comes between her and "her version" of Garver. Evelyn Draper would help establish the cinematic continuum of alpha-female psychopaths with distorted levels of star worship such as Annie Wilkes in Misery (1990), another self-proclaimed "number one fan."
The audience is introduced to Evelyn at the same time as Garver, her lack of exposition making her that much more terrifying. Just like Garver, we don't know who she is or where she comes from, and her origins are never revealed. Early on in the film, Evelyn makes an off-handed comment about growing up in Albany, New York, but it happens in a scene when she's lying to Garver about her intentions for going to The Sardine Factory. It's the only bit of insight into Evelyn's past the film gives and – given the context of the scene – could also very well be a lie. We're never given a scene in which a psychiatrist tells Garver (and the audience) Evelyn's history, or a flashback to Evelyn's life prior to landing in Monterey, or a scene of Garver flipping through a scrapbook of newspaper clippings from Evelyn's checkered past. By omitting a frame of reference for Evelyn, we're not only that much more unnerved by her presence, we're also figuring her out at the same time as Garver, wondering what will happen next. The unspoken mystery surrounding the antagonist in Play Misty For Me is something that is felt in many other horror and thriller films that proceeded it: the serial killer in Bob Clark's Black Christmas (1974), the assailant in Richard Franklin's Roadgames (1981), the home intruders in Bryan Bettino's The Strangers (2008), and countless others.
Although many aspects of Misty could be considered dated by today's standards – the music, the fashion, the hepcat dialogue, even the amazingly groovy but tonally out of place retro font in the opening credit sequence – the central story and themes are still relevant today, evident by the countless films that have and will continue to borrow from it. As the "female stalker" sub-genre of psychological thrillers continues to develop throughout changing politics and socio-political awareness, it's important to remember that Play Misty For Me laid the original blueprint. Say what you will about Eastwood's treatment of the subject matter, but he was amongst the first directors to put it into play. And when it comes to the "female stalker" character, few actresses come close to rivaling the sheer insanity and vociferous desperation in Jessica Walter's portrayal of Evelyn Draper.
Play Misty For Me is far from perfect a film. It contains many stilted editing choices, strange tonal shifts, performance blemishes, and lopsided pacing. But these quirks and eccentricities make it all that more endearing, as well as a beautiful time capsule of early seventies filmmaking. This is none more apparent than in the back half of the film when Garver attends the Monterey Jazz Festival of 1970. For a few minutes, we're transported into a music documentary, watching hand-held footage of jazz legends such as Joe Zawinul play keyboards with The Cannonball Adderley Group. There's also a long musical montage set to Roberta Flack's "The First Time I Saw Your Face," consisting of a plethora of magic hour shots that look like they fell off a Big Sur postcard. These offbeat interludes completely interrupt the flow and pacing of everything that comes before and after it, but they're also part of what makes Misty such a singularly unique film, a direct result of the time it was released in. Here we have a first time director cutting together a bunch of B-roll footage from a jazz festival into the second half of a psychological thriller, directly after giving you a six minute montage that looks like it belongs in a completely different movie, and he had the creative control to do so. Play Misty For Me represents a time when filmmaking was about taking risks and pushing the envelope, going against the grain and using brand new techniques. It's part of a collection of early seventies films that weren't afraid to focus on the darker elements of the American dream and the taboos of the human condition, resulting in innovations across visual storytelling and narrative structure. And while Play Misty For Me is undeniably a psycho-thriller from 1971, it's also a timeless examination of obsession and fanaticism. | e hehr
Dig this flavor of culture reportage? If so, support us through Patreon. Help us continue to produce mixtapes, podcasts, radio shows, a/v joints, interviews, features, and much more.