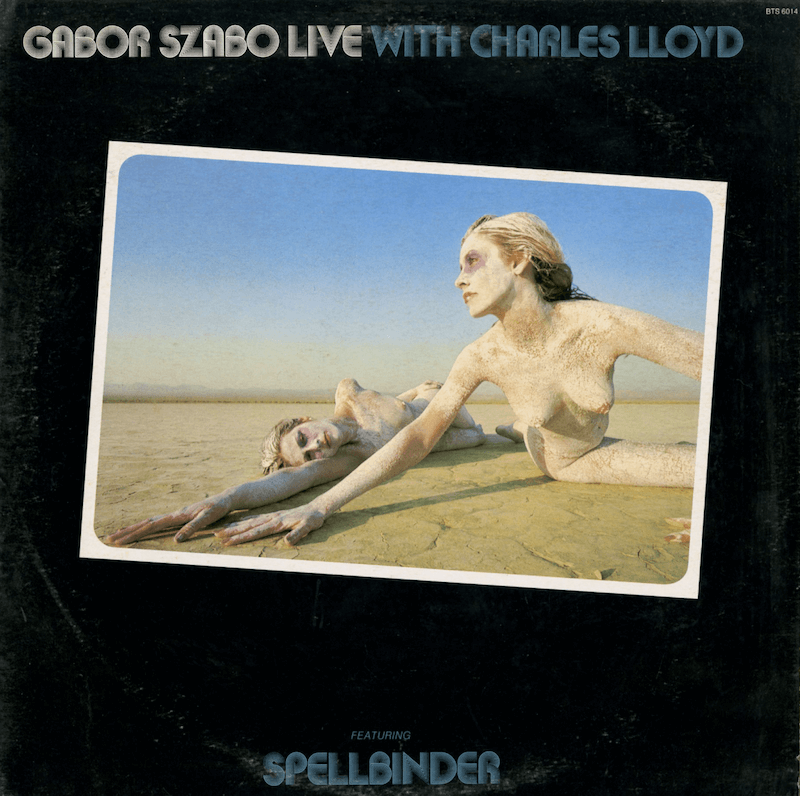 Gábor István Szabó left us all too soon, passing through just shy of his 46th birthday on a journey home to his native Hungary. However, he did leave a deep bag of mystic jazz whose sonic influence can be felt distantly in a very eclectic group of guitarists (some obvious, others more wide-frame): The improvisational lines of Jerry Garcia; the textural soloing of Tom Morello; George Benson's jazz-funk bounce; Jimi Henrix's feedback art; the lush, jazz-literate folk-pop of Joni Mitchell; and even Mary Halvoron's off-grid, crossover experimentalism. (Not to mention the song "Gypsy Queen", from his debut psych-banger Spellbinder, became a chart-topping pop-rock hit for Carlos Santana.)
Szabo was fond of west-coast sounds, and found a way to weave his droning, raw guitar sound—played almost exclusively on a steel string acoustic sent directly into an amplifier—into the framework of Californian psychedelia. His first major gig after emigrating to the States was with the L.A. based drummer-composer Chico Hamilton, who took Mr. Szabo under his wing, creating one of the most unique groups of the 20th century—the heralded Chico Hamilton Quintet—blended chamber-jazz with light avant-gardism. Szabo's experiences in it—playing alongside the left-leaning woodwind maestro Charles Lloyd—can be felt on nearly all of his own releases, which most often included covers of contemporary pop-music arranged into his rambling-yet-concise style. Some of his commercial forays veered towards easy listening, but always contained a side of edginess, pushed by his biting guitar tone and searching steel string acrobatics. Despite numerous studio experiments in the mid-to-late-70s on the CTI label, his most endearing work was arguably the live stuff.
1972 found Szabo—recently signed to Blue Thumb—jamming with his old bandmate Charles Lloyd on flute with a compact quintet deemed "Spellbinder" at The Troubadour in Los Angeles. The five-track LP is on fire with bright, exploratory, pastoral works that flicker with bright life. Szabo's guitar is at the helm and has never sounded so unbridled and joyful. The collection also reflects the bandleaders penchant for hip repertoire and arrangements. They weave their way through Gabor's droning Spellbinder (which recalls Szabo's early work with the bassist Ron Carter, but this time alongside Wolfgang Melz' fuzzed-up electric bass), and take on Lloyd's eastern-tinged "Sombrero Sam", pushing into impressionistic modal Folk-Jazz that sounds gentle and sharp in the same breath—the kind of thing you might hear on a Miles Davis acoustic album. Two pop covers, the soul-pop breezer "Stormy", and the chart-topping hit "People"—written for Barba Streisand's debut musical on Broadway and famously covered by The Supremse—round out the album and further establish Gabor Szabo as a masterful arranger, guitarist, interpreter, and vagabond curator of hidden gems. (L.A. hometown hero Tony Ortega sits in with the group with his flute plugged into an echoplex to great, swirling effect on "Stormy", pushing the music into those poignant uppers.)
Released in 1974, Gabor Szabo Live With Charles Lloyd Featuring Spellbinder, was never widely issued, listen to it in full, below. | t csatari
Only The Good Shit. Aquarium Drunkard is powered by our patrons. Keep the servers humming and help us continue doing it by pledging your support via our Patreon page.