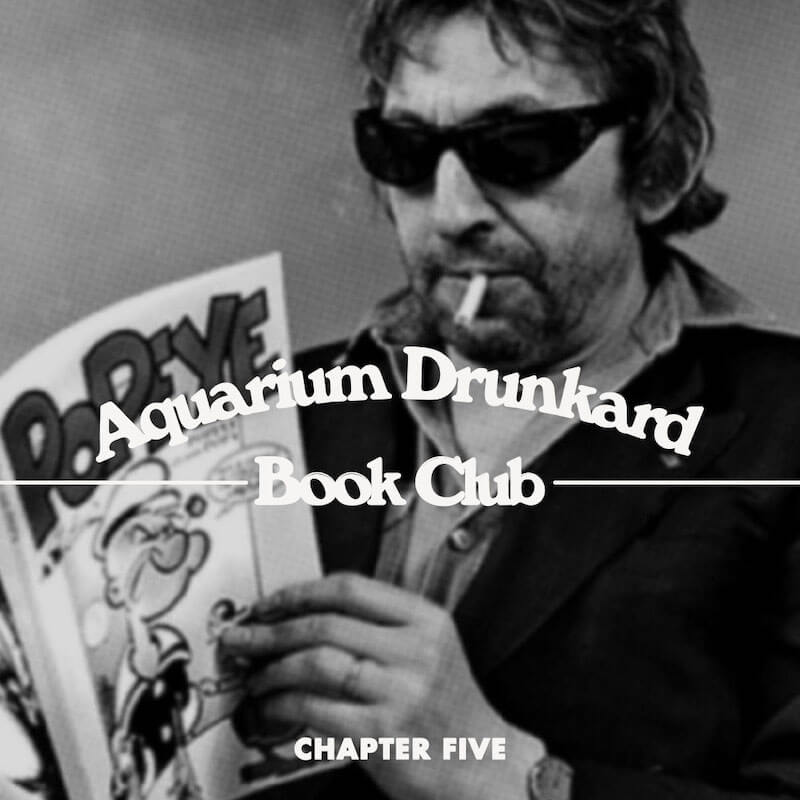 Welcome back to the stacks. It's Aquarium Drunkard's Book Club, our recurring column of recent (or not so recent) recommended reading. Your librarians this month are Kyle Fortinsky, Alex Tobin, and Jason P. Woodbury.
The Foghorn's Lament, Jennifer Lucy Allen: Jennifer Lucy Allan's obsession with foghorns began in 2012, when she was commissioned to review the album Audience of One, a four-part suite by Oren Ambarchi. Dropped into the Australian composer's heady mix—an eclectic brew that ranges from throbbing minimalism to expansive songcraft to ecstatic free-rock—is a French horn. "When I heard it, I had imagined a harbour, and instinctively compared the brass to a foghorn […] a horn made to compete with the seas and the weather, that could parp, moan, holler and wail loader than anything else on the coast, that was big enough to shout down death," Allan writes. The Foghorn's Lament is a fascinating and engrossing book that chronicles the author's fascination with a device originally created to save souls in peril at sea. This is a maritime history of shipwrecks and lighthouse keepers, into which Allan skilfully weaves our industrial past and strands of barely believable urban myths, all the while making regular ports of call in popular culture. Music (Nina Simone, Van Morrison, massive sound systems at coastal raves and Sunn O))) all make appearances), literature (from Gothic to Jeff VanderMeer's Southern Reach Trilogy), film (John Carpenter and Ingmar Bergman)…The Foghorn's Lament is an eclectic book (the press release comes with effusive praise from the likes of Brian Eno, Laurie Anderson and Vashti Bunyan), and yet, at the end of the day, it is also one woman's personal voyage through the howling loneliness of nature: "I had always loved these vibrational ecstasies, where sound became physical, where I was silenced by noise."
Hawkwind: Days of the Underground, Joe Banks: In this mammoth tome for Strange Attractor Press (publisher of the indispensable '70s freak out High Weirdness, an AD favorite) music writer Joe Banks dives deep into the lysergic inner cosmos of Hawkwind, who he sees as "one of the most innovative and culturally significant bands of the 1970s," fomenting a "one-band revolution." Hawkwind: Days of the Underground eschews the standard rock biography template in favor of a more anthologized approach, combining a chronological overview, album by album discography, essays and interviews with Hawkwind principles like Nik Turner, the late Michael "DikMik" Davies, interpretive dancer Stacia Blake, and other fascinating characters, with a wealth of vintage photos and archival ephemera, including flyers and far out posters. Examining how the counter culture, science fiction, and paranoia shaped the band's culture and music, Banks maps out how Hawkwind's roaring power influenced coming movements like punk rock, stoner rock, and electronic music. "They had a barmy, visionary innocence," says lyricist and SF author Michael Moorcock. "All other 'psychedelic' bands seemed pretentious and pale in comparison."
Lost Borders, Mary Austin: "First and last, accept no man's statement that he knows this country of Lost Borders well," writes Austin early in chapter one. The territory she speaks of rests among the Mojave Desert and Death Valley, stretching east to the Colorado River, a desolate terrain that's "a week's journey from everywhere." And yet, it was home to many important tribes, opportunists, lost settlers, and endless mythology. Austin wrote Lost Borders in 1909. By then she was a trusted voice in Naturalism (specifically the Southwest), an advocate for Native American rights and freedom, and had amassed a deep love and understanding of the American desert. Lost Borders is more a character study of its dwellers than an outright ode to the environment (seek out her first book, Land Of Little Rain, for this). It's a collection of stories about prospectors, hunters, generations of Indians, white people unprepared for the elements, and more—told with a keen eye and a journalistic sensibility (sourcing quality tidbits from the local bars and gatherings), but not without the underlying theme of how beautiful and unforgiving the Lost Borders truly are. "You can always trust Indian names," she says, "to express to you the the largest truth about any district in the shortest phrases."

The Last Soul Company: The Malaco Records Story, Rob Bowman: In The Last Soul Company, author Rob Bowman—best known for his Stax history, Soulsville, U.S.A.—unpacks the story of one of oldest independent record labels in the United States. From a studio in Jackson, Mississippi, the imprint has been home to R&B hit makers like Jean Knight—whose "Mr. Big Stuff" helped break the label on a major scale—gospel acts like the Jackson Southernaires and the Sensational Nightingales, and bluesmen like ZZ Hill and Bobby "Blue" Bland. Bowman seizes in on the unlikeliness of the story: how would a label founded in emulation of classic labels like Stax and Chess actually go on to outlive them? Loaded with photos and an introduction by music scholar Peter Guralnick, the book is propelled along by Bowman's keen eye for characters—people like the eccentric New Orleans producer Wardell Quezergue, who'd truck NOLA artists over in a converted school bus—whose grit and determination that has kept Malaco going after five long decades, through ups and downs in the ever tumultuous music industry.
Who Is Vera Kelly?, Rosalie Knecht: The first book in Knecht's Vera Kelly spy series (the second, Vera Kelly Is Not A Mystery, was released last year). While working at a New York City radio station in 1962, Vera is recruited by the CIA to travel to Argentina and infiltrate activists within the Buenos Aires college community. Upon arrival, her orders snowball as she's additionally tasked with wiretapping a local congressman's private office. Intel accrued from students and the wire prove accurate when the swift onset of an Argentinian government coup begins, and Vera is left to fend for herself as she attempts to escape South America before the borders close. Chapters alternate between Vera's time in a Baltimore youth center, New York, and the Buenos Aires adventures, helping round out her backstory rather quickly. Despite the lonerism of this main character, Knecht fills the book with fun dialogue as a result of Vera's need to source information from a variety of individuals. A nice mix of beach reading and any-season Sunday morning caper entertainment, Knecht wraps serious subject matter here into digestible storytelling.
Aquarium Drunkard is powered by our patrons. Keep the servers humming and help us continue doing it by pledging your support via our Patreon page.