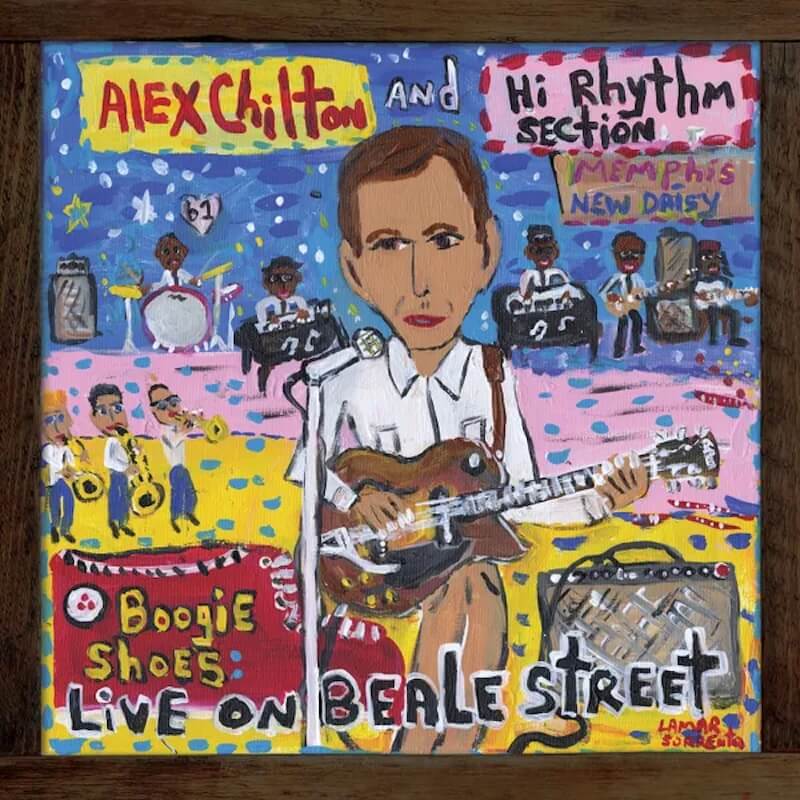 The thing about picking up a "new" Alex Chilton album is that you never know which Alex Chilton you're going to get. Will it be the '60s blue-eyed soul of The Box Tops? The majestic power pop crafted with Big Star in the early '70s? Or perhaps the detached blues-punk he unleashed at the end of the decade? It all depends on which lp you snag from the bin. On this latest archival release, Boogie Shoes: Live on Beale Street, fans of Chilton get a sonically perfect snapshot of the polished side of Chilton—the side that loved playing funky-ass R&B with a tight backing band.
This 1999 recording, a previously unissued live set backed by the legendary Hi Rhythm Section, contains horn-laced versions of soul chestnuts from Little Richard, Otis Clay, The Supremes and Chuck Berry, along with a cover of the KC & The Sunshine Band title track. Anyone who witnessed an Alex Chilton solo gig from the 1980s onward knows he loved throwback covers, and this LP perfectly encapsulates that passion with an enthusiastic Chilton leading the way.
Alex Chilton w/ The Hi Rhythm Section :: Boogie Shoes (live)
Recorded at the New Daisy Theater in Memphis during Fredstock, a benefit concert for a beloved area musician, the star-studded evening ended with a headlining set from Rufus and Carla Thomas. Chilton was in his element, and linking up with the Hi Rhythm Section for this set was a seamless match.
Chilton could hang with the best of them, even with little-to-no rehearsal time. Many who played with him in the last half of his career have said he thrived on the thrill of the unknown, both onstage and in the studio. "Alex came from a lineage of producers in Memphis, guys who keep the sessions really loose hoping for good mistakes to happen," said Doug Garrison, who drummed with Chilton in the 1980s. "That first record I did with Alex, almost everything on there is a first take. It took me aback. I had never worked like that before. He was like that years later, too. When we were in the studio working on A Man Called Destruction, I thought we were just running through the songs so the horn players could read their charts," Garrison added. "Then we played 'Te-Ni-Nee-Ni-Nu' and Alex said, 'Okay, are we cool with that?' I didn't even know we were rolling tape. We did about forty songs on that recording day—all the original tunes for the record, and then he just wanted to burn tape and play a bunch of covers. It was bam, bam, bam."
As for why the recently unearthed show was recorded at the time, Boogie Shoes' producer David Less, a friend of Chilton, said it wasn't documented for saleable purposes–which explains why the crystal clear audio sat shelved for over two decades. "The show was a benefit for Fred Ford, who was dying from cancer," Less notes. "It was recorded for him because he was too ill to attend and we wanted him to hear it. Pro Tools was not an option, but as an audiophile I had a DAT recorder in my home stereo. I brought it and had the mixer do a separate mix to two tracks for Fred and record it digitally on the DAT."
It's been 11 years since Chilton suddenly passed away in New Orleans, the city he uprooted to in 1981, after a confluence of personal demons drove him away from his hometown of Memphis. "I feel a lot freer here," Chilton said after his move to NOLA. "There's a lot of great music in New Orleans, and a lot of great musicians here. I've learned a lot from a lot of the jazz players I've met here. I've learned a lot about the history of rock 'n roll music and things like that."
In retrospect, the six-hour move makes perfect sense for the dynamic songwriter. New Orleans was, and still is, bursting with top notch jazz and soul—two genres Chilton became enamored with as a child.
"Alex could play anything because of the early influences in his life," Less said. "His parents' love of jazz and the musicians who were always at his home when he was a child influenced his taste. Vocally, he was advanced enough to sound like a grown man at 16. And because he was easily bored with a lot of contemporary music, he stretched a lot. In the 1970s, I would see him accompanying Sid Selvidge and was amazed at what he was able to do on the guitar."
For a few years, in the early '80s, aside from some off-the-rails gigs with Panther Burns, Chilton essentially disappeared in New Orleans. During this downtime, he not only kicked the drug and alcohol problem he'd battled in the '70s, he also redefined, or perhaps discovered, who he was as a musician—and it lines up perfectly with what's heard on this new release. By 1984, the vision was clear.
"We started playing as a trio called The Scores," recalled longtime Alex Chilton Trio bassist, René Coman. "It was prostitute language. A prostitute turns a trick and calls it 'a score.' We'd do 'Chain Gang,' Otis Redding's version of 'Satisfaction,' and some other off-the-beaten-path R&B music. The drummer and Alex would sing; they split it. We worked in a lot of Alex's favorites. He had a huge repertoire of things he liked and finally was in a situation where he could pull those out."
Word quickly spread that Chilton was lowkey back in action at a small New Orleans club called Papa Joe's. While members of R.E.M. or the dB's would pop in to watch their hero, it was mainly uniformed tourists watching the Scores–most with no clue they were witnessing a rock legend with an international cult following. However, during this low-paying stint, calls to national booking agents were made, and the Alex Chilton Trio hit the road in a rusty-but-trusty '73 LeSabre hooptie. Though, Big Star fans expecting to hear live #1 Record, Radio City or Third in their entirety were often puzzled at Chilton's setlist. Big Star Fans in attendance would often shout for power pop classics, Chilton rarely obliged.
"I say let them scream for whatever they want," Chilton said at the time. "If I can stomach what they're asking for, then I'll do it. But there are many times when I can't."
From behind the drum kit, Garrison witnessed some bewildered fans, but also countless crowds who understood and respected Chilton's new approach. An approach he documented on 1987's High Priest LP and the jazzy 1994 album, Clichés.
"Luckily, especially in Europe, there were fans who trusted his musicianship enough to just let him play what he wanted to play, and they knew it'd be great," Garrison recalled. "But he enjoyed playing a few of the Big Star tunes. 'September Gurls,' we played a bunch. 'In the Street' we played a lot. If it was an upbeat, rocking Big Star tune he liked, then he'd do it. The lamenting, slow, sad songs—he didn't dig that stuff anymore. The last third of his career, he was really doing what he wanted to do: explore the roots and play funky music."
While the newly pressed Boogie Shoes is a posthumous release, if he were still here, Chilton likely would've had no problem signing off on it. It's a shining example of what he enjoyed most about performing, and he was accompanied by a stage full of like minded performers he highly respected.
"Despite his whimsical side, Alex always seemed quite serious when he played," Less said. "He made it look easy and sometimes seemed bored. At this show, he was able to relax and just call tunes knowing the band would be in the pocket and he could just ride them instead of leading. For Memphis musicians of our age, playing with the Hi Rhythm Section is the ultimate opportunity. Alex, the band and the horns, locked in and had a great time."
A few years before this New Daisy Theatre set, in 1994, Chilton addressed his dynamic musical evolution in a very-Chilton way. "I can't say there has always been one vision of something I wanted to do," Chilton told interviewer Steve Harris. "It changes from day to day, minute to minute, year to year. At every step along the way, the vast majority of people are always telling me I'm doing the wrong thing—now, then, all along the way. Now people tell me, because I don't make music that sounds like Big Star, that I'm making a big mistake. I just say, 'To hell with them.' This is what I want to do. And I pretty much always have from 1970 on, and I'll continue to do that. If it happens that I can't make a living playing music anymore, then that's the way it's going to be."
Rich Tupica is the author of There Was A Light: The Cosmic History of Chris Bell and the Rise of Big Star on Permuted Press.
Aquarium Drunkard is powered by our patrons. Keep the servers humming and help us continue doing it by pledging your support via our Patreon page. For heads, by heads.