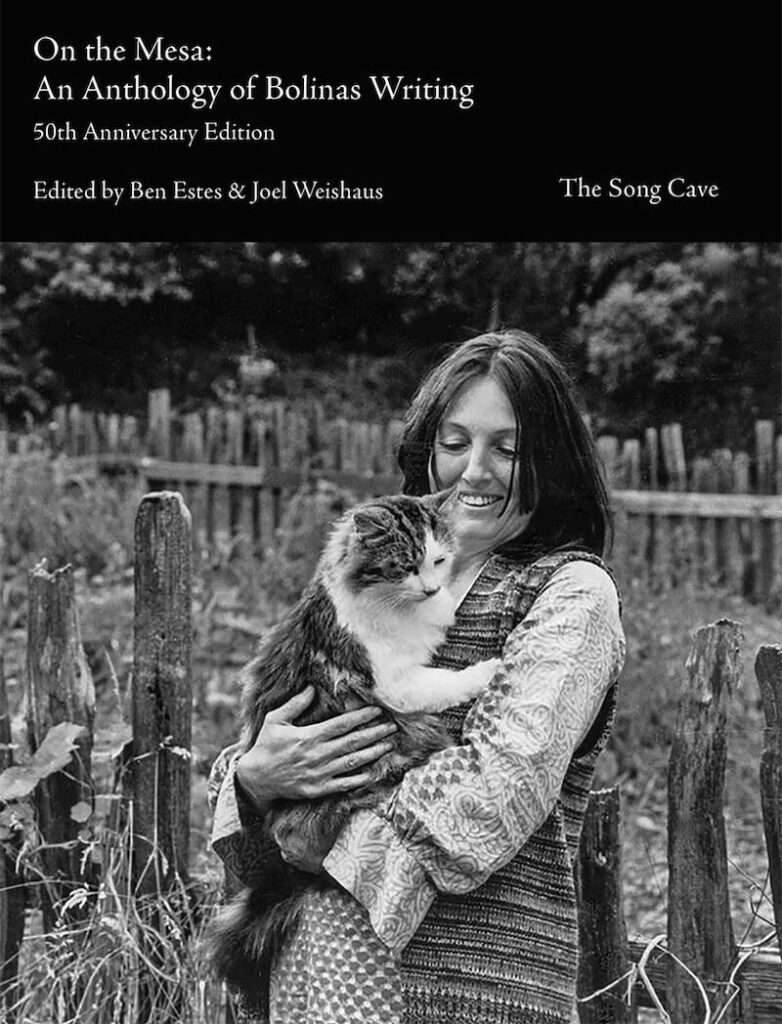 Bolinas at the dawn of the 1970s is one of those times & places you hear about that doesn't seem entirely possible. Situated between the Pacific and Mt. Tamalpais, it's only accessible by unmarked roads (residents habitually removed signage until their absence was written into local law). Despite the community's reputation as a haven for artists and writers, Bolinas never became an aesthetic movement. It was a place, "such a basic place," as Joe Brainard wrote, "a psychedelic Peyton Place," according to chief Fug and poet Ed Sanders. And so no definable poetic 'school' emerged either, no creed or manifesto—just a humble anthology of poetry called On the Mesa. Originally published by City Lights in 1971, this seminal anthology has been newly expanded with previously unpublished poems by Brooklyn-based publisher The Song Cave.
Perusing On the Mesa is a like cracking the gatefold of David Crosby's If I Could Only Remember My Name, revealing a PERRO-style who's-who of counterculture literati, with exponents of Black Mountain, Beat, San Francisco Renaissance, and second-generation New York School poetics. This collection features a golden marquee: Philip Whalen, Joanne Kyger, Alice Notley, Jim Carroll, Anne Waldman, Diane Di Prima, Richard Brautigan, Bobbie Louise Hawkins, Robert Creeley and two dozen others who found their way up to country.
Much like Bolinas itself, the poems gathered in On the Mesa exist in an unincorporated state—apiece and apart, at home and at ease, glad to be among each other. They reflect and transcend an era ripe with love, longing, domestic life, tempestuous sociopolitical events, growing ecological concern, burgeoning spiritual consciousness, and good old-fashioned small-town gossip. As the best anthologies do, On the Mesa constitutes a world and sensibility unto itself, a kind of Whole Earth poetry you can settle into and feel right at home. It's a book to drift and amble through, to drop in on, to pass around like a mellow sunset joint, when all that's left to do is marvel at the horizon as one day simply turns to the next. | j annis
For heads, by heads. Aquarium Drunkard is powered by our patrons. Keep the servers humming and help us continue doing it by pledging your support via our Patreon page.