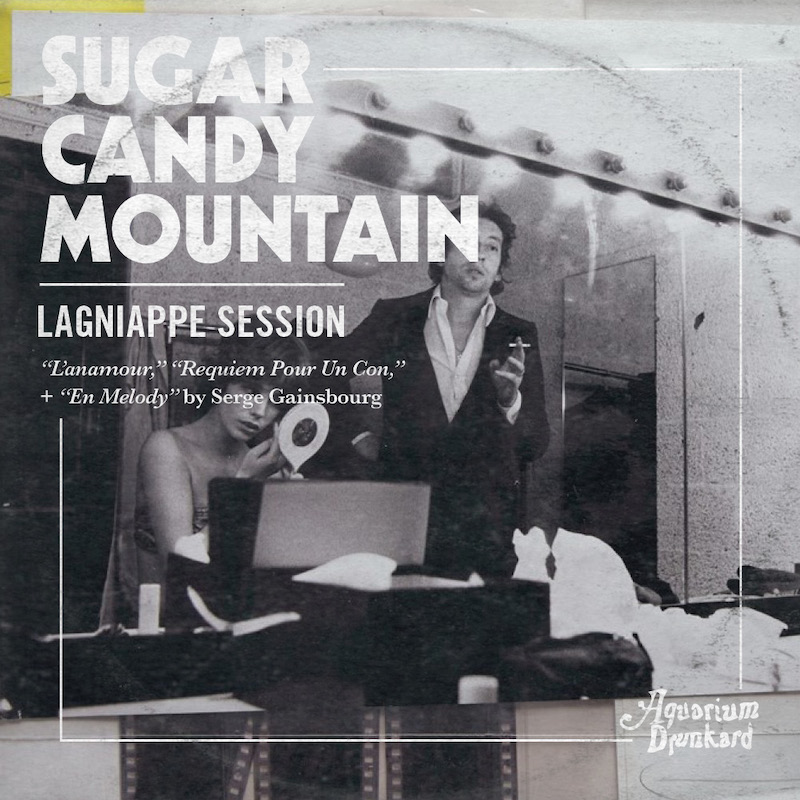 Lagniappe (la ·gniappe) noun 'lan-ˌyap,' — 1. An extra or unexpected gift or benefit. 2. Something given or obtained as a gratuity or bonus.
Bay area duo Sugar Candy Mountain returned late last month with the release of their fourth long-player, the 13 track psych-pop that is Impression. Recorded with Papercuts' Jason Quever, the record organically expands their sonic palette while maintaining the aesthetic touchstones that defined previous output. For this installment of the Lagniappe Sessions, the group pay homage to the nonpareil oeuvre of Serge Gainsbourg. Sugar Candy's Ash Reiter on their selections, below.
Sugar Candy Mountain :: L'anamour (Serge Gainsbourg)

My first introduction to this song was through Francois Hardy's version. I had just gotten a new haircut and faux leather bomber jacket and a musician friend told me that my look and voice really reminded her of Francois Hardy. This sent me down a rabbit hole of discovering '60s French pop—from Francois Hardy to Serge Gainsbourg and onto many of the yé-yé singers he wrote for. Gainsbourg earned himself a dubious reputation through various stunts, like having the young France Gall naively record his song "Sucettes" full of double entendres alluding to oral sex, singing a duet called "Lemon Incest" with his 13 year old daughter, Charlotte Gainsbourg, and orchestrating Jane Birkin's orgasmic performance on "Je T'Aime… Moi Non Plus", which led the song to be banned from radio in many countries. All this colors his music so that even a sunny song like "L'anamour" leaves you with an undercurrent of suspicion. Am I being hoodwinked like France Gall? My French is pretty weak, but as far as I can tell "L'anamour", or as it translates "The Loveless Ones", is a harmless song of fading love. Please do let me know if I am wrong on this one. The hooky bittersweet melody reminds me of something that belongs on a Sofia Coppola soundtrack. Even weeks after recording this song it's still stuck in my head.

Sugar Candy Mountain :: Requiem Pour Un Con (Serge Gainsbourg)

I was drawn in by the song's simplicity. In the original there really isn't much more than some great reverb-y drums and percussion, over a repeating bass line, with Gainsbourg more speaking the lyrics than singing. The minimal arrangement made recording our cover a bit of a puzzle. In the end we decided to make the song ours by adding our own parts and melodies and reimagining the piece with a more lush approach. Even still it felt like we had to be careful not to overload the song—it was definitely a case of trying lots of ideas and then peeling almost all of them back to sculpt a version that I think honors the original.
Sugar Candy Mountain :: En Melody (Serge Gainsbourg)

Histoire de Melody Nelson is such an incredible album start to finish. "En Melody" is probably my favorite track on it. The production is just so enticing—it feels funky, hard and vulnerable all at once, and the bass line is irresistible. We got Jason Quever (Papercuts), who has helped produce and record our last three albums, to help out a lot on this one. I particularly love his take on the guitar lead—he gives it a Neil Young feel that works so well within the song. We also decided to make the tune a bit more keys heavy, which makes it lean into Stereolab territory.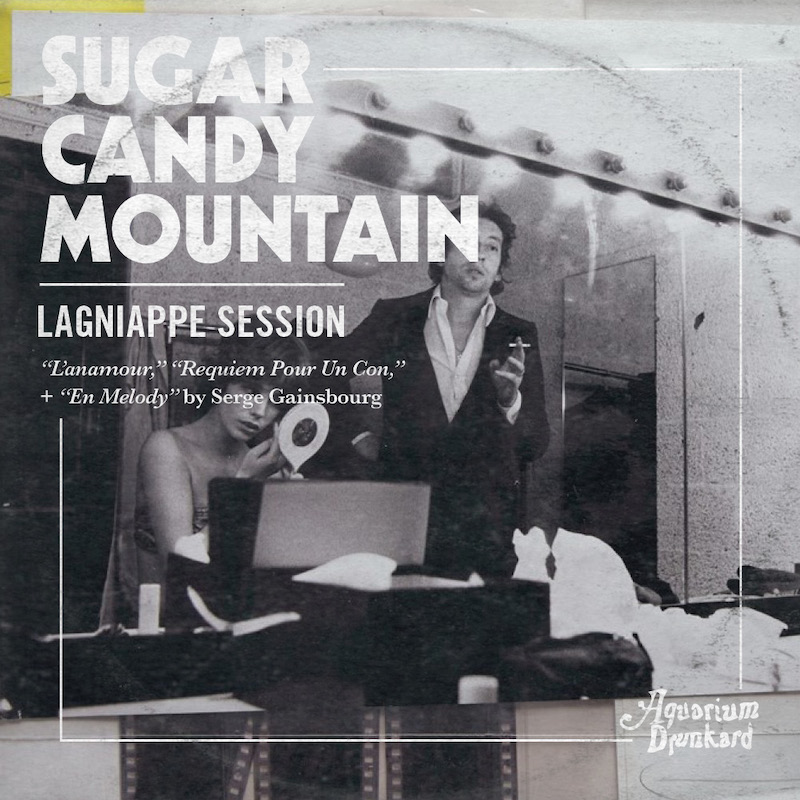 Produced by Jason Quever and Sugar Candy Mountain. Mixed by Jason Quever and Will Halsey. Music by Ash Reiter, Will Halsey, Jason Quever, and Thomas Edler. Mastered by Timothy Stollenwerk at Stereophonic Sound. Artwork by Jess Willa Wheaton.
Lagniappe Sessions Archives / imagery via d norsen
For heads, by heads. Aquarium Drunkard is powered by its patrons. Keep the servers humming and help us continue doing it by pledging your support via our Patreon page.