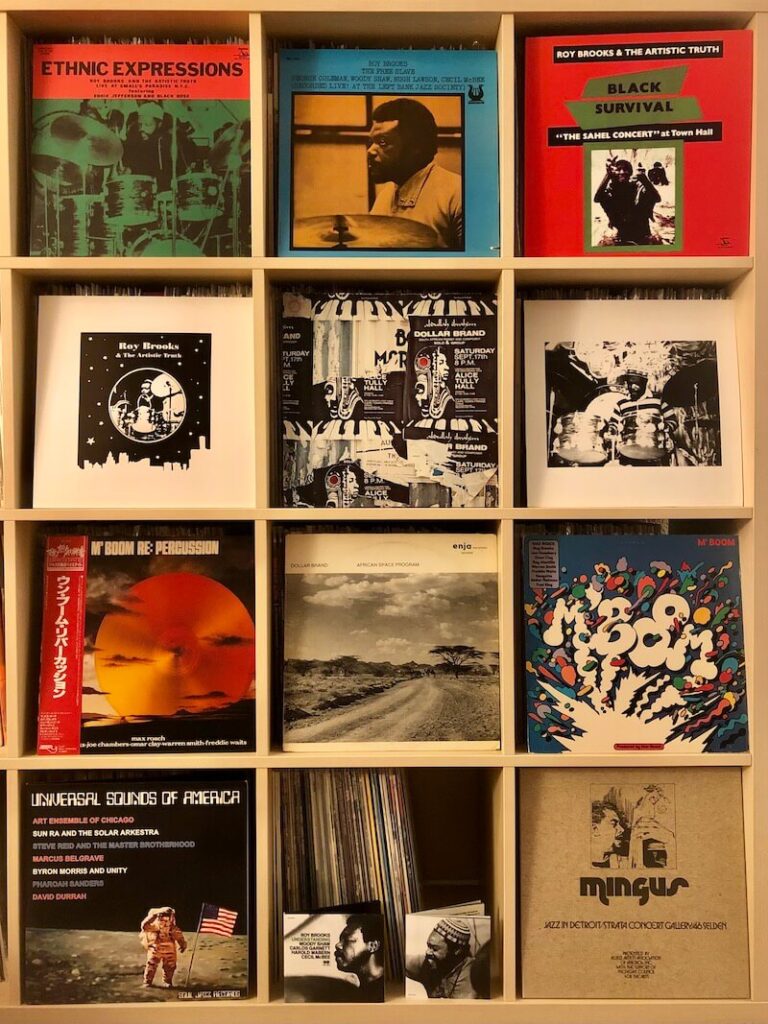 "Understanding" is a befitting title for the new archival album by underrated jazz drummer Roy Brooks. Although Brooks recorded with some of the biggest names in Jazz (Horace Silver, Max Roach, Charles Mingus, Yusef Lateef, Chet Baker) his own catalog largely remains out of print, or available only as overseas imports. Understanding, the first issue of a scorching 1970 live session, released by Canadian record label Reel to Real, will hopefully bring wider recognition of Brooks' immense talent and expansive creativity. Though off putting to some, understanding the drummer's unique inside/outside approach is well worth the effort.
The following mix is a tribute to the brilliant, sometimes misunderstood, artist featuring a selection of albums under Brooks' own name, as well as crucial collaborations. It ends with a blistering version of Woody Shaw's composition, "Zoltan," taken from the exceptional new collection. | d mittleman
Improvisational Sphere :: A Roy Brooks Mixtape
Marcus Belgrave / Space Odyssey / Gemini II
Roy Brooks And The Artistic Truth / The Last Prophet / Ethnic Expressions
Charles Mingus / Introduction by Bud Spangler-Celia / Jazz in Detroit-Strata Concert Gallery-46 Selden
Abdullah Ibrahim (Dollar Brand) / Hajj / The Journey
Roy Brooks and the Improvisational Sphere / Untitled / Live at Lelli's 1999
Max Roach / Kujichaglia / M'Boom
Roy Brooks & The Artistic Truth / Black Survival / Black Survival-The "Sahel Concert" At Town Hall
Charles Mingus / Bud Spangler Interview with Roy Brooks and Commentary / Jazz in Detroit-Strata Concert Gallery-46 Selden
Roy Brooks / The Free Slave / The Free Slave (Recorded Live! At The Left Bank Jazz Society)
Roy Brooks & The Artistic Truth / Black Survival (Peter Frank edit)
Abdullah Ibrahim (Dollar Brand) / Tintiyana, Pt. 2 / African Space Program
Roy Brooks & The Artistic Truth / M'Jumbe / Live at the Montreux-Detroit Jazz Festival 1983
M'Boom / Jihad Es Mort / Percussion (Live Holland, Aug. 25, 1973)
Roy Brooks / Introduction-Zoltan / Understanding
"Understanding" also means one is sympathetically aware of other's feelings. Here, Brooks and bandmates (Woody Shaw, Carlos Garnett, Harold Mabern, Cecil McBee) operate at a very high level of understanding. Similarly, the lively audience is in tune with the band, answering in a call and response like a Sunday spiritual Church session. In fact, this superlative live jam was recorded on a Sunday. As bass player Cecil McBee recalls in the detailed liner notes, the atmosphere at the Left Bank Jazz Society's productions at Baltimore's Famous Ballroom was special:
It was like playing for family. The venue was a very sizable ballroom, and people from all walks of life in Baltimore – all cultures, all races – would just gather at four o'clock in the afternoon and listen to us play. There were individuals, families, jazz enthusiasts, musicians, all there to celebrate the music, which was very, very much appreciated, well beyond a lot of venues that I had seen in the world. It was like you were playing in the living room of your parents, or your friends or relatives. People were loving, and caring, and very excited about everything that you did … You had a great experience, beyond, let's say, playing something local in New York City. The experience at the famous ballroom is far beyond the excitement that I would find if I played somewhere in New York City. Really great.
Unfortunately, it was a lack of "Understanding" concerning Brooks' mental illness that hindered his ability to make his artistic visions come to fruition. The judicial and mental health institutions failed to see Brooks as an artistic being and instead treated him as a threat to be locked away. As a way to give back, all proceeds from the release will go to support the Detroit Sound Conservancy, a nonprofit community-based archive documenting Detroit music.
We all could use a little more "Understanding." Or, as Brooks tells the audience, "There's nothing like understanding, right?"
Aquarium Drunkard is powered by our patrons. Keep the servers humming and help us continue doing it by pledging your support via our Patreon page. For heads, by heads.