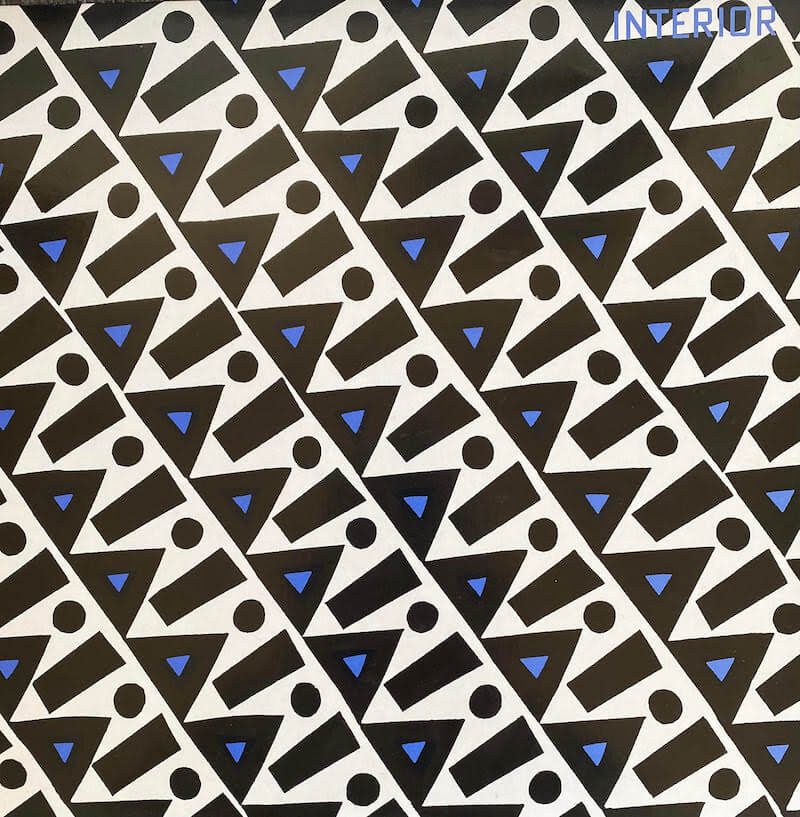 Via hand signs, as these things sometimes go, I found myself asking something to the effect of, "I need to know what this album is right now!" The owner/operator of this particular Tokyo record bar quickly held up the LP's sleeve without breaking his focus on the twin cocktails he was mixing. The cover was a tricolor geometric pattern with a simple title, almost hidden in the right upper-hand corner. In all caps, it read INTERIOR.
I would search innumerable record shops throughout Japan over the next few years before finally securing a copy from Rare Groove Records in the Shinsaibashi neighborhood of Osaka. Roughly three years after that, I found essentially the same album for five bucks at a roadside record shop in Southern Oregon. Go figure.
INTERIOR would accomplish what so few other Japanese artists managed to do in the 80s: cross-over and appeal to an American audience. Stranger yet was that it was the percolating ambient scene in the US that latched on to what INTERIOR was orchestrating. Or maybe not strange at all. After all, the four members of INTERIOR did have another Japanese musician in the studio with them who had already sold millions of records in the US, and he happened to be sitting behind the mixing console.
A lesser-known entry in the tome of Haruomi Hosono-produced albums, INTERIOR's self-titled debut album Is a technopop wolf dressed up as an ambient lamb. And it may be one of the lesser-understood examples of how Japanese musicians experimenting with synthesized sounds, especially those orbiting the fellas from Yellow Magic Orchestra, managed to directly affect the trajectory of electronic music worldwide.
Originally released in 1982 on ¥EN Records, a short-lived Alfa Records imprint run by YMO's Haroumi 'Harry' Hosono and Yukihiro Takahashi, INTERIOR's debut album blends fluttering loops of melody and repetitive sonic delights with punched-up percussion and heaps of moody echo. The whole album finds synthetic and acoustic sounds working in symbiosis. Sopranino sax and 808 snares share space alongside trance-like acoustic piano progressions and finger snaps. Warping bass lines commingle with Linndrum kicks.To this day it still sounds somewhat revelatory. It's the kind of albums that make one wonder how these soundscapes were even composed in the first place.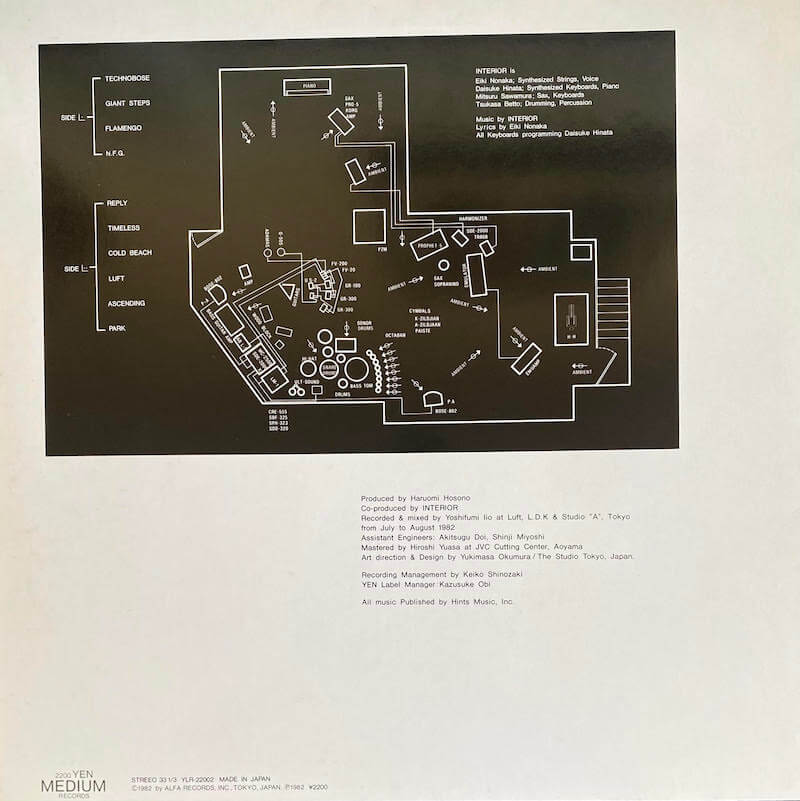 Lucky for us, the backside of the original pressing offers a decoder of sorts; a stark black box frames simple white lines illustrating a visual schematic of the entire recording studio, including every bit of equipment used in creating this wonderful bit of electro-ambient work. The spacing is to scale. The effects processors and pedals are numerically coded. Upon closer inspection one can even decipher Mr. Hosono himself outlined and boxed neatly into his control room at the entrance.
In parallel to the artwork, the music on this album reverberates similar feelings of structure, planning and consideration without losing a sense of free flowing energy. The work has a vastness to it, like something created in a cavernous vessel floating through space. One look at the concrete bunker where it was recorded and it's easy to tell why; this is environmental music in its purest form.
The folks at Windham Hill must have felt a similar way when they decided to reissue the album stateside in '85. And while both versions are relatively scarce online, there's a chance you'll find the Windham Hill version in the ambient bin at your local shop. Keep your eyes peeled for this one. | s traver
Only the good unko. Aquarium Drunkard is powered by our patrons. Keep the servers humming and help us continue doing it by pledging your support via our Patreon page. For heads, by heads.