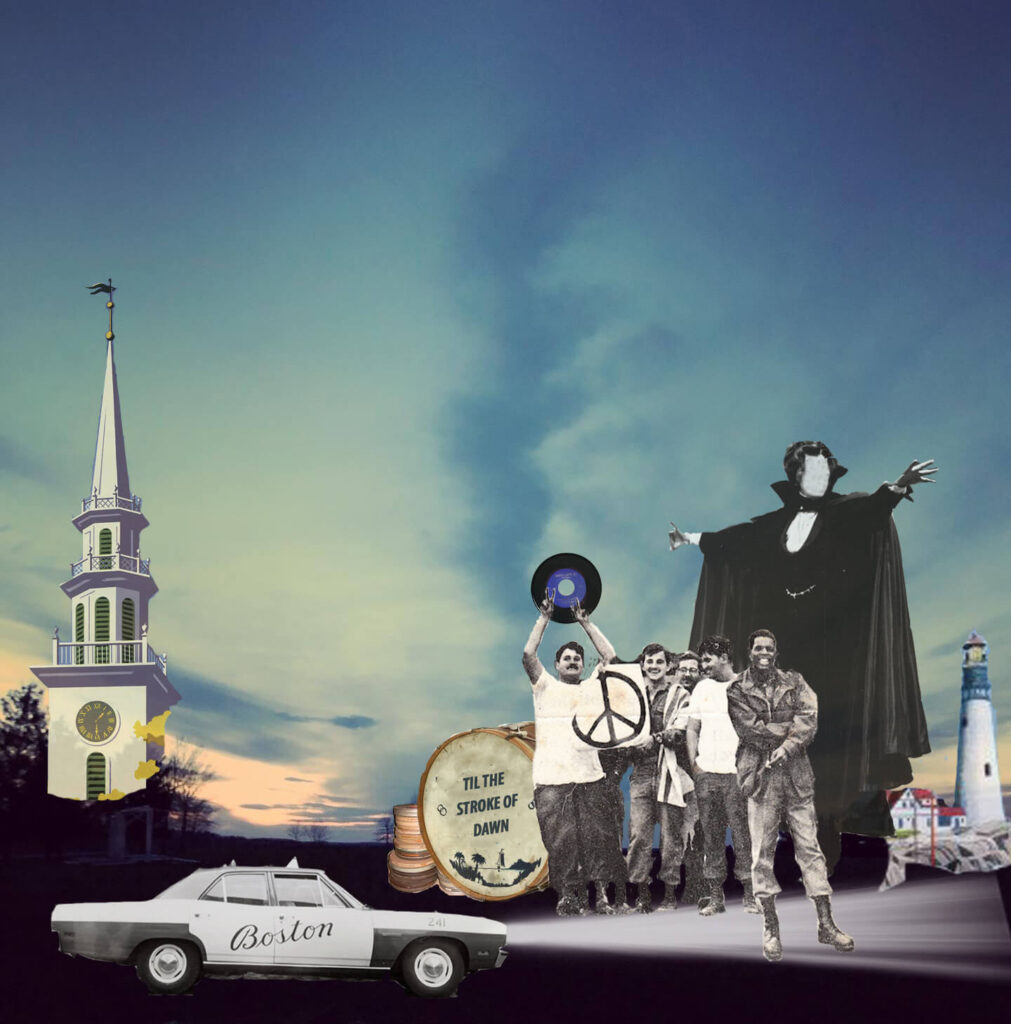 Ryan H. Walsh is the leader of Hallelujah the Hills and the author of Astral Weeks: A Secret History of 1968. Today he brings a deep look at the history of New England garage, centered around the extensive Till the Stroke of Dawn catalog.
The frame almost never gets any credit. Its effect on a piece of visual art is subtle, but the context and boundaries it provides are essential. We often only notice the frame when it detracts from the art. French impressionist Edgar Degas is said to have removed one of his pieces from the wall when he saw the gaudy gilded frame that had been selected for it.
Frames aren't just for paintings, of course. In the world of recorded music, the most common example of a frame is "the album," where the creators place certain songs in a certain order, adorn it with a title and a cover visual, and voila, the whole becomes bigger than its parts. I'd argue that the Sgt. Pepper's Lonely Hearts Club Band lp carries far more cultural and creative weight than any single song within its 39 minutes and 36 seconds. In the case of albums, the frame is very much intended to be noticed; not only is it carrying out the workhorse duties of a standard picture frame, it's also an extension of the creative thinking that conjured up what's inside—more details, more clues, suggestions for interpretation, and touchstones to connect to and illuminate what you're about to hear.
Some musical framing devices collect and change pre-existing works, where the importance and meaning of various audio artifacts are elevated and altered by their inclusion. Think the Voyager Golden Record, Nuggets, or, in my opinion, the perfect example of what we're talking about: The Anthology of American Folk Music, a 1952 bootleg curated by filmmaker/magician Harry Smith. Here, Smith takes 84 forgotten, commercially released songs from the 1920s and '30s and orders and presents them in such a way that it all takes on the air of a sacred text, or a glimpse into a forgotten world. The compilation's accompanying packaging was adorned with alchemical imagery, an oddly bold numbering system, and textual descriptors, which one writer likened to the songs' "discographical Birth Certificate." Greil Marcus called it "a mystery designed as a textbook." The Anthology is credited with nothing short of aiding, abetting, and guiding the folk revival of the 1960's, whose reverberations can still be distinctly heard today. When we listen to it as a whole, our recent ancestors appear before us as American ghosts that can talk, sing, and play guitar. It's all just a little bit miraculous.
This curated listening experience forever alters the way we hear its content. There's a very good argument to be made it's why we know or listen to much of that music at all. For me, it represents the pinnacle of musical framing devices, forever setting the bar so high you practically need binoculars to even see it.
Because the Anthology owns so much free real estate in my mind, I've sometimes found myself wondering if one of the goals in life is to leave behind some kind of frame around what you were an expert in while you were here. It could be anything, but we're talking about music here, so we'll stick to that. "What kind of musical frame would I be qualified to try and construct and offer to the world?" Forget about measuring up to the greats; it's actually helpful to think small here. Perhaps it could be rare, niche music only you encounter regularly—like capturing the music you hear people play on a public musical installation near your house—or your own compositions, or maybe it's the forgotten, commercially released music of a certain region and time.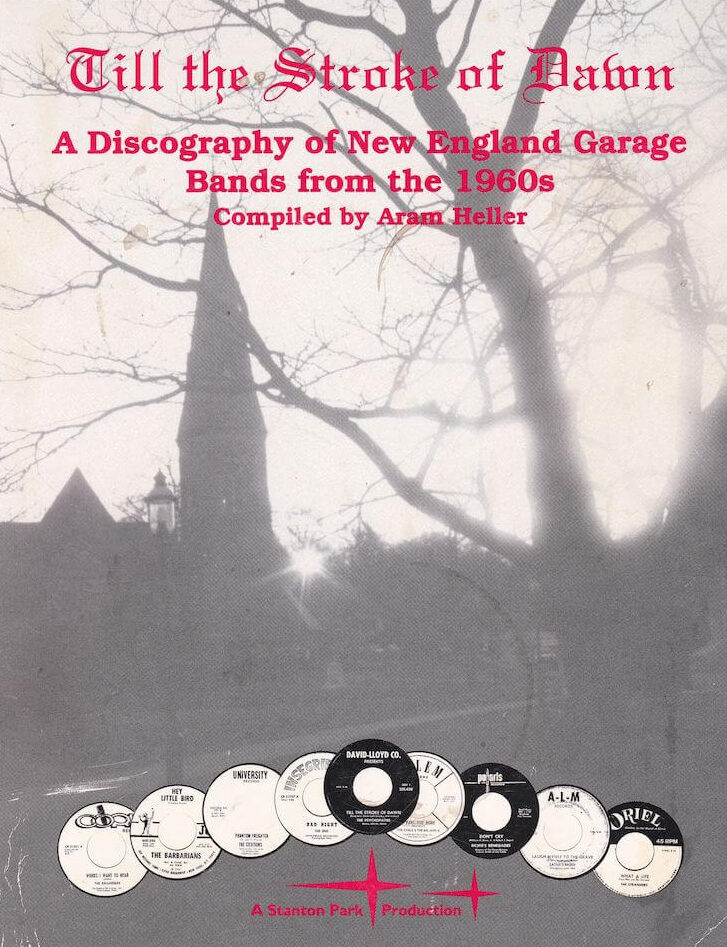 This recurring question of mine is what led me to stop in my tracks when I first came upon Till the Stroke of Dawn — A Discography of New England Garage Bands from the 1960s. Compiled by Aram Heller of Stanton Park Records, this 64-page publication from 1993 took on the massive, laborious, pre-internet task of trying to paint a complete musical picture of a time and a place. I was sitting across from Heller at the Middle East Upstairs on a Sunday afternoon in 2016 when he handed me a copy. We had met at my request after I was repeatedly told I couldn't write a book about the Boston music scene in 1968 without talking to Heller and consulting Stroke of Dawn as a guide. Heller was humble and very critical of his own book, noting how incomplete and error-strewn it had turned out. I knew it was out of print, and I offered to pay for the copy, but Heller insisted it was a gift.
"The New England Sound was different," Heller wrote in his introduction. "[It] was an odd mixture of Zombiesesque minor chord changes, folk rock's intelligent lyrics, haunting back-up vocals, the innocence of youth and the plain frustration of being a high school punk in a rapidly changing world which they couldn't control." Though I had yet to hear much of the music outlined in the book, this description struck me a very much true, extending beyond musical styles and the 1960's. Even a temporary New England resident like the late, great David Berman sensed this, telling an interviewer in 2019 about his experience at Umass Amherst in the '90s. "Just the idea of Massachusetts creeped me out," he said, "America's scary attic. I expected cobwebs (and got them)." (Any chance we can get a petition going to change Massachusetts' state motto to "Massachusetts: Expect Cobwebs"?)
The title, cover image, and layout of Heller's book evoked this mood as well. The title was borrowed from the A-side of a 1966 single by local teens going around as The Psychopaths; the titular song itself presenting as a standard case of teenage romantic longing, save for that one stray line indicating the narrator is a vampire and "you better run." The image on the cover is a gothy greyscale photo of a silhouetted church taken just as the sun rose behind it. Inside, the bands roll-out in alphabetical order with small, grainy reproductions of 45 labels and press photos running alongside the text. It looked like an antiques catalog printed on blotter paper and in some ways reminded me of Harry Smith's layout for the Anthology liner notes.
There are hundreds of bands cataloged in Till the Stroke of Dawn, most of them completely forgotten today. Some are unknown because of bad luck, some because they just weren't that good, but as Heller notes, the Vietnam draft was frequently the reason that unceremoniously dismantled many of these musical outfits. Underneath the hard facts—name, song title, label, year, etc— Heller often offers some short critical assessment of the music like, "Terrible garage" or "Good psych" or in the case of a band called The The from Rhode Island, "Not the 80s band!" To wit, many of the band names found inside are hilarious, but only because of what we, the reader, know came after them: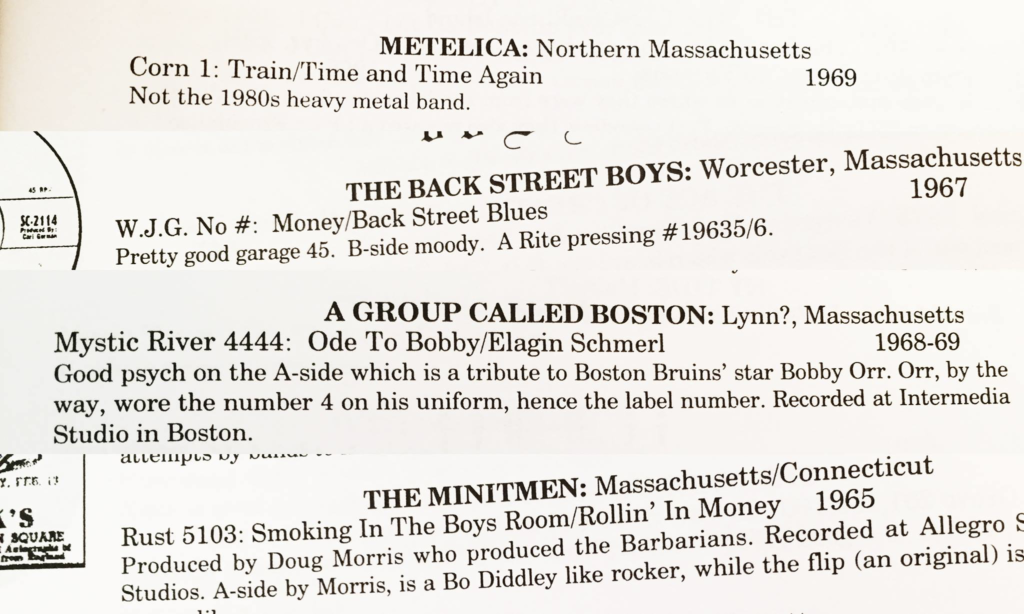 Part of the fun of poring through Stroke of Dawn is watching Heller trying to unravel band name repeats and irregularities. "It appears that there were no less than three bands calling themselves The Wanderers," he writes, "two of which were from Massachusetts."
"I had to rely on oral tradition," Heller explains in his intro. "The paper trail was sparse at best; especially compared with the network of fanzines that have consistently documented the independent and local music scenes since the early 1980's." This sentence, of course, can only make the contemporary reader smirk and think of what was just around the corner.
And that thing around the corner—the internet—is what makes the rest of this story possible. The only thing missing from Heller's thorough, ramshackle framing device, of course, was the music itself. As I routinely referenced the book, I noticed that frequently, outside of buying the 45 on Discogs, the only way to hear these songs was by pulling up some kind of capture of it on YouTube (the collectors who do this uploading are a whole 'nother story waiting for someone to tell, I reckon). I daydreamed about a complete playlist of the book's content one could easily dip into, but I never had the time to make it happen myself. Then in March of 2020 my band's tour was cut short due to developing global pandemic and suddenly I was home…all the time. I set out to create a playlist that included songs from every band listed in Heller's book which could be found on YouTube. Sometimes the task was thrilling, sometimes tedious, but months later, I had a playlist of approximately 600 songs.
So now, here for the first time, I'd like introduce the playlist for Aram Heller's Till the Stroke of Dawn catalog, as well as a curated list of some of the best selections.
Highlights and Oddities from Till the Stroke Dawn Curated by Ryan Walsh
Aram Heller's Till the Stroke of Dawn – Complete Playlist: New England Garage Bands from the 1960s
Highlights & Oddities: New England Garage Bands from the 1960s (Full YouTube playlist)
There's something here for everyone. Maybe it's the way The Patriots (!) figured out how to inject more energy into a spoken word number by absolutely screaming the recitation. Maybe it's the killer dueling guitar solos in The Looking Glass's heavy as hell single, "Take the Time." Maybe it's the fact that "Get in On Life" is the best song the Kinks never wrote. Lots of people throw around the adjective 'Lynchian'—and almost always the comparison is off or doesn't live up to its promise—but I defy you to take in Gloria Miller's "I'm Not Going to the Prom, Mom" and not picture that swinging stop light change from green to red in your mind. I would kill to hear a full album by Maine's Velvet Seed. Is that future adult-contemporary radio's hero Michael Bolton singing in 1969's "Bah Bah Bah" by Joy? You bet it is.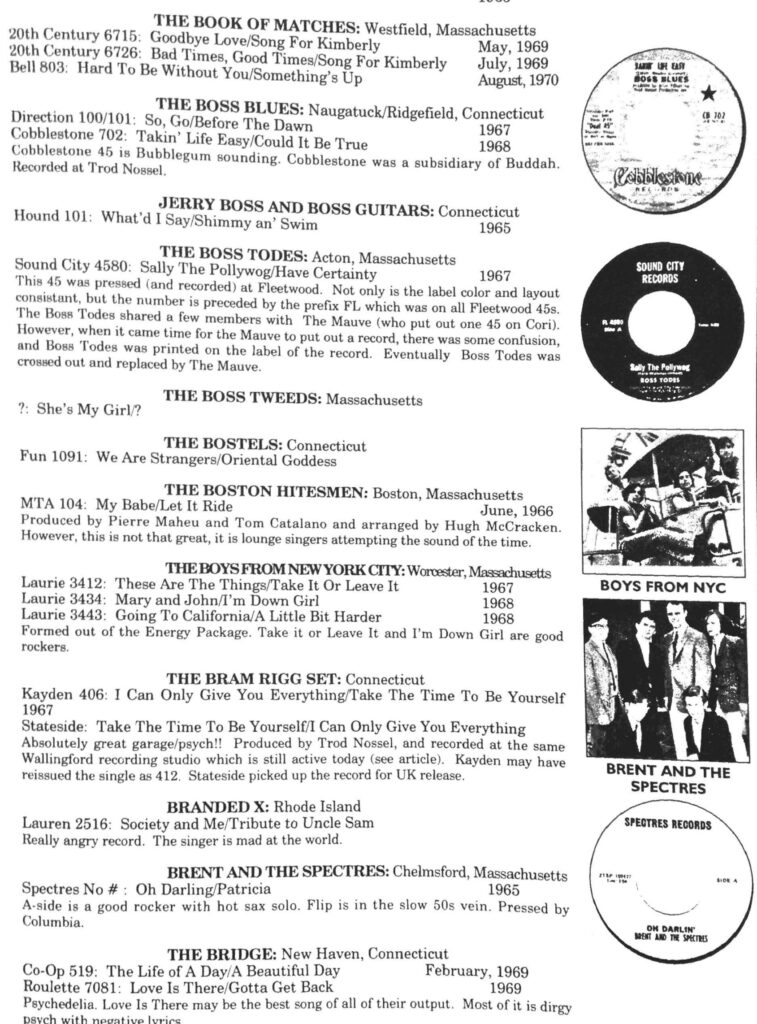 Even the shortcomings can be charming and turn into unusual, positive attributes in some tracks. I love how the singer of The Levis can't quite keep up with the lyrics he's written for the verses of "Hear What I Say." Or how The Loose Ends can't decide what genre or decade they're in with their Elvis-hiccup-vocals gliding on top of a fuzzed-out classic garage riff. Or how the A side of LSD's 45 makes you think they've wasted a perfect band name on some square music, only to realize that the song is there only to illustrate what it would sound like on an acid trip on the flipside of the record. Early on in The Retred's "Black Mona Lisa" we hear the strange lyrics "Well she's been studying her Judo / So watch it, you're gonna get tossed" and by the end of the song the singer is crawling the walls of her apartment trying to avoid all the rabbits sleeping on her floor. We've all been there.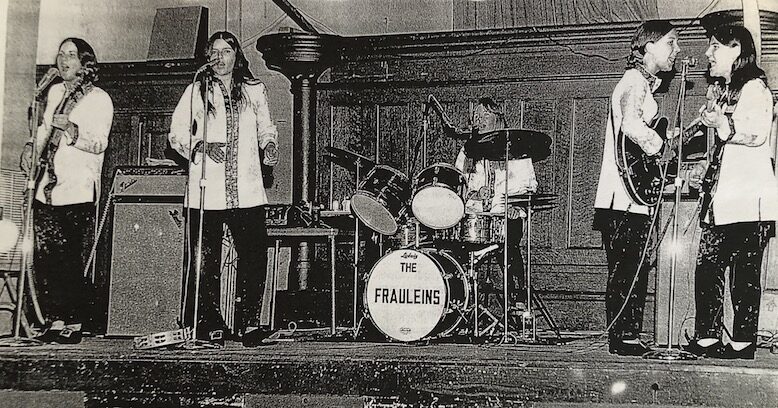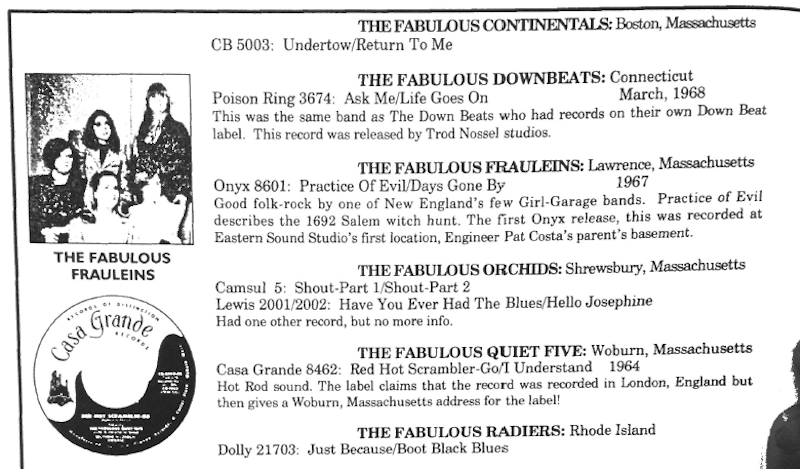 Heller's Till the Stroke of Dawn provides us with a map to get lost by, and I'm here to encourage you to go get lost. Not only inside the music, but there are stories left untold in these bands and songs, too. The young weirdos and hopeful teens that fronted many of these bands are still out there, and lots of them have interesting tales to tell. Unused research for my book led me to search out the lead singer for The Fabulous Frauleins, Linda Trepanier, wherein she made me coffee and told me how she and her friends ended up recording a song about the Salem witch trials for a Pepsi-sponsored flexi-disc included with an issue of Discoscene magazine.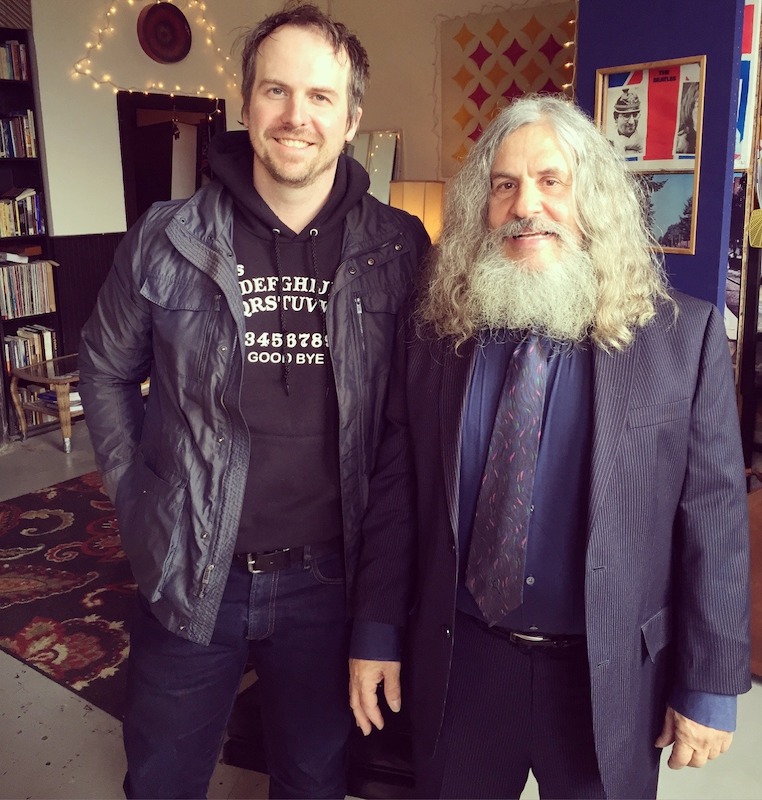 The same goes for the day I sat down with David Arvedon, as he explained the outrageous story behind the recording of "Till the Stroke of Dawn" where The Psychopath's drummer had stolen some radios out of Arvedon's trunk—he was a wholesaler of electronic supplies at the time—so after the session, Arvedon held his drums hostage in an attempt to get the merchandise back. He never did, nor did most people realize that "Till the Stroke of Dawn" was actually about a vampire. "People just can't seem to get the hidden meaning I put out there," he told me.
Hidden meaning, lost stories, and forgotten bands. It's all out there waiting for you, just past the stroke of dawn.
For heads, by heads. Aquarium Drunkard is powered by its patrons. Keep the servers humming and help us continue doing it by pledging your support via our Patreon page.