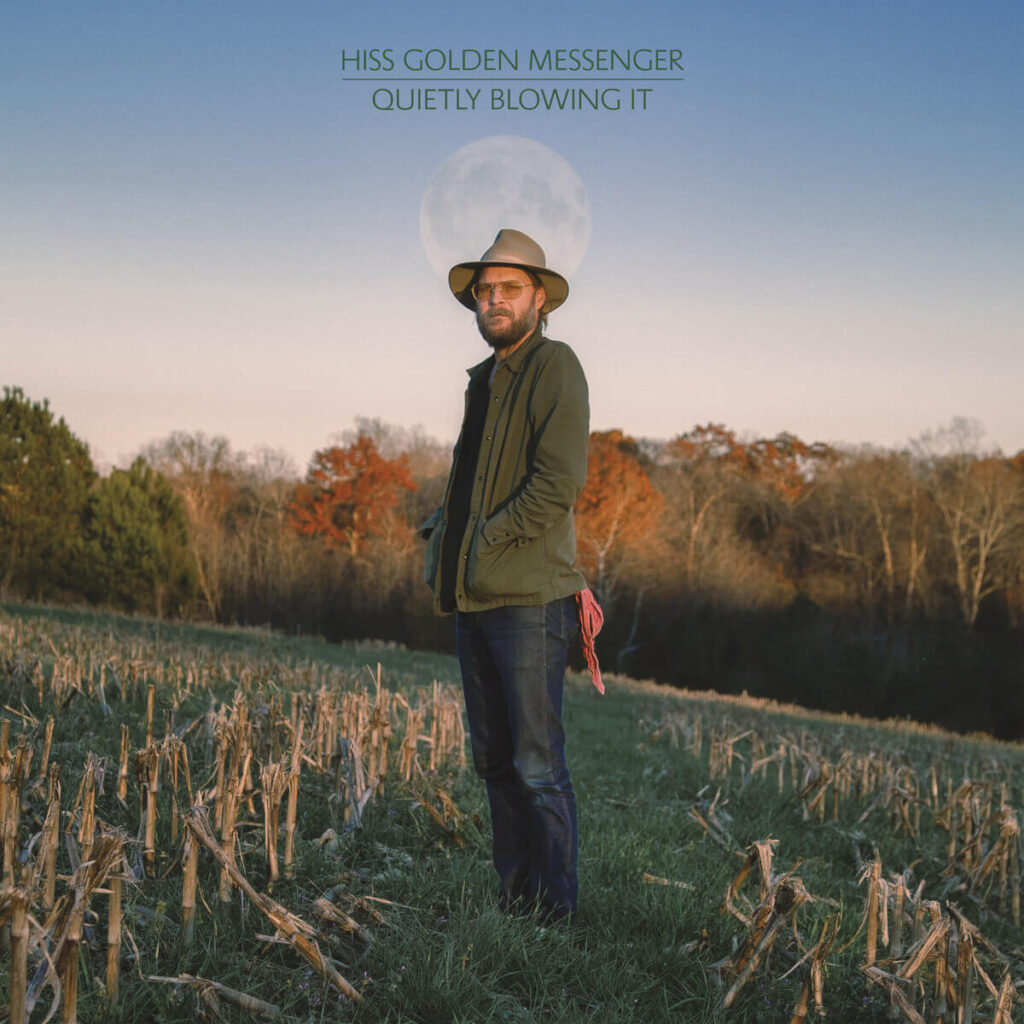 On "Sanctuary," the closing song on Hiss Golden Messenger's ninth album, Quietly Blowing It, Mike Taylor sings: "Feeling bad, feeling blue, can't get out of my own mind, but I know how to sing about it." And thankfully, he does. For over a decade now, Hiss Golden Messenger has provided us with music that heals. Taylor's songs stress the importance of growth, empathy, and grace, and acknowledge the formative inevitably of pain, weakness, and loss. And despite the self-effacing title and a past eighteen months plus of potent darkness, this new work only strengthens Taylor's resolve. 
"Up with the mountains, down with the system," Taylor declares on the album opening "Way Back in the Way Back," his wistful brew of soulful, gospel-hued country rock blooming behind him, us congregants awakening. "Radical changes, buddy, don't you know me?" he asks on the lilting "The Great Mystifier," and shit yeah, man, we know you. It feels that way at least. Anyone whose been listening to Hiss for even just a little while knows that feeling, like being ushered in to his close-knit and caring inner world. His wife and children feel a part of the band. His longstanding collaborators like extended family. And the music, like comforting prayer. 
And so, across these eleven tracks, Taylor and his band get righteous on swampy boogie blues, swept away in organ and pedal steel tides, radicalized on hard-hitting populist anthems, and, as always, open up with a striking vulnerability and trust toward the listener. As saxophones blow a weary, but hopeful wind across "If It Comes in the Morning," Taylor sings, "Lord, hear my cry, I'm ready to try/I know that there's good in me."
On "It Will If We Let It," he sings directly to his wife. Some of Taylor's best songs are the ones that find him addressing his family directly ("Heart Like a Levee," "Blue Country Mystic," and "I've Got a Name for the Newborn Child" most immediately come to mind). On this new one, he lays it all bare. "Were you happy?" he sings, "I ignored it, I was telling other stories." Across his songbook Taylor has consistently struggled with the demands of a working musician, and the distance it puts between he and his family. Here, he gently puts that struggle in perspective – love is work. Good, important, 'round the clock work. The music, with its earthy pop timbre, chooses to lean on the side of optimism. In the album's notes, Taylor includes a note from Native American poet Joy Harjo. It reads: "Then, you must do this: help the next person find their way through the dark." If, like Taylor himself hopes, that "hope is contagious," then this album does just that. | c depasquale  
For heads, by heads. Aquarium Drunkard is powered by its patrons. Keep the servers humming and help us continue doing it by pledging your support via our Patreon page.