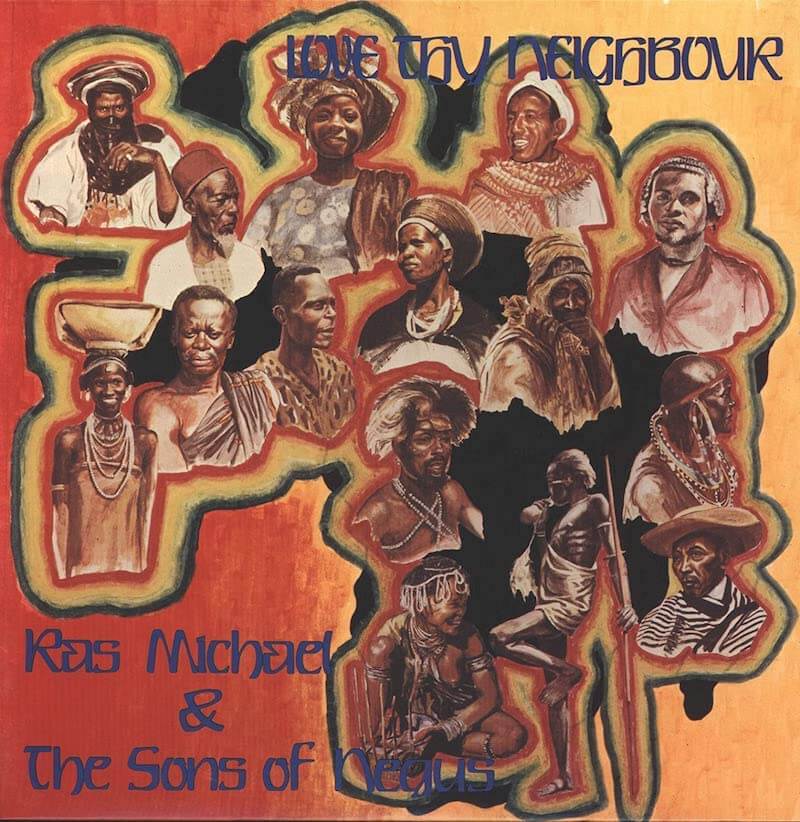 Ras Michael and the Sons of Negus' Love Thy Neighbour is perhaps the last great masterwork produced by Lee 'Scratch' Perry within the hallowed walls of his Black Ark studio. It is a testament to the uncompromising spiritual clarity of Ras Michael's Nyabinghi mysticism, and to the dubwise delirium of the Upsetter's sonic palette. By 1979, Ras Michael had recorded several albums of dreader-than-dread grounation reggae—Peace & Love (as Dadawah), Freedom Sounds, Nyabinghi, Kibir Am Lak, Rastafari and its dub companion (both of which feature Peter Tosh on guitar and clavinet)—all of them crucial. Meanwhile, Lee Perry was holed up in the Black Ark, deep into one of the greatest production streaks ever put to tape. It was during that creative apex that the two roots titans came together and cut Love Thy Neighbour. The album numbers among Ras Michael's most definitive statements and is every bit the equal of Perry's most lauded Ark productions.
Love Thy Neighbour is a devout, brooding work of repentance and redemption. Every revelation Ras Michael invokes through plaintive chanting and chuggin Nyabinghi rhythms, Perry is able to conjure through the dense aural mists bubbling up from his mixing console. The songs range from the declamatory fervor of 'Don't Sell Daddy No More Whiskey' and 'Wicked Got To Go,' to the trancelike incantations of 'Times is Drawing Nigh' and 'Little David.' The closing rendition of 'London Bridge Has Fallen' is a hallucinatory juxtaposition of nursery rhyme and prophesy; it taunts the structures of Babylon while eerily foreshadowing the Black Ark's mysterious immolation. Soon after Love Thy Neighbour, Perry covered over every available surface of his studio with cryptic magic-marker scrawl, then allegedly set a fire to cleanse the space of demons, thus bringing the Black Ark era to a close. | j annis
Only The Good Shit. Aquarium Drunkard is powered by our patrons. Keep the servers humming and help us continue doing it by pledging your support via our Patreon page. .