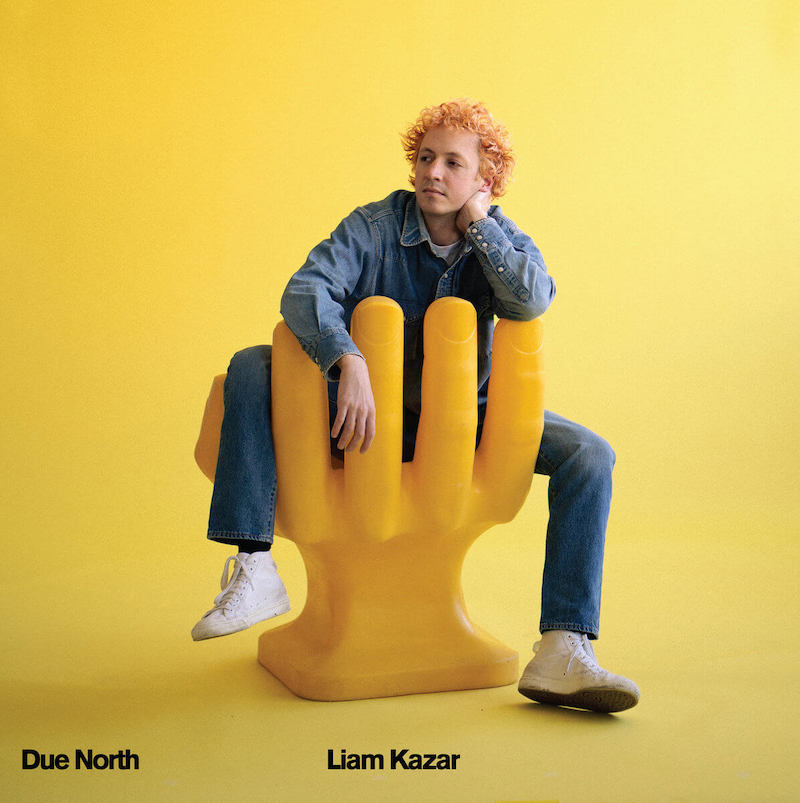 Liam Kazar's introductory single arrived in Spring 2020 via the ear worm, "Shoes Too Tight." It's taken over a year, but Kazar finally has a proper lp, giving us the occasion to opine on this artist in full. A rollicking but smart affair, Due North creates its own cool, justifiably confident no matter the subject or style.
Opener "So Long Tomorrow" sets the pace. The gliding and unassuming groove is pierced by Kazar's patent-pending vocal style (part syncopation, part warble) as it weaves in and out of James Elkington's pedal steel, and Sima Cunningham and Macie Stewart's ghostly, swirling vocal harmonies. Guitars soar and crunch, and it all comes together for a forty-second outro. In the abstract, it sounds like a mess. In practice, it's a tease for how easily Kazar will pull off this highwire act throughout Due North.
At times, such as on "Old Enough for You," it's hard not to hear David Byrne—both in Kazar's voice and sound. But the song is not a facsimile attempt, like the many from the late 00s/early-2010s, at a long-lost-Talking-Heads-single. A good bit of the tune is teeming with Midnite Vultures freak-vibes and from that moment on, the Beck-fluence is impossible to miss. All this is to say, Kazar shows no difficulty finding grooves, building self-contained sonic worlds, and using his voice confidently as an instrument.
At other times, Due North seems to approach the sounds of post-Ghost era Jeff Tweedy, Kevin Morby, and Mac DeMarco—the precise sweet spot that seems to have (at least here in Los Angeles) become a near-state-sanctioned playlist in coffee shops and date-night restaurants. If that's a knock it shouldn't be—even in that sweet spot, Kazar doesn't just toss up a couple of attempts. If half of Due North punches, the other half hums to equally infectious but drastically softened blows. Of course, like those songwriters, Kazar's ability to write these types of grooves and make every turn of phrase into something exciting might mask, for casual listeners, the depth of the songwriting, where his more laid-bare emotions and lyrics may reach the furthest.
Strumming or strutting, Kazar seems to have a firm grip on just how far to take things, when to add an element just so, or precisely which Korg or voice will punctuate properly. Due North is not an ornate record, its arrangements are measured, there's nary a guitar solo in sight, and the harmonies lift and add immense texture to the songs. Sam Evian lent a hand with the sequencing of the album: it stands out. Kazar spends forty-one-plus minutes leading ten different floats, but the order makes it a worthwhile parade, and this one is a Macy's.
As the album closes, with the slow and dramatic "Something Tender," the narrator laments as a mournful, waltzing march wisps around him. Herein lies the cohesion of Due North: the march, on closer examination, sounds something like a video-game soundtrack and is joined by a weeping synth, and sobbing pedal steel, as we're carried to a gentler ending than we could have anticipated. With that, Due North pulls off what it attempts: it's not bashful or boastful, Kazar doesn't use his evident prowess to puff himself up. The swagger's in the strut. His quiet confidence is both revelation and well-earned. Due North arrives as a fully formed, fleshed-out, ace debut. | b kramer
For heads, by heads. Aquarium Drunkard is powered by its patrons. Keep the servers humming and help us continue doing it by pledging your support via our Patreon page.