"Hello!" Alan Dunham sings exuberantly at the beginning of his 1980 LP Flying Alone. "It's nice to meet you!" Not too many people got the chance to connect with the teenaged singer-songwriter back then, though. The homemade album was released in minuscule quantities — a very private press, indeed. But in 2021, the ever-reliable crate diggers at Numero Group are giving Dunham a proper introduction: Flying Alone hits various digital platforms next week. It's well worth your time, a collection of extremely catchy, extremely inventive lo-fi pop rock that you can slot next to McCartney's Ram, Something Else-era Kinks, and Daniel Johnston at his most starry-eyed. Dunham spoke with Aquarium Drunkard from his home in Glens Falls, New York. | t wilcox
---
Aquarium Drunkard: What are some of your earliest musical memories?
Alan Dunham: I was definitely a musical kid. My mother played just about everything pretty well — accordion, ukulele. She used to sing songs and I'd drum along on a Kleenex box or whatever was nearby. It was mostly country music on the radio at home. But my mom did have some albums lying around that were more diverse — like Deliver by the Mamas and the Papas. I saw the cover of that record and just immediately fell in love with Michelle Philips. I was about six years old [laughs]. I thought, "Oh, I'm in love!" I played that record over and over. I loved the harmonies. That's pretty much where it began.
A little later on, my brother was watching Yellow Submarine, the Beatles movie. "Eleanor Rigby" was playing. I was just walking by, and I remember thinking: "What the hell is that?! That is really cool." So, I got the 45 sometime in the next couple weeks. After that, it was like OK, forget it. Beatlemania hit me hard. That was like 1975 or thereabouts. Initially what got me was the ending of "Eleanor Rigby" – it just ended so quickly, and it was so intense. I was pulled into it … and then it's gone. I kept listening to the ending, thinking: "That is the neatest freakin' thing!" Brilliant.
AD: Was the next step writing your own stuff?
Alan Dunham: I actually started writing my own songs a few months before I saw Yellow Submarine, when I was 12 or so. It was weird. My oldest brother was in this folk group with his best friend, and I wanted to be in their group so badly, even though I didn't really play anything. I was desperate, so I wrote some songs — they were pretty atrocious really. But I started playing the ukulele, and my mother bought me a mandolin. About a year later, they said "You're in the group!"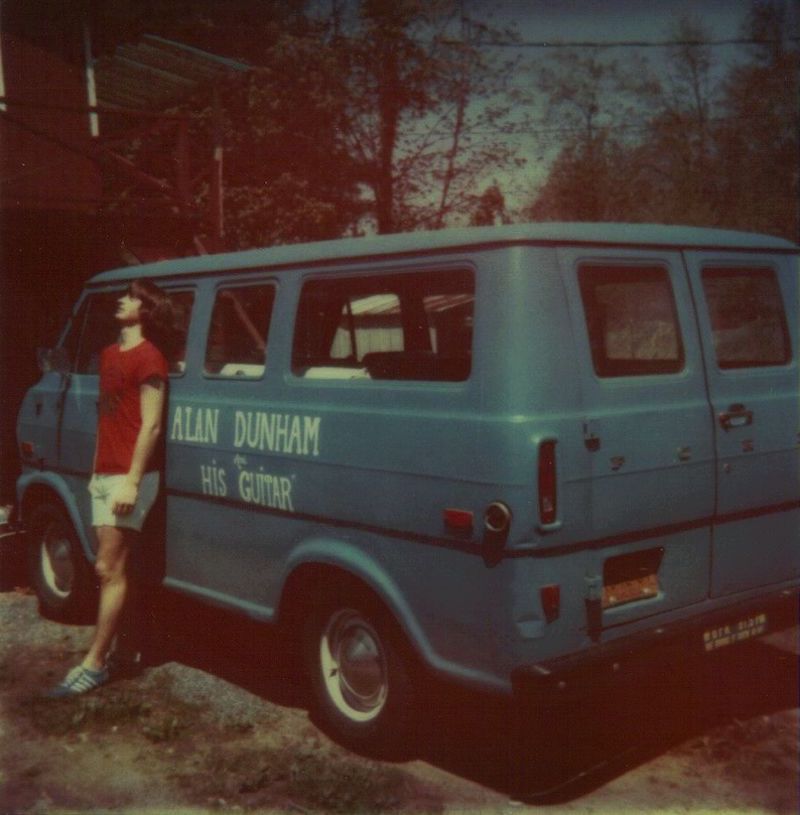 AD: This was the Christopher Mountain Livingroom Band?
Alan Dunham: Yeah! They said I could sing and do harmonies, stuff like that. We didn't have a multitrack or anything so they figured the more people they had, the better it could sound. So, my elder brother Gary and I were initiated into the group. It was great — we didn't play live or anything. We just wrote songs and played them at home. We loved the same kind of music. My brother's friend Victor wrote these incredible songs — one called "It" is just amazing. I played accordion on that. I was just doing whatever I could, like bass, even though it was really just playing electric guitar's low strings. Victor's songs were incredible. I thought they were like The Beatles! They were that good. That definitely pushed Gary and I to try writing more.
AD: Hearing that very early stuff all these years later — how does it make you feel?
Alan Dunham: I think it's great. Victor's songs are phenomenal. He's timeless to me. And my brother Brian didn't write too much, but this song, "Yellow Rose," it's just beautiful. Hearing it recently, I realized how beautiful a melody it is. Gary and I still write songs together to this day. We see each other quite a bit. I wish we had better equipment back then — I tried to slap those tapes on to 8-track and improve it, but it's really hard.
On the other hand, it wasn't really about that. It was about the personalities, and the spirit. My parents had just gotten divorced, so it was kind of a tricky situation. Some teenage angst there. I was working through that with my songs. At some point, I got into the Beatles' White Album and that takes you into more personal places. I think I was going for that feel sometimes. I had a first-person thing going that I equated with John Lennon — you know, the Plastic Ono Band stuff.
On Flying Alone, "Little Sparrow" was about a girl I met. She kept saying, "It's not forever." And that phrase stuck with me. It's weird, because this is making me remember things that are 40 years back now. I started thinking, "Well, why did we split up, what happened?" And what had happened was that she had an apartment in Glens Falls, and I went there one day, and she had just moved! And I never saw her again. So, you write a song — what else can you do?
AD: How did Flying Alone come together?
Alan Dunham: It was a year period from 1979 to 1980. My folks were my managers at the time because I didn't know what I was doing. I was going to college and then I was playing live out here a lot. We had put out a couple 45s. We made all kinds of things — bumper stickers, promo stuff. There was an Alan Dunham Fan Club, which in hindsight, sounds hilarious. But it was OK! A lot of my high school friends had gone to college, and they had friends who liked the music, and they'd say, "What the heck, I'll join." There was no internet, obviously, so we had index cards with addresses, and I sent out some newsletters and other things.
It was fun, but it felt like it was time for an album. It was a bit like ignorance is bliss. "Let's do an album — why not?!" Basically, I had this pool of songs and I thought, well, what should go on there? I narrowed it down to what I thought were my best songs. I didn't agree with some of the choices of my folks and my friends, but I thought — OK, if they like 'em! But overall, I still think some of the songs are really good, some of my best stuff.
AD: Which ones are your favorites?
Alan Dunham: "Castles In My Mind" I love — though that's the one song I would have liked to have multitrack abilities back then. I've always liked songs that had a cool twist to them. Like the 10cc song "I'm Not In Love" … In the middle of it, you hear the girl's voice and it's almost got a different texture than the rest of the song. So I can kinda hear that in my head on "Castles In My Mind" when it goes into that dream part. A "Day In The Life" moment or something. It takes you somewhere else. That was the whole idea. The song came about when I had an argument with somebody. The first line: "All the truth comes out." That was from the day before I wrote it. The rest of it was like, "the truth came out and freed you." I was taking history at the time and thinking about feudalism when the serfs were freed from landowners. "We're free now, we know the truth." And then you could dream, because you were free.
AD: You get a sense of immediacy from these recordings — I assume you were writing them and then recording them pretty soon after?
Alan Dunham: Absolutely. Songs started coming more easily. You'd start writing a song, and then take it downstairs to record it. But a lot of the stuff on Flying Alone was started a little earlier. Then, when I started making that record, I just polished them up a little bit. Polished probably isn't the right word for it. It's not like today where you have ProTools and everything. All of this was done sound-on-sound. I don't even think I had a mixing board. If I had anything, it was probably like a two-channel thing from Radio Shack. It was basically recorded from cassette onto a Pioneer reel-to-reel and then dubbed back to the cassette while adding something else on. It was pretty primitive.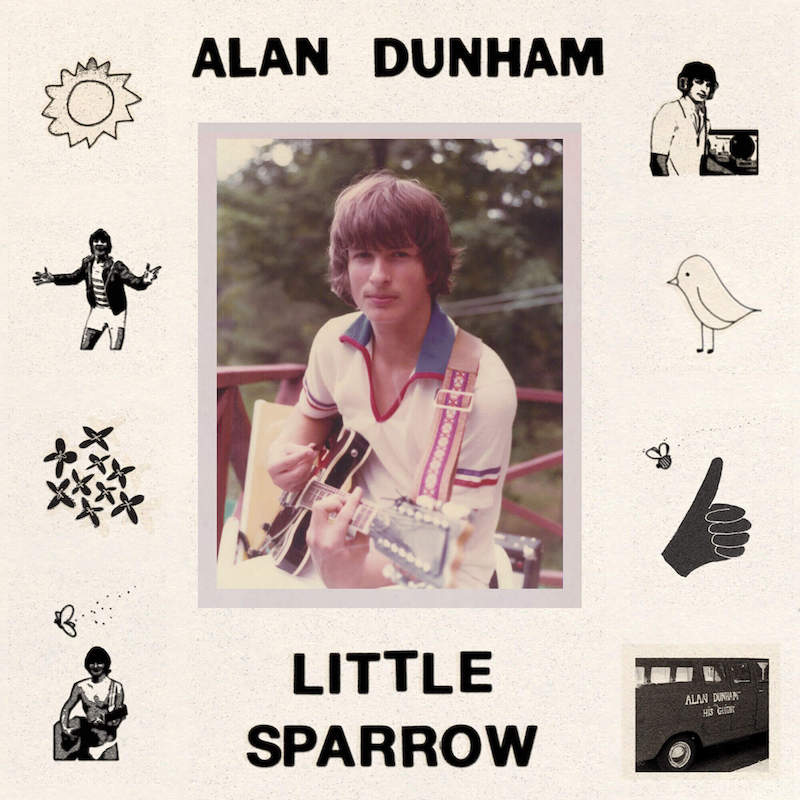 AD: But it sounds cool — Flying Alone really has a nice, warm vibe to it. I think that's part of why people respond to it these days, that homespun quality.
Alan Dunham: I guess! I've been living with this stuff for years and years. They've been sitting in a box in my closet until about 2013. I got an email from a guy who I found out later was part of Time-Lag Records. He said he found one of my albums at a garage sale and it was pretty beat up, so he wanted to know if I had any more in better condition. That was how it got going again. I started getting emails from people looking for me from France. "I love your album, Flying Alone — I want to write an article on it!" OK! It's just the weirdest freakin' thing. And then someone contacted me from Australia and wanted an album. Ever since then, I've been getting emails off and on from people who are interested in the album — people who actually like the album and the songs and stuff.
All this interest is funny. I put [the album] together from start to finish, xeroxing the cover photo, sticking the labels on the record. Looking at it now, I can see all the imperfections. But I always thought there was something there in the songs. The production is what it is. It's homemade. I've had a studio for 20 years, so I've moved way past that now. But like you said, there's something fresh and immediate to the whole thing. Recently, just for the hell of it, I recorded two songs the same way I did back then. That same reel-to-reel, with overdubs right on top of it. And it was pretty cool! There's something that gets into you, knowing you have to get it the best you can right away. You can't fix it. It is what it is. I've been getting better equipment for years now, but I started thinking, "What am I doing?" I love the sound of tape still.
AD: How many copies of Flying Alone did you end up making?
Alan Dunham: Just 100. How many survived, how many ended up in the Salvation Army? Who knows?
AD: Well, more people are going to be discovering it soon. What do you hope people get out of hearing your music in 2021?
Alan Dunham: I just hope they get something like the same feeling I get from the music that I love. I hope they hear something that they connect with. It's weird to think about. Maybe they'll hear something that they haven't heard before and it'll inspire them to make their own music. I don't know! Part of the excitement is just to see what's going to happen next.
For heads by heads. Aquarium Drunkard is powered by our patrons. Keep the servers humming and help us continue doing it by pledging your support via our Patreon page.