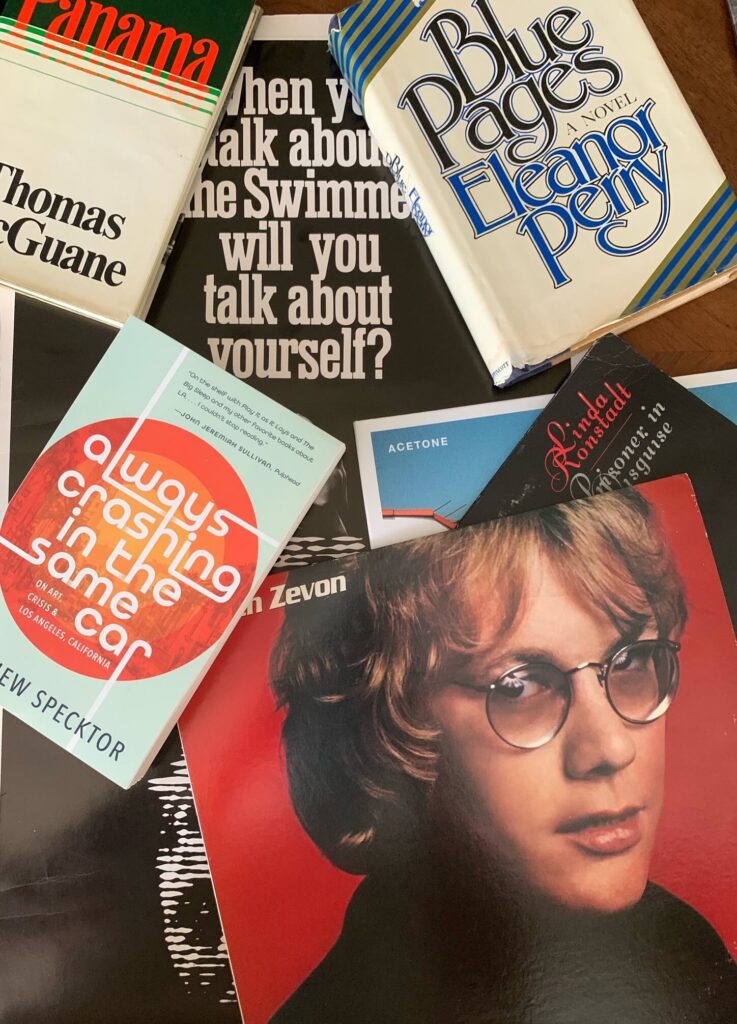 Recently, author Matthew Specktor released Always Crashing in the Same Car: On Art, Crisis, & Los Angeles, California. Writing about it in the Aquarium Drunkard Book Club, Tyler Wilcox called it a mix of "autobiographical vignettes and incisive cultural deep dives," which establishes Specktor as "a masterful observer of the weird tragedies and creative blocks that regularly befall artists in L.A." Today, Specktor joins us with a companion mixtape of songs that helped inspire the book. 
Los Angeles is such an easy city to get lost in. If you've ever visited, you know exactly—that feeling of being forever on its periphery, of being somehow just outside its center all the time—but if you happen to live here, or if you've come for reasons having anything to do with Hollywood or the music business? Then you know it's possible to get lost in a different way entirely. As Warren Zevon, as fine a chronicler of L.A.'s enchantments and disenchantments as there has ever been, understood, Los Angeles is a place where the feelings of rising and of falling can ensnare you both at once. As he put it in "Join Me in L.A.," one of his many cryptic, lycanthropic odes to the city's perverse and elusive nature, "I found something/that will never be nothing/and I found it in L.A."
A little over a decade ago, around the time I began obsessively visiting Aquarium Drunkard every morning in fact, I went through a period of malaise that seemed exactly that kind with which the city is so often linked. Neil Young, reeling from his breakup with Carrie Snodgress, might have recorded On the Beach in a similar fog. Terry Melcher, bombed out of his gourd on post-Manson paranoia, recorded his great, self-titled, solo lp that way too. I don't mean to romanticize it—it was basic midlife crisis stuff: divorce, dying parent, custody and career issues, and I certainly wasn't as swashbuckling as those figures—but as I settled into a crummy apartment just off the Sunset Strip, too alone, and with too many books, records, and DVDs for company, I couldn't help but look to the past for answers. I spent late nights hunched over Tom McGuane paperbacks or staring at grainy video streams of Tuesday Weld. I staggered home from the Chateau's bar with Zevon's voice roaring through headphones, took a drive out to Malibu to see if I could figure out which house in the Colony it was that had belonged to Hal Ashby before he died. In these artists and others—the screenwriter Carole Eastman; Renata Adler, the renowned novelist and critic—I saw patterns, the residuum of what it might still mean to contend with the California (by which I also very much mean the American) Dream…
Eventually, I wrote a book about it. That book, which is titled, as most Aquarium Drunkard readers probably recognize, after a much-loved David Bowie song, is called Always Crashing In The Same Car. A book about Los Angeles and the movies that is also (indeed, much more) a book about creative destruction and renewal, about driving yourself from the middle-of-the-road into the ditch and back again. If you're interested in that kind of thing, or in any of the artists I just mentioned, you can order it here (or, if you prefer, here). And if you'd like to sample its vibe, the following soundtrack may help you on your way. Most of these songs relate directly to the artists and cultural artifacts featured in the book (even if sometimes obliquely, as with Bobby Blue's cover of the Steppenwolf song that is also covered by the Alice Cooper Group in Frank and Eleanor Perry's fantastic film Diary of a Mad Housewife); a few relate in ways that are more thematic (as with Supermax's deliriously tacky Euro Disco jam "Hollywood"), but all of them conjure a mood, a feel that's part sunshine optimism, part queasy canyon despair. You can find your way out to Los Angeles in a New York minute, but—to paraphrase a bunch of arena rock gods who were always a little too silky to understand the real essence of this place anyway—it can be a whole lot harder sometimes to leave…
Always Crashing In the Same Car:: Mixtape (Download)
Playlist: Jerry Goldsmith, "Love Theme from Chinatown" ++ Warren Zevon, "Join Me in LA" ++ Bobby Blue, "Ride With Me Baby" ++ Jackson Browne, "Mae Jean Goes to Hollywood" ++ Acetone, "Midnight Cowboy" ++ Soul Coughing, "Screenwriter's Blues" ++ Rufus, "Hollywood" ++ Fanny, "Badge" ++ Warren Zevon, "I Used to Ride So High" ++ Steely Dan, "Show Biz Kids" ++ Lithium Xmas, "Jump Into the Fire" ++ Orange Bicycle, "LA" ++ Thomas Jefferson Kaye, "Learning How to Fly" ++ Terry Melcher, "Dr. Horowitz" ++ Paul Simon, "That's Why God Made the Movies" ++ Jimmy Buffett, "Rancho Deluxe" ++ John Williams, "The Long Goodbye (Mariachi Version)" ++ Neal Hefti, "Lord Love a Duck" ++ Linda Ronstadt, "Poor Pitiful Me" ++ Cat Stevens, "I Think I See the Light" ++ The Staple Singers, "Brand New Day (Theme from 'The Landlord')" ++ Funkadelic, "Holly Wants to Go to California" ++ Supermax, "Hollywood" ++ The Jayhawks, "Big Star" ++ Terry Melcher, "These Days" ++ Thomas Jefferson Kaye, "LA" ++ The Monkees, "As We Go Along" ++ Elliott Murphy, "Like a Great Gatsby" ++ Neil Young, "Motion Pictures (for Carrie)" ++ Lucero, "Went Looking for Warren Zevon's Los Angeles" ++ Lloyd Cole & the Commotions, "Speedboat" ++ Pure X, "Here in Hollywood" ++ Joan Jett & the Blackhearts, "Celluloid Heroes" ++ Goldfrapp, "Monster Love (Goldfrapp vs. Spiritualized)"
For heads, by heads. Aquarium Drunkard is powered by its patrons. Keep the servers humming and help us continue doing it by pledging your support via our Patreon page.