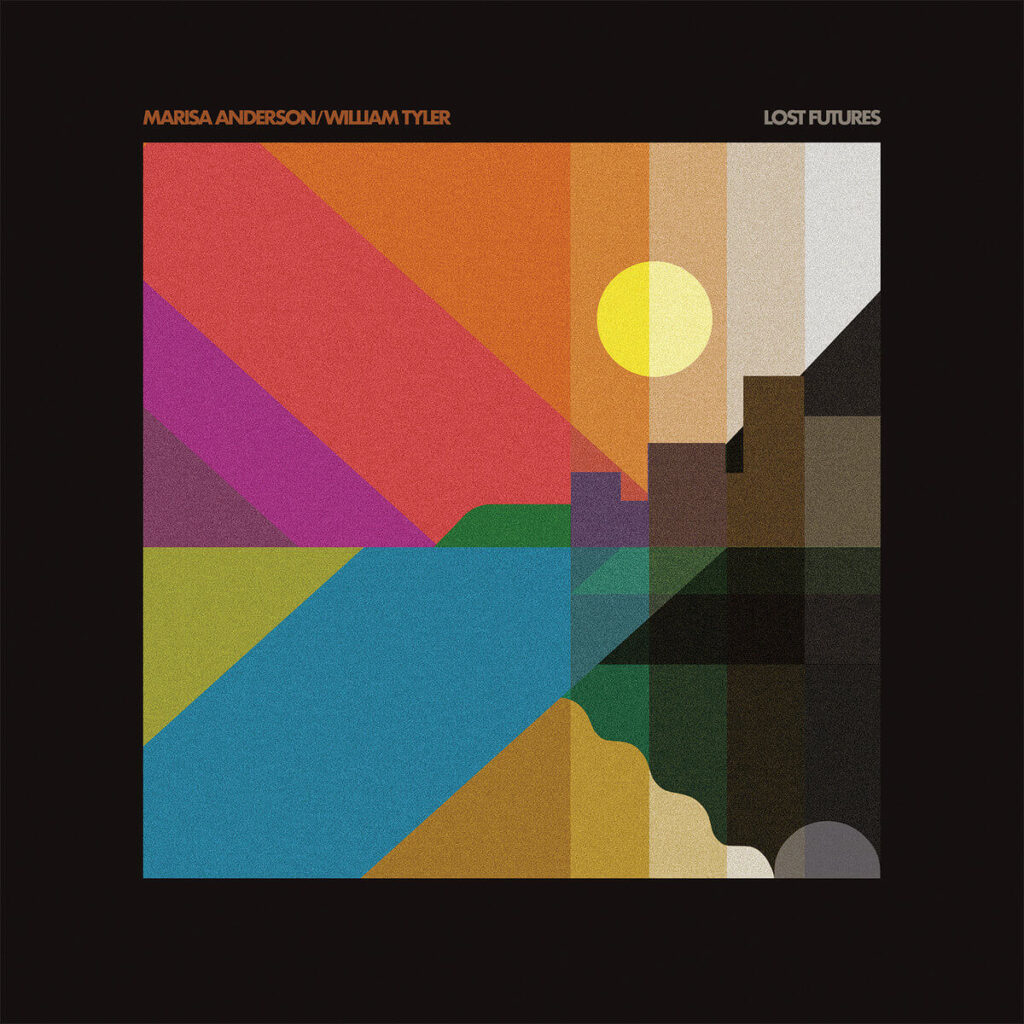 On their collaborative album, Lost Futures, one could imagine guitarists Marisa Anderson and William Tyler riding through the Old West, stopping from town to town to deliver news and forecast prophesies (yes, kind of like a more mystical take on that recent Tom Hanks movie). But with more than just "The News of the World" in their bag of tricks, Anderson and Tyler arrive on the scene delivering "News About Heaven," and most certainly does the album's opening track sound like the clouds parting, the sun's radiance pouring through. 
There's an atmosphere between the guitarists' dueling and gracious interplay, allowing for a grander and magnificent sonic spectrum. Credit must be given to the gorgeous contributions of string player Gisela Rodriguez Fernandez as well as Patricia Vázquez Gómez and her quijada. It all comes together like a beautiful but ever-shifting canvas, the players crafting aural images of the mystery and intrigue of the American landscape, while also giving way to the more torrid and urgent dissonant tones of its present climate.
Lost Futures takes its title from writer Mark Fisher's cultural theory of the loss of potential futures, the hopes and ideals which once felt inevitable but have since been interrupted. "For every choice made," wrote Anderson, "every path taken, there are multitudes of choices not made, paths not taken." Anderson and Tyler conjure images of these invisible roads, resulting in music that is romantic, vivid, and sometimes fiercely dramatic—envisioning not just lost futures but ones that still feel slightly within grasp, though fading further away with each passing glance.
It's an earnest artistic attempt to find balance between wearied strife and blinding glimpses of a possible serenity. The title track is pastorally placid, comfortable to move at its own pace despite the anxious uncertainties surrounding the work. But as we approach the album's two six-minute centerpieces—"Something Will Come" and "At the Edge of the World"—danger feels more imminently present, as though Anderson and Tyler had to hightail it out of the last town, their forecasts riling up some of the restless natives. As such, the former gallops with a surging, krautrock rumble, with a bounty calling for dead or alive, while the latter feels like the score to a lost frontier film, no doubt some sort of anti-western where heroes and villains change places from moment to moment. The tension rising and crashing with a tango seduction and sense of ragged danger, some strange lovechild between Dylan's Desire and Neil Young's Dead Man score.
Despite its title, album closer "Haunted by Water" is a dusty desert ramble, but oceanic implications are to be found in the subtleties. The horizon looming vastly ahead, filled with futures both lost and still ascertainable, if only in the mind. The ghosts of roads not taken haunting the eyes like a mirage and the ears like an abandoned cantina. Our riders saddle up and journey on, with phantom prophesies, reflections, and messages still to be told.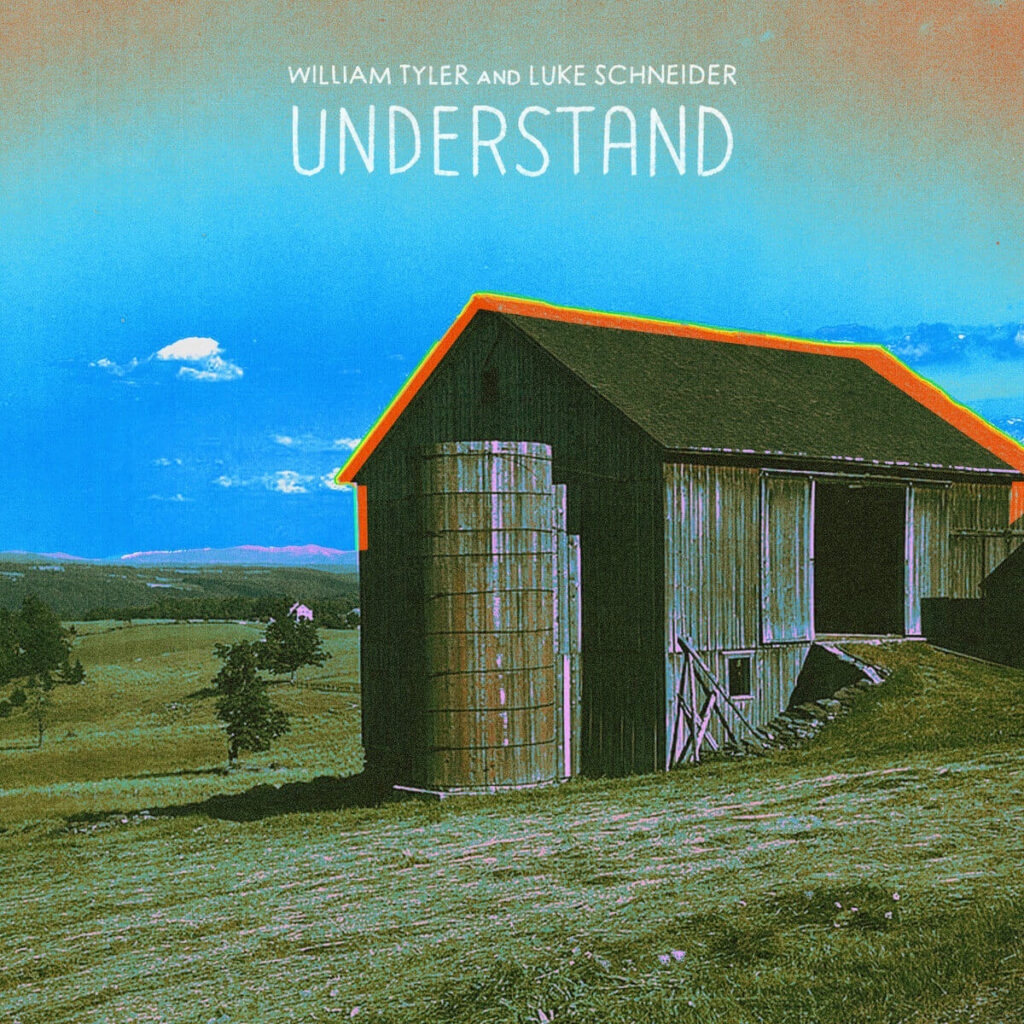 A decidedly more ambient affair, William Tyler also collaborated with guitarist Luke Schneider this summer for Understand, a four-track extended-player released on Leaving Records. The duo extends themselves past their primary instruments, employing pedal steel guitar, banjo, bass, and synthesizer for drifting and galactic experimental passages.
Dig the hypnotic zone of "The Witness Tree," its spaced-out propulsion and ringing synthesizer sirens like a cerebrally atmospheric nature doc of a spacecraft making a slow, gentle landing onto some outer rim; the atmosphere filled with dreamy awe and infinite wonder. "No Trouble" lives in the more familiar, wide open plains of Tyler's studio albums, with Schneider's pedal steel bleeding languidly into a low synthesizer rumble, Tyler's guitar guiding us through a sonic storybook of where we've been, where we are, and where we're going. | c depasquale
In sounds from far out. Aquarium Drunkard is powered by its patrons. Keep the servers humming and help us continue doing it by pledging your support via our Patreon page.