As a guitarist and improviser, Bill MacKay specializes in collaboration and openness—see this year's duo lp with Nathan Bowles, Keys, for a taste. He's that way as a listener too. Today he joins us for an essay about Laura Nyro's third album, 1969's New York Tendaberry.
Laura Nyro's first two records were a potent and enthralling introduction to a singular artist. My friend Joe had recently acquired them, and was excited about the find. Hey, you have to hear this, it's knocking me out! We often listened to records at his apartment down on Carson Street which coursed through the south side of Pittsburgh as it rolled alongside the Monongahela River (a river Pittsburghers refer to as The Mon).
I spent a lot of time with Joe at his place. We'd catch up, hear new music, walk around the neighborhood, and often get a bite to eat or a drink at one of the many dive bars and diners that lined the street in those days. Swarms of steel workers had populated these same places for decades, though their reign was already near its end. Joe's place had a front room with tall windows from which you could view nearby street action, the Dairy Queen, and downtown across the river.
Music and books meant a lot to us. And it was always a thrill to have a new sound to share, or one to absorb. In that spirit, Laura Nyro made her entrance into our lives.
Right away, I realized Joe was on to something. The first two records were indeed fantastic, seemingly coming out of nowhere, and revealing a unique voice in music. A singer, pianist and songwriter clearly in the grips of something new and sublime. We wondered how she could have escaped our notice.
A bunch of the songs she'd written on those records had become hits for various bands and other musicians (including Fifth Dimension; Blood, Sweat and Tears; Three Dog Night, and Barbara Streisand). However, her name and original versions of the songs were not very well known. I realized that I knew a portion of her music from the radio without really knowing who was behind it.
Soon after that period, Joe surprised me again. This time with Laura's third album New York Tendaberry. And it hit me with even greater impact. The surprising dynamics, the striking songs with their tales of souls in struggle, the urgency, and the visions of the buildings, haunted corridors and subterranean notions of New York, of those possessed by narratives they did not create, caught in webs—this all rang out, sung at a pitch, an intensity of path that few tread.
The record seemed broadly diverse, yet acutely focused. The minimalist arrangements that centered primarily on vocal and piano would explode without warning into brassy orchestrations that then stopped on a dime to underscore a point. Gospel chords and timbres went head-to-head with their counterparts in Tin Pan Alley. Blues showed up in a despair that somehow cleansed the way for exhilaration.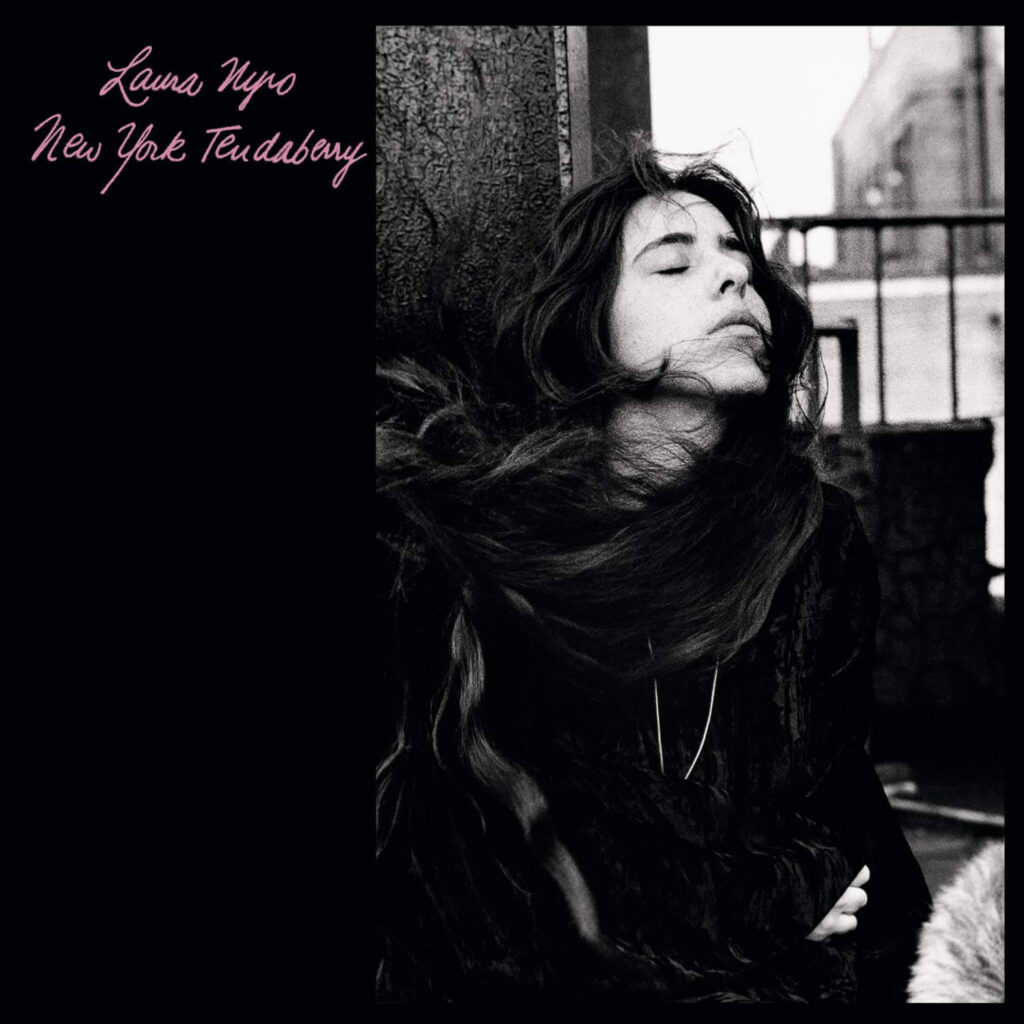 And while the smart melodicism and lyrical approach of her earlier work remained, they were re-set in a way that was heightened by the drama of the new songs. All of this mingled to create an elegiac work rising out of crisis.
On re-listening, other impressions quickly appeared: Street life colliding with Broadway, America as a discordance it never imagined being: not unified, not perpetually golden, everyone for themselves, yet also together. Neither giving in nor giving up, Nyro challenged the masters-that-be, and held up a mirror so even those at the back of the theatre could plainly see what was unfolding on the stage: the bruise of unchecked ambition and obsession with social climbing.
You know you're never gonna make a moviemaker, Tom
You know you're never gonna make a moviemaker -TOM!
You know you're never gonna make a moviemaker
Always be a city faker – Tom
Laura Nyro, "Tom Cat Goodbye"
A harrowing search courses through the record. The search for a harmony that must surely exist, even when hope seems absurd, the anti-spiritual reigns, and casual indifference in the culture reaches a critical mass.
The narrative voice at the center of New York Tendaberry is one that embodies (among other things) tenderness, rage, and hope, and that consequently nurtures, protests and challenges. The women this voice extols expose cracks in the system and in the mind, and combat power's endless and diabolical cynicism. Men too are present and many things in this world: pushers, saviors, dropouts, princes. They are star-makers and takers. They promise things, they fail, and they sometimes fulfill.
I've been sold by sailors, I've been worn by tailors, soldiers wound me
But you my captain are medication for my reputation
Laura Nyro, "Captain of Dark Mornings"
And who were these captains? Captain Saint Lucifer is another who appears. When we recall that the original meaning of lucifer is light-bringer, an ambiguous meaning seems to be cast. Few writers contain such contradictions as naturally as Nyro. She invests abstraction here with an unexpected clarity, and turns the everyday into something beyond itself. 
New York Tendaberry. A timeless statement. And one for all times. A pure declaration, and an homage to those lost and found. In places a searing eulogy for a deathly culture, in others a triumphant paean to rise up, to invoke the transformative power of love. It should be noted that Nyro achieves this diversity without recourse to the corrosive acid of cynical irony. New York Tendaberry to the contrary could be read as the natural extension of a song like All You Need Is Love, where love is indivisible from truth, justice and discovery.
There is bravery in all of Nyro's work, and this might be its pinnacle. She calls things for what they are. One feels that it is a voice you disbelieve at your own peril, that the messenger is real and not to be ignored. There are angels and demons on these streets. No stranger to biblical imagery, Nyro's use of it is both symbolic and pragmatic: Her symbols feel tied to real faces and questionable civilizations.
Don't go to Gibsom cross the river
The devil is hungry
The devil is sweet
If you are soft then you will shiver
They hang the alley cats on Gibsom Street
Laura Nyro, "Gibsom Street"
Given its power, the album has remained curiously shadowed. It is remarkable for its raw honesty, recalling the unflinching and penetrating inquiries of Archie Shepp's Blasé, Joni Mitchell's Blue or John Lennon's Plastic One Band, whilethe qualities that make it a landmark are diverse: musically inventive, soulful, mysterious, wise. I would add to these: innovative, sophisticated, and certainly uncompromising.
Most arresting of all on New York Tendaberry is Nyro's faith in life and in others. Her devotion is fiercely deep. She writes, plays and sings as though certain that your door is open.
For heads, by heads. Aquarium Drunkard is powered by its patrons. Keep the servers humming and help us continue doing it by pledging your support via our Patreon page.