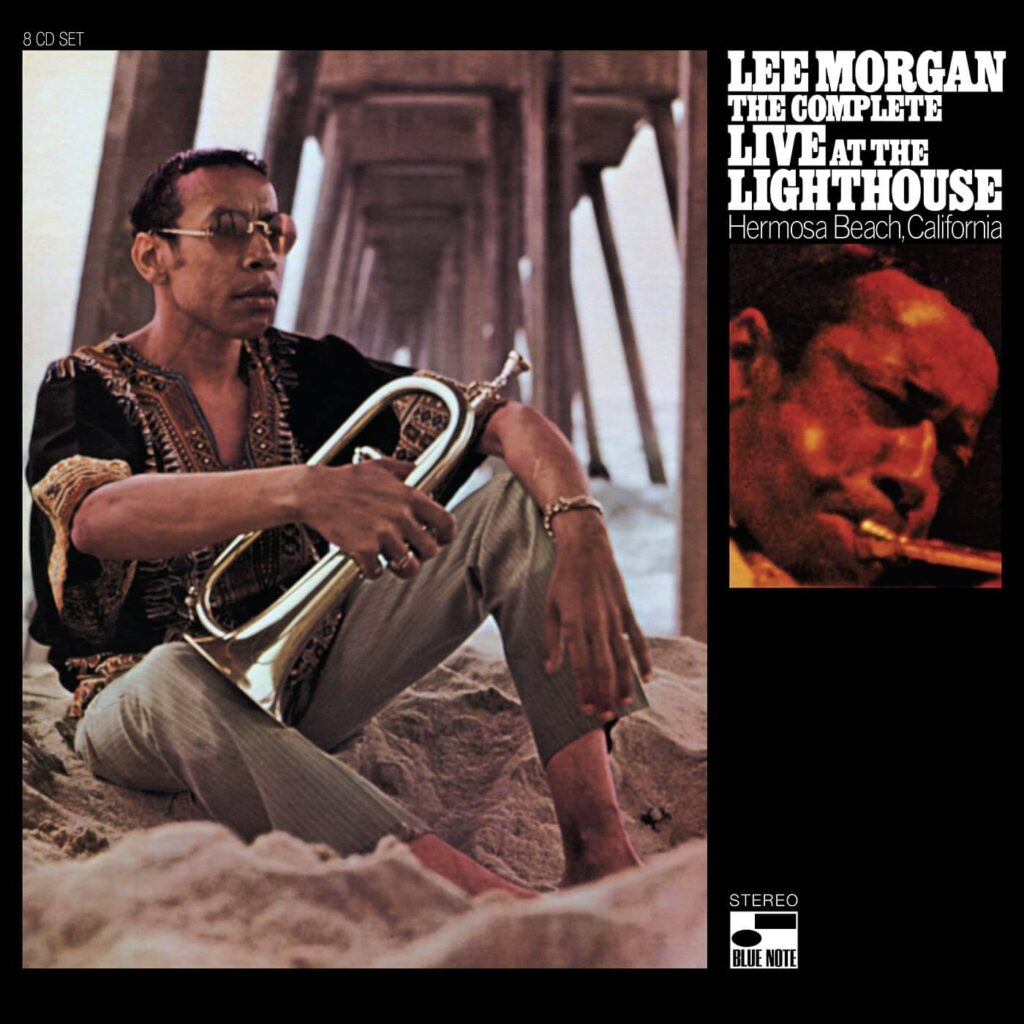 The sleepy seaside town of Hermosa Beach, located down the coast from LAX, might not seem like a jazz mecca at first glance. But for a while there, that's exactly what it was, thanks to The Lighthouse Café on Pier Avenue. Back in the day, you could watch the sun dip into the Pacific and then duck into this tiny club to catch some of the 20th century's greatest musicians. Cannonball Adderley, Miles Davis, Max Roach, Chet Baker, Art Blakey … the list is endless.
Fortunately for those of us too young to experience Hermosa Beach's heyday, many recordings were made at The Lighthouse — including several sets by Lee Morgan and his group in the summer of 1970. Selections from these shows have been released in ever-expanding formats over the years. But now, we get to hear every note recorded, via a massive eight-CD / 12-LP collection. Seven-and-a-half hours of music in total, The Complete Live At The Lighthouse is an immersive affair, exhaustive in the best way. It gives listeners front-row seats for these razor-sharp gigs, allowing us to revel in Morgan's boundless (and still developing) creativity. Alas, he didn't get much further in his explorations; his life was cut short in 1972 (For the full, tragic story of his death, check out the excellent I Called Him Morgan doc from a few years back).
But at least we have Live At The Lighthouse — a document that suggests Morgan was just getting going, even though he had been a fixture on the scene since the late 1950s. Unlike many of his peers in the early 1970s, the trumpeter hadn't really started dabbling in electronics (bassist Jymie Merritt uses an electric upright model here). But these recordings are every bit as adventurous and forward-looking as the era's best fusion experiments; for Morgan, there were still untapped possibilities that awaited in the acoustic jazz realm. Visionary tunes like "Peyote," "Nommo" and "Neophilia" stretch out into eternally blossoming epics, each one a masterpiece of heady interplay, dazzling solo spotlights, and deep groove.
Morgan was the name on the marquee, but Lighthouse is very much a showcase for his phenomenal band: the aforementioned Merritt on bass, Bennie Maupin on tenor saxophone, flute, and bass clarinet, Harold Mabern on piano, and Mickey Roker on drums. The crackling chemistry shared by these musicians only seems to grow as you progress through this collection. By the final set on Sunday night, they've formed some kind of multi-headed beast, able to soar in multiple directions at once, but always managing to land back in the same spot at the same time. Morgan, on both trumpet and flugelhorn, is in inspired form throughout, and his cohorts respond in kind, playful in one moment, intense in the next. This is imaginative, timeless jazz that remains as thrilling today as it did during that long-gone weekend in southern California. Breathe in that fresh sea air. | t wilcox
Only the good shit. Aquarium Drunkard is powered by our patrons. Keep the servers humming and help us continue doing it by pledging your support via our Patreon page.