There are some people, like me, who consider Myriam Gendron's Not So Deep as a Well to be one of the finest albums of the 2010s. It's been seven long years since the Montreal artist released her luminous collection of Dorothy Parker poems set to music, but the wait has been worth it. 
Gendron's latest project, the double album Ma délire – Songs of love, lost & found, is an even more ambitious affair than her debut. Delving deep into traditional music from Quebec, France, and the United States, she rewired segments of songs to emphasize evocative lyrics and tossed out others that she found abhorrent. Singing in French and English, with guest contributions from musicians including guitarist Bill Nace and drummer Chris Corsano, these historic songs become universal, while her tender voice maintains the soft power to raise the hairs on the back of your neck. 
Interviews with Gendron are almost as rare as her recordings or live performances, so it was a great pleasure to receive her answers to a series of questions sent via email. As she explains below, "I'm happy the Americans play on songs in French and the Québécois play on songs in English. The whole record is about building bridges!" | j locke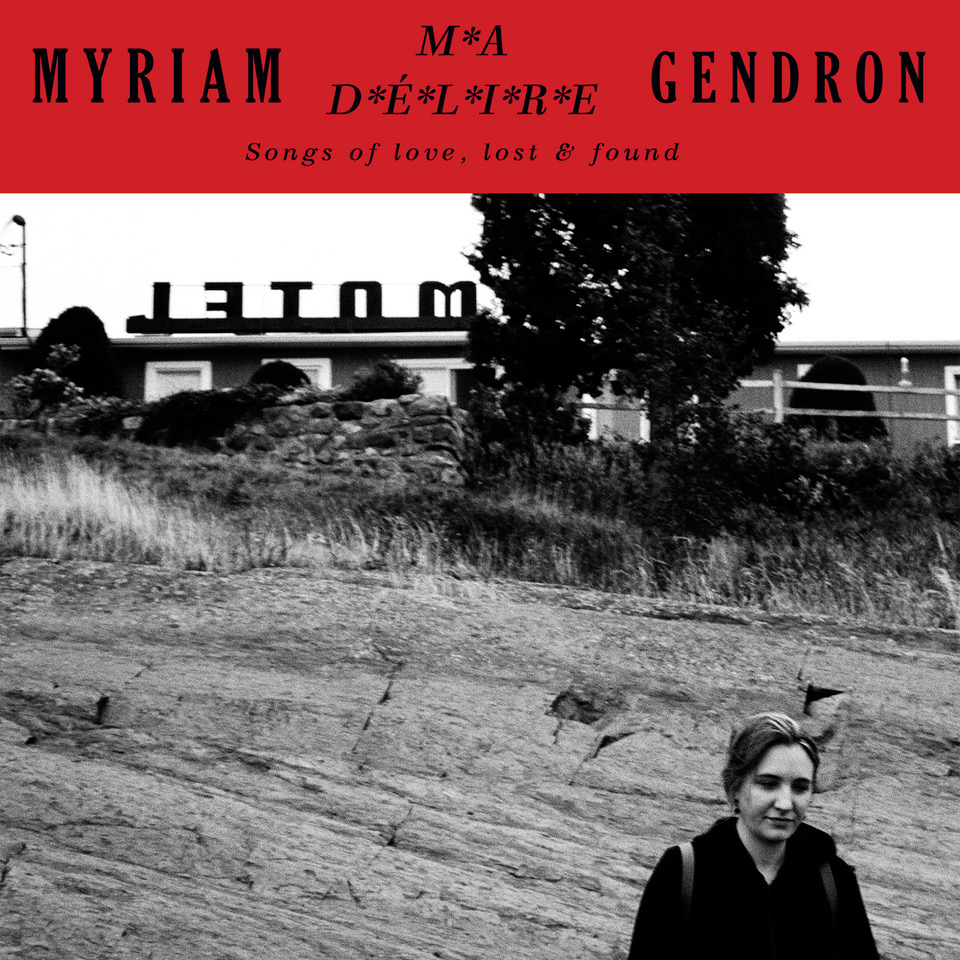 Aquarium Drunkard: This album includes a re-recorded version of a song you wrote in 2011. In your liner notes, you write that it's from a time "long before you started making music seriously." Can you tell me a bit about your experiences with music before the release of Not So Deep as a Well, and how that switch into seriousness happened for you?
Myriam Gendron: I've been playing guitar and singing since the age of 12 but I never really thought it was worth anything outside of my bedroom until my partner Benoît Chaput started taking my stuff seriously. That happened when I started setting the Dorothy Parker poems to music. He convinced me to take it to another level. Much to my surprise at the time, people's reactions to Not So Deep as a Well were very enthusiastic. That's probably when the "switch into seriousness" happened for me. I realized I could do some good around me with my music.
AD: Your inspiration for this album began during an artistic residency in 2016, but you write that "it took five years to find the time and mental space to actually get into it." What else kept you busy during that time?
Myriam Gendron: Kids and work! My daughter was born two months after Not So Deep as a Well came out. In a 2014 interview, I remember saying I would use the extra free time my maternity leave gave me to write new music. That was very naive of me! There has been no free time at all. But I'm not bitter about it! I also had a son in 2017. So of course, with a full-time job and two young kids, it's very hard to find time and mental space to be creative. My only option was to obtain a writing grant. I waited for the kids to be old enough and I applied for a grant. And I got it! That allowed me to take seven months off work and dedicate myself entirely to this new record.
AD: What kinds of research did you do to learn about the traditional songs and folk recordings that became the starting point for this album?
Myriam Gendron: I was already quite familiar with the English and American traditional repertoire because I've been listening to blues and folk music since my early teenage years. But my first exercise when I got back home after taking the kids to school on the first day of my seven-month leave was to listen to Harry Smith's Anthology of American Folk Music, study the lyrics and read all the liner notes. I didn't have a specific idea in mind, I wasn't looking for anything in particular, I just wanted to immerse myself into this material, in an almost passive way, and let the unconscious do its thing! 
I did the same with the French and Québécois traditional repertoire, which was much more obscure to me. Not many people still remember these songs in Québec nowadays. They were discarded along with religion in the '60s. Luckily, we have access to many field recordings that were made by Les Archives de folklore de l'Université Laval, and there are some folklorists here (Robert Bouthillier, Michel Faubert) who are committed to keeping this material alive. I listened to everything I could find.
AD: What kinds of changes did you make to the lyrics of these songs so their religious, racial, and political specificity could become universal?
Myriam Gendron: The process was different for each song, but I think my main concern was to ensure it made sense for me to sing these words today. I discarded everything that didn't feel right in my mouth. Most of the changes I made were not based on an ideological or even rational decision, I just had to listen to my gut feelings. The song "Poor Girl Blues" was a bit different because it started as an idea: I wanted to bring two songs together, "Poor Boy Long Ways From Home" and "Un Canadien errant", because I felt like they could talk to each other and build something new. 
People might know "Un Canadien errant" from Leonard Cohen's 1979 recording, but it's a much older song, considered traditional in Québec although we know the lyrics were written in 1842 by Antoine Gérin-Lajoie. It's about the forced exile of the French-Canadians who took part in the Lower Canada Rebellion in 1837. And "Poor Boy", one of the oldest songs of the blues repertoire, is about another kind of exile, that of the working black man, condemned to travel from one state to another, forced to leave his wife and kids in order to find work. In my "Poor Girl Blues", the music comes from Mississippi John Hurt and John Fahey's versions of "Poor Boy", and the lyrics are a free translation/adaptation of the song, with parts of "Un Canadien errant" grafted to it.
What does it mean for me to sing these songs today? Does the first story "belong" to me more than the second one, do I have more of a right to sing it because I was born in Québec? (I know you didn't ask these questions, but I can hear them everywhere!) If art isn't about projecting ourselves into otherness to better understand the world and to better understand ourselves, then I don't know what it is. I think I can understand both these songs because I know what it feels like to be lost, to wander around looking for a place where you belong. It's a lost paradise story, one of the oldest stories in the world! And no matter what historical horrors brought these songs to life, that's what they're truly about: loss, loneliness, longing for a place you can call home. That's what makes them survive the passage of time. 
AD: I appreciate the way you left in the dark side of the narrator's lyrics on "Par un dimanche au soir" to show there was ugliness in traditional songs. Why did you feel that was important?
Myriam Gendron: With this record, I wanted to dig into traditional music but I also wanted to talk about love, about men-women dynamics, and I think I managed to find a way for my feminism to express itself. Maybe it's not obvious at first, but it's everywhere on the album. And I see this song as a necessary stain on my feminist speech. The narrator of this beautiful traditional lament is rejected by a woman because she loves another one. He decides to lock himself in a convent for the rest of his days and he curses women, accusing them of being traitors and hypocrites. It could be seen as misogynist and antifeminist, but I decided to welcome it. I can understand a man's bitterness and anger. It doesn't seem contradictory to feminism to me. I don't even find it ugly. And I like the fact that it bothers a bit, that it shakes up things we took for granted.
AD: The instrumental contributions to this album are fantastic. How did it feel for you to hear these songs after people like Bill Nace and Chris Corsano added their parts?
Oh! That was probably the biggest highlight of the year! I had never really collaborated with anyone before. But this record is so long, I felt it needed more than just me and my guitar. When I received Bill Nace and Chris Corsano's tracks, I was completely blown away. I don't know what I expected exactly. I'm aware they're great musicians and I trusted them. But it was all done remotely, for obvious reasons, and we didn't communicate that much before they recorded. I certainly didn't think their contributions would be so much in phase with what I was aiming for. And the Québécois contributors were fantastic as well. It wasn't really planned that way but I'm happy the Americans play on songs in French and the Québécois play on songs in English. The whole record is about building bridges!
AD: I'm very sorry to learn about the passing of Richard Deschênes, who I can definitely remember serving me a drink at La Sala Rossa. It's very moving to know that he heard the song you wrote for him while he was in his hospital bed. Can you tell me a bit more about him and his art?
​Myriam Gendron: Yes, Richard left a strong impression on people. We realized how true that was after he passed. So many people reacted on social media with deep and thoughtful messages. His death was a shock for everybody, even more so because Richard barely told anyone he was sick. He was such a gentleman, he never wanted the spotlight on him. It wasn't false modesty or anything, just a very distinguished and proud way of being. Most of all, I think he didn't want people to worry about him. It was his cross to bear. 
His art was like that: very subtle, serious, precise and honest towards itself. The man did what he had to do. It was never for the show. And he had the best sense of humor! He liked my music a lot and he was very enthusiastic about the record to come. He had heard the first version of "C'est dans les vieux pays" (without Bill Nace's contribution) about one month before entering the hospital. I wrote the instrumental piece "Une rose (pour Richard)" when I was informed he only had a few days left to live and I sent it to his girlfriend Catherine. She told me that when she played it for him, he immediately asked if it was going to be on the record. And apparently, it brought him a lot of comfort when she said yes. At least I can hold on to that thought.
AD: I also appreciate the way you mention the "harsh colonial past" embedded in a song like "Shenandoah." You write in your liner notes that you attempted to "accentuate the intimate feeling" of the song and de-emphasize its "grandiose, nearly epic side." Why was that important to you?
Myriam Gendron: I guess it's just the way I see folk music and my part in it. I like ordinary music made by ordinary people. "Shenandoah" has such an extraordinary story behind it, and it's a very "American" song. But I felt like there was more to it than its backup story and its historical and geographical specificities. What's left of a story when you remove its plot and characters? I think that's what I was looking for here. The essence, if you allow me. And I believe I found it.
AD: Has working on this album opened your musical floodgates? Can we expect to hear another album in less than seven years?
​Myriam Gendron: [Laughs] I hope so. One thing I learned this year, that wasn't clear to me before, is that Not So Deep as a Well was not something I did by accident. I now know I can get up in the morning and decide to write a song (if I don't have to go to work!). I didn't get much sleep during those seven months. I'm a very obsessive person. And I'm not sure it would be the healthiest thing for me to be creative all year long. But I also experienced what it's like to feel that you're exactly where you need to be. And I don't want to give that up. 
Help directly support Aquarium Drunkard via our Patreon page. As we're not backed by any corporate goblins, your support will help keep an independent cultural resource alive and healthy in 2021 and beyond.