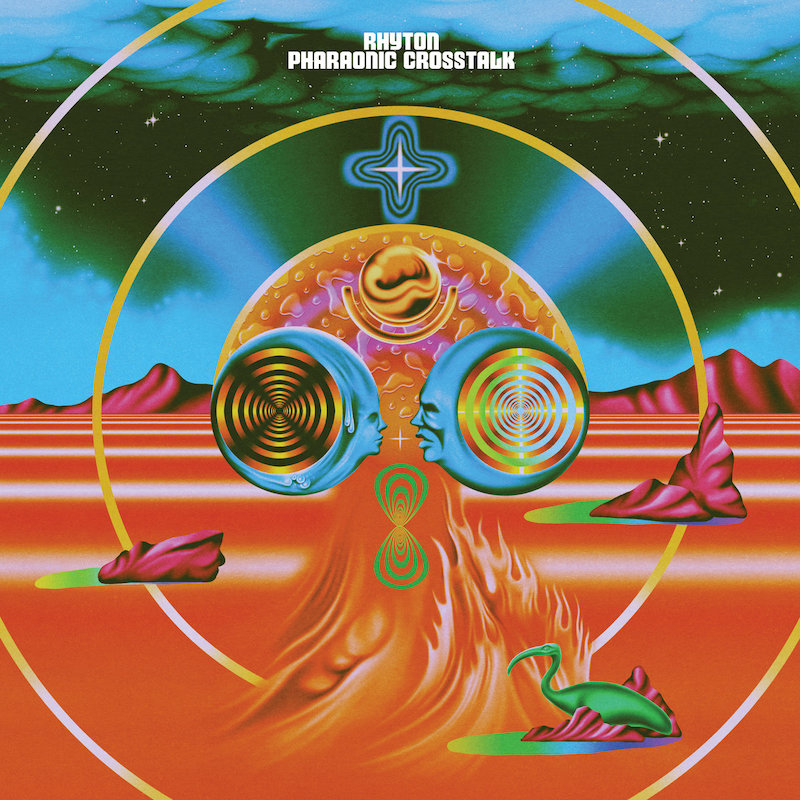 From all their references to archaic civilizations, you might expect Rhyton to make an especially pompous brand of progressive rock or symphonic black metal. (A rhyton, after all, is an animal-shaped drinking horn from the Bronze Age, which, let's be honest, sounds metal as fuck.) But, actually, no small amount of the Brooklyn trio's considerable charm comes from the unassuming quality of their music. Rhyton makes head music, to be sure–channeling American psychedelia and German krautrock and the string music traditions of the Mediterranean and the Middle East. But over the decade since their scorching self-titled debut on Thrill Jockey, Rhyton has started trafficking in a shaggier and flat-out groovier set of jams. Their somewhat grab-bag mid-decade album Redshift (2016) had moved away from the lugubrious Grails-esque space rock of their early records toward something with a bit of Cosmic American get-down. And when Rhyton resurfaced last year with the excellent (online only) Krater's Call, they were once again shaking their bones. Krater's Call was an irresistible head-nod record, where one finds oneself compelled to bop along as scribbly sketches of songs get worked up into thick grooves of undeniable richness and imagination.
Pharaonic Crosstalk, Rhyton's outstanding new record on Feeding Tube, is an altogether funkier affair. Indeed, Pharaonic is almost a fusion record, redolent as much of Lost Quintet-era Miles and the moody explorations of early Weather Report as the liquid energy of the '74 Grateful Dead and the swirling jazz-rock of the Soft Machine. That Rhyton's core trio of Dave Shuford (guitars and other strings), Jimmy SeiTang (bass & keyboards) and Rob Smith (drums) is here augmented by the great Hans Chew on clavinet and session engineer Al Carlson on soprano sax only reinforces the heady electric jazz vibes. The album definitely begins in Dead territory with the accelerating saloon choogle of "Stanley Stood Still," a relentlessly hot rave-up of guitar, mandolin and burbling clavinet intertwining over a locked-in rhythm section. This gives way to the sinewy space funk of the appropriately titled "LIT on the DL." But the real standout here is the eleven-minute "Runnings (Out of Dreams)," whose dense circular groove and skittering sax push it clean into On the Corner territory. Even the hazy comedown closer, "Kabylian Peaks" unravels with a little strut thanks to Smith's nimble drumwork. Robert Beatty's luminous cover art, with echoes of both Mati Klarwein and the '60s pulp sci-fi covers of Dianne and Leo Dillon, fits the music so perfectly that it should come with rolling papers. It all just works. Cosmic rock of this sort so often goes for solemnity; it is a joy to hear a band like Rhyton play it loose. | b sirota
Help directly support Aquarium Drunkard via our Patreon page. As we're not backed by any corporate goblins, your support will help keep an independent cultural resource alive and healthy in 2021 and beyond.