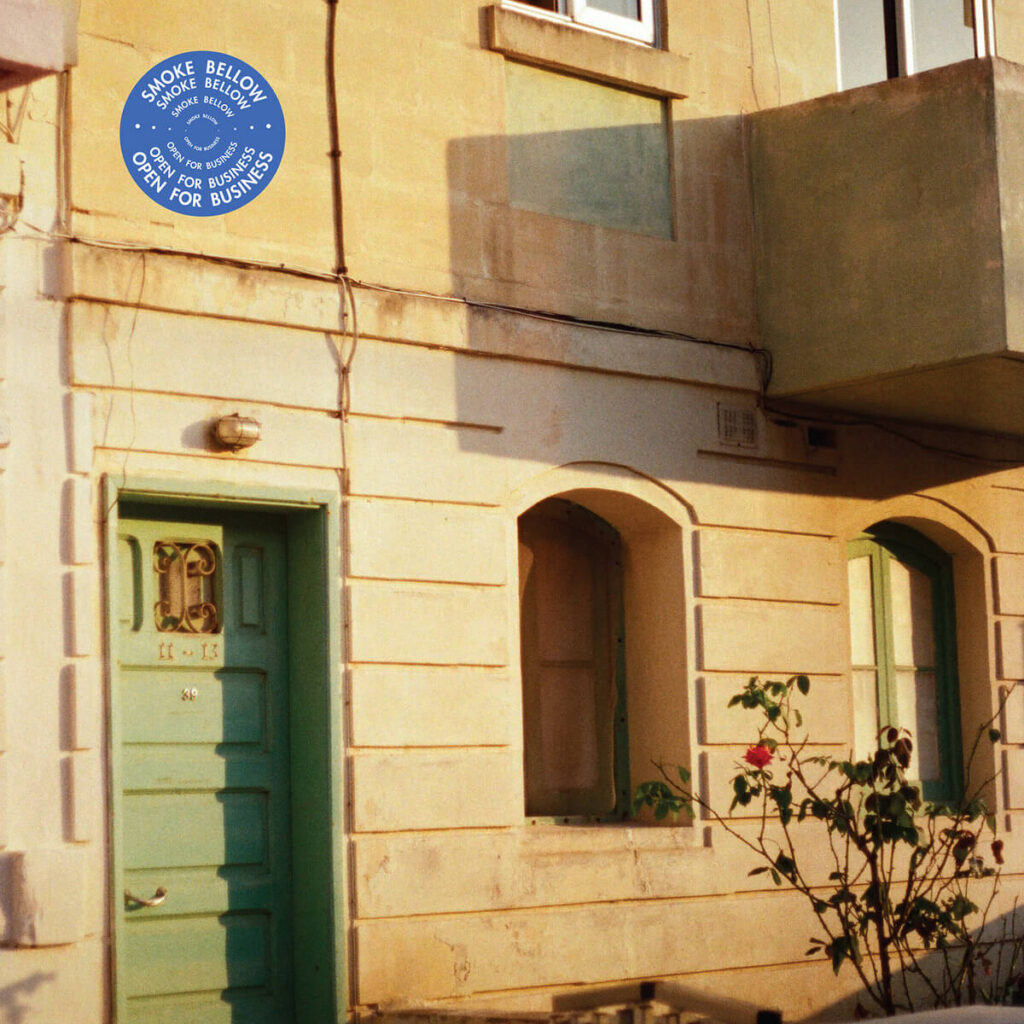 Smoke Bellow—the Baltimore via Australia trio of Meredith McHugh, Christian J. Best, and Emmanuel Nicolaidis—make their Trouble in Mind debut with Open for Business, a glorious and endlessly rewarding entry into the forever refreshing catalogue of "post-punk." The trio breathes new life into the idea with its creative and playful kitchen sink approach, pulling as much from ESG, The Raincoats, and Marine Girls as they do Clap Your Hands Say Yeah, Mazzy Star, and The Velvet Underground, while also citing the highlife guitar of Zani Diabaté as well as David Byrne & Robert Wilson's The Knee Plays as key influences, the latter reminding them "of the joy of the spoken word set to music."
Meredith McHugh has the right poise for the feat of that joy, her vocals coolly detached and warmly enveloping in changing breaths. "We're the right stop," she assures us on the angular album opener "Fee Fee," the band entangled in rattling pipe percussion and alien beeps, art-pop horns and under the surface synth radars. "Hannan" carries more of a heavily buoyant ESG-inflicted beat. McHugh's spoken word psychic dislocation—gazing out into the ocean but grounding in one's own consciousness—places Smoke Bellow as very much a band for our time, freak bandits looking for beauty in a frazzled, chaotic loop.
They finds moments like that, more delicate moments of pause, on a song like "Anniversary," its drifting, jangly guitars and hushed cherubic vocals eventually growing wild into the band's distinct but expansive sound. A flute reedily sneaks in as a more percussive crescendo begins to take hold upon McHugh's cosmic poetry, whereas, on "Night Light," a more raga-like drone encapsulates her reading of Daniel Stephensen's post-modern, existential prose.
Smoke Bellow describes itself as "an exercise in pastiche, catharsis, fun and positivity." This thesis feels most potent in the refrain "Hope inside a levity," sung on the album highlight "Furry Computer 2." McHugh's vocal approach is something more akin to a chant here, synths and guitars pulsating in an art-pop playfulness. "With words you set a tone and felt a dream-like state," she sings, "And the moon it shines low, it shines high for you." Stately horns, not unlike something heard on a Penguin Café Orchestra album, pronounce themselves and it's almost as if the band is performing an incantation of its own existence: working an abstract but perfect combination of words and notes into an enchantment of hyper self-consciousness, reflecting on itself and its environment in playback.
If "Furry Computer" is the album's centerpiece climax, then the back-half is informed by the band's resolve to "Fuck On"—the track, a hopped-up hangover-dance, squints in the blinding light of more sobering realities, with McHugh urging: "Pool your thought and crawl to safer seas." "Maybe Something" charmingly evokes Yo La Tengo's Georgia Hubley, McHugh softly hushing uncertainties, exposing her most vulnerable self against angular and ebullient grooves.
"Wrong Size," at once thirsty and contemptuous, rides a sinewy, funk bass line in its open seduction. McHugh invites: "Walk with me, does it feel right?" only to turn the objectification on her suitor's head in a cool, detached dismissal. The album closes on the celestial "Take the Line for a Walk." Its stream of consciousness lyricism feels only right as a closing chapter on this brisk but bountiful adventure. The song's contents are seemingly rote ("Think about/Rise and shine/Night and day/Can't ignore") yet beams of synth and horns are heard reaching out for the skies. The hope inside Smoke Bellow's levity is palpable, and all the more rallied by the crafty curiosity of its musical arrangements. The band leaves us with one of the more intriguing records of the year, assuring us that they are most definitely Open for Business. | c depasquale
Only the good shit. Aquarium Drunkard is powered by our patrons. Keep the servers humming and help us continue doing it by pledging your support via our Patreon page.