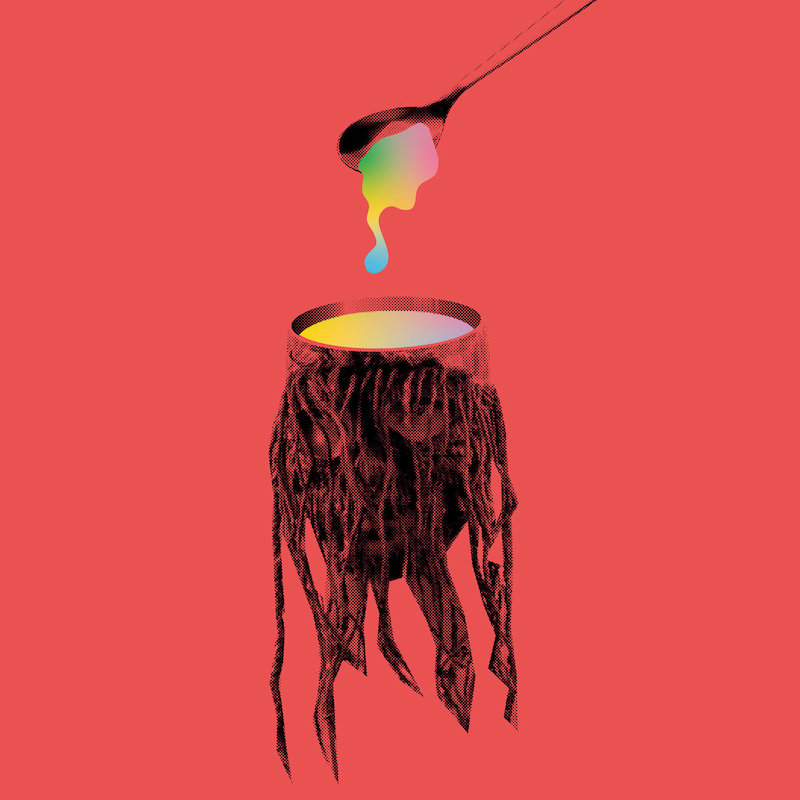 Last we heard from the mysterious Swedish collective Goat, it was the spring of 2018 with the "Let It Burn" b/w "Friday, Pt. 1" 7", combining the band's doomy and self-proclaimed "best song," written for a short film fittingly featuring a sacred goat pit against evil pagans, with a studio outtake jam that lives in a decidedly more placid space, transmitting warm, astral, free-jazz tones. Those two tracks have now found a home on Headsoup—a collection of standalone singles, B-sides, digital edits and never before heard songs from across the group's near-decade practice of psychedelic voodoo, along with two brand-new tracks recorded towards the end of last year.
The collection plays as seamlessly and self-assured as any of the band's studio albums, with Goat's witchy brew of krautrock, African rhythms, psychedelic rock, ethio-jazz, and astral blues pungently filling the aural spaces around them. Working in chronological order, Headsoup kicks off with "The Sun and the Moon"—the B-side to the band's earliest single, "Goatman"—and the table is immediately set for a feast of epic, hypnotically propulsive proportions, where all are welcome to join in and immerse themselves into the shifting boundaries of space, time, and sound.
"Bring all your friends, look at the sun," the band's "twin high priestess vocalists" preach on "Time For Fun," a snake-y, motorik trance-beat chugging along while their ritualistic freak flag flies proudly in the cosmos. It's followed by "Relax," an elegantly discordant instrumental that feels like a ceremonial groove honoring the band's mystifying origins. On "Union of Mind and Soul," they embrace fourth-world pop, with chamber-esque flutes pronouncing the priestesses as they shriek on the crest of a psychedelic wave, urging: "Open your mind, see what you can find."
"The Snake of Addis Ababa" and "Goatfizz" are dazzling workouts in ethio-jazz and krautrock, respectively—a lean and mean one-two punch of Goat's expert ability to cross-pollinate styles and sounds. (Again, soak in the majestic earthy folk-jazz that is "Friday, Pt. 1"). The two newest recordings—"Fill My Mouth" and "Queen Of The Underground"—show the band remains in fine, able form. A percussive, flute-driven slice of sex-punk and a sludgy, subterranean anthem to assure us that Goat—shouting, stomping, and shredding into the cosmos—continues to worship at the altar of the unknown & the infinite. | c depasquale
Psst…Aquarium Drunkard is powered by its patrons. Keep the servers humming and help us continue doing it by pledging your support via our Patreon page. For heads, by heads.