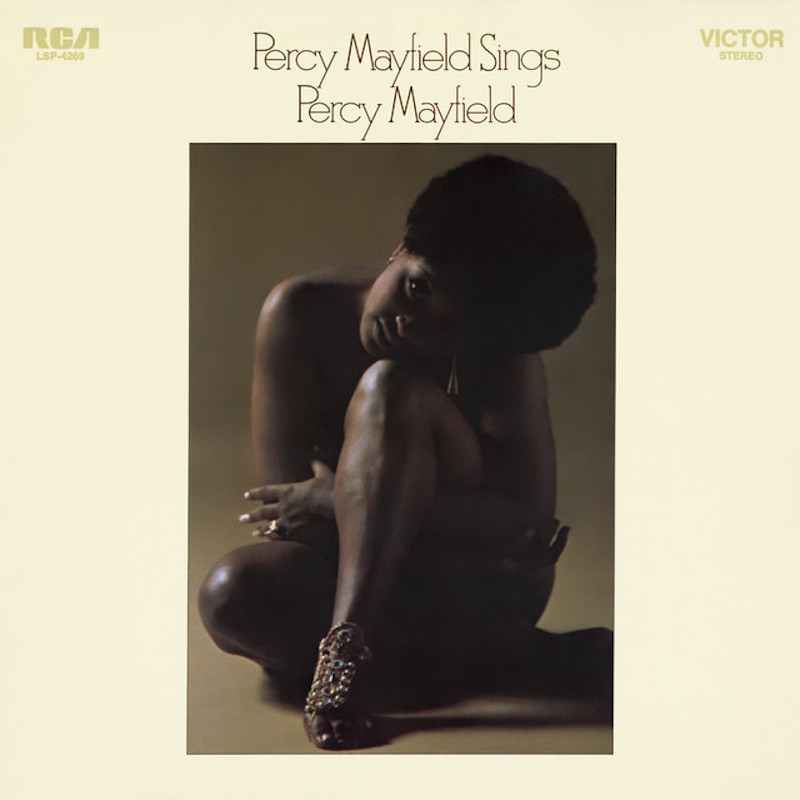 A curiously eccentric slice of downbeat soul, Percy Mayfield's "My Error" circuitously revels in a knowing misery; its uniquely dark songwriting earning him the nickname Poet Laureate of the Blues. The downtempo and mysterious waltz comes from Mayfield's 1970 lp, Sings Percy Mayfield–his third album after releasing a pair of singles compilations (one of the discs was produced by Ray Charles, Mayfield having caught his attention after penning "Hit the Road, Jack" in 1960).
Mayfield's star had been on a steady rise in the early fifties until a near-fatal car crash left him with a facial disfigurement and an even deeper idiosyncrasy to his already strangely saccharine and reedy baritone. Following his convalesce, Mayfield settled more into the role of a songwriter than a stage performer—penning profoundly tender ballads like "Please Send Me Someone to Love" and vividly haunting rhythm & blues numbers like "Stranger in My Own Hometown" and "River's Invitation," the latter two rendered to greater critical reception by, respectively, Elvis and Aretha. Mayfield had been mistakenly pronounced dead at the scene of his car wreck, but his writing's uncanny plunge into the depths of human nature and sorrow suggests a mercurial, half-understood visit to the other side. Even "Hit the Road, Jack"—largely a novelty tune—sounds chilling in Mayfield's raw, acapella original form, the oddly husky and almost childlike vocals of Margie Hendrix accompanying him in what sounds like a casket recording studio.
So here he is with "My Error," ostensibly a fairly straightforward 'unsurprisingly got fooled around on but feeling down about it nonetheless' blues. Yet the swirling organ, undulating vibraphone, and softly blowing saxophone sorrow of Mayfield's backing band—dreamily spectral underneath his weary, half-mumbled woes—transforms the tune into something more mystifying and sinister. Mayfield—a writer first and foremost—plays a trick on the listener during the third act, transforming our lovesick narrator's relentless self-pity into a dark, spiteful resignation. As the electric guitar and organ swell into something suggesting triumph, Mayfield reveals:
"Someday I'll be standing by
And I'll watch someone make you cry
Same as you have done to me,
I'm not kidding."
That final, somewhat peculiar and sour, turn of phrase calls out Mayfield's singularly poetic bleakness. He, in a way, becomes the villain, ever looming like a trapped ghost waiting patiently, and resolvedly, in scorn for his betrayer to suffer the same fate. Once, in 1980, in trying to explain his approach toward songwriting to Living Blues magazine, Mayfield said: "I can picture me trying to get in my door and ain't got my key and there ain't nobody in the house." The explanation is as vague, disorienting and ghostly as the songs themselves. | c depasquale
Only the good shit. Aquarium Drunkard is powered by our patrons. Keep the servers humming and help us continue doing it by pledging your support via our Patreon page.