Poet Chris Mosdell began his lyrical career by writing for a gamut of emerging Japanese bands (Sadistics, Sheena and the Rokkets, and Sandii and the Sunsets) in the late 70s after moving to Tokyo from England to work for Japanese public radio. His catalog now boasts a long list of prominent collaborators including Yellow Magic Orchestra (Mosdell penned the lyrics to YMO's "Behind the Mask" that has been covered by both Michael Jackson and Eric Clapton) and Yoko Kanno, the prolific film composer behind some of the biggest anime soundtracks of all time, including Cowboy Bebop and Ghost in the Shell (for which Mosdell also penned lyrics).
Despite his success working with other musicians, Mosdell's experimental solo album, Equasian (1982, Alfa Records), remains a relative obscurity outside the borders of Japan. In this conversation, we spoke with the lyricist about his early career with YMO and how his eclectic album of musical concrete poems came to be.
---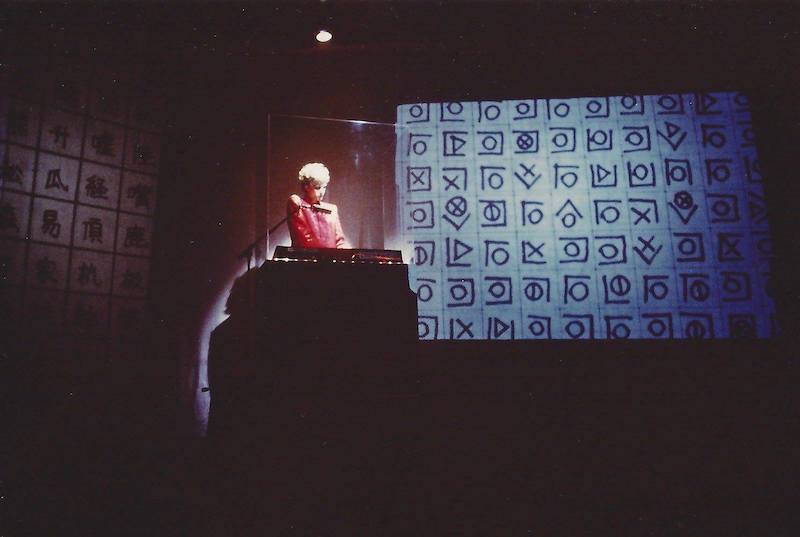 Aquarium Drunkard: What was the genesis of Equasian?
Chris Mosdell: At the time, I was in the studio with Yellow Magic Orchestra working on their album Solid State Survivor. I was literally a walking library of lyrical scribblings, a great plethora of poems that I was constantly adding to. But of course, here I was in a nation whose English skills were wanting and the skills of my own Japanese were far from fluent too.
It was an odd predicament to be in for a lyricist. I felt I had to find a way to circumvent language. With my limited lyrical armory, I had to be very careful, writing terse, clipped lines with simple grammatical tenses. Not that the lyrics needed to be mind-numbingly simple, but they had to be clearly comprehensible to a Japanese composer. I wondered if I might do better by making the poems visual, similar to the avant-garde art forms of concrete poetry. With this in mind I wrote a series of poems inspired by my own science background – I have, of all things, a degree in microbiology – especially related to chemical formulae.
I went into experimental overdrive. Lyrical motifs became literal imagery. A hammer shattering a plate of glass. A lyrical maze of geometric tunnels and formations. A swinging pendulum of words. I even wrote 'watery formulae' poems in ink and took them into the shower and let them run down the drain. I called the whole innovation "VISIC" — visual music. It was to be a primitive sort of virtual reality, incorporating visual representation, language, and musical expression.
I brought these creations to the studio, but YMO obviously thought I was in a stratosphere of my own. Luckily, the President of Alfa Records, Kuni Murai stopped by the studio, saw my eccentricity as a novel addition to the company's catalog, and gave me the green light to record my very own album. Japan was in the middle of a bubble economy, so my audio adventures could clearly be afforded.
AD: You just had lyrics and rough designs. What was the next step?
Chris Mosdell: Fortunately, I was working with the band Imitation, whose multi-instrumentalist main-man, Yu Imai, became my left-hand creative cohort. Additionally, I worked with the architect and 3D graphic designer Koji Suzuki to finalize my initial designs.
I chose ten equations as jumping-off points. The lyrics, visuals, and music referenced a particular equation: pendulum motion, gravity, chemical interaction, mechanical workings, etc. Within the album, the equations are notated, though I have to say there's a very tongue-in-cheek aspect to my liberal take on science. Even my flamboyant outfit, on the album cover, however over-the-top it might seem now, has all the trappings of the equational concept — a princely character from some mystical sphere, oblivious to time. Ha! What was I thinking?
As for the musical composition I drew linear, visual scores. Instrumentation and arrangement were then determined by an interpretation of those initial drawings.
AD: I found it curious how little you sing on Equasian. The backup singers feature far more prominently. How did that come to be?
Chris Mosdell: I'm a lyricist after all, not a vocalist, so I wasn't going to put myself in that driving seat. I did however use my spoken word to experiment with soundscapes. Plus, even in those analogue days, there was plenty of vocal sampling — jungle pygmy yodels, Balinese Kecak dancers, Chinese opera actors, a whole kitchen sink of sound.
There are multiple perspectives to Equasian. The beautiful visuals alone that Koji Suzuki expanded from my cut-and-paste original designs are quite spectacular. They stand on their own as pieces of fine art, I think.
AD: Can you walk me through some of the songs and how they came to be created?
Chris Mosdell: "Arkwork" was inspired by the chemical equation for the surface tension of water. The visual depicts as a plate glass window where the first drops of rain alight upon it. The drops cascade into lyrical rivulets that stream down the pane into a great flood beneath, where words float and sink, and lightning flashes and a dark storm looms.
From this visual and the equivalent linear score, we planned the instrumentation of the song — a marimba imitating rain, an Algerian folksong emulating the waves on the ocean, and stringent guitars reproducing the storm.
"Fury Into Feathers" is an exploration of gravity. It is based on the legendary fall of Icarus into the Icanean Sea. The chorus is a refrain of "Fury unto feathers, Icarus untethered," and as the track trundles on with dark menacing overtones, I pour out a gush of words that literally plummet down into the depths and the sea below. The visuals show a vast arrow of words rushing headlong through the cosmos in a great gravitational hawk-like descent.
"The Glass Language" is perhaps the simplest example of a concrete poem, with a hammer made from an identical word attacking a wall of glass. The lyrics are in the smithereens of glass erupting from that brutal attack. Remember again that this was still the analog age, and, after determining that we should create an actual glass language, we went about breaking about fifty wine glasses with a large hammer in the studio, much to the nightmarish chagrin of the studio management.
AD: How was the album's reception?
Chris Mosdell: I think perhaps the album sold as many as 10,000 copies, but over the years it has taken on a rather cult-like status. Sony rereleased it in 2001 as a CD version.
At the original release, a VISIC gallery exhibition was hosted. The large art pieces were presented as multi-layered laminated displays with a looped-taped Walkman — note the year — beneath each piece. Visitors would put on headphones and delve into the lyrical visuals before them.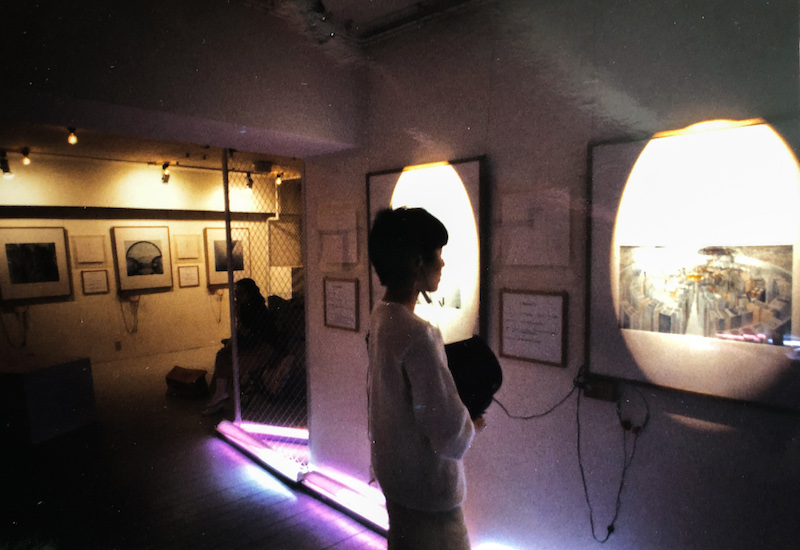 Conclusion: Based on my conversations with Mosdell, he isn't one for a nostalgic glance over his shoulder. He remains intently focused on the present and beyond. Recently he has penned lyrics for numerous anime theme songs, including The Ancient Magus Bride and Spice & Wolf, and lyrics for the experimental electronic musician Coppe, rock guitarist Ris, and Indo-Canadian singer-songwriter Raj Ramayya.
Mosdell's also the scenario writer and performer with the avant-garde ensemble Enzo Watt, based in Kyoto, and has just published, what he regards as his magnum opus, THE RADICALS: A Nation's Ideogrammic Anthems, a vast poetic history of Japan. He was also commissioned to write and perform the poem commemorating the 70th anniversary of the dropping of the atomic bomb at Hiroshima.
If you can find Equasian on vinyl — with its attendant painstakingly constructed artwork — it is well worth the search. | brady walker
For heads, by heads. Aquarium Drunkard is powered by its patrons. Keep the servers humming and help us continue doing it by pledging your support via our Patreon page.