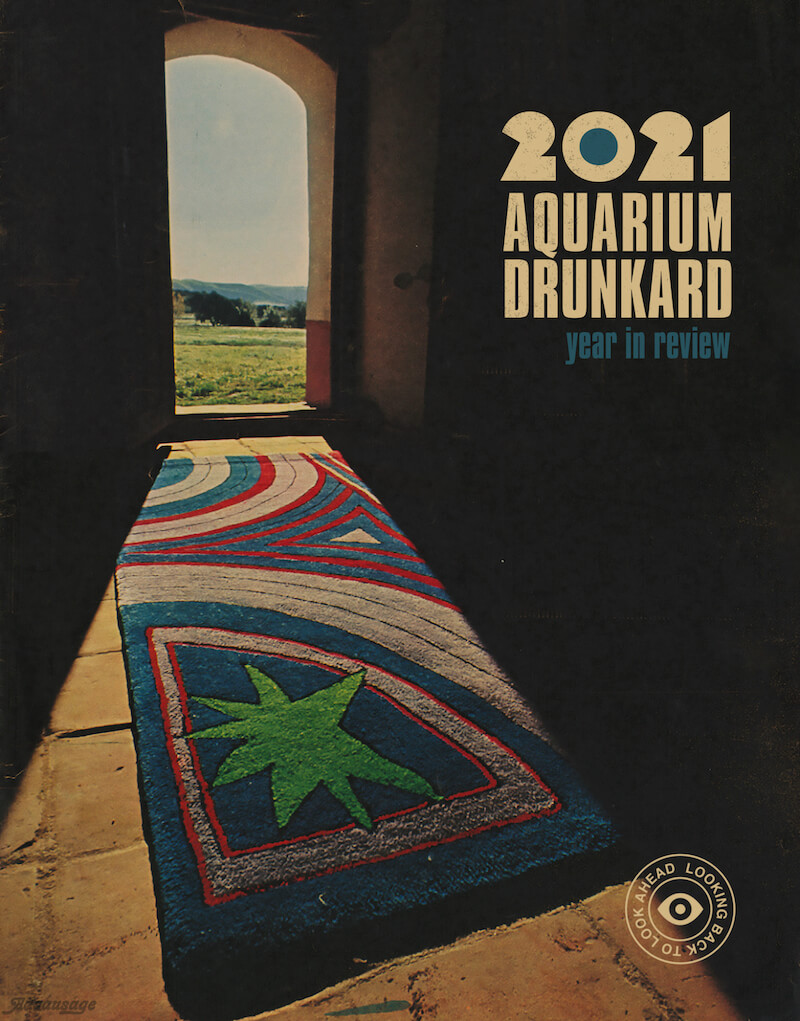 Here it is: our Year In Review 2021. Unranked and sprawling as always. A guide to the music that stuck with us throughout another strange year.
Thanks for riding through with us. As we enter 2022, here's a survey of AD's recurring cultural offerings: Each Wednesday night on Sirius/XMU channel 35, a new episode of Justin Gage's long-running Aquarium Drunkard Show. Every third Sunday of the month, our Radio Free Aquarium Drunkard Dublab feature broadcast. Viewing: Aquarium Drunkard Picture Show; listening: Aquarium Drunkard Transmissions, and the Lagniappe Sessions, featuring artists covering the songs that made them. And to help you keep track of it all, our weekly Sidecar newsletter.
Aquarium Drunkard exists because of the passion of its contributors (learn more about them here) and the support of its generous Patreon community. Much more to come in 2022. Only the good shit.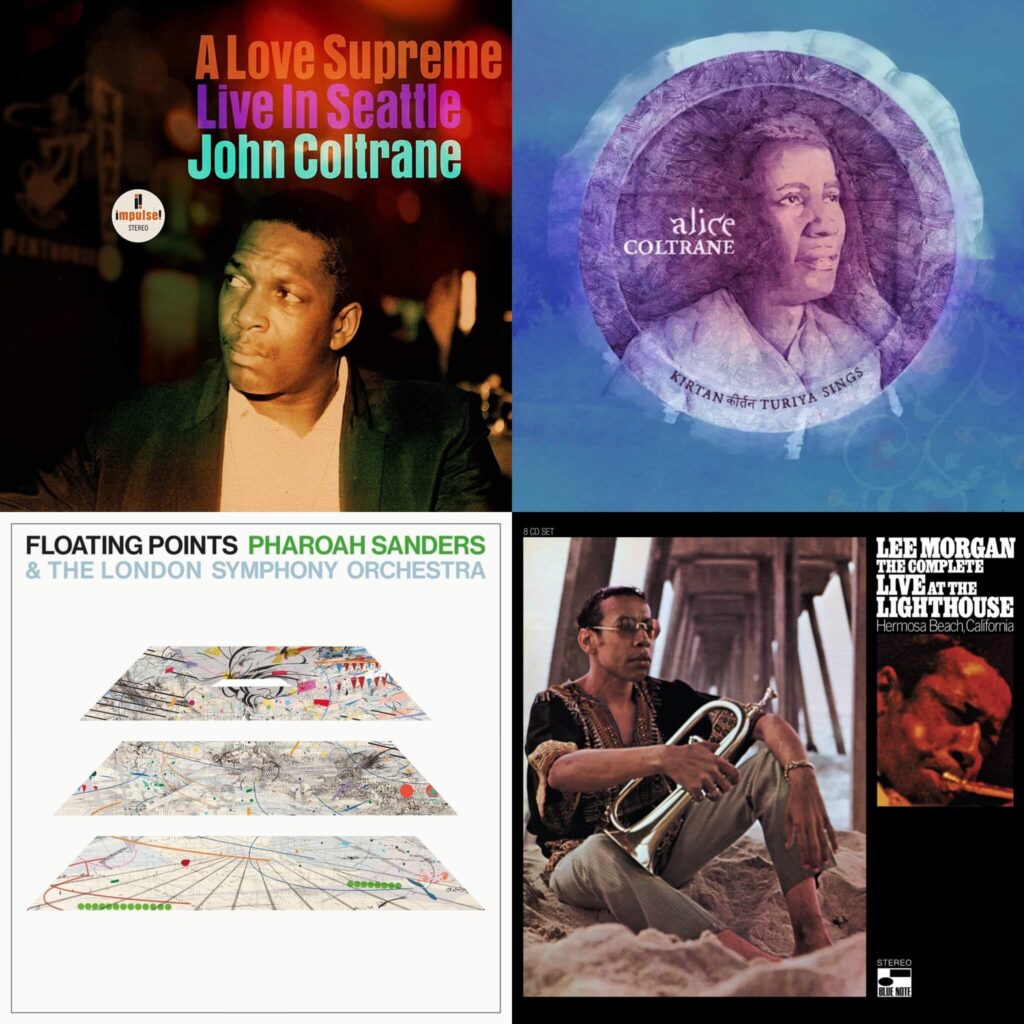 John Coltrane – A Love Supreme: Live in Seattle: When giants walked the earth. Recorded in October of 1965, during the final night of Coltrane's weeklong run at the Penthouse in Seattle, this recently unearthed recording features the Love Supreme players—McCoy Tyner, Elvin Jones, and Jimmy Garrison, plus the additions of Pharoah Sanders, Donald Garrett, and Carlos Ward. The performance offers a 75-minute engagement with the sublime.
Alice Coltrane: Kirtan – Turiya Sings: The original release of Turiya Sings in 1981 marked Alice Coltrane's first recorded vocal performance, as well as her first entirely devotional album. It's without a doubt some of the most spiritually attuned music ever laid to tape. This new edition strips the original album down to its foundation of voice and Wurlitzer. Embodying traditional Hindu chants or "bhajans," Kirtan lays bare the uncanny grace at the spiritual core of Coltrane's music.
Floating Points & Pharoah Sanders – Promises: An ambitious work of complex and nuanced proportions, Promises delivers on its epic conception. Spread out across nine movements which add up to a 46-minute journey, legendary jazz saxophonist pioneer Pharoah Sanders (now 81 years old) joins British IDM producer Floating Points and the 29-member London Symphony Orchestra for a supremely patient set.
Lee Morgan – Complete Live at The Lighthouse: Seven-and-a-half hours of music in total, The Complete Live At The Lighthouse is an immersive affair, exhaustive in the best way. Recorded in the summer of 1970, the set gives listeners front-row seats for these razor-sharp gigs, allowing us to revel in Lee Morgan's boundless (and still developing) creativity. The trumpeter's days would soon be cut short, but this music is bursting with life.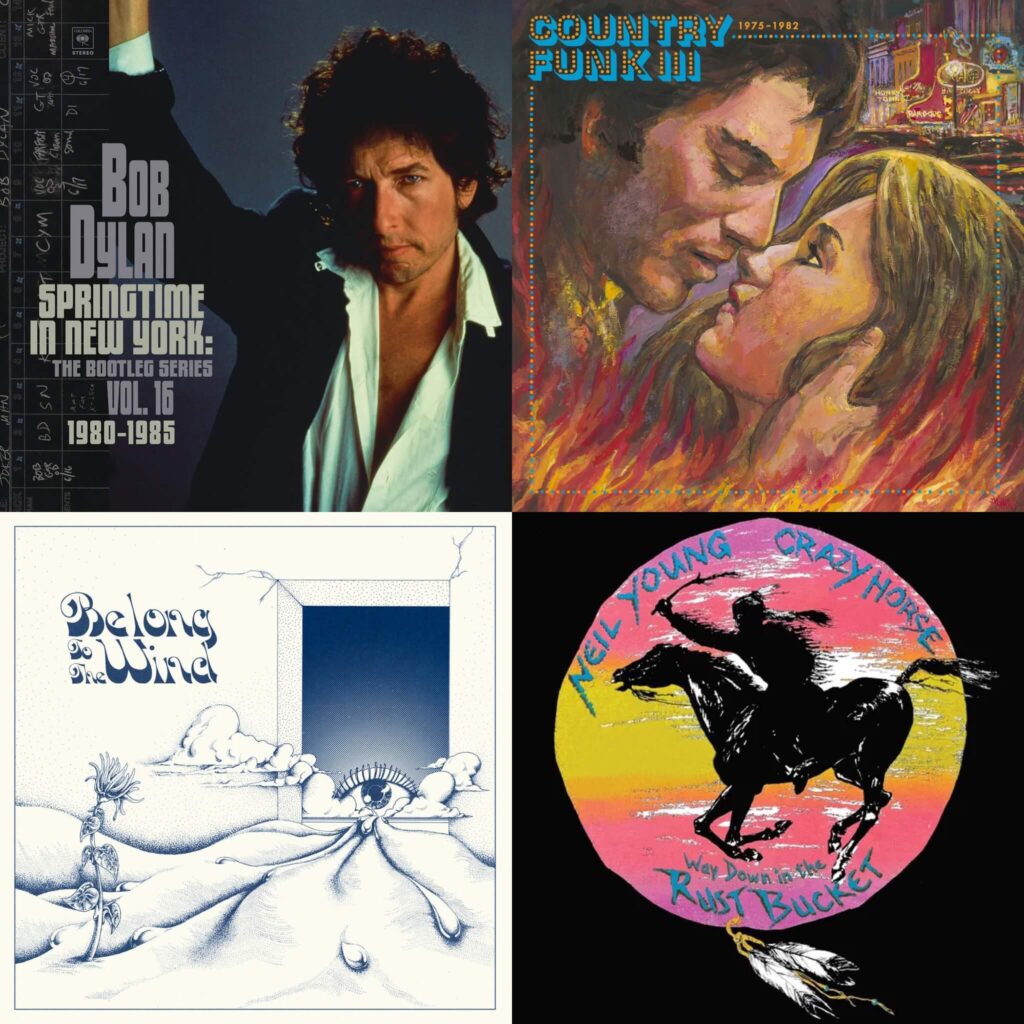 Bob Dylan – Springtime In New York: The 16th volume of Dylan's Bootleg Series may not be as deep a dive as some fanatics had hoped, it's still fantastic, with revelations and pleasures galore from the man's early-to mid-'80s period. Regardless of how you feel about the production or mix choices, at this stage, the original albums from this era are part of the rich tapestry that is the ongoing Dylan saga. Accept them! Love them for all their weird flaws. What Springtime gives us is a chance to explore this time in Bob's life further, to watch it all come together and occasionally fall apart.
Country Funk Volume 3 1975-1982: The horse still bucks, the band still funks. Spanning 1975-1982, this third volume of Light In The Attic's storied Country Funk series embraces the genre's steady evolution as Wranglers made way for rhinestones and pedal steel gave way to disco rhythms, synths, and clavinets. You can bet your saddle on it.
V/A – Belong To The Wind: This 10 track set compiles psychedelic tinged folk and soul culled from American 45s from the '70s. It's a languid ride highlighting a grip of underknown artists at work, ranging from homegrown recordings to full studio treatments. The throughline of the eclectic set is an undercurrent of haunting solitude, consternation, longing, and love. Catch it on the breeze.
Neil Young & Crazy Horse – Way Down In The Rust Bucket: This year, Uncle Neil gifted us with music both new (the just-released Barn) and old (two early 1970s solo sets). Best of all is this unreal 1990 show with Crazy Horse, recorded in the lead-up to the eardrum shattering Weld tour. There's stiff competition, of course, but Rust Bucket may well be the greatest Crazy Horse release of all, with the band fuckin' up and riding high, driving Neil to lofty heights throughout its almost 2.5 hour runtime.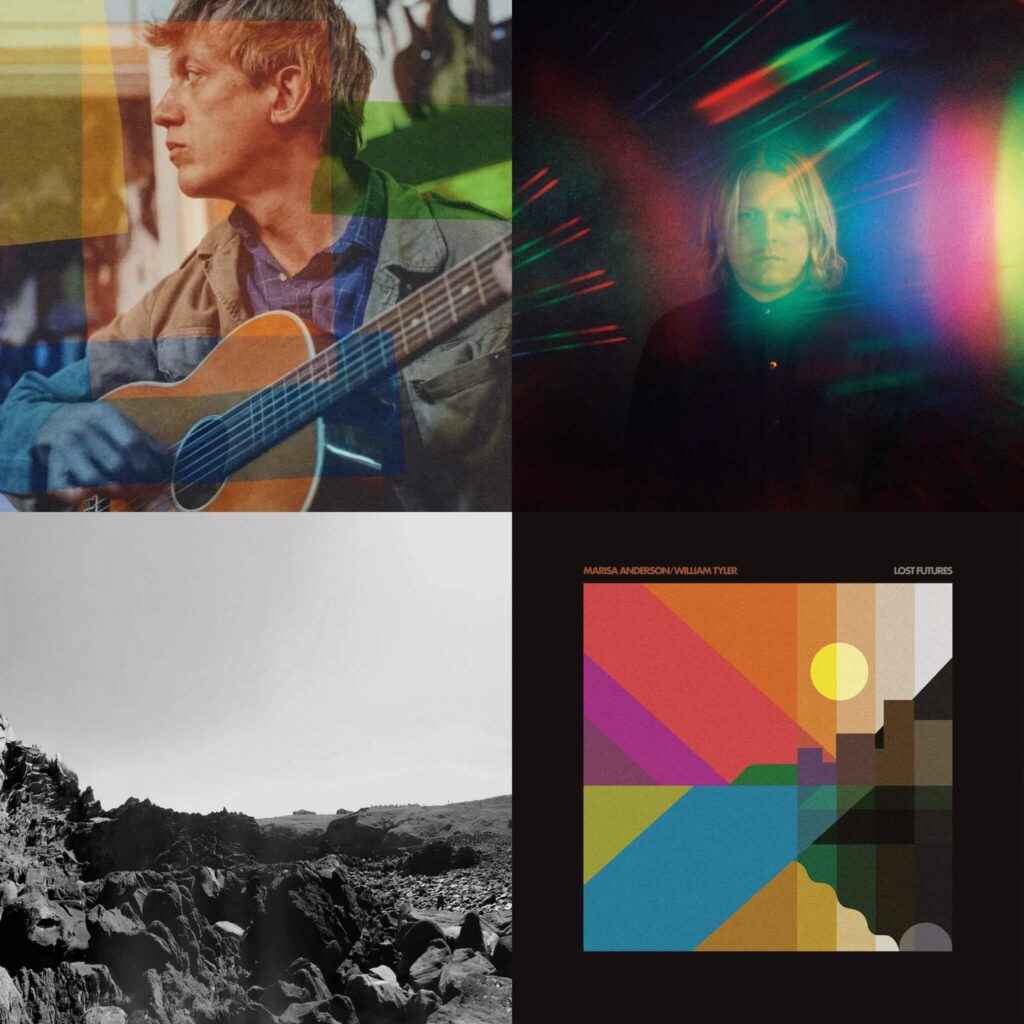 Steve Gunn – Other You: Since it was recorded in California, it's tempting to call Other You Steve Gunn's most sun-kissed effort yet. And to be sure, the record features some of the singer-songwriter's sweetest melodies, his warmest vocals, and most inviting arrangements. "A good wind is coming around the bend," Gunn promises—and even in these weird, uncertain times, you believe him.
Ty Segall – Harmonizer: A record about the self-revelations that comes when you finally manage to surround yourself with sympathetic minds, Harmonizer is an absolute triumph in a catalogue already full of them. Whether it's the strutting, piercing guitars of the title track, the cold-but-in-love vocal contributions of Denée Segall on "Feel Good," or the throbbing journey to the center of a blank mind in "Erased," Harmonizer is a fascinating victory by an artist clearly only beginning to touch on what's possible more than a decade in.
Six Organs of Admittance – The Veiled Sea: Ben Chasny goes all over the place with The Veiled Sea, building clattering, chittering noise concoctions in "Local Clocks," floating glittery Jon Hopkins-ish electronic auras in "Somewhere in the Hexagon" and sustaining long, soul-stirring drones in the organ-bound "Last Station, Veiled Sea." Did you ever think Chasny had a no-wave disco stomp in him? Well, he does. It's called "All They Left of You" and it's a ripper.
Marisa Anderson & William Tyler – Lost Futures: The creative, dueling interplay of Marisa Anderson and William Tyler is bold and atmospheric, conjuring the rich patina of a soundtrack for a movie yet to be filmed. The futures suggested by the duo's mind-meld may be lost, but they still echo with resonate possibilities.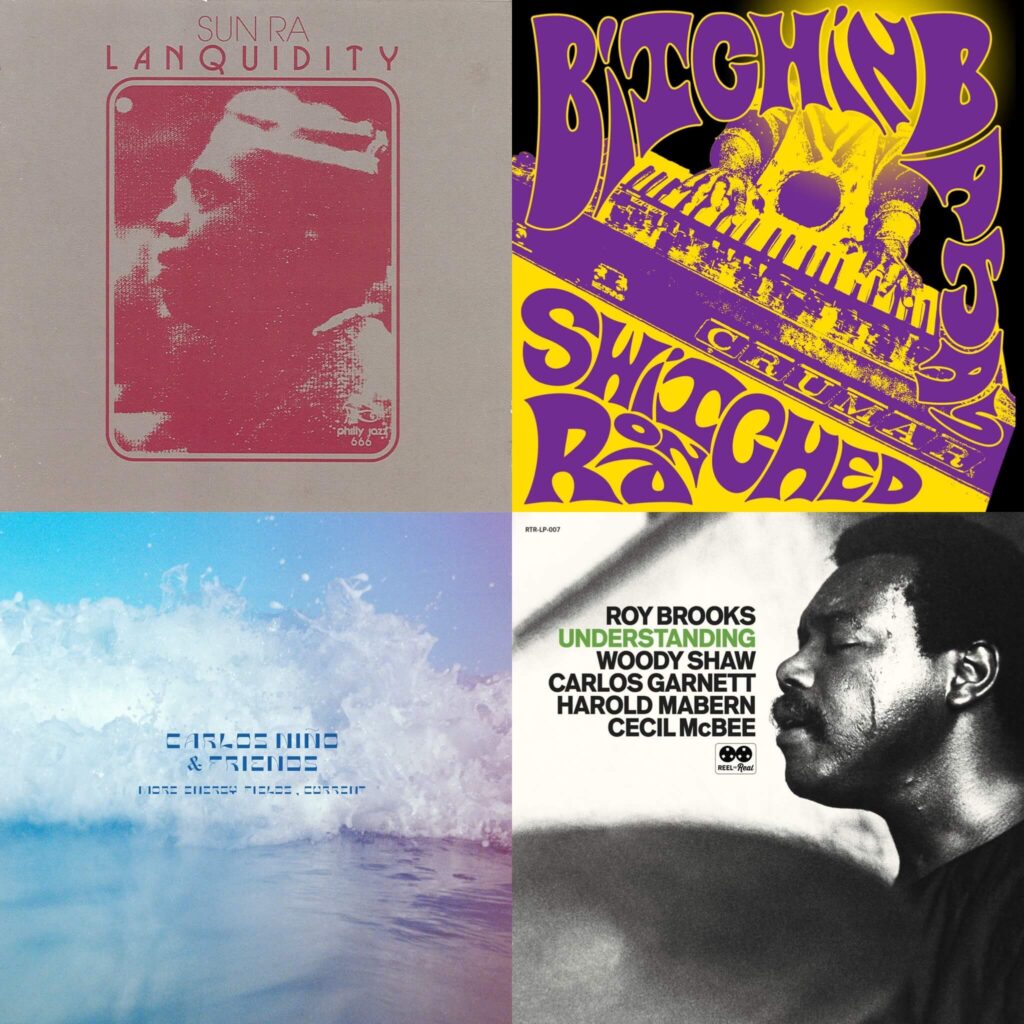 Sun Ra – Lanquidity: Definitive Edition: With a discography as sprawling and diverse as Sun Ra's, it's a fool's errand to rank the master's works. But Lanquidity from 1978 has got to be placed in the upper echelon. It nods in the direction of funk and fusion (maybe even flirts with disco a bit), but it's pure Ra at heart. In this "definitive edition," we get a glorious remaster, plus an entire alternate mix of the LP. The spaceways beckon.
Bitchin Bajas – Switched On Ra: At various points throughout Switched, Cooper Crain, Rob Frye, and Daniel Quinlivan locate the ecstasy, playfulness, and mystery lurking in every Ra tune, with interlocking rhythms, Saturnian melodies, and exotic overtones floating through the mix. "The music is a journey, the journey is endless," Ra once wrote, and here, the Bajas prove themselves to be more than ready for the trip.
Carlos Niño & Friends – More Energy Fields, Current: When label International Anthem proclaimed More Energy Fields, Current a definitive new peak in the continuum of Carlos Niño's recorded work, it proved to be no exaggeration. With an exhausting list of contributions, Niño's collaborators here include exemplary musicians like Sam Gendel, Jamael Dean, Nate Mecereau, Laraaji, and a host of others. A spiritual, aquatic ambiance flows through this fulfilling, 44-minute experience.
Roy Brooks – Understanding: 2021 was a banner year for archival jazz albums. John Coltrane, Alice Coltrane and Don Cherry, to name just a few, released stellar, previously unreleased albums. As good as they are, those albums merely cement, rather than add to, those musicians' importance. On the other hand, Understanding, Roy Brooks' intense, previously unreleased live 1970 album, showcases the lesser known Brooks in top form. Understanding is not just another notch in Brooks' discography; it's among his very best work and will demand attention for years to come.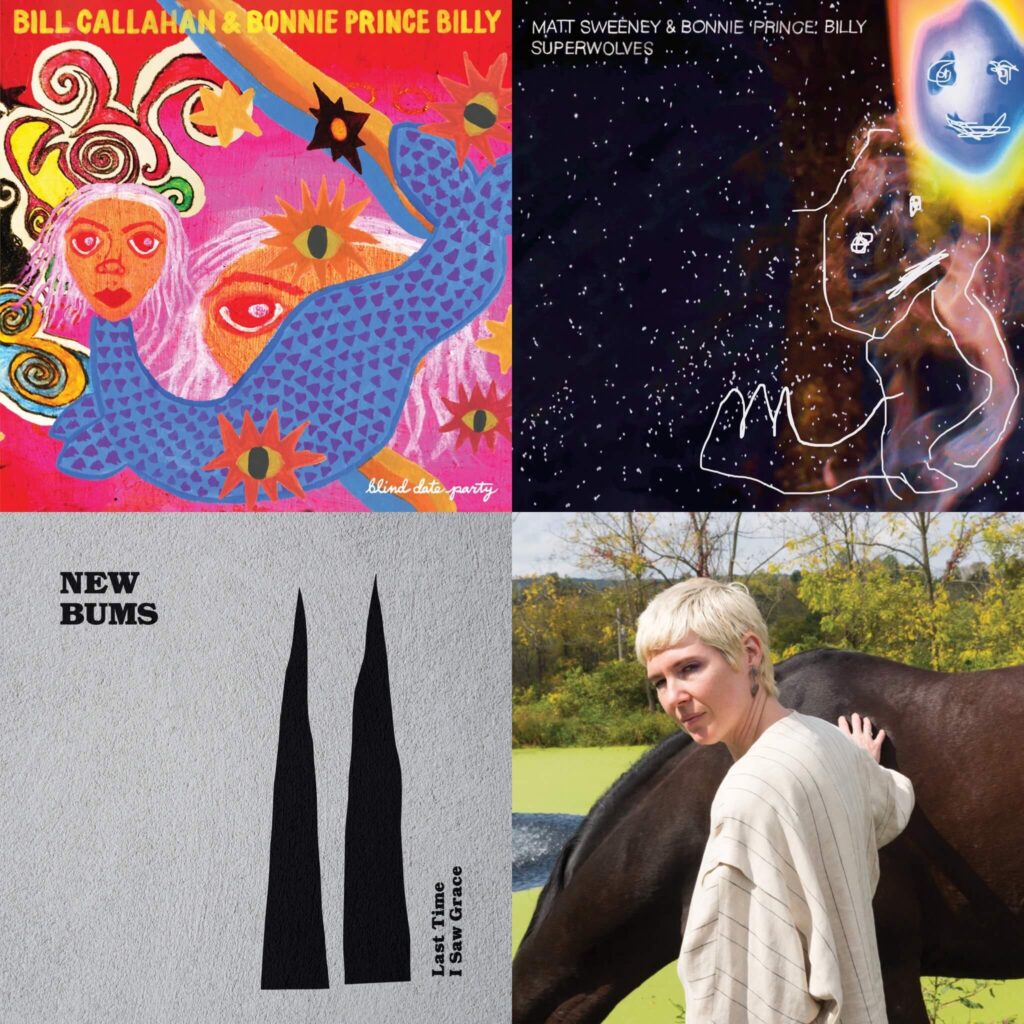 Bill Callahan / Bonnie Prince Billy – Blind Date Party: Well we can thank the pandemic for one thing at least: it finally brought about a collaboration between two of the "Monsieurs of Drag City." With help from a murderer's row of label mates, the pair (virtually) cranked out nearly twenty covers (some faithful, some radical), week after week. From their swaggering take (featuring Ty Segall) on Johnny Frierson's transcendent "Miracles" to the utter catharsis of a singalong version of "The Wild Kindness" (featuring Cassie Berman, among others), Blind Date Party is a generous document of searching for connection and collaboration amongst the pandemic's early and awkward beginnings.
Bonnie "Prince" Billy & Matt Sweeney – Superwolves: The wolves are back in town. Finally following up their one-off 2005 magnum opus, Will Oldham and Matt Sweeney have delivered one hell of a spiritual successor. Utterly captivating and reflexive songwriting (even introducing Mdou Moctar to the fold is pulled off with aplomb), insane guitar playing and tones, and a sensitive cast of backing players. And oh how sweet it is to hear Matt Sweeney's backing vocals again.
New Bums – The Last Time I Saw Grace: Ben Chasny and Donovan Quinn's irregular collaboration—the last one was seven years ago—meanders subversively through territories that sound, on the surface, to be sleepily familiar: folky, reassuring tunes hedged in by acoustic strumming. Prod them a little, though, and these songs give up Dylan-esque wordplay, sardonic narrative twists, gorgeous guitar reveries and some downright searing solos. There's low-key magic under the haze.
Rosali – No Medium: On her finest work yet, Rosali sheds many a demon with members of the David Nance Group soaring behind her. Across vast oceans of ragged and scorched guitar, country-rock jams, and lilting piano ballads, she comes to terms with, and leaves behind, past selves—being born anew amongst the embers and the grace of embracing reality on your own terms.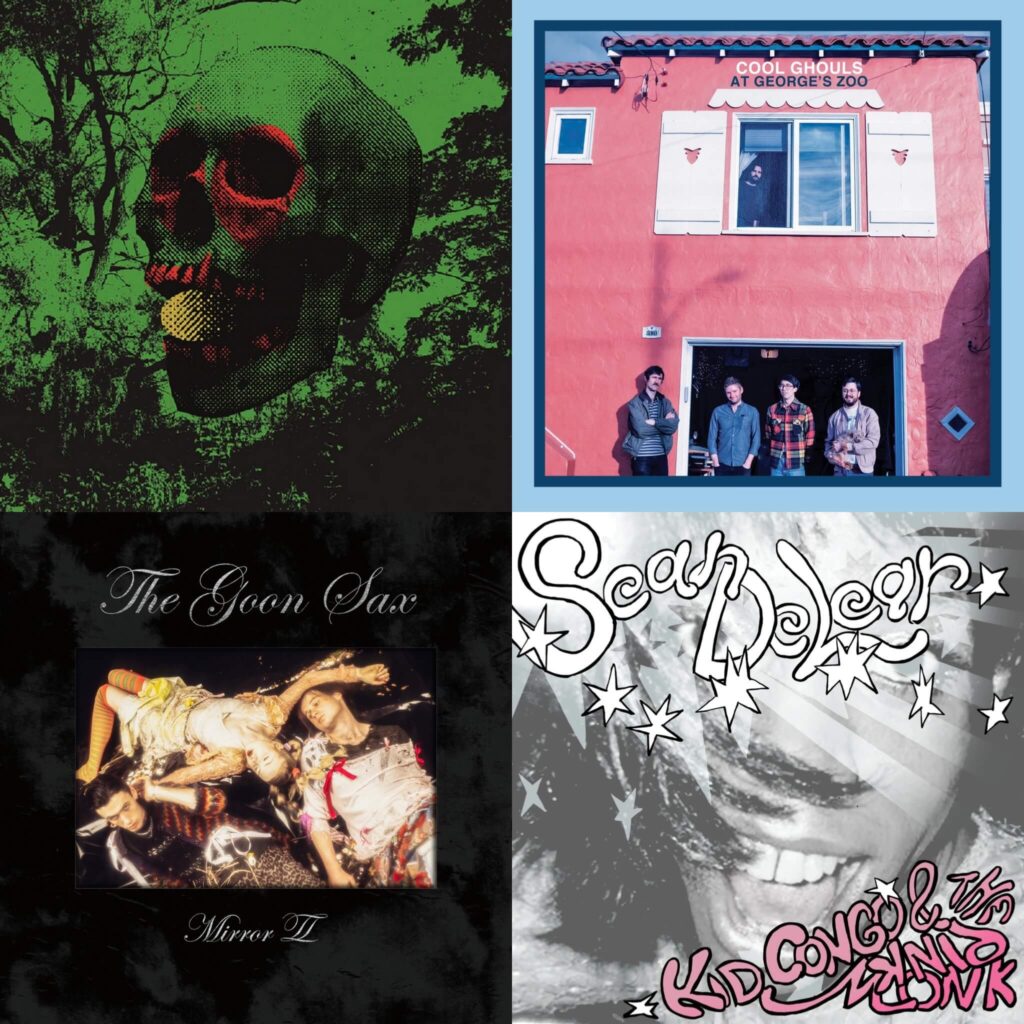 John Dwyer – Witch Egg: The skronk is alive! Busy man John Dwyer doesn't slow down. In addition to Thee Oh Sees, Dwyer erects cracked, synth-heavy jams under his Damaged Bug moniker, mans the Castle Face label, and has been increasingly delving into jazz, free and otherwise, via multiple ad-hoc collaborations. Witch Egg continues to mine the krautrock, minimalist jazz, prog and fusion set forth on 2020's Bent Arcana lp, revving up and zoning into the unknown.
Cool Ghouls – At George's Zoo: On their latest, San Francisco garage rockers Cool Ghouls retain their straight ahead charm, but horn sections and nods to the '50s earworm "Shimmy Shimmy, Ko-Ko-Bop" offer varied textures. The clever songwriting comes off decisively fun and casual, but with a more polished ethos, with gems like "To You I'm Bound" sounding like a suddenly unearthed NRBQ gem.
The Goon Sax – Mirror II: Mirror II is a significant step up for this young Brisbane trio. For the first time, all three band members wrote songs for the album, Louis Forster (Go-Between Robert Forster's son) kicking in some grand romantic synth pop statements, James Harrison contributing fey Syd Barrett-esque whimsies, and Riley Jones bringing the noise and dissonance to large-scale dance anthems. Everything's bigger, brighter and more purposeful than in 2018's We're Not Talking, the sign of a band growing into its potential.
Kid Congo Powers & The Pink Monkeybirds – Swing From The Sean DeLear EP: Best known for his work with The Cramps, Nick Cave and the Bad Seeds, and The Gun Club, Kid Congo Powers strides forward with psychedelic soul grace on his latest EP. There are rock & roll groovers here, but the centerpiece is the 14-minute "He Walked In," a phantasmagorical dreamscape of flute, meditative bass, and Beefheartian recitation about an otherworldly visit from a long gone friend. It builds to a sudden break, then, a shuffling and joyful dance with the dead.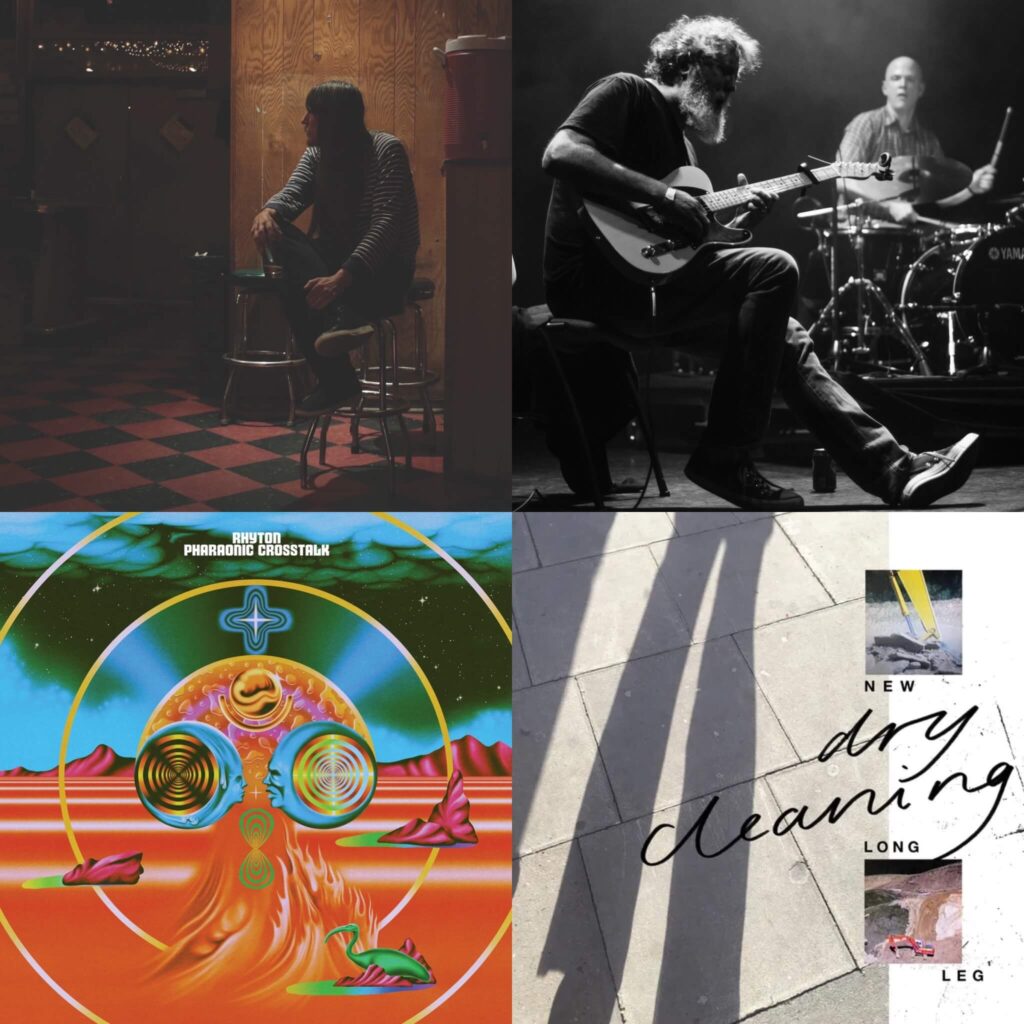 Endless Boogie – Admonitions: "Full condor!" Paul Major proclaims at the outset of Endless Boogie's latest slab. And then he and his band proceed to spread their collective wings over the course of four sides of vinyl. Throughout, EB finds the common thread between Canned Heat, Beefheart, "Sweet Sister Ray," ZZ Top, and The Stooges. Admonitions is an ode to the joys of crunchy riffs and mind-expanding minimalism. Let it ride.
Bill Orcutt & Chris Corsano – Made of Sound: Remote improv! Guitarist Bill Orcutt and drummer Chris Corsano weren't physically together when building their latest slab of freak out blues, deconstructed rock, and electric noise, but that doesn't dampen the interplay. The songs here rise and fall, the players tapped all the way in across vast distances of time and space.
Rhyton – Pharaonic Crosstalk: Deep-fried psychedelic boogie from this long-running free rock collective. Try to imagine Miles' Dark Magus-era band meeting up with the Dead on Shakedown Street for some kind of dance-off and you're halfway there. Take Byron Coley's word for it: Pharaonic Crosstalk is "a heady goddamn brew." Utterly Rhyteous.
Dry Cleaning – New Long Leg: The first full-length from London's Dry Cleaning dares you to figure out which part of the album to focus on: the post-punk intricacies of the music, or the fascinating spoken-word vocals? Do you let guitarist Tom Dowse's riffs worm into your brain, or do you sit and wonder what exactly Florence Shaw means when she repeats the phrases "high fever/hair remover" a few times in "Unsmart Lady?" Best to take it all in as one whole and do the sorting later.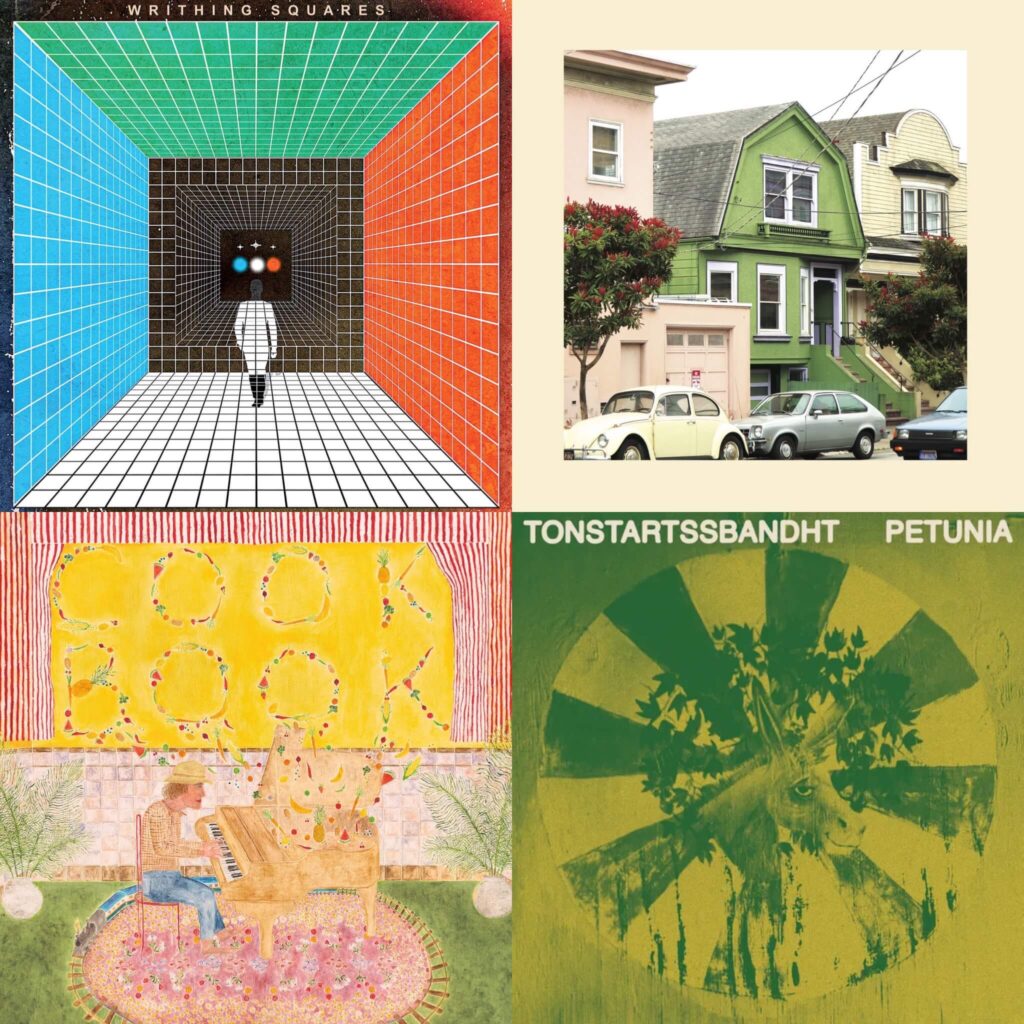 Writhing Squares – Chart for the Solution: Employing bass, horns, and drum machine to intergalactic effect, a sprawling 70-minute affair with patch-working motorik rhythms, ambient synth trances, post-punk dub, and psychedelic shredders—Writhing Squares' unapologetic cacophony is a true testament to the shrieking discord of our present. Belligerent, beguiled, and bewildered.
Reds, Pinks and Purples – Uncommon Weather: Glenn Donaldson's bittersweet jangle echoes the lo-fi glories of early 1990s New Zealand, where sinewy guitars grew thick coats of fuzz and mournful melodies arc out of inchoate buzz. His third as Red, Pinks and Purples was not all wistful yearning, though—it included a sardonic jab at fairweather fans: "But did you even buy the records?" We did.
John Andrews & The Yawns – Cookbook: A heavy dose of California chill beams out from New Hampshire's John Andrews on Cookbook, an airy collection of laid-back country rock, gentle AM ballads, and breezy cantina instrumentals filled out with more than a dose of Guaraldi-style jazz. It's a cozy affair, emitting a close-knit, homespun warmth.
Tonstartssbandht – Petunia: Petunia is the most song centric-effort yet from Orlando brothers Andy and Edwin White. Like a space-age Everly Brothers, they mix skiffle-beat lovesick blues with gently astral-laden pop, but turn more direct and outwardly vulnerable than ever before at times—employing grungier sounds and radiating gothic and mournful atmospheres—an unexpected, weird, and welcome turn for this bullet train duo.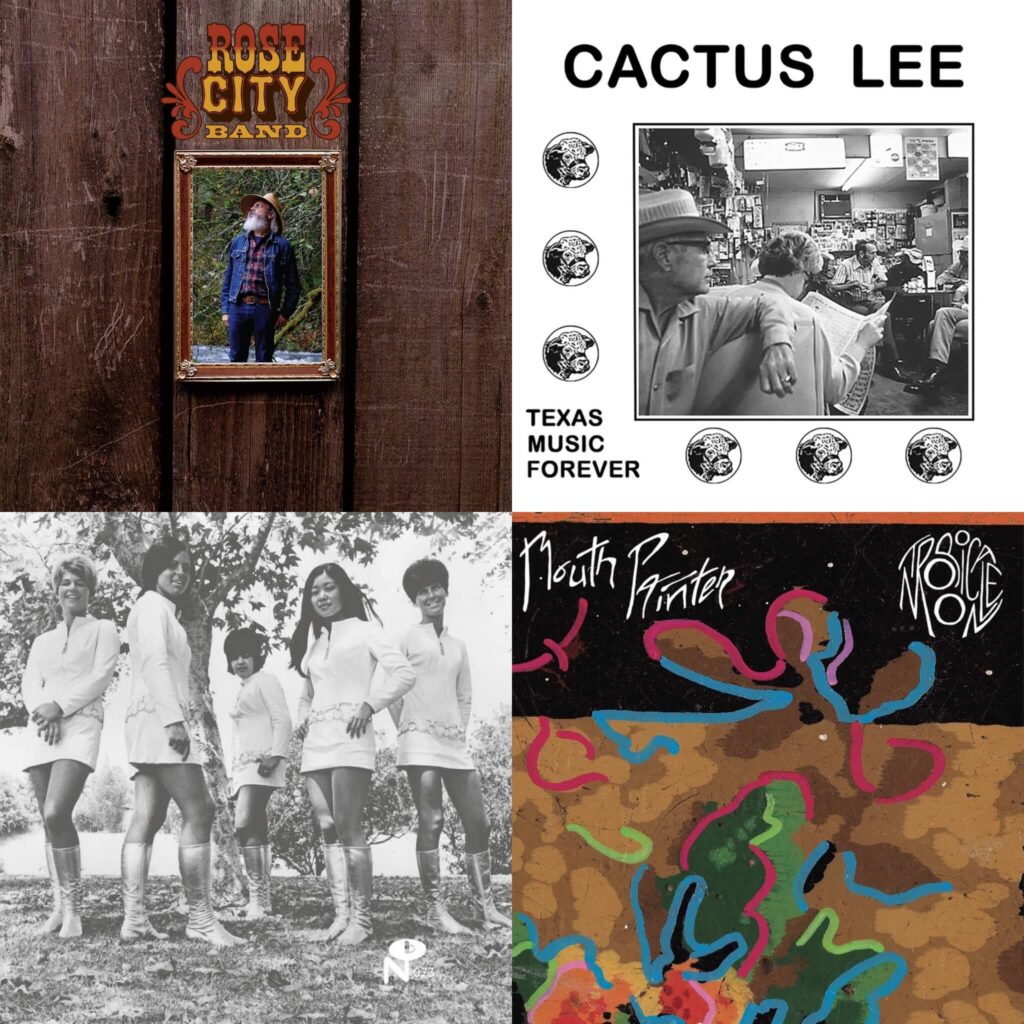 Rose City Band – Earth Trip: Ripley Johnson's laid back country band spins out soft daydreams in pedal steel and harmonica, not a kraut-rocking beat in sight on this third Rose City Band album. Made during the pandemic, Earth Trip recounts how Johnson got word that it was time to hunker down in "Silver Roses," a haunting meditation on travel and home. But though the album documents a time of anxiety, you can find much needed serenity in slow country waltzes like "Feel of Love," and twanging rambles like "Lonely Places."
Cactus Lee – Texas Music Forever / Live at the Dry Creek Café: Cactus Lee—the project of Austin-based songwriter Kevin Dehan and his ever-revolving cast of able hands—has been busy right out the gate, releasing their first four full-lengths and a live album all in the span of two years. This year saw Texas Music Forever, the latest studio album of Dehan's luminous, lo-fi country folk and prosaic storytelling, followed by a live album in tribute to the band's beloved Austin haunt, and something a bit rowdier—soaked in pedal steel and Lone Stars.
Female Species – Tale of My Lost Love: With the release of Tale of My Lost Love, the story of Female Species—sisters Vicki and Ronni Gossett—moved out of Numero Group's cabinet of curios and into the full retrospective treatment. The Gossetts sound shifted through the decades, first from girl group to garage rock, then to psychedelic pop and lounge, and finally to glossy Nashville pop sheen absolutely soaring on "Till the Moon Don't Shine."
Mouth Painter – Tropicale Moon: Flanked by hazy vocals, flute, and pedal steel guitar, Tropicale Moon is an exponentially rewarding experiment of cosmic-infused Americana. A dusty, original whirlwind of a ride that doesn't sound like anything else in this kind of sphere.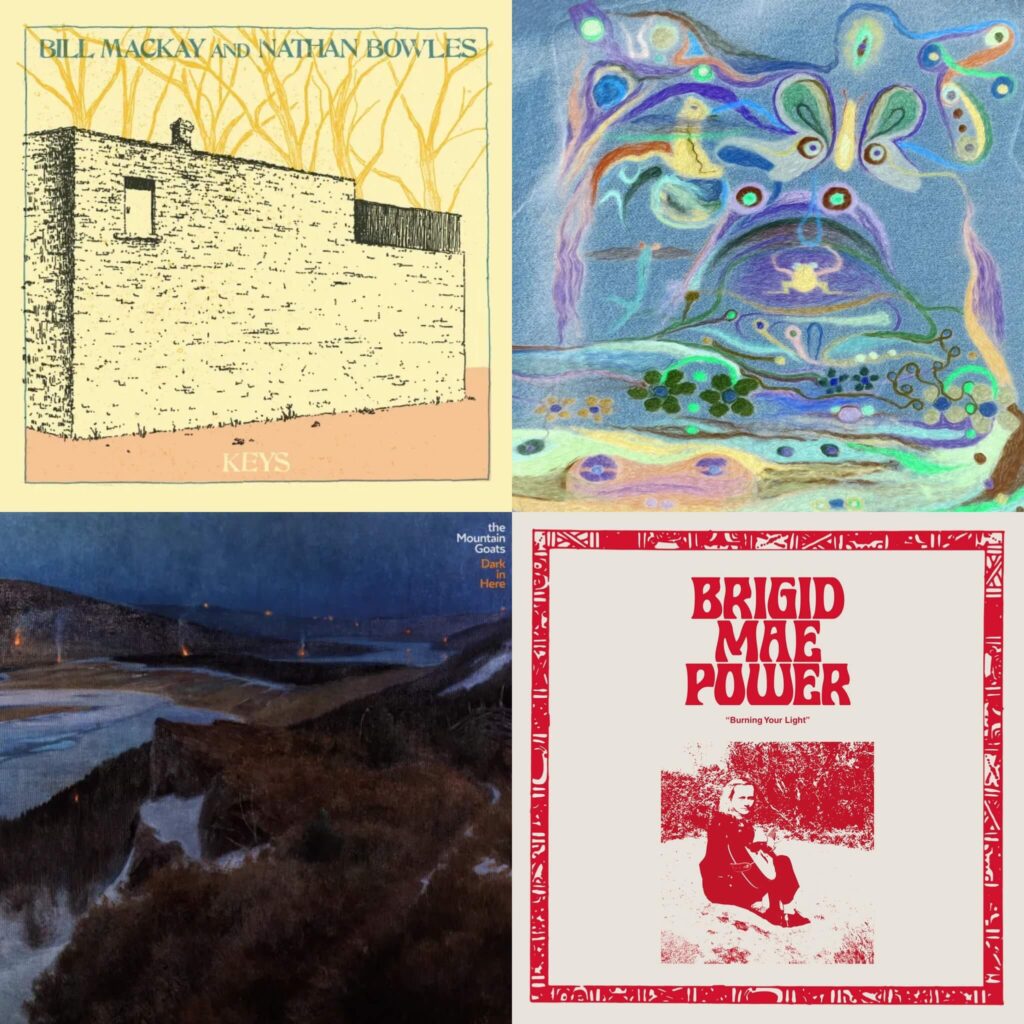 Bill MacKay & Nathan Bowles – Keys: MacKay and Bowles are a natural combination, the former an ace finger-picker with connections in Chicago's vibrant experimental scene, the latter, one of acid-folk's go-to banjo players and a collaborator with Black Twig Pickers. Remarkably, they've never recorded together before, but they find a quiet concord in old-time-y rags, buoyant sing-alongs, and pensive improvisations, acknowledging tradition without being bound to it.
Sarah Louise – Earth Bow: Multi-instrumentalist avant-folk visionary Sarah Louise continues to evolve in weird and wonderful ways. Earth Bow is perhaps her most assured and clear-eyed statement yet, finding a genre-less space in which to celebrate and revel in pure sound and unchained imagination. She's an absolute original—who knows where she'll take us next?
The Mountain Goats – Dark in Here: The Mountain Goats recorded Dark in Here at FAME Studios in Muscle Shoals, Alabama, brushing past the ghosts of Wilson Pickett and Aretha Franklin to lay down cuts about hubris, faith, and environmental apocalypse. The songs, embellished by lifers like Spooner Oldham and Will McFarlane, have a depth and soulfulness that plays surprisingly well against Darnielle's blue-state angst. The result is typically hyperliterate and nervy, but rich with historical reference.
Brigid Mae Power – Burning Your Light: On this covers EP, Brigid Mae Power starkly and confidently tackles the work of Townes Van Zandt, Jason Molina, Aretha Franklin, Patsy Cline, and Bob Dylan, as well as a traditional Irish ballad—transmuting the pieces through the subtle flourishes of her vocal and instrumental idiosyncrasies. Her despairingly gothic but soulful rendition of Aretha Franklin's "It Ain't Fair" is masterful, and illuminates the artist in a brightly unique and hair-raising fashion.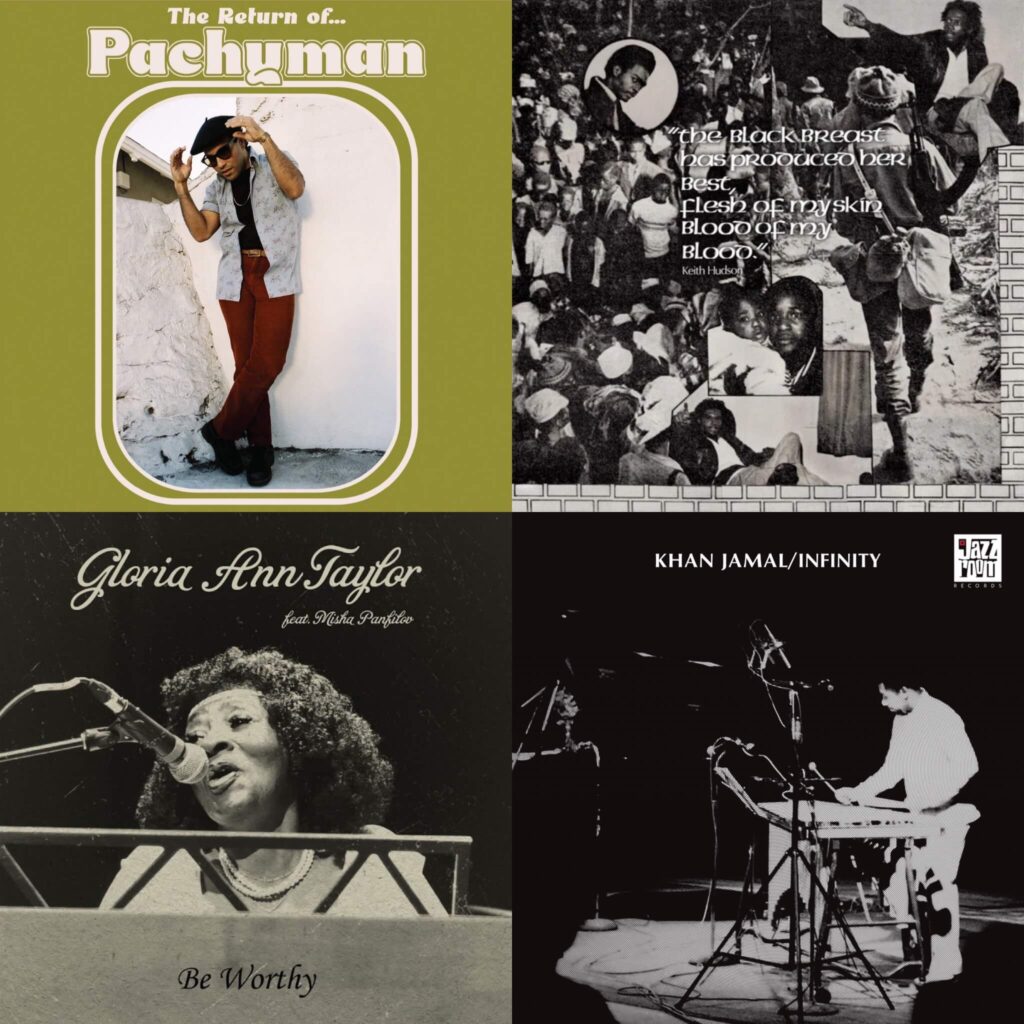 Pachyman – The Return of…: Pachyman, the one-man dub reggae project of Pachy Garcia, is not to be slept on. Born in San Juan, PR, and now residing in Los Angeles, Garcia's latest long-player is laced with the good shit. At a dozen tracks, it's a roots ride of originals, all with knowing nods to the genre's greatest innovators. Respect.
Keith Hudson – The Black Breast Has Produced Her Best, Flesh of My Skin Blood of My Blood: A swirling, murky masterpiece of searching and redemption and the greatest testament to Hudson's reputation as dub's holy ghost, the "dark prince of reggae." As dread as they come, and deep as anything coming out of the Black Ark or King Tubby's studio.
Gloria Ann Taylor & Misha Panfilov Sound Combo – Be Worthy: A posthumous release of three songs, recorded in 2016, where Gloria Ann Taylor returned to the studio in spirited fashion, collaborating with the Estonia's Misha Panfilov Sound Combo for a righteous concord blending Taylor's latter day voice and the ensemble's earthy and organic jazz.
Khan Jamal – Infinity: Shimmering, spiritual loveliness from Philadelphia vibraphonist Khan Jamal, originally self-released in 1984. With heavy hitters like drummer Sunny Murray and alto saxophonist Byard Lancaster behind him, Jamal rides wave after wave of perfect sound into infinity. And hey — jazz harmonica? Here, Clifton Burton makes the case for it.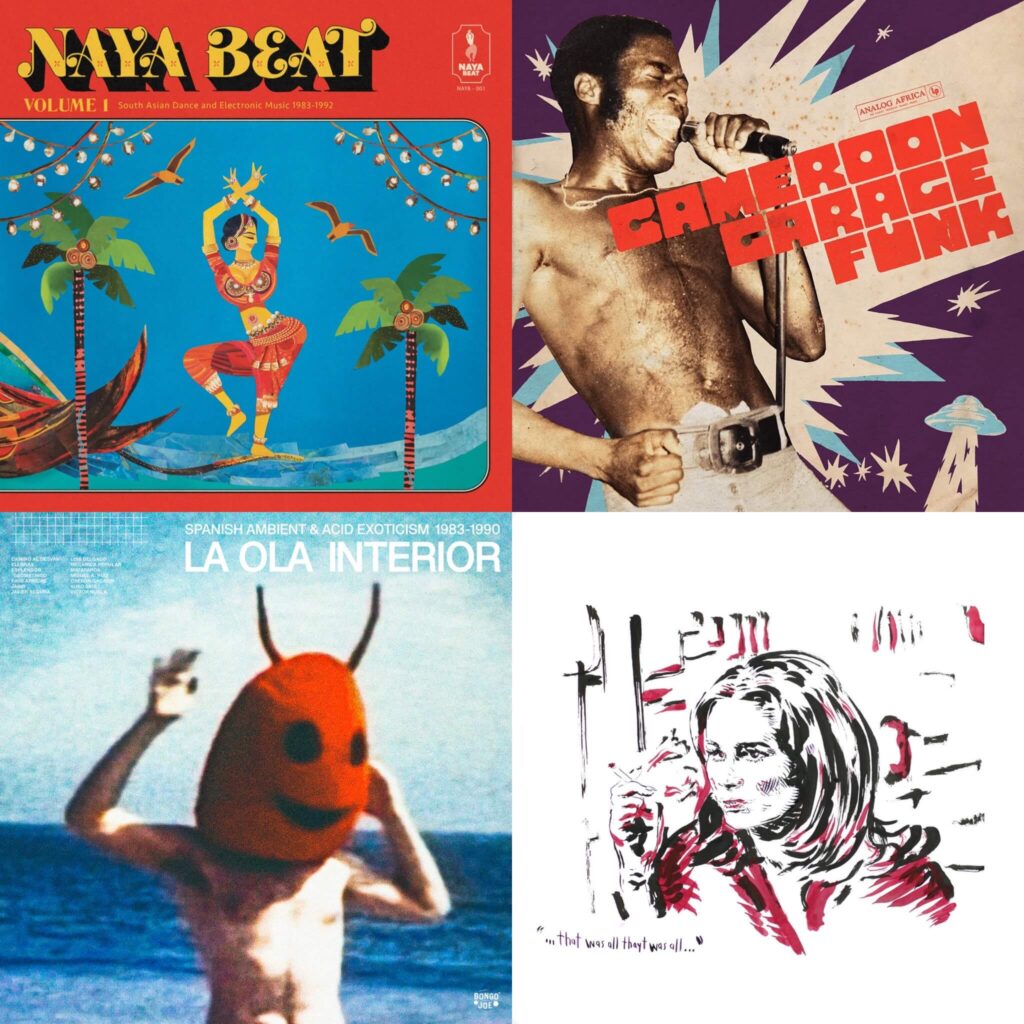 Naya Beat Volume 1: South Asian Dance and Electronic Music 1983-1992: The Los Angeles based Naya Beat Records is a reissue and rework label dedicated to uncovering forgotten electronic and dance music from the overlooked '80s and '90s South Asian music scene. Its first release, Naya Beat Volume 1, features future classics from India, Pakistan, the U.K., Canada, Guyana and Suriname, released between 1983 and 1992.
Cameroon Garage Funk: A survey of the Yaoundé music scene in the '70s, Analog Africa's compilation of mysterious and varied recordings from a well-equipped church in the bustling Cameroon capital features scorching fuzz, pounding percussion, and swinging horns. The various artists, most of whom never returned or were heard from again after recording their tracks, laid down delicious slices of highlife jazz, combustible psychedelic rock, raw funk excursions, and garage-inflected rhythms.
La Ola Interior (Spanish Ambient & Acid Exoticism 1983-1990): Strange, hypnotic signals call out like the gleam from a lighthouse on this collection of postmodern celestial hymns. Finis Africae's "Hybla" is a smoky tribal chant of minimalist, earthy experimentation, while Miguel A. Ruiz's "Trivandrum" gives way to a submerged industrial trance with a warbling, underlying sense of foreboding. Another key artist on the comp, Víctor Nubla, presents haunted waltzes—something like baroque chamber pieces sprinkled with subterranean fairy dust.
Karen Black – Dreaming Of You (1971-76): A striking and perennial face in the landscape of the 1970s American New Wave film movement, Dreaming Of You gathers together the intimate recordings Karen Black made alongside her acting career during that combustible time. Co-produced and compiled by her friend Cass McCombs, the studio and demo recordings showcase an immense talent bursting with confessional creativity. A fleeting glimpse of what could have been.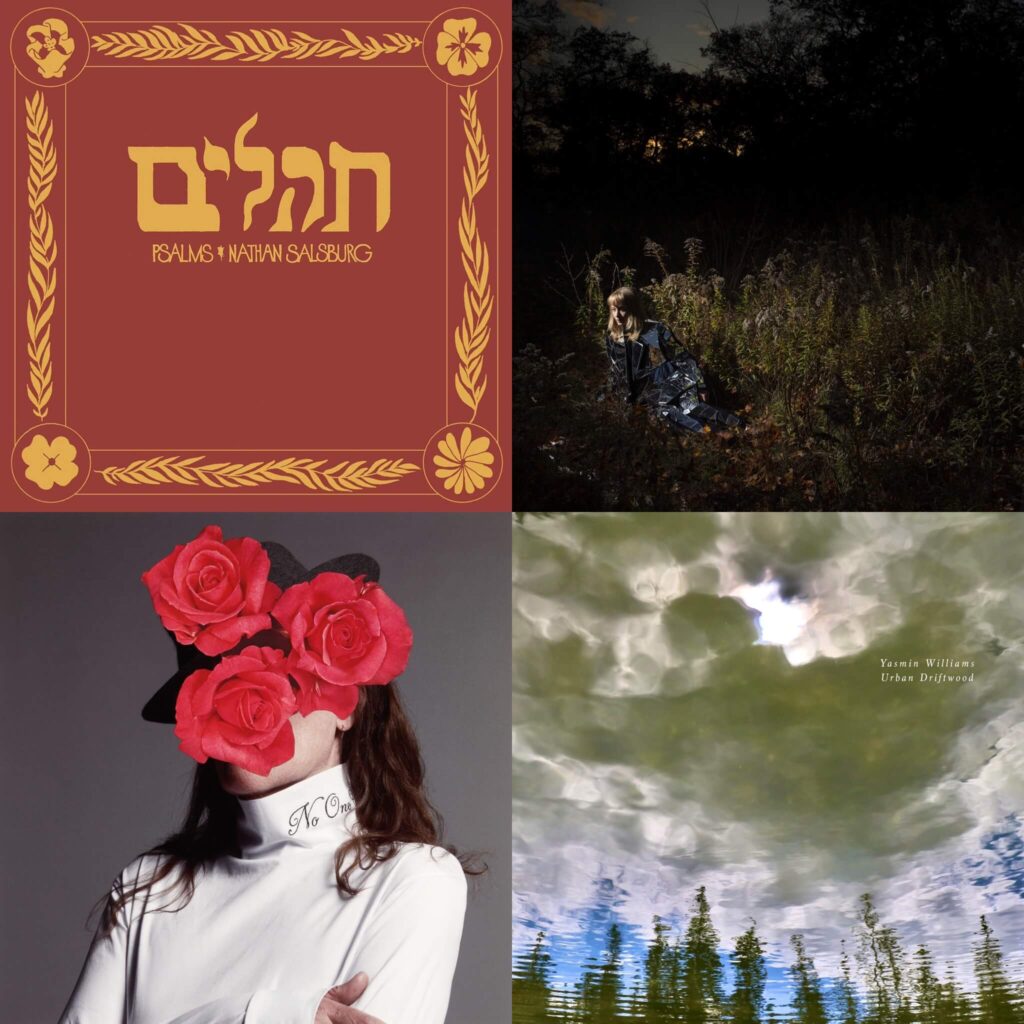 Nathan Salsburg – Psalms: Previously best known for his primarily instrumental guitar LPs (as well as his work with singer-songwriter Joan Shelley), Nathan Salsburg steps up to the mic for his latest, a spellbinding collection of Hebrew psalms. With elegant arrangements, warm vocals, and yes, plenty of Salsburg's signature guitar work, it's a deeply felt effort that breathes new life into these age-old texts.
Weather Station – Ignorance: Finding a perfect sonic blend of Hejira, Spirit of Eden, and Tusk, Weather Station's Tamara Lindeman digs deep into our era's biggest topics on Ignorance. The miraculous thing is that even when she's singing about climate change or identity politics, the music remains as light as air, finding humanity amidst the complexity. This is an album that casts a spell while it's playing but urges the listener towards action when it ends.
Leslie Winer – When I Hit You, You'll Feel It: A compilation a decade in the making, this most necessary 16-track anthology surveys the catalog of iconoclast musician, poet, and author, Leslie Winer. Expect cameos from Jon Hassell, Helen Terry, Jah Wobble, and beyond.
Yasmin Williams – Urban Driftwood: A child of smooth jazz radio and Guitar Hero, Yasmin Williams breathes fresh life into acoustic guitar music, springing forward with a style that incorporates new age, traditional African forms, and a fresh sense of melodic possibility.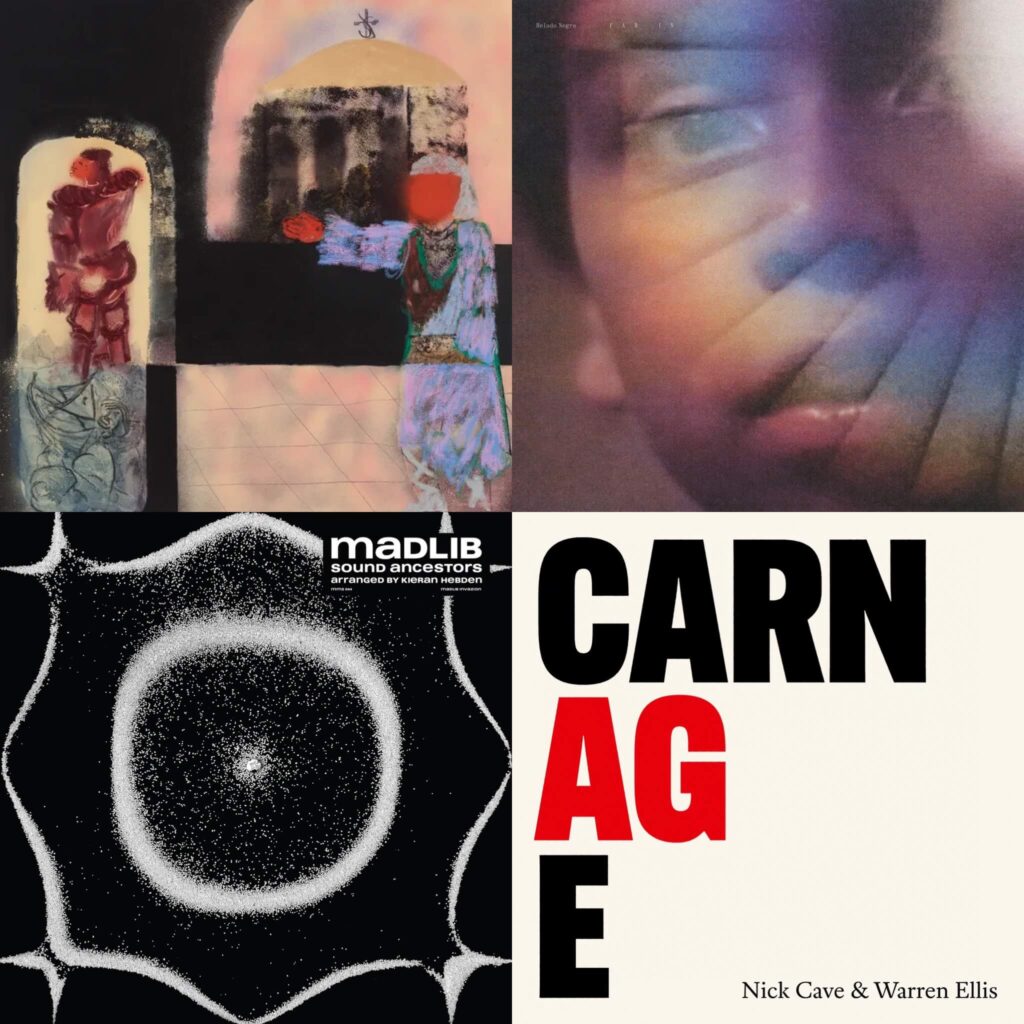 Hand Habits – Fun House: Recorded at home in L.A., during lockdown with roommates Sasami and Kyle Thomas of King Tuff, Hand Habits' Meg Duffy embraces myriad sides of their muse with Fun House. Switching gears sonically, it's the artist's best and most dynamic work to date.
Helado Negro – Far In: The music of Roberto Carlos Lange aka Helado Negro has been a consistent soundtrack over the last five years. Lange skillfully toes the line between accessible and obscure, and is best when he weaves it all together, such as on "Aureole," a gauzy Loft-worthy cut from Far In. You gotta know Mancuso would be bumping these tracks 'til the break of dawn.
Madlib – Sound Ancestors: The innovative Madlib remains so prolific that it can be difficult to follow his trajectory at any given moment. Given to multiple pseudonyms and nearly constant creation, it's helpful to have Kieran Hebden, aka Four Tet, serve as a curator and arranger on Sound Ancestors, which shapes the prolific creator's sample strewn work into a cohesive, unified long player.
Nick Cave & Warren Ellis – Carnage: Picking up where the restrained electronics of Ghosteen left off, Cave and Ellis explore a psycho-spiritual terrain of rushing waters, soul epics on the radio, and divine judgement. A fitting record for the ongoing apocalypses of our age—apocalypse meaning "revelation" here—and a stark and overwhelming testament to the duo's creative connection and friendship.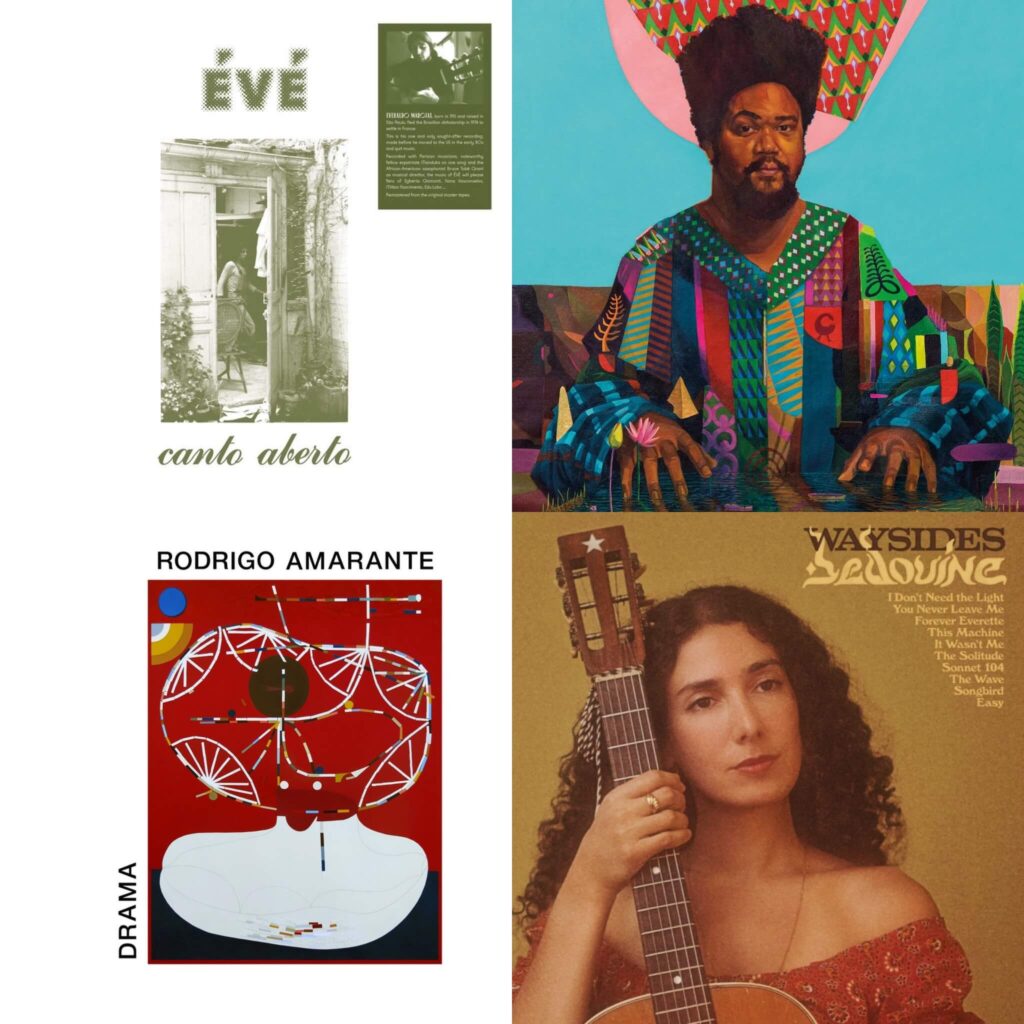 ÉVÉ :: Canto Aberto: Born Everaldo Marcial in Sao Paulo, Brazil, ÉVÉ fled the country's military dictatorship in 1974 to settle in France. Recorded in Paris, and released in 1979, Canto Aberto is his sole recording. Effusive hat tip to the Parisian jazz label, Komos Records, for the reissue.
Amaro Freitas – Sankofa: Amaro Freitas returned in 2021 with the release of Sankofa, the Brazilian jazz pianist and composer's third album in five years. Named for the mythical backwards-looking bird, Frietas and co. do anything but during the lp's 45-minute runtime. Flanked by Jean Elton (double bass), and Hugo Medeiros (drums), it's an intoxicating brew.
Rodrigo Amarante – Drama: "Art is supposed to pull the rug, do something to you," Amarante told us when he appeared on our Transmissions podcast. Swelling with cinematic flourishes and packed with gently swaying Brazilian folk songs, his latest Drama reflects on the confines of masculinity. Amarante originally envisioned the album in a more stark, less giving form, but reconsidered when he recognized that his attraction to lushness and melody was a feature, not a bug. Lucky for us.
Bedouine – Waysides: Serving as a self-proclaimed "prequel" album, the third release by Syrian-born singer-songwriter Azniv Korkejian is a collection of songs sourced from demos that predate her very first published recordings. A quarantine home recording project, the songs of Waysides (including a stunning cover of Fleetwood Mac's "Songbird") are among her best to date.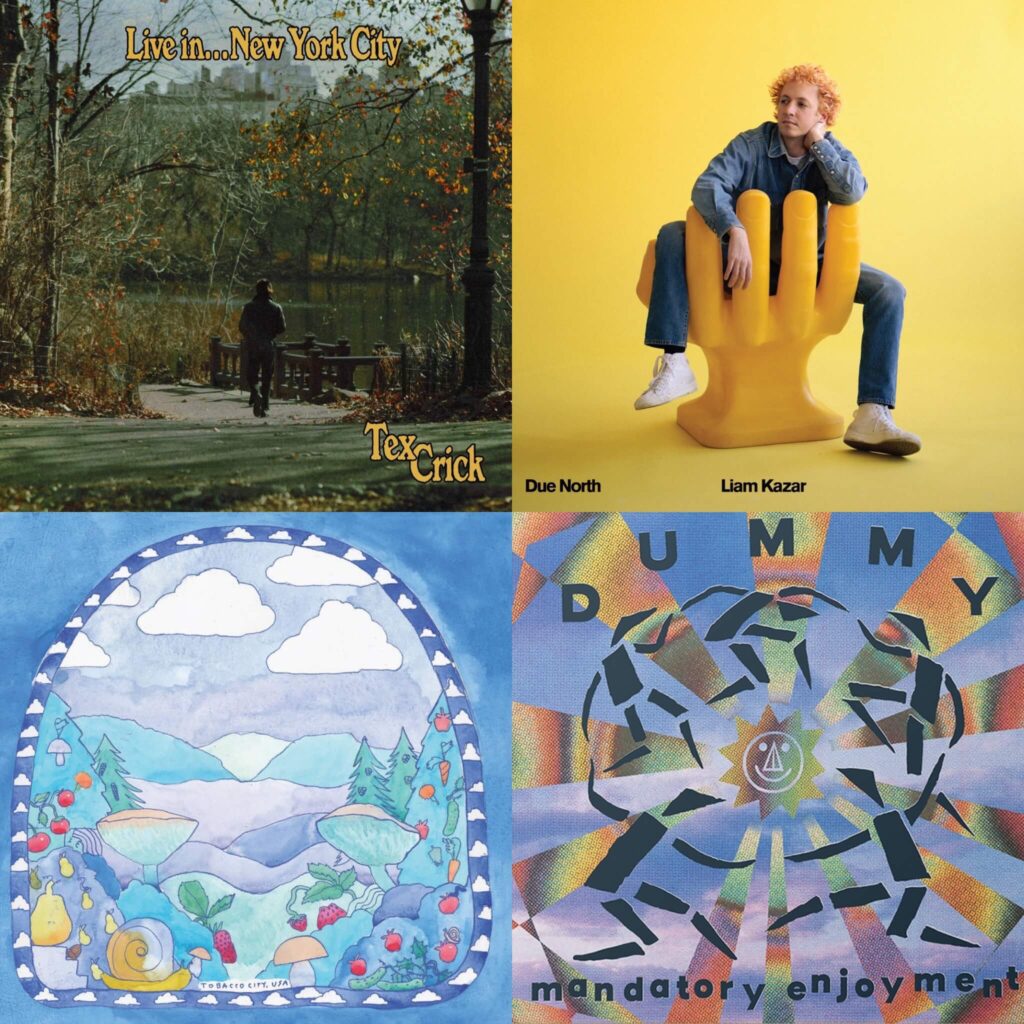 Tex Crick – Live In…New York City: And by "live" Tex Crick means his debut lp was self-recorded in his NYC apartment via a junk piano he rescued off the street in Queens. Semantics! A mellow, low-key gem, over 10 tracks the Coledale, Australia native delivers what sounds like lost, late '70s singer-songwriter AM gold.
Liam Kazar – Due North: Due North arrived with a maturity, confidence, and vision beyond what most debut albums can muster. One part singer-songwriter, one part crooner, the lp weaves between pop and folk, throws in dashes of funk, and knows how and when to call upon his arsenal of collaborators to create lush, verdant arrangements.
Tobacco City – Tobacco City, USA: The debut full-length from Chicago's Tobacco City—Tobacco City, USA—is a confident collection of eight tunes that lean ably into traditional country blues and honky-tonk shuffles. Heavily perfumed in a lingering world of draft beer, empty barstools, and lonesome jukebox phantasms, the group is soaked in the sauce on this self-assured debut.
Dummy – Mandatory Enjoyment: Dummy gives its tuneful bash and pop a radiant psychedelic sheen. Cuts like "Fissured Ceramics" bounce and slash in antic exuberance, the hard thump of guitar/bass/drums wreathed in glowing clouds of drone. Dummy may look like a scrappy, punch-drunk Stereolab or a blissed out, mantra-hypnotized Wire, depending on which way you squint at them, but they're wonderful either way.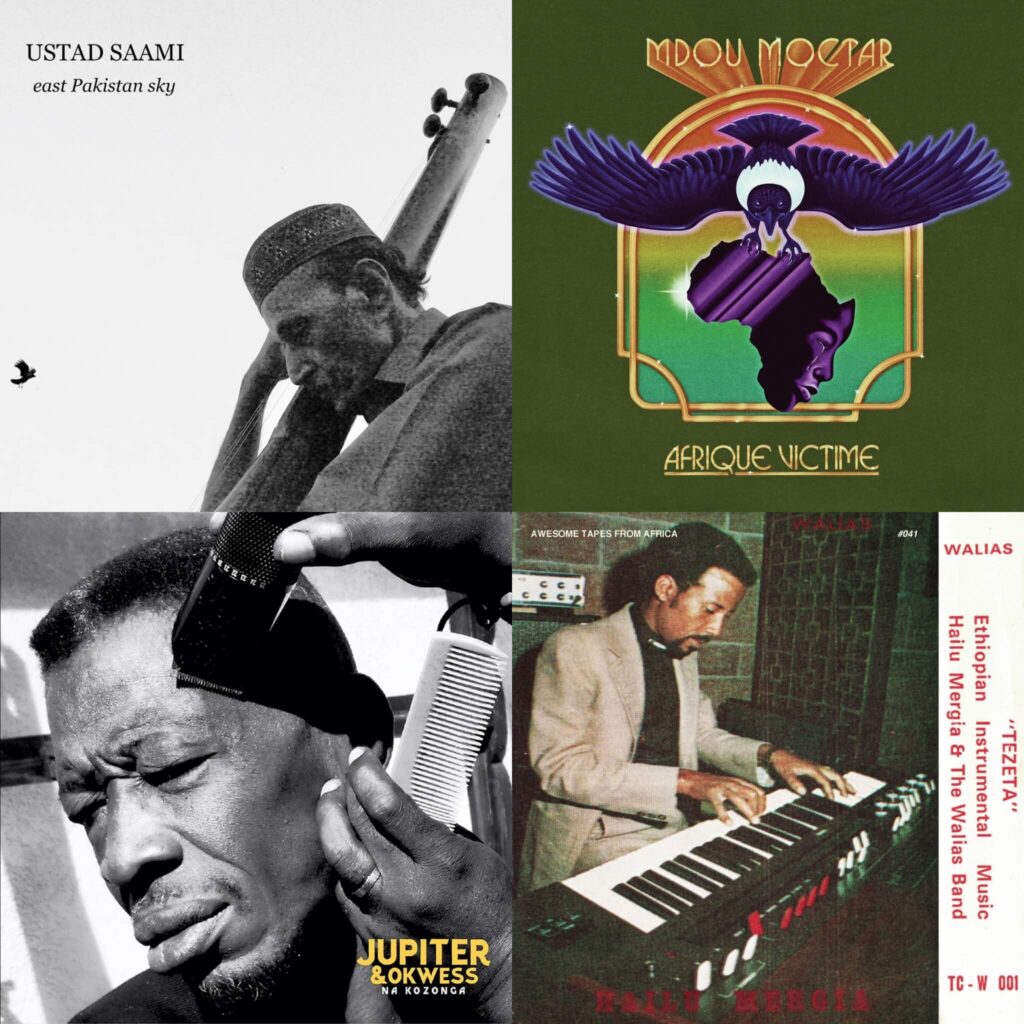 Ustad Saami – East Pakistan Sky: Microtonal, atmospheric and ancient. East Pakistan Sky marks the third album from Ustad Saami, the last living practitioner of surti, a modal form of the khayál technique, and precursor of the Islamic devotional music of Qawwali. Comprising two tracks (the first of which clocks in at meditative 29 minutes) it's an intentional listen with Saami's vocals accompanied by droning harmonium, tanpura and tablas.
Mdou Moctar – Afrique Victime: Mdou Moctar's 2019 Ilana: The Creator positioned the Niger shredder as the most plausible heir to Hendrix, but for Afrique Victime, the guitarist tamped down the pyrotechnics in favor of an undulating groove. The long title track starts with a burst of guitar fire and features intermittent solos, but mostly settles into a full-band celebration of rhythm, community and persistence.
Jupiter & Okwess – Na Kozonga: The centerpiece of this third full-length from Congo's Jupiter & Okwess is its title track. The song follows, loosely, the contours of "Hallo Bimmelbahn," a German pop hit from 1973, but is transformed into an exhilarating Afro-beat celebration with intricate percussion and warm, undulating call and response. That's omnivorous Jupiter, absorbing every kind of music, from east or west, north or south, and making it a party.
Hailu Mergia & The Walias Band – Tezeta: Another magical entry in Awesome Tapes from Africa's reissue campaign focused on the immensely talented Ethiopian keyboardist and bandleader Hailu Mergia. A gauzy snapshot of a seasoned band absolutely in the pocket and leaning into their circa 1975 repertoire of standards and popular songs of the day—Mergia's trapezing organ always front and center. Sublime.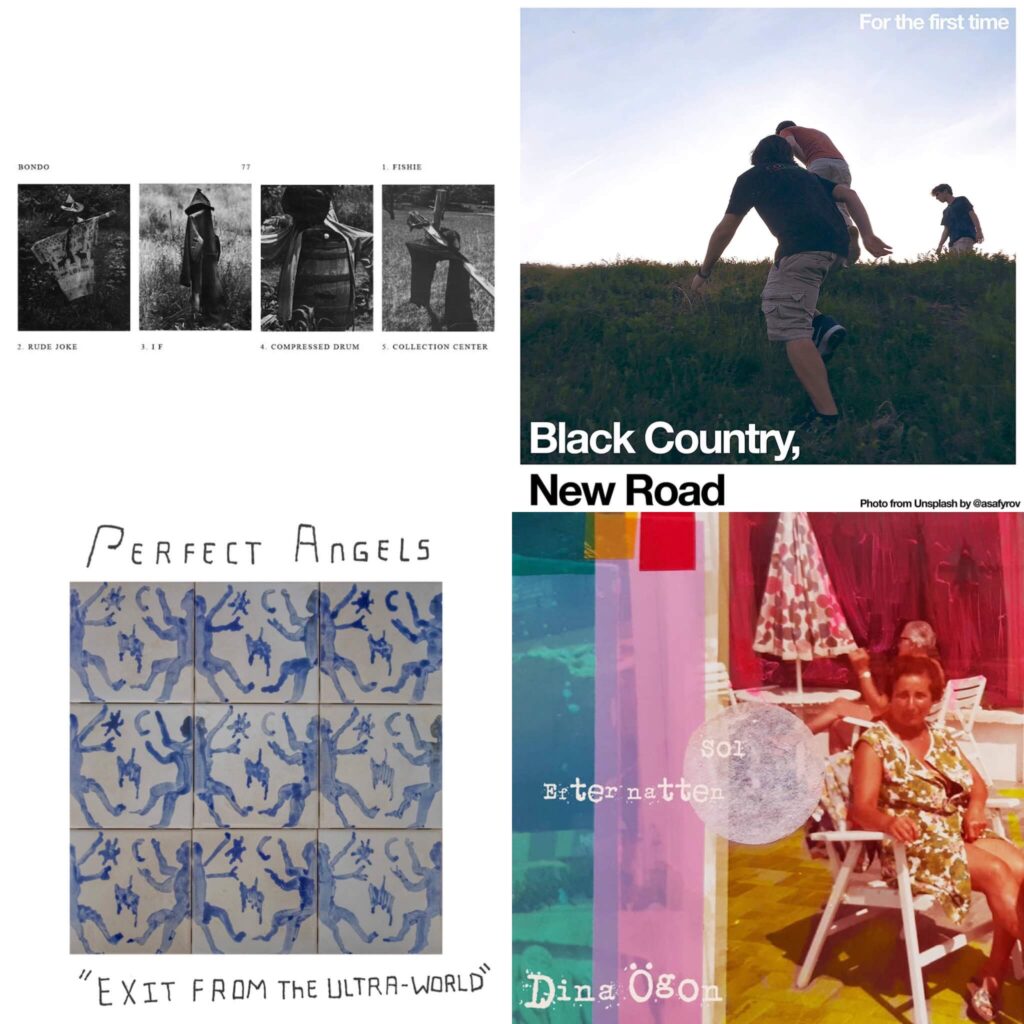 Bondo – 77: Via Los Angeles, Bondo is a four piece riffing on a vibe something like Spiderland floating in a quarry with Fugazi's latter era instrumental excursions. 77, their five song ep, is the first taste of what's to come.
Black Country, New Road – For The First Time: An atmospheric post-punk reckoning, London seven piece Black Country, New Road's debut full-length defies strict genre categorization. Literate, widescreen and malleable, its six tracks push and pull—a deft tightrope of tension, anticipation and release.
Perfect Angels – Exit from the Ultra-World: The latest from DIY lifer Zach Philips is a dizzying and resplendent work of lysergic cool-jazz, deconstructed art-pop, and library exotica. Billed as Exit From the Ultra-World by Perfect Angels, the record was pieced together on tape in Brussels with transmitted vocals from French singer Olia Eichenbaum, and additional contributions from psych-popper Chris Cohen, jazz saxophonist Shoko Igrashi, and a cast of like-minded multi-instrumentalists from around the globe who unite Tropicália, chamber-music, and prog.
Dina Ogon – Dina Ogon: The self-titled debut from Sweden's Dina Ögon is a work of singular and arresting fantasia pop, where vocalist Anna Ahnlund's dreamy vocals reign over a groove-laden collection crafted by the group's inspired splashes of bossa nova, lounge, R&B, smooth jazz, and lost '70s private-press psych vibes.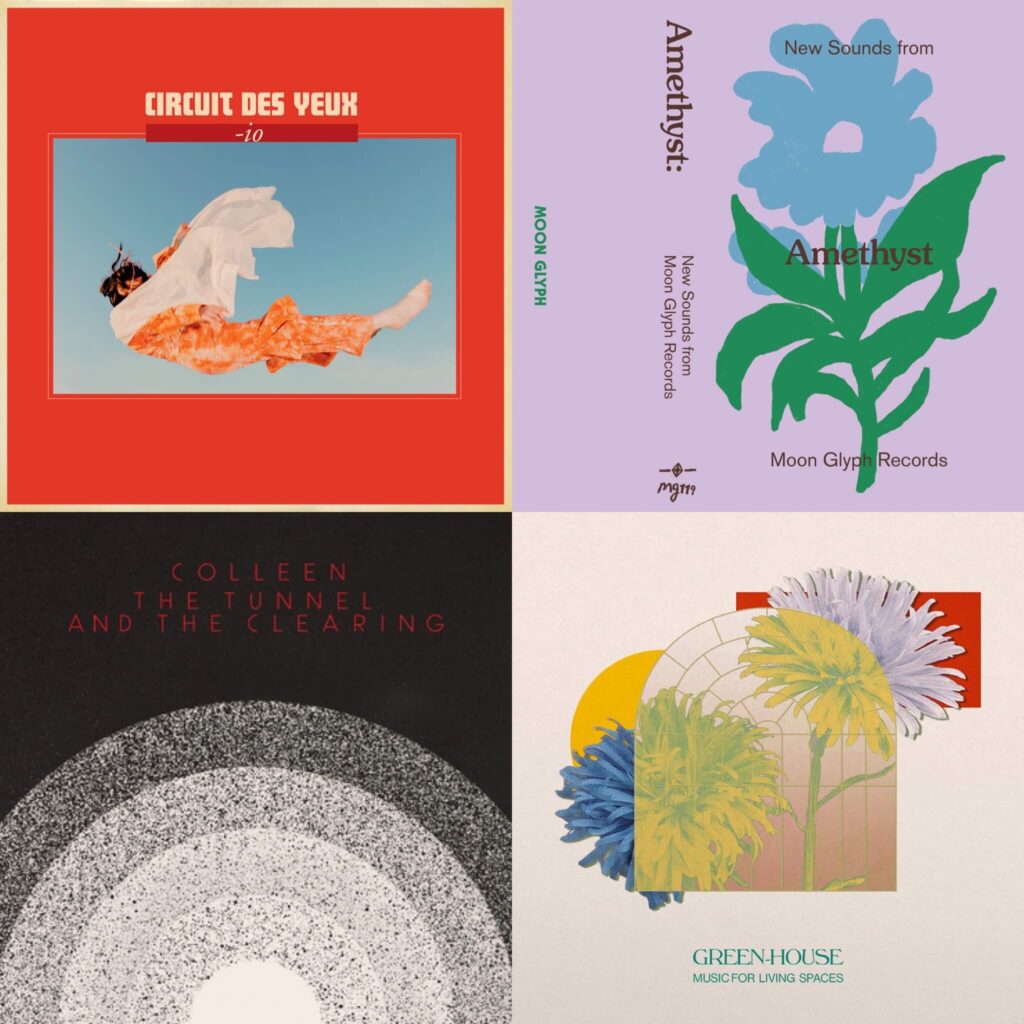 Circuit des Yeux – -io: On the new Circuit des Yeux album, Haley Fohr has pulled off quite a magic trick. She's crafted her most accessible (occasionally even poppy) effort yet without sacrificing one iota of her strange, fearless musical vision. Fohr's inimitable vocals here are bolstered at various times by ornate orchestral arrangements, minimal post-rock, and idiosyncratic electronics. "There's an avalanche inside of me," she sings at one point. Prepare to be buried in it.
V/A – Amethyst: New Sounds From Moon Glyph Records: A wonderful and well-deserved stock-taking from one of the year's most exciting and prolific labels. Featuring label mainstays and newcomers alike, Amethyst contains all the facets that has made Moon Glyph so captivating: icy psychedelia, oddball and pastoral electronics, squiggly spacious jazz, Fourth World experimentation, and more. The perfect entry point for a label well worth paying close attention to, if you're not already.
Colleen – The Tunnel and the Clearing: Inspired by the aftermath of a difficult breakup and illness, Cécile Schott's latest collection of minimalist electronic pop is built on simple enough ingredients—a few drum machines, synths, and an echo unit—but it all coheres into something deeply human when paired with her searching voice and tender lyrics.
Green-House – Music For Living Spaces: Following their Plantasia-informed debut EP Six Songs For Invisible Gardens, the Los Angeles-based artist Olive Ardizoni delivers a dazzling LP of joyful environmental music. Full of bubbling synths and washes of field recordings, Music For Living Spaces is a staggering and spacious ode to "[facilitating] the connection between humans and nature."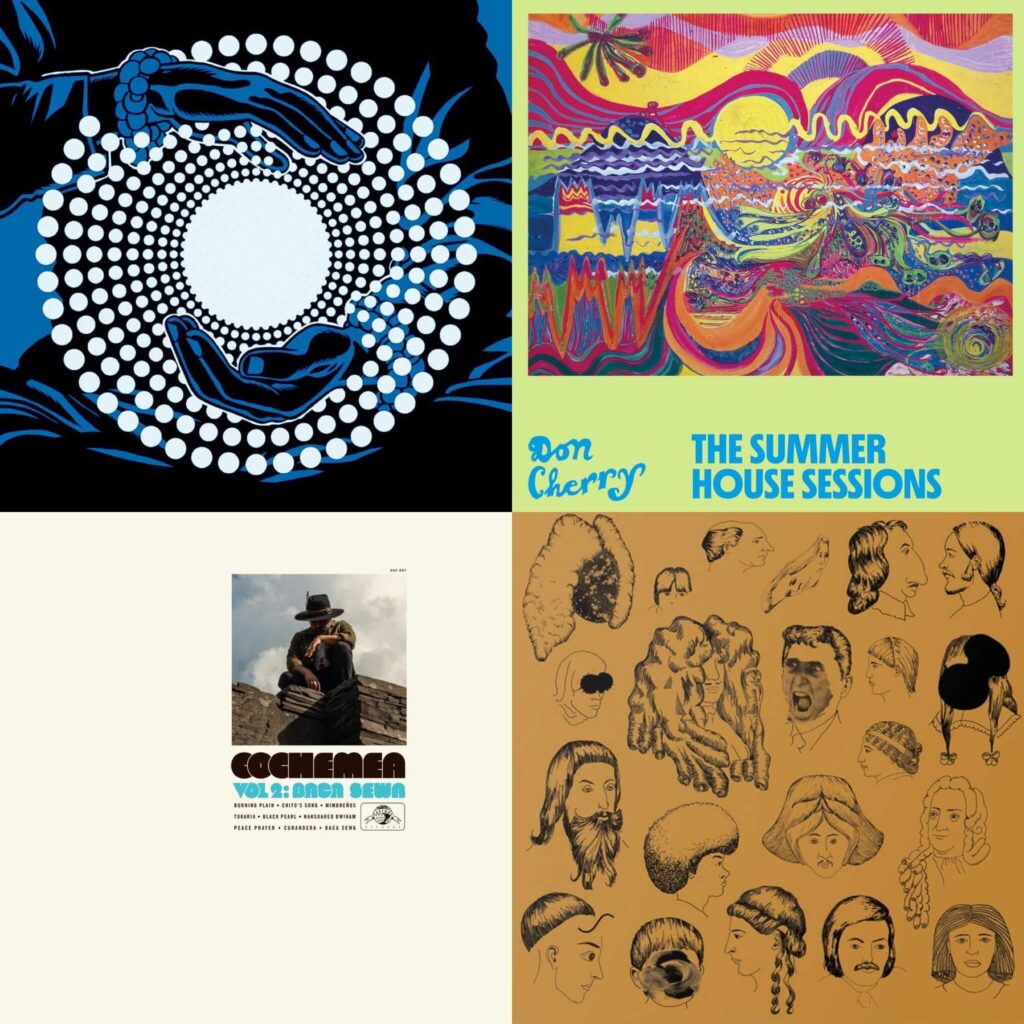 Power of Soul – The Music of CTI: CTI occupies a liminal space in the world of jazz—funky enough for the listener who may see straight-ahead as unapproachable, yet refined and technical enough to earn a nod of respect from world-class jazz musicians. Julien Lourau's Power of Soul treats these selections from CTI's catalogue in a similar, straddling manner with arrangements that are sparse, true to the original, yet expound in places without ego.
Don Cherry – Summer House Sessions: Dive into the dazzling imagination of Don Cherry. Adorned with a lovely cover painting by his partner Moki, Summer House Sessions takes us to the Swedish countryside in 1968, with Don leading an international octet through an hour-and-a-half of ecstatic improvisation. It's wild and occasionally dense stuff, but the primary feeling that comes across is childlike wonder, a joyful innocence that saturates every moment.
Cochemea – Vol. 11: Baca Sewa: Continuing the ancestral dream journey he began with 2019's All My Relations, saxophonist Cochemea Gastelum's latest team up with his Daptone cohort doubles down on the incantatory bliss. Tying together beautiful braids of soul-jazz, funk, Afrobeat, and R&B, Cochemea's unflappable sense of groove. Don't miss his AD Lagniappe Session either, in which he levitates Big Star's "Kanga Roo."
Badge Epoch – Scroll: With this mutant version of Badge Époque Ensemble, Maximilian Turnbull and audio collagist Andrew "Fleshtone Aura" Zukerman shape material culled from nearly a decade's worth of sessions, snippets, and demos into a tapestry of jazz, funk, orch pop, and musique concrète.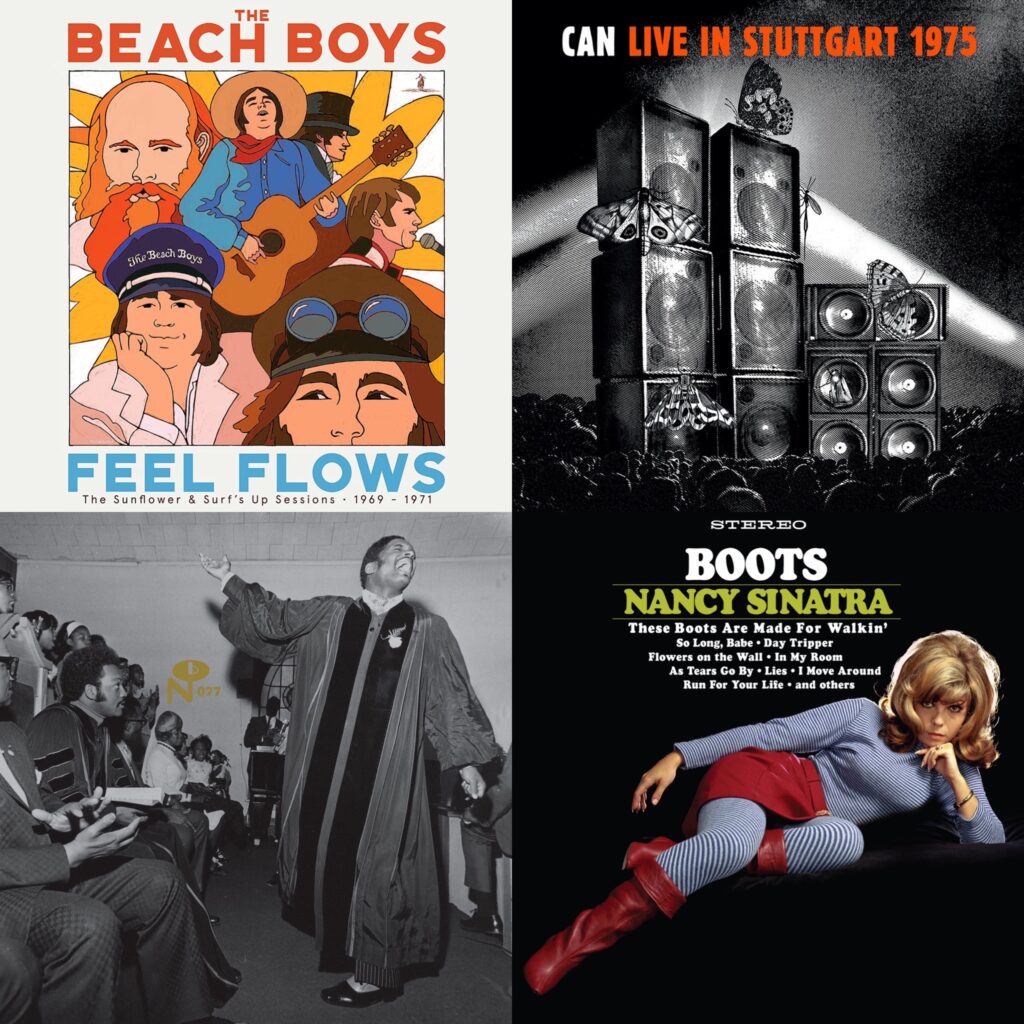 The Beach Boys – Feel Flows: One of 2021's most exciting reissues, the vaults were emptied for this sprawling collection of the Sunflower and Surf's Up sessions. Come for the band's peak '70s output (an era marking the brilliant, emergent songwriting of Carl and Dennis Wilson). Stay for the plethora of outtakes and bonus material (like the definitive version of the previously surfaced Landlocked demo album).
Can – Live in Stuttgart / Live in Brighton: Throughout the 1970s, Can specialized in deep space exploration, always pushing one another further into the unknown—especially onstage. Time and time again on these delicious live recordings from 1975, the quartet emerge as the ultimate jam band on a quest for collective ecstasy, for both the musicians and the audience.
Pastor TL Barrett – I Shall Wear A Crown: You probably know Barrett's sublime gospel funk classic "Like a Ship," but this five lp set from Numero Group opens the vaults of the Chicago preacher's work with the nearly shouting vocalists of his Youth In Christ Choir, plus a disc of singles and sermons. Barrett believes God is present in everything, and listening to his soaring voice and the nimble thump of his electrified gospel, it becomes very easy to feel a Presence compelling you deeper into these transcendent grooves.
Nancy Sinatra – Boots: Lee told Nancy she needed to "sing for the truckers" and Sinatra told Hazlewood "These Boots Are Made For Walkin'' would sound gross sung by a dude. They were both right, and their resulting compromises led to this 1966 lp, remastered and reissued this year by Sinatra and Light in the Attic Records. Armed with some Wrecking Crew stalwarts, a few originals, and songs by The Beatles, Stones, and Dylan, Lee and Nancy proved a major combo.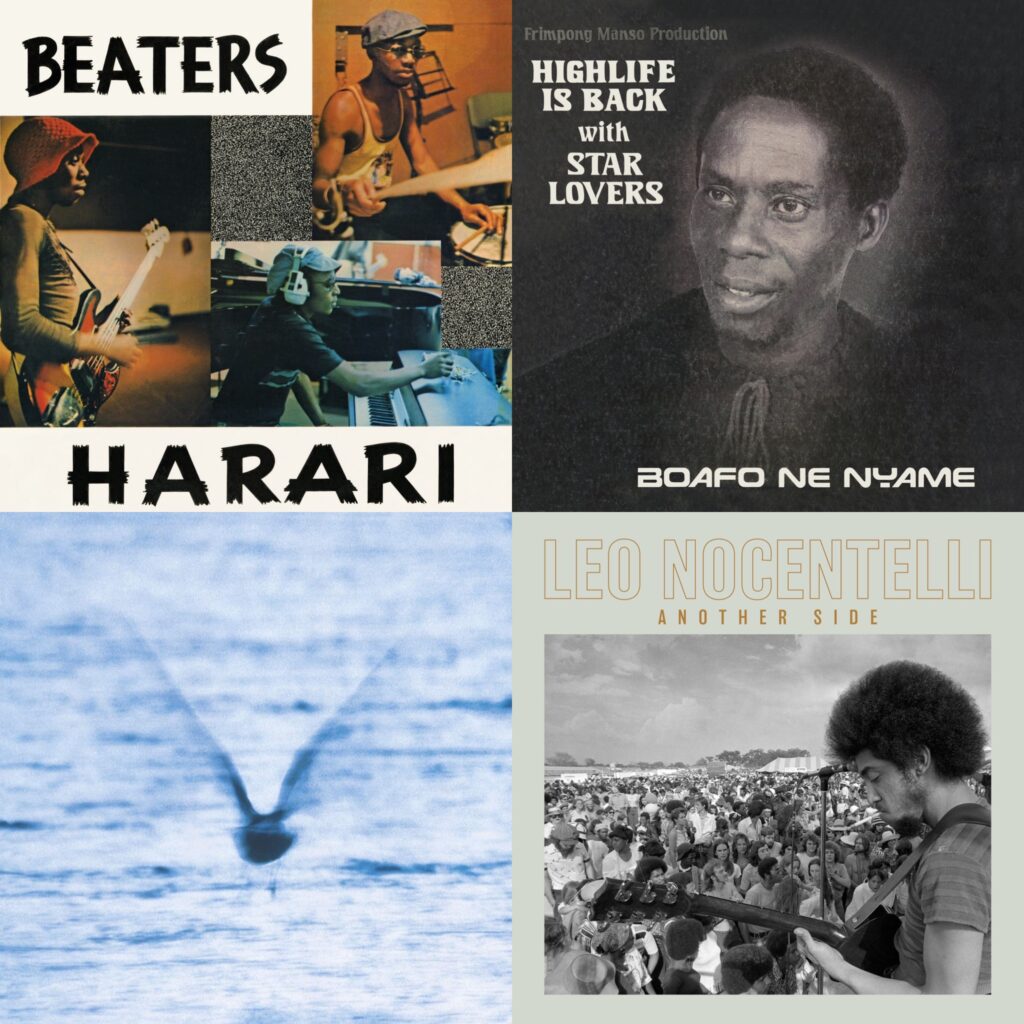 The Beaters – Harari: Not every record needs a reissue. This one did. Released earlier this year via the UK based Matsuli Music, Harari proves a cornerstone in the South African group's evolution from Soweto soul (as The Beaters) to the charged afro-rock and funk (as Harari) that would come to define their legacy. A transitional marker of things to come.
Star Lovers – Boafo Ne Nyame: Reissued by Parisian label Hot Casa Records, Star Lovers' Boafo Ne Nyame originates from Ghana circa 1987, blending highlife folk charms with funky synth stabs and traces of celestial dub. Led by the smooth, mellow vocals of one K. Adusei, Star Lovers revel in the digital revolution and dance floor boogies while keeping their origins at heart and on retainer.
Ryo Fukui – Mellow Dream: Never garnering quite the level of attention of Fukui's debut masterpiece Scenery, 1977's smooth Mellow Dream is just that: another soulful, excellent record by the Japanese jazz innovator. Amidst pieces inspired by earlier jazz pianist greats like Bill Evans and Barry Harris, the major highlight "Baron Potato Blues" is an epic piece crafted in the Coltrane/Tyner mold.
Leo Nocentelli – Another Side: One of the year's most welcome surprises: a previously unreleased set of soulful, country-inflected songs from the legendary lead guitarist of The Meters. Buoyed by an effortless self-assured groove (you'll be hard pressed to find anything this year as infectious as "Give Me Back Your Loving") that elevates it above similar singer-songwriter fare from the early seventies, this unburied treasure is reflective, joyful, and an absolute thrill to listen to.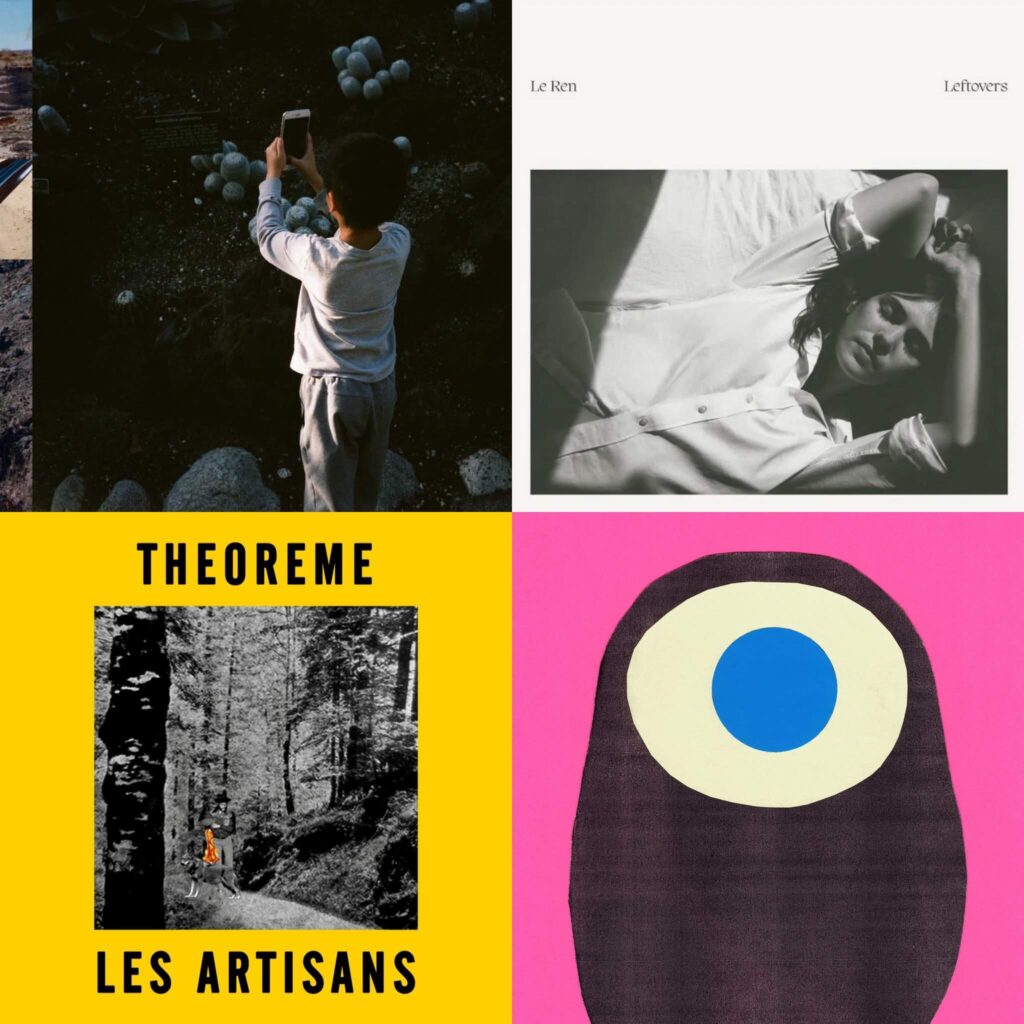 Mega Bog – Life, And Another: 2021 marked the return of Mega Bog—the art-pop playground of Erin Birgy. This latest statement is at once sleek, weird, and playful, awash in varying strains of nocturnal jazz and pop. A grower in the very best sense, this sixth record is further proof that Birgy is nothing if not original.
Le Ren – Leftovers: Le Ren—the musical endeavor of Montreal's Lauren Spear—created one of the more wondrous country records in recent memory with her debut long player, Leftovers. It's the type of timeless record that leads into the many vast and winding roads that country music implies. Spear's vocals fluidly move from a deep, sepia-toned croon to a gentler, wistful coo depending on the songs' demands, some stark and plainspoken, steeped in pedal-steel and fiddle, with others living in a more baroque-folk space, with luminous harmonies and Spear's adoring and affecting wordplay seemingly stopping time.
Theoreme – Les Artisans: Theoreme—the one-woman band of France's Maïssa D—returned this year with Les Artisans, the long-awaited follow-up to her 2016 debut. On the new long player, her industrial no-wave surrealist essence is found in fine form, delivering matter-of-fact prose against discordant canvases of minimalist proto-punk and avant-garde electronica—an icy inferno where she offers no false guidance, only what can be ascertained as definitive.
Vanishing Twin – Ookii Gekkou: Exploring similar territory as Broadcast and Stereolab before them, Vanishing Twin's Ookii Gekkou is filled with bewitching sounds, hypnotic rhythms, and strange overtones. The myriad influences are too many to name, but the band manages to be more than the sum of its various parts, however, creating something that—in spite of its many precursors—feels unique and fresh. "Wider Than Itself," as one of the song titles tells us…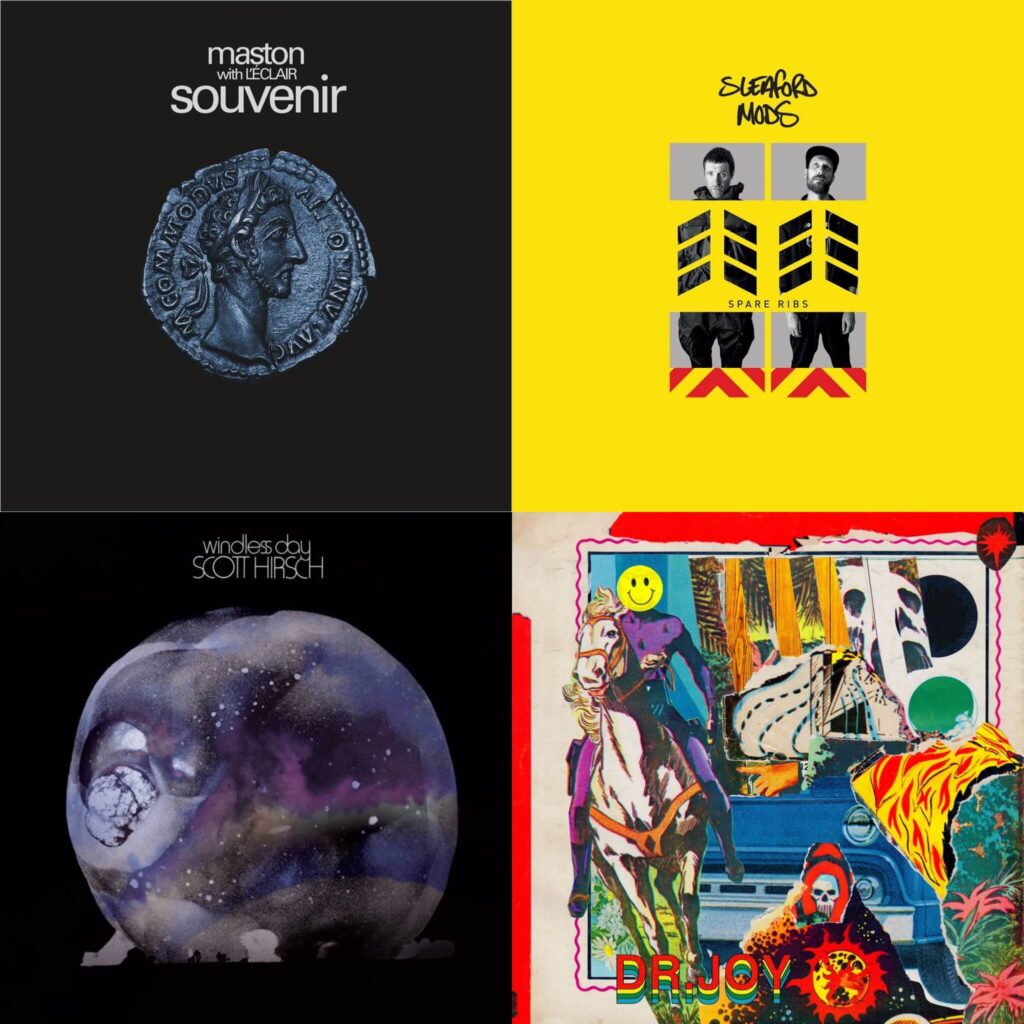 Maston w/ L'Eclair – Souvenir: In a prolific year that included paying homage to the KPM label of library music, Maston delivered amongst his most ambitious offerings with Souvenir. The signature, cinematic soundscape in conjunction with a collaboration with Swiss groovers L'Eclair makes for a dynamic listen (complete with the first Maston vocal tracks in several years).
Sleaford Mods – Spare Ribs: The clank of rhythm, the spatter of disaffected verbiage, the belligerent, unstoppable groove is all familiar, though characteristically incendiary. What's different about Spare Rib is the presence of women, Amyl and the Sniffer's Amy Taylor spitting "Gimme, gimme, gimme," in "Nudge It," Billy Nomates enlivening bleak "Mork 'N Mindy" with a blues-y vocal riff, even the Marxist philosopher Dr. Lisa McKenzie speaking truth on "Top Drawer," all adding female fire to the Sleaford Mods' rage.
Scott Hirsch – Windless Day: The Ojai-based mystic (and Hiss Golden Messenger collaborator) presents a new set of swampy blues, brass-laden boogies, gospel-inflected Americana, worshiping at the altar of J.J. Cale and Bobby Charles. Set phasers to "rapture."
Dr. Joy – Dr. Joy: A collaborative project between tireless cosmic-country troubadour Matthew "Doc" Dunn and Toronto-based psych-pop outfit Mr. Joy, Dr. Joy is a foggy sprawl of baroque-tinged ambient explorations, gauzy folk-rock ballads, psychedelic soul freak-outs, and cerebral, motoric muck bangers. Alternately percussive, drifting, and cinematic, the record feels spacious and widescreen.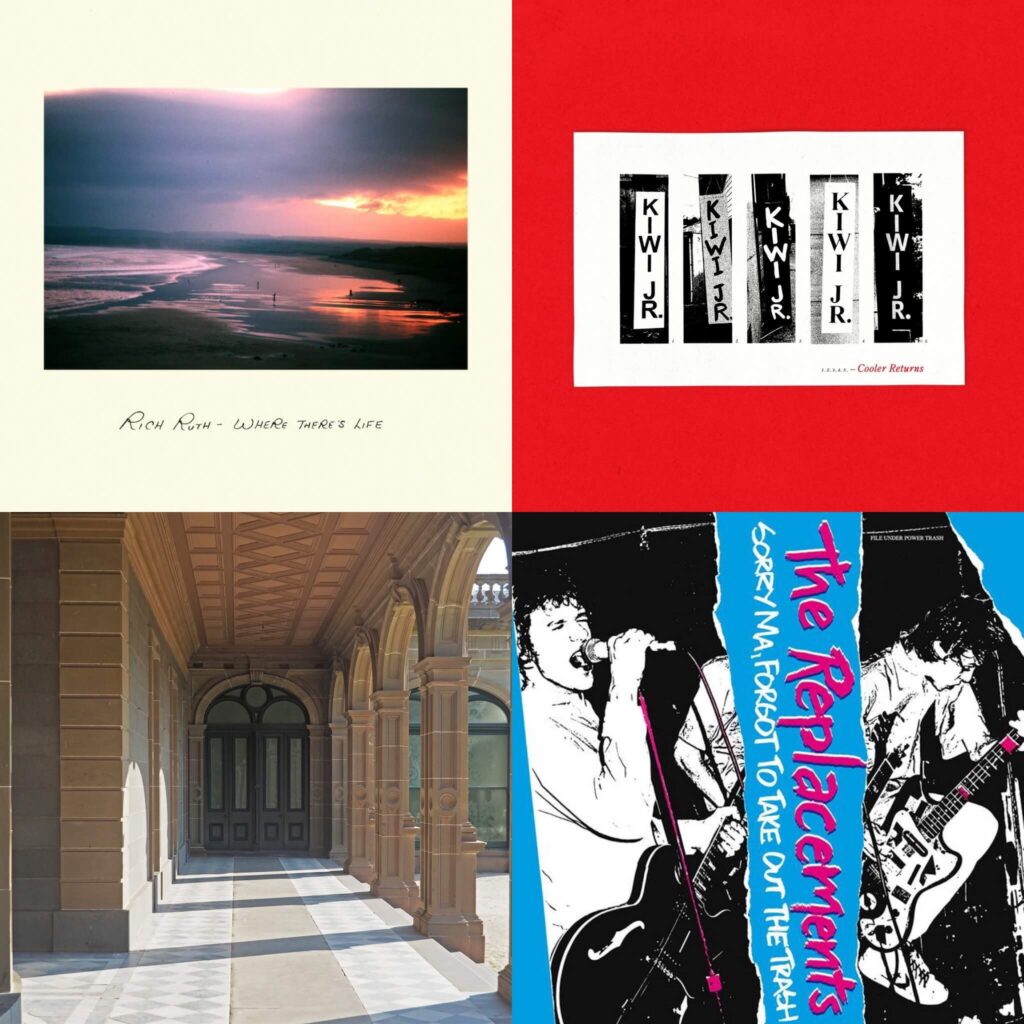 Rich Ruth – Where There's Life: This excellent collection of meditative pieces written in the early months of the pandemic helped Ruth cope with the collective sense of uncertainty and solitude of the time. As we wrote when it was released, the EP is a fluid continuation of the new age/ambient jazz found on his debut Calming Signals, and feels right on time.
Kiwi Jr. – Cooler Returns: This one may have been released in literally the very first week of 2021, but it never strayed far from rotation. A truly jubilant sound echoing The Clean and Orange Juice but with the punch of contemporary indie, and wry and winking vocals that remind what the '90s had to offer underground.
Ducks Ltd. – Modern Fiction: Channeling the vibrant sounds of bands like Felt and The Go-Betweens, Modern Fiction is an ideal 30 minutes spent in an uplifting soundscape, a warm rejoinder to the oncoming winter.
The Replacements – Sorry Ma, Forgot to Take Out the Trash (Deluxe Edition): Rhino's expansive dive into the legacy of The Replacements continues with the band's 1981 debut. In addition to a version of the album compiled of entirely alternate takes, there are two whole discs of early and home demos, studio outtakes, and an additional disc with a 27-song live show from January of '81—a full seven months before the album would be released. Yet another addition to the growing archival riches being put out by the best rock and roll band to ever get vomit on the ceiling.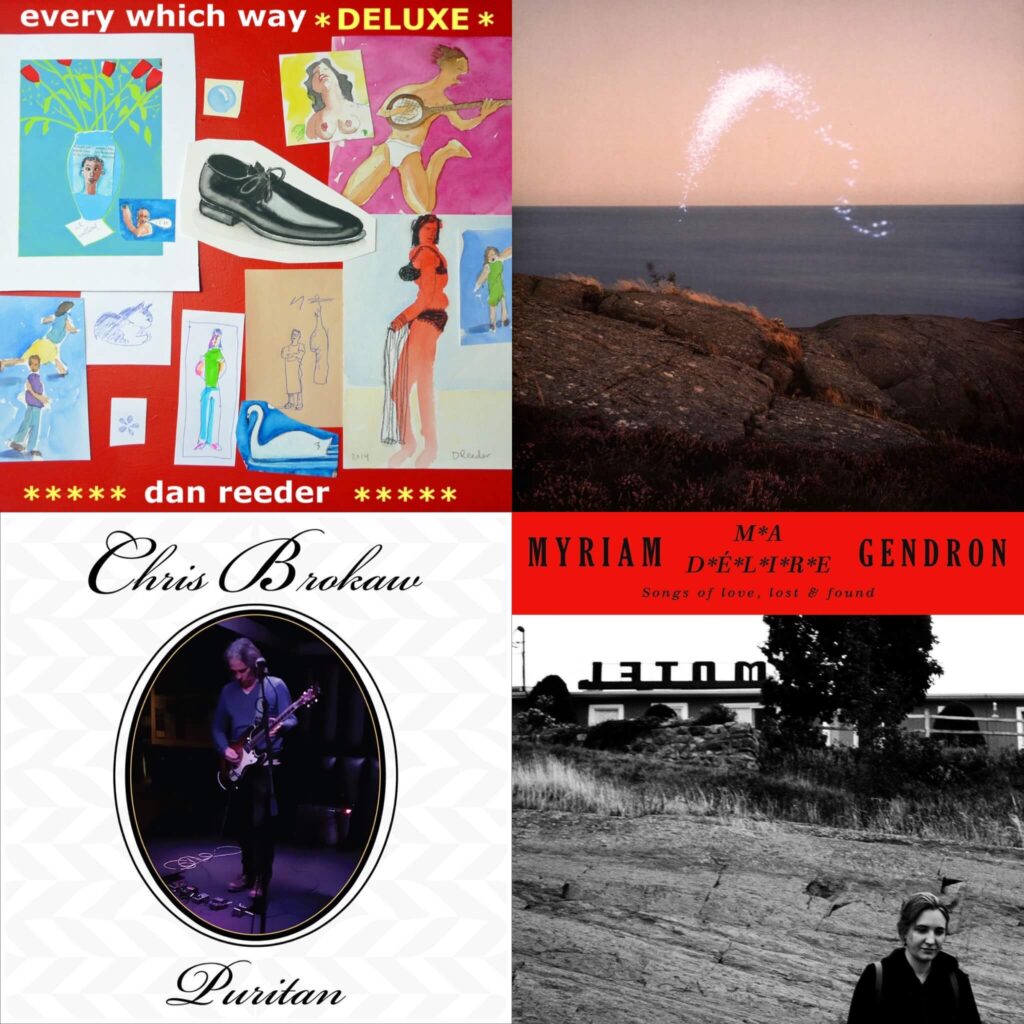 Dan Reeder – Every Which Way (Deluxe): Dan Reeder's music is a revelation. There is a reason he's one of the longest signed artists to John Prine's Oh Boy Records. A fascinating figure and true outsider, his recording methods are homespun, his instruments self-built instruments, and his paintings offer a look into other worlds.
Cassandra Jenkins – An Overview on Phenomenal Nature: The year's sharpest lyrics came wrapped in the softest trappings, as Cassandra Jenkins' tender voice navigated tales of love like viruses ("treatable not curable"), an unusually erudite museum guard, and the healing powers of water. Jenkins has had a tough couple of years, a tour with David Berman interrupted by tragedy, but "New Bikini" is maybe the most beautiful song all year, a salve for all kinds of loss.
Chris Brokaw – Puritan: Chris Brokaw's done some terrific non-rock records lately, but it's great to hear him at full rock force again. The raging, feedback blistered "Heart of Human Trafficking" is an unqualified ripper, and there's near metal shredding "Report to an Academy." Back to basics never sounded so good.
Myriam Gendron – Ma Delire: Songs of Love Lost: The long-awaited follow-up to Myriam Gendron's exceptional Not So Deep as a Well does not disappoint—in fact, it may be even better than its 2014 predecessor. Which is saying something. Gendron is the kind of artist who doesn't need to try to break your heart; she can do it effortlessly with the barest of melodies, the subtlest turns of phrase, a simple, sadly gorgeous guitar line. A dark and romantic record that you'll want to sink into again and again.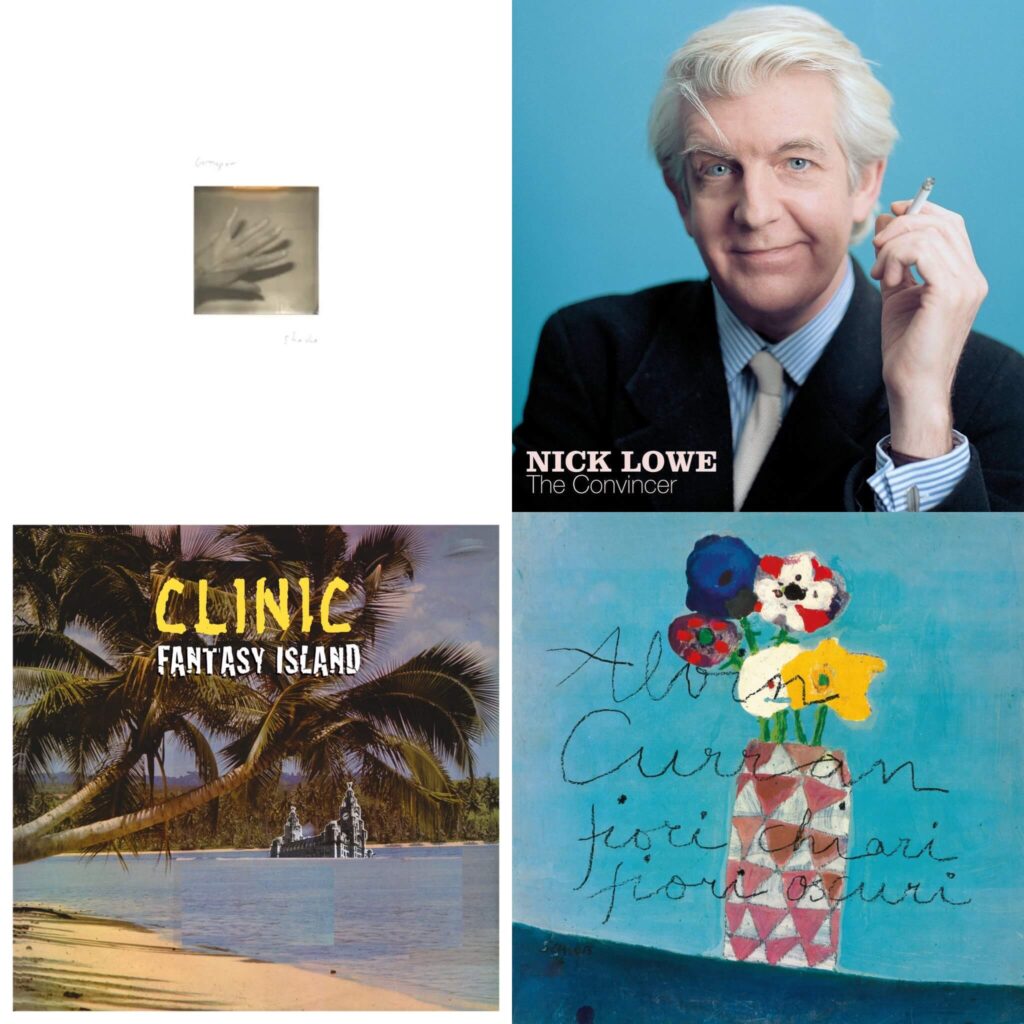 Grouper – Shade: Liz Harris collects material recorded over the course of 15 years on Shade, bending time and space into barely there folk and pop ambiance.
Nick Lowe – The Convincer (20th Anniversary Collection): 20 years ago, Nick the Knife settled into his perfected form, easing into a sly, brokenhearted reverie with this mates. Sparse and with an emphasis on catching grooves in the moment, songs like "Homewrecker" and "Lately I've Let Things Slide" but this one near the top of the Nick list.
Clinic – Fantasy Island: Taking inspiration from the idea of music as an escape, Ade Blackburn and Jonathan Hartley rally the vintage keys, drum machines, and assorted doo-dads and go full tropical, folding in nods to HG Wells and Richard Brautigan, naturally. Clinic can't help but sound a little ominous, but what would a vacation be without just a little dread?
Alvin Curran – Fiori Chiari, Fiori Oscuri: From its opening sounds—the sound of a purring cat—Alvin Curran's 1978 album invites the listener into a patchwork of sound. Toy instruments, bells, synthesizes, voices, wild life, ocarina, piano—it's all fair game for Curran. At moves in and out of pastoral modes, into dreamy spaces and into more chaotic ones, but Curran holds it all together. Kudos to Black Truffle for getting it back into the world.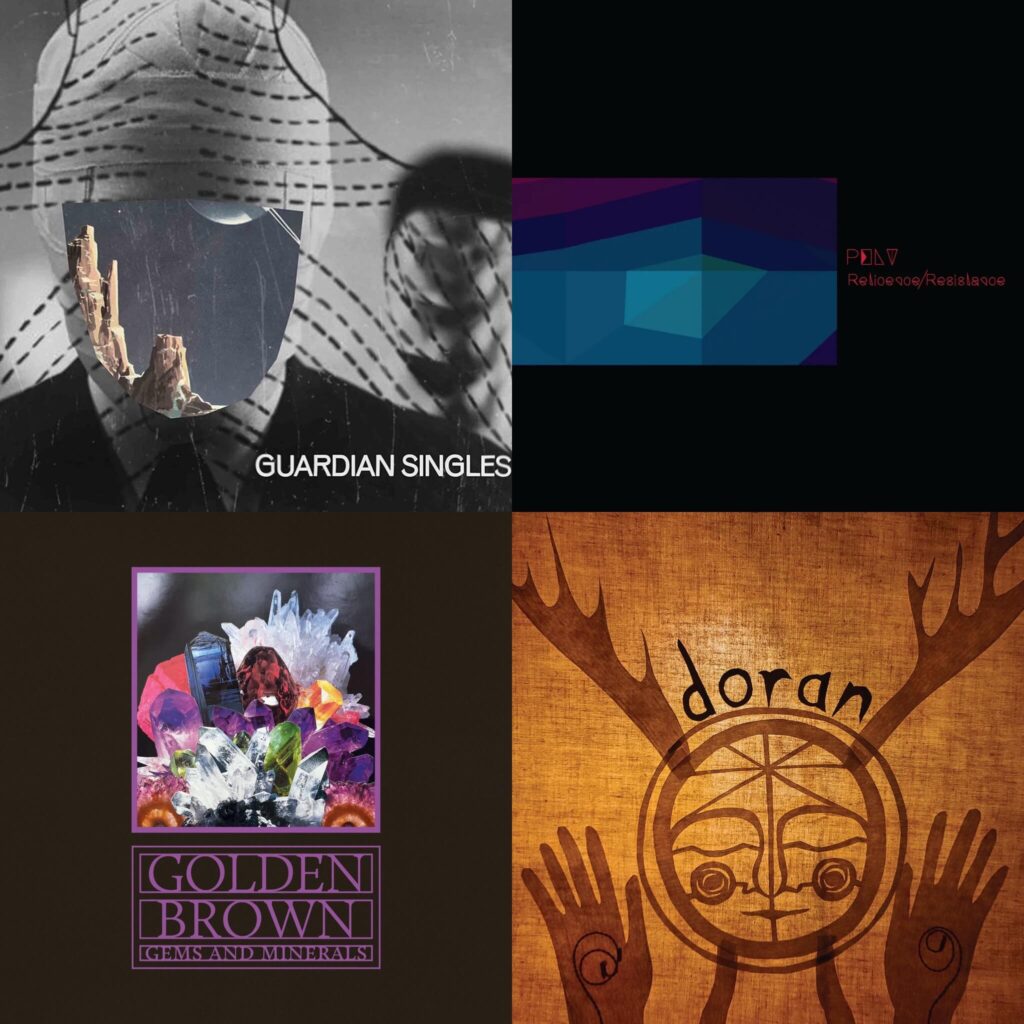 Guardian Singles – S/T: Guardian Singles kicked up a jangly, joyous mayhem in a debut that evoked the best of the melodic punk mainstays—Mission of Burma, Wire, the Feelies and the Clean—without exactly copying them. In a year when many of us ventured back to the clubs but worried about it, this album was about as boisterously live as a record can be.
Pelt – Reticence Resistance: On Reticence Resistance, long-running free-folk collective Pelt stake out the fertile middle ground between ancient Appalachian folk music and futuristic minimalist approaches. Recorded live at London's Café OTO, the album's two sidelong pieces are rich in texture and interplay. An acoustic record that's completely electrifying.
Golden Brown – Gems & Minerals: Stefan Beck's first outing for Inner Islands meld folk, orchestration, and glimmering electronics into something elemental and luminescent. Had Rodelius and Moebius forsaken the rivers of Forst and gone west, they might've arrived at the same destination. Pure kosimiche pastoral.
Doran – S/T: Shadowy, minor key vocal harmonies, a melancholy swoop of fiddle, a sea shanty and a traveling ditty. Doran, a foursome of young people from present-day Virginia, makes music that sounds old—medieval sometimes, Appalachian at others—but bounds and cavorts with life. "Down the Road," scraped out on autoharp, floats down from the foothills of American folk music, as fresh and simple and pure as running water.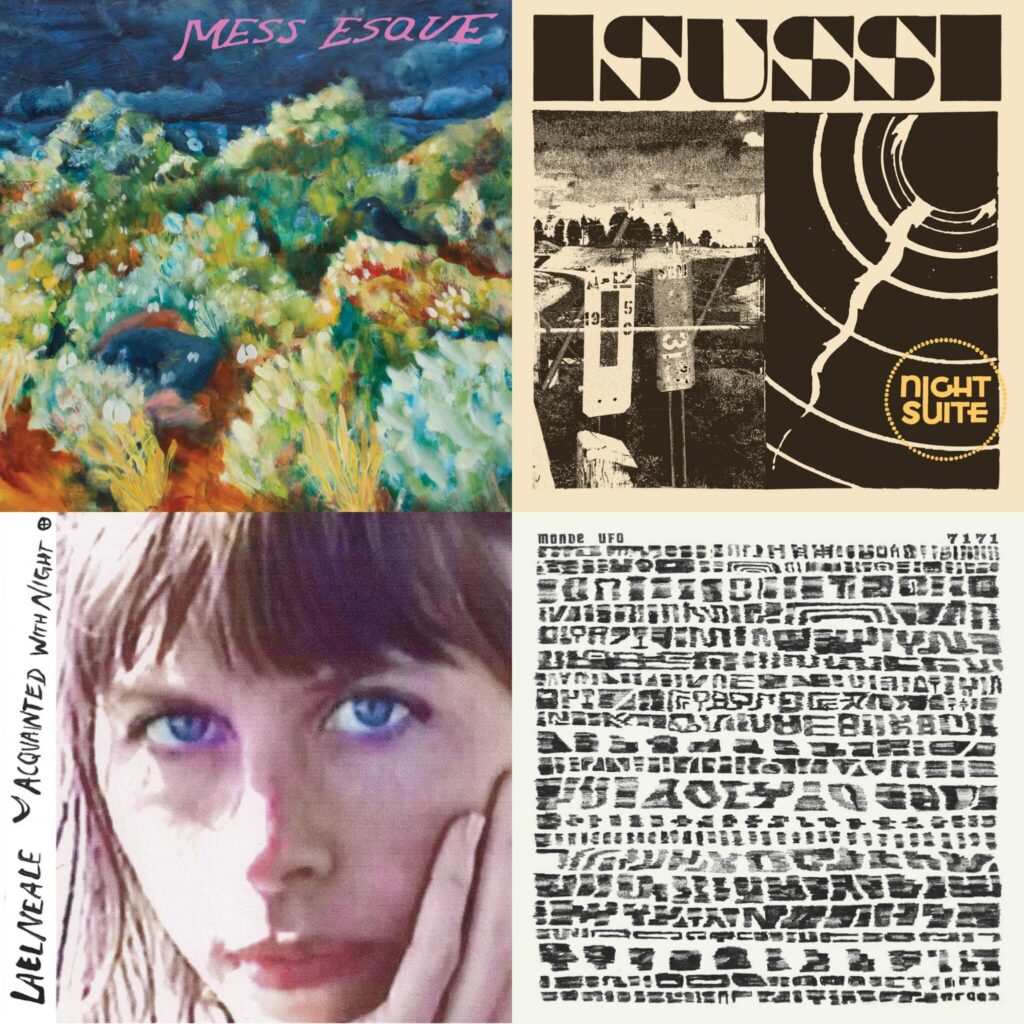 Mess Esque – S/T: With Dirty Three and his solo work, Mick Turner has long sculpted fanciful landscapes with his guitar, creating lush, vibrant surroundings full of drama and friction. Here, the Australian singer Helen Franzmann wanders through his garden of wonders, sighing and crooning and murmuring as if just waking up from a beautiful dream. A sweet spot indeed.
SUSS – Night Suite: NYC ambient country combo SUSS conceived Night Suite as the soundtrack to a night drive down Route 66, from Gallub, New Mexico, through various stops in Arizona, to Needles, California. The EP is dedicated to synthesist Gary Leib, a renowned cartoonist in his own right, who passed away just after it was recorded.  Washes of his synth linger with pedal steel, loops, and guitars, suggesting the lonely and uncanny beauty of headlights shining down a dark desert road. 
Lael Neale – Acquainted With Night: Armed with an Omnichord and guitar, Lael Neale's spectral folk songs seem to stretch out into the nocturnal blackness, but are grounded by her warmth and lo-fi charm. "I think the truth sings, to whoever listens," she intones on "Blue Vein," the kind of song that feels like it's existed forever but always feels new. The nighttime is the right time, indeed.
Monde UFO – 7171: The debut record by LA duo Kris Chau and Ray Monde qualifies as primo headphone listening. Their minimalistic palette pulls from a wide range of styles—from free jazz to bossa nova—offering a supremely vibrant listen.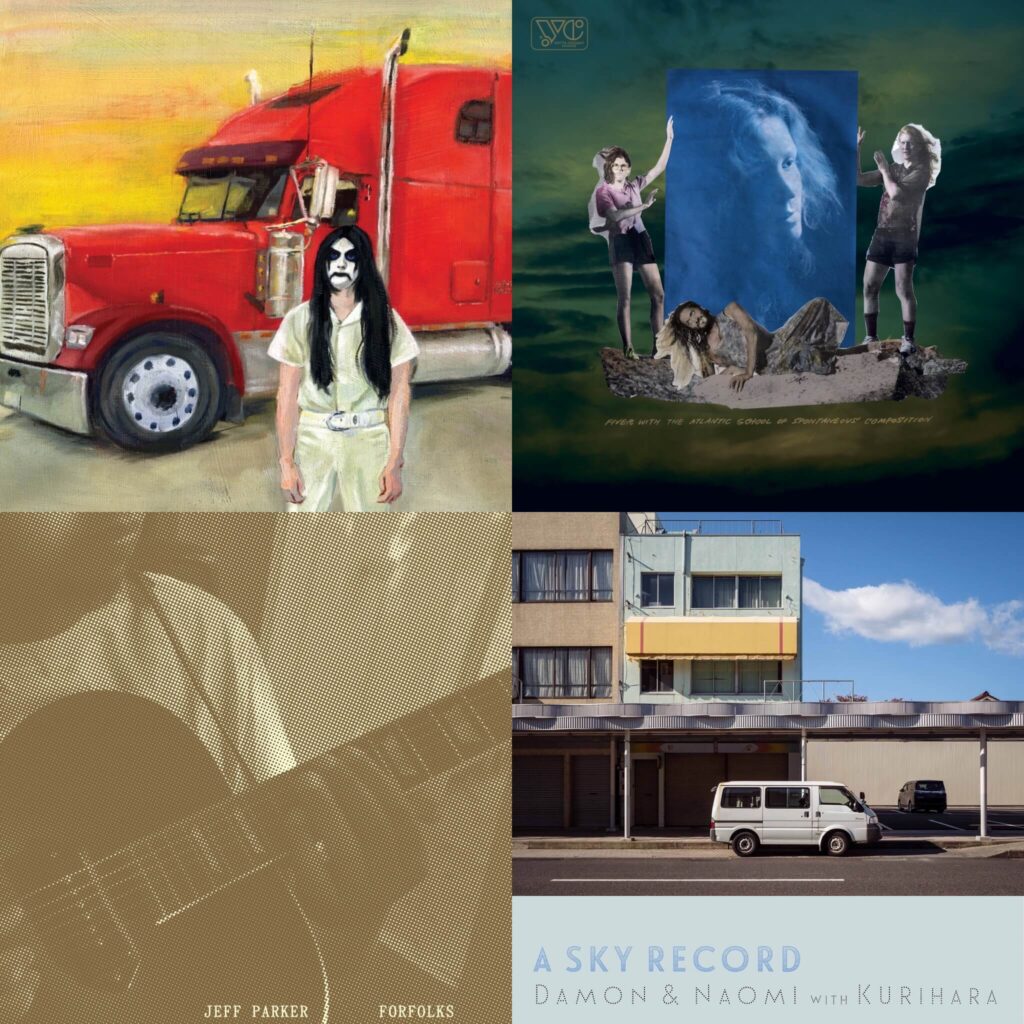 Hayden Pedigo – Letting Go: It's been a pleasure seeing Texas guitarist Hayden Pedigo grow from a scrappy upstart to a genuine contender over the past decade or so. His previous work was great but Letting Go feels like his first masterpiece—Popol Vuh pastoralism re-imagined as crystalline guitar soli beauty. It's also just a marvelously recorded piece of music (props to producer/engineer Andrew Weathers) that makes the acoustic guitar sound brand new again.
Fiver with the Atlantic School of Spontaneous Composition – S/T: A free jazz collective with serious experimental cred—they're known primarily for backing Beverly Glenn Copeland—joins forces with a dusky-voiced country singer, and who'd have figured it would work so well? That's partly down to the Atlantic School's loose, well-practiced swing and partly to Simone Schmidt's expressive style, which traces a thread of warm, empathetic narrative through startling displays of jazz prowess.
Jeff Parker – Forfolks: Jeff Parker's follow-up to the technicolor Suite For Max Brown is a more austere affair — but it's no less dazzling. Performing solo, the guitarist twists his quizzical melodies into pretzel-like shapes, looping little bits of sound into surprising and hypnotic textures. If that sounds overly cerebral, never fear: Parker has never sounded warmer—check out the ravishing rendition of Monk's classic "Ugly Beauty" for proof.
Damon and Naomi – A Sky Record: Even more sad hits, and just in time. A Sky Record, Damon Krukowski & Naomi Yang's first full-length since 2015, stands tall with the duo's best, offering up 10 songs that find a perfect middle ground between overcast melancholy and cautious, hard-won optimism. And of course, the presence of guitar wizard Michio Kurihara elevates things considerably.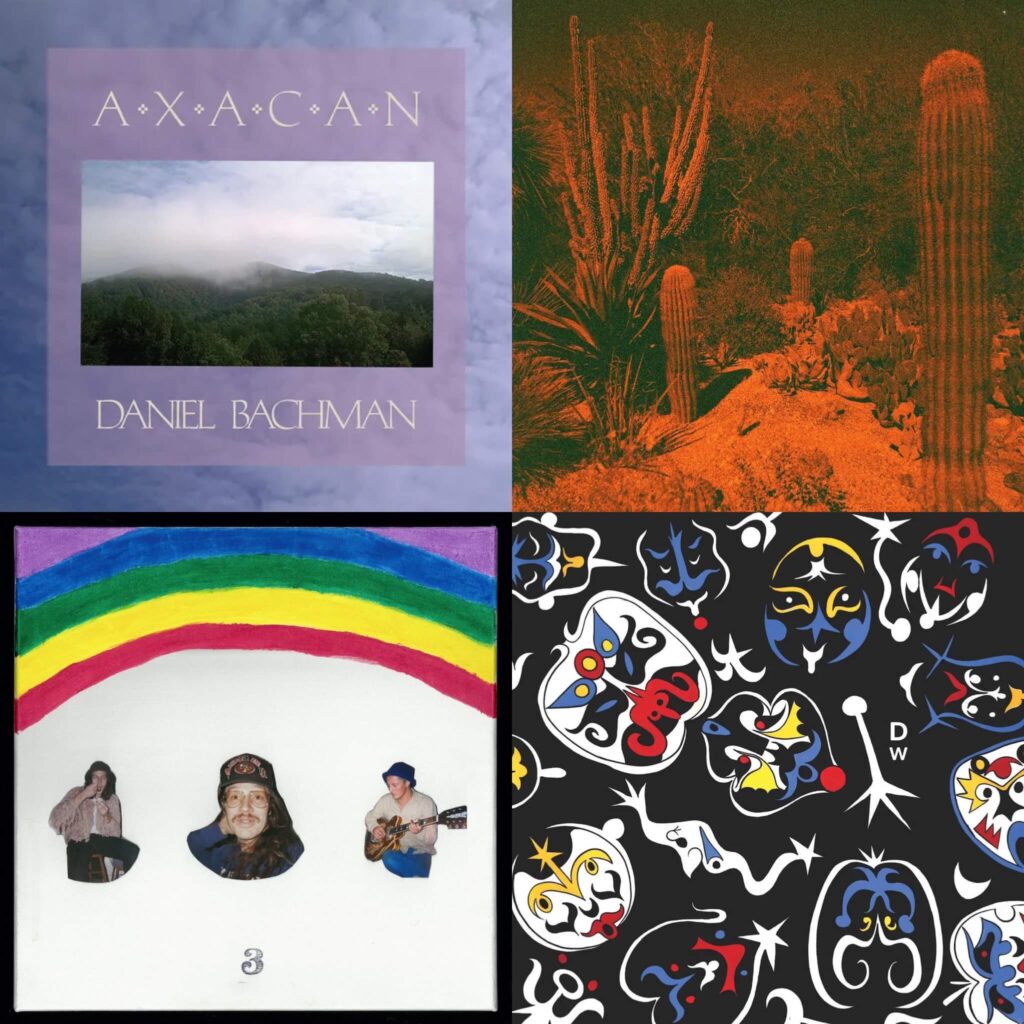 Daniel Bachman – Axacan: Daniel Bachman came onto the scene as one of the sharpest post-Jack Rose guitarists. And he could've easily stayed in that comfort zone for the rest of his career. But Bachman has transformed into a remarkable sonic storyteller over his past few releases. Axacan, a double LP, is a heavy trip, as the artist guides us through the past via field recordings, shortwave radio transmissions, church bells—and yes, some damn fine guitar playing.
Cameron Knowler & Eli Winter-Anticipation: Two of the finest fingerpickers on the scene. Complementing each other with grace and patience, none of the compositions on Anticipation are rushed along, allowed instead to revel in their own pastoral splendor.
Mapache – 3: This collection of covers feels like an invitation to an intimate recording session with the duo. The eclectic tracks range from their close pals Allah-Las to classics from Stevie Wonder and the Louvin Brothers. In essence, they're cover songs curated in the best possible way: tracks that still sound quintessentially Mapache.
Dean Wareham – I Have Nothing to Say to the Mayor of LA: On his latest solo album, Galaxie 500/Luna frontman Dean Wareham doesn't stray too far from the Velvety guitar pop that's been his signature for more than 30 years. But that's not a complaint—and Wareham throws enough curveballs on I Have Nothing to Say to the Mayor of LA to keep us on our toes. Top of the heap is "The Last Word," his striking tribute to Eleanor Marx—Karl's daughter, an early feminist, and Madame Bovary translator. Not your standard rock 'n' roll fare, but it's a gem in Dean's hands.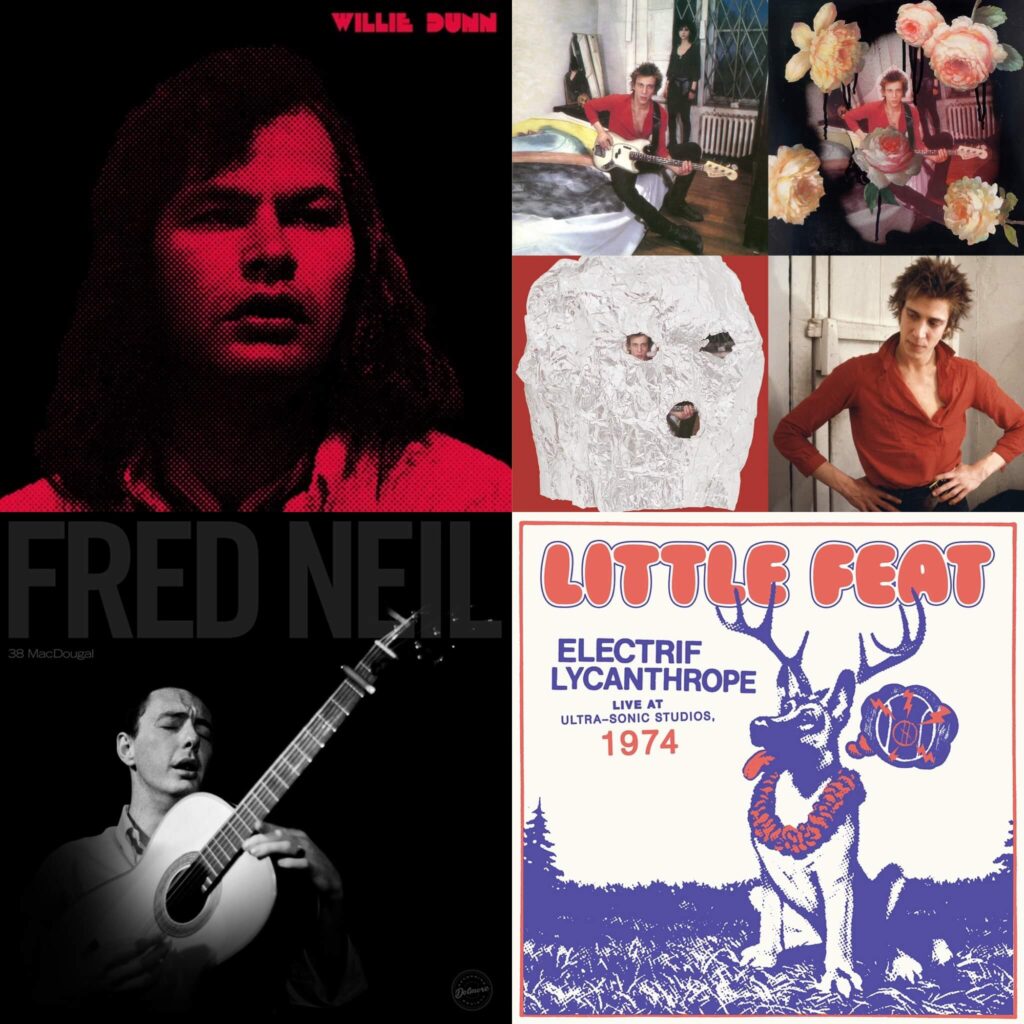 Willie Dunn – Creation Never Sleeps: A lavish, necessary overview of First Nations singer-songwriter Willie Dunn, gathering tracks from his four studio albums, plus a smattering of rare and unreleased recordings. Dunn deserves to be mentioned alongside any of the greats from the past 50+ years. The excellent, detailed notes from Kevin Howes are worth the price of admission alone.
Richard Hell and the Voidoids – Destiny Street Complete: One more stroll down Destiny Street! Ever since its release in 1982, Richard Hell has been dissatisfied with his second and final album with the Voidoids. The double-disc Destiny Street Complete is likely his last attempt at getting it right, offering remixes, re-dos, remasters — and most revealing, a selection of killer demo recordings that highlight the ferocious Robert Quine / Ivan Julian lineup of the group.
Fred Neil – 38 MacDougal: Taped in 1965 in an informal apartment setting, 38 MacDougal is the equivalent of a private recital by one of the great American singer-songwriters. Despite its vintage, the fidelity on the tape is crystal clear and Neil sounds invigorated and in fine voice throughout; one gets the sense he preferred this kind of laid-back setting to a pro recording studio.
Little Feat – Electrif Lycanthrope: The Feats aren't failing anybody on this oft-bootlegged 1974 live ripper. Spiffed up for official release, Electrif Lycanthrope finds the band in their funky prime, laying it down in front of a small crowd, grooving hard on all cylinders, and turning on a dime.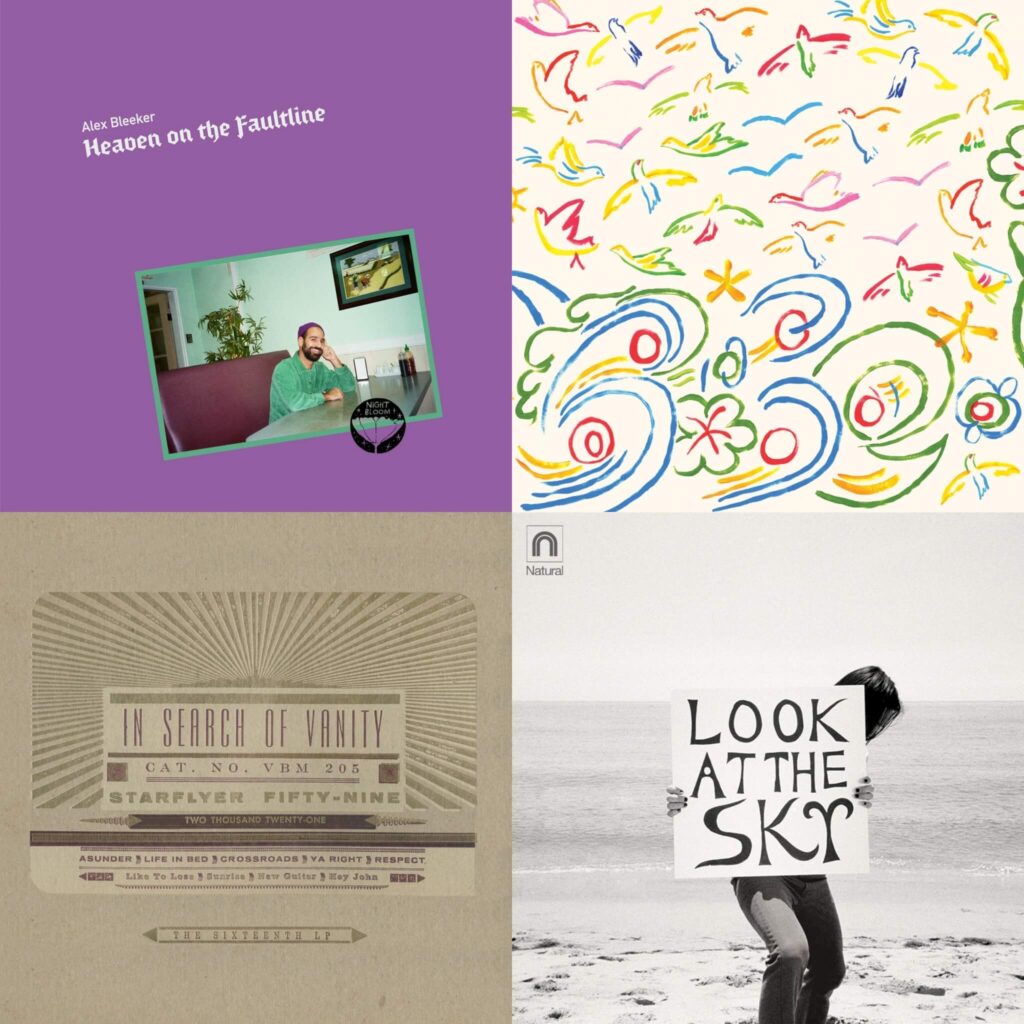 Alex Bleeker – Heaven on the Faultline: If you dug the Grateful Dead-inspired release Bleeker last put out with his "Freaks" backing band, this record feels like a natural successor. But Heaven on the Faultline also shines as Bleeker's first true solo offering, an artful combination of jangle pop and electronic influences.
The Babe Rainbow – Changing Colours: The Babe Rainbow and spruce it up their mellow surf vibes with splashes of harmonizing from R&B singer Jaden Smith, elevating the formula beautifully. On whimsical highlights like the countrified waltz "New Zealand Spinach," the Byron Bay quartet reach a new level of songwriting maturity.
Starflyer 59 – Vanity: For the better part of three decades, Jason Martin has crafted guitar music from Southern California. On his 16th album under the Starflyer 59 banner, he gathers up strands from the band's discography—chiming New Order guitars and synths, minimalistic and driving drums, and spaghetti western ambiance—and pushes forward with his grandest and most widescreen vision since the early 2000s.
Winds – Look At The Sky: "Here in the dream, no clouds should intervene, sun feeds the summer scene, and it feels so right," a fitting microcosm from standout track "Mango Mango". The aptly titled debut album by California-based Winds packs a mellow, breezy slice of west coast psych rock with hooks that will remain in your head for days.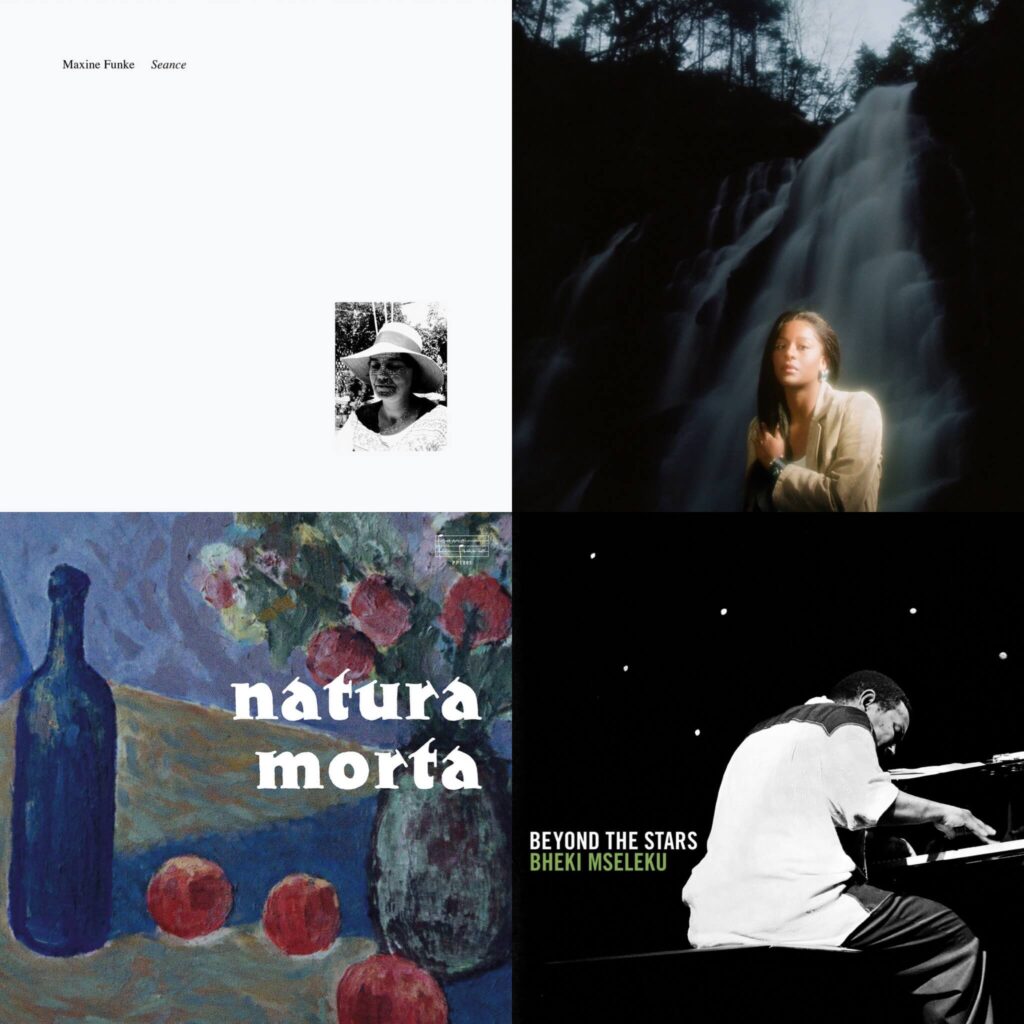 Maxine Funke – Seance:. At times swaying like a haunting dream, the creative lyrical poetry of Funke's craft is perhaps best exemplified on the seven minute opus "Quiet Shore".
L'Rain – Fatigue: Multi-instrumentalist L'Rain's sophomore record is a kaleidoscopic sonic tapestry wrapped in soul. Fatigue's interlude-ridden layering produces more than just a traditional sound collage, it beautifully conveys moods in a way equally as fulfilling as a more conventional, structured work.
Sven Wunder – Natura Morta: After bursting on the scene seemingly out of nowhere in 2019, the Swedish polymath takes a turn away from the Middle Eastern and Asian-inspired filmic funk of his first two LPs and delivers a jaw-dropping collection of art-inspired compositions. Natura Morta features a bold and gorgeous palette of lush orchestration, library grooves, and pastoral expressionism—a showstopping leap forward from one of the world's most exciting new artists and composers.
Bheki Mseleku – Beyond The Stars: A previously unreleased session recorded in London, Beyond The Stars provides a powerful glimpse into the musicianship of late, globetrekking jazz maestro Bheki Mseleku. This piano suite (a solo work from 2003), in the words of fellow South African musician Nduduzo Mahathini's liner notes, provides a "a divine summary of his life story."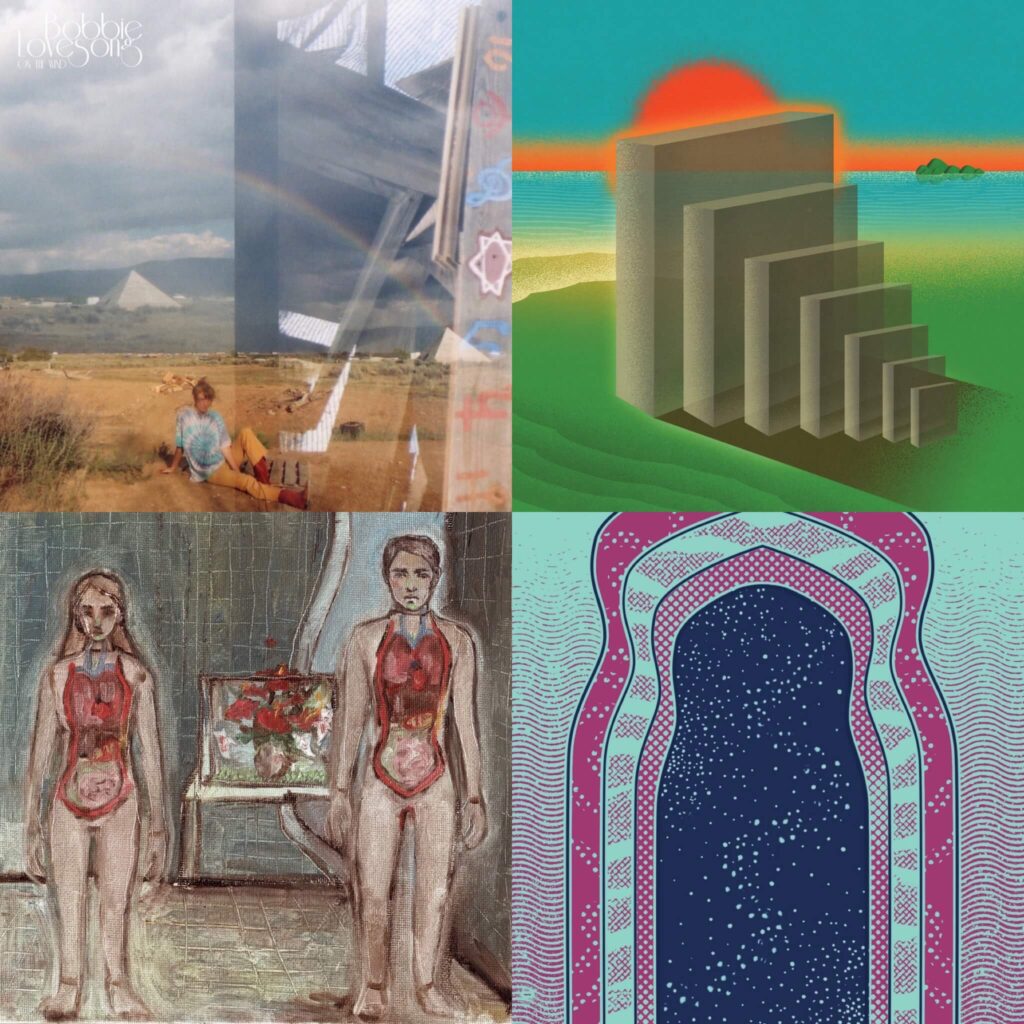 Bobbie Lovesong – On The Wind: A quarantine project recorded minimally in New Mexico, On The Wind shines as the promising debut record by Bobbie Lovesong (the alias of Chicago-native musician Madelyn Strutz). Described as a "hallucinatory sonic love letter" to its locale, the album is brimming with understated yet charming, ambitious sixties-inspired pop gems.
Chris Schlarb & Chad Taylor – Time No Changes: On the heels of a year with multiple great collaborative projects between Schlarb and Taylor's long-running Chicago Underground collective, Time No Changes is a fresh exercise between the duo. Here, Schlarb shines as a guitarist, creating a 12-string, meditative landscape that effortlessly blends a hybrid folk and jazz sphere in conjunction with Taylor's percussion.
Tarah Kikuchi – Science: One of the year's finest understated releases, Tarah Kikuchi's Science EP sounds like the precursor to an exciting trajectory. The laidback smoothness of the Tokyo-based musician's arsenal seems rooted in the influence of Haruomi Hosono's early works, with expanding nods to harmonies found in classic tropicalia.
Drew Gardner – S/T: Setting his work with Elkhorn aside, Drew Gardner's solo debut is a spacious, winding gem recalling the deep lysergic jams once housed in the psychedelic ballrooms of yore. Backed by a rhythm section of Garcia People's Andy Kush and percussion mainstay Ryan Jewel, Gardner's free to amble wherever he chooses, because there's no wrong direction to go.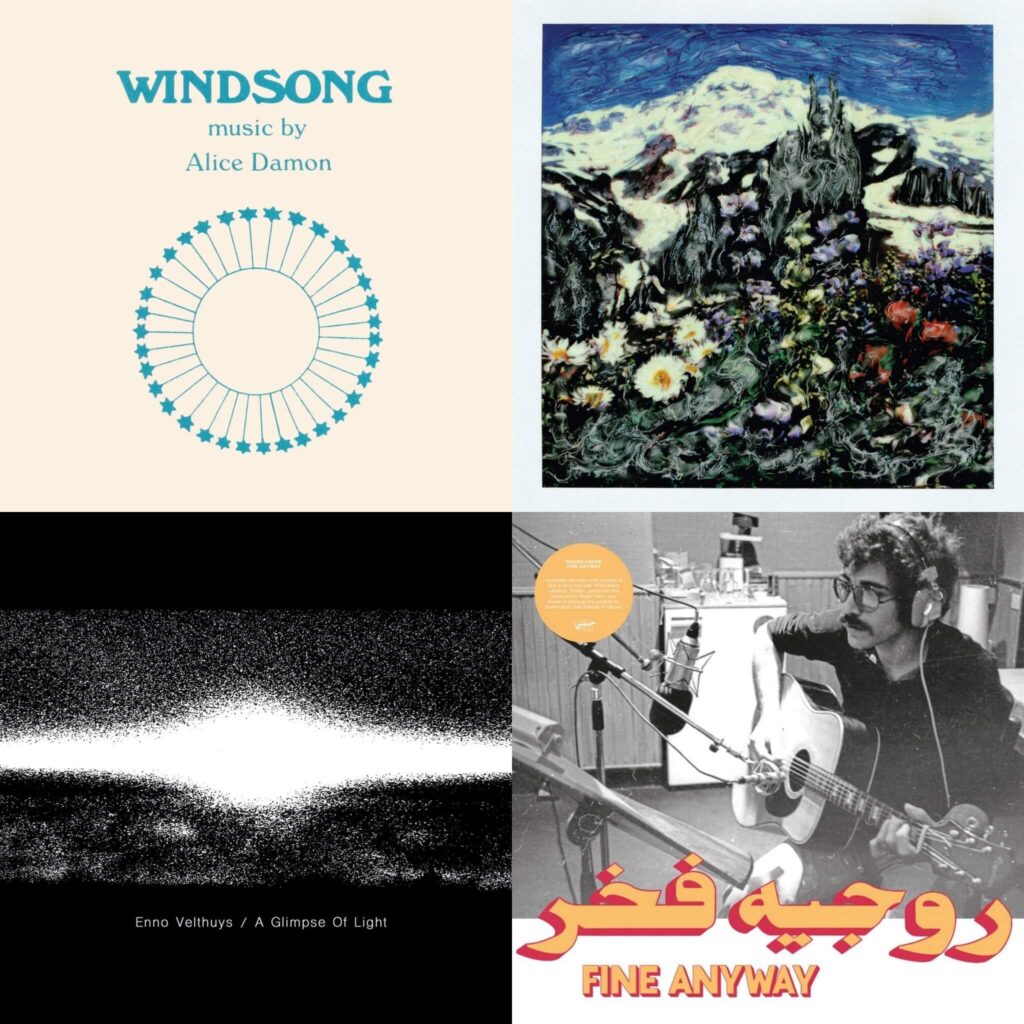 Alice Damon – Windsong: Essentially unknown until her inclusion on the landmark compilation I Am The Center: Private Issue New Age Music In America 1950-1990, Alice Damon's masterwork finally gets its due, forty years on. Mostly awash with wordless vocals and shimmering fretless bass, the palette is broadened on the 25-minute closing track to include burbling field recordings and twinkling synth. Flowing and enveloping like the purest spring water.
Evan Cheadle – Fault Line Serenade: Victoria, British Columbia's Evan Cheadle quietly delivered one of the year's more staggering and fully-formed debut albums—an earthy mix of sun-dappled psychedelia, nimble wordplay and fingerpicking, and ornate string arrangements. As unhurried as it is confident—a bold first step on what's sure to be a long and winding career.
Enno Velthuys – A Glimpse Of Light: A long overdue reissue of one of the ambient albums recorded in the eighties by the little-known Dutch artist Enno Velthuys, then living as a recluse with his mother. Minimal, melancholy, and mysterious electronic dispatches—a lone, bedroom version of Cluster & Eno.
Rogér Fakhr – Fine Anyway: Reissued by the thrilling Habibi Funk label, Fine Anyway is an exceptional self-released document of the Lebanese singer-songwriter Rogér Fakhr. Recorded in Beirut in 1977 and Paris in 1978, but interestingly recalling some of the best privately pressed American releases of the same era (though with an added depth). A rediscovered masterpiece overflowing with excellent and infectious songwriting, arrangements, and playing.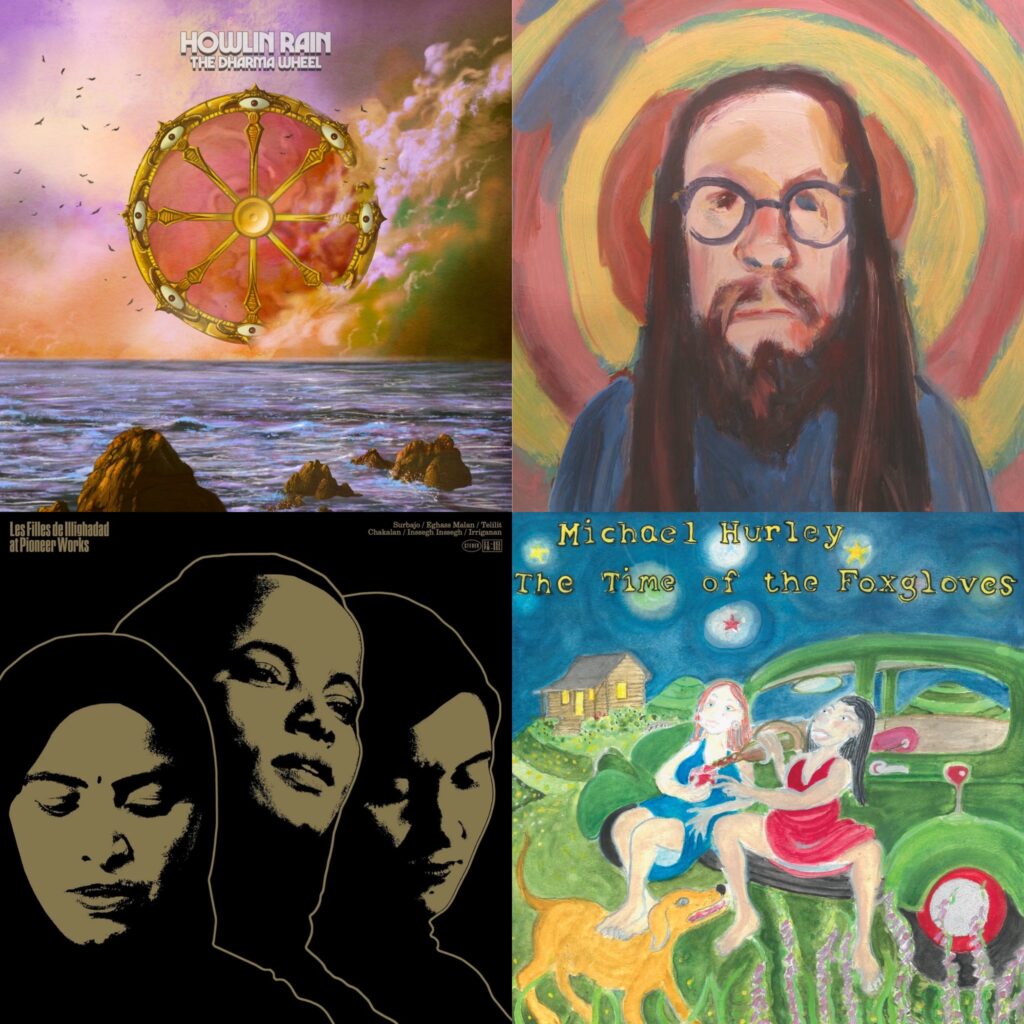 Howlin Rain – The Dharma Wheel: Another eccentric and thundering prog/psych/AOR freak out by Ethan Miller, whose nonstop creativity shows no signs of slowing. The Dharma Wheel boogies plenty, offers up some primo prismatic AOR ballads, and concludes with a multi-part rock epic that moves from Hammond driven funk rock to a Crazy Horse meets Floyd crescendo and beyond.
Jeffrey Alexander & the Heavy Lidders – S/T: Moving away from the pure improvisation of his band Dire Wolves, Jeffrey Alexander indulges his songwriter side. Teaming up with members of Elkhorn and Garcia Peoples, and joined by guest vocalists Marissa Nadler and Rosali Middleman, Alexander covers the Dead and conjures up laidback psychedelic folk and country modes.
Les Filles de Illighadad – At Pioneer Works: A hypnotic, jubilant, Saharan groover recorded at the Brooklyn stop on Les Filles de Illighadad's 2019 US tour. In their pairing of Tuareg guitar and tender rhythms, the Filles weave minimal magic.
Michael Hurley – Time Of Foxgloves: At almost 80 years old, Michael Hurley can withstand any plaudit you can throw his way—living legend, American hero, national treasure, etc. But his latest album doesn't sound like the work of someone at the end of the line. On the contrary, The Time of the Foxgloves brims with vitality, as the ever-idiosyncratic songwriter draws on more than a century's worth of roots music to come up with a collection that is 100 percent authentic Hurley. An honest-to-goodness miracle.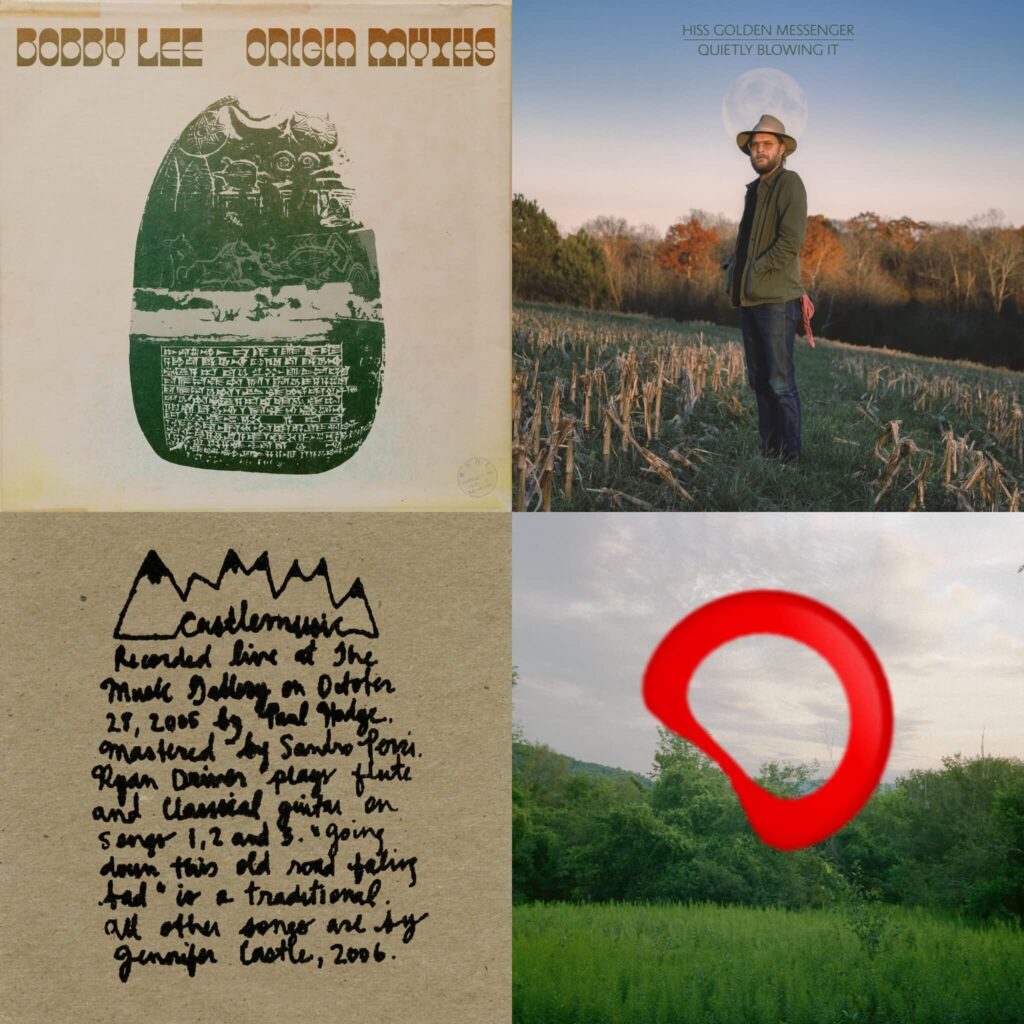 Bobby Lee – Origin Myths: Desert fantasias of reverb and tremolo that choogle into the horizon, where ancient Earth gives way to wide open skies. A kind of third-eye western soundtrack where JJ Cale meets Michael Rother at high noon.
Hiss Golden Messenger – Quietly Blowing It: Even though he's been working at a pace that outstrips most, M.C. Taylor's Hiss Golden Messenger still continues to deliver the goods. Brimming with swampy and soulful grooves, Quietly Blowing It is a slight return to the sort of anthemic and heartfelt searching that first put him on the map.
Castlemusic – Live At The Music Gallery: The stunning debut (recorded live in 2006) of Jennifer Castle, previously only available as a CDR sold at early shows. Though accompanied by Ryan Driver—the Loren Conners to her Kath Bloom—on three tracks, this is Castle at her most intimate and skeletal. Unflinchingly vulnerable and absolutely devastating—a fascinating and unrefined early glimpse of a generational talent.
Wendy Eisenberg – Bent Ring: Sparse and vulnerable, Bent Ring examines life, time, love, and the artist's place in the world. Performed entirely on banjo, Eisenberg's songs are disarmingly honest and tuneful, cutting to the core with delicate intensity as fierce as it is fragile.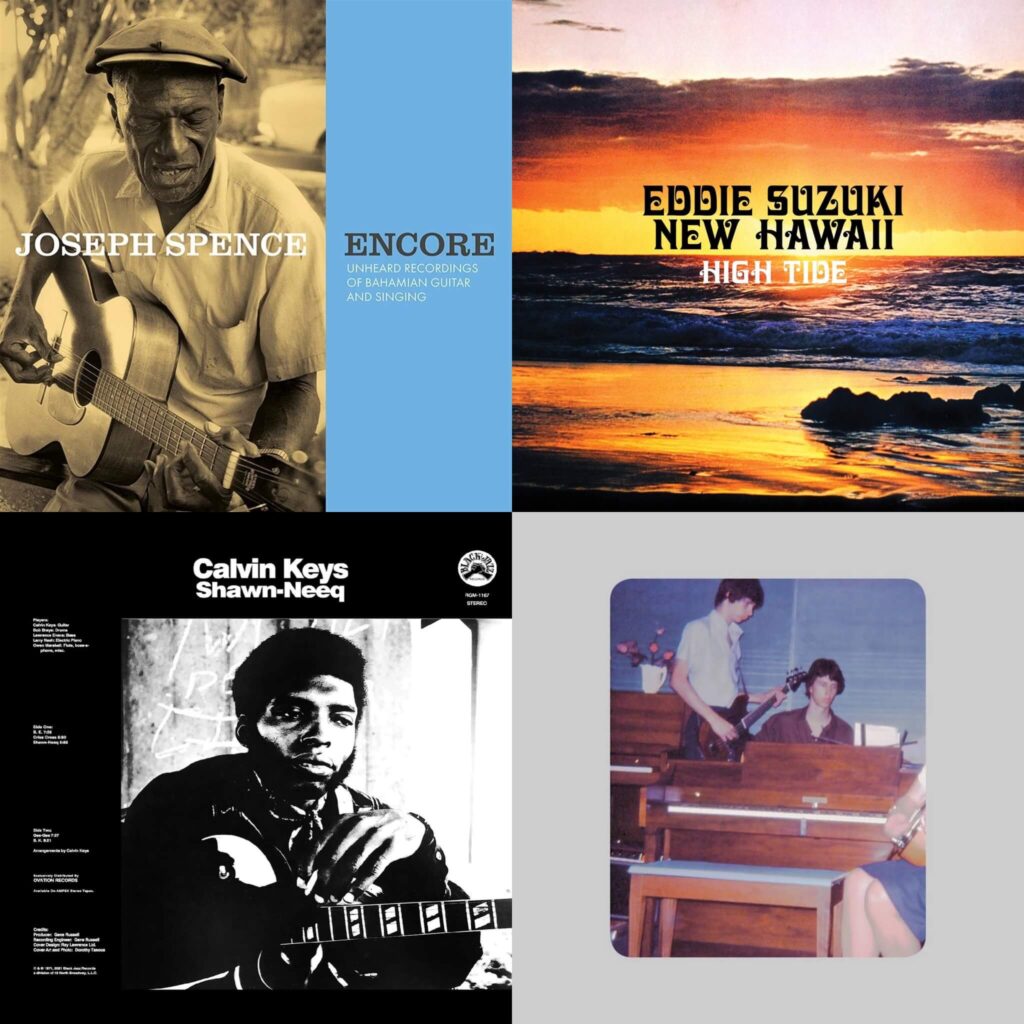 Joseph Spence – Encore: A new album of previously unheard archival recordings by the legendary Bahamian guitar player, made at the height of his career in 1965. Even when doing a standard like "Give Me That Old Time Religion," Spence's sui generis playing and idiosyncratic half-singing, half-scatting style is on full display. A glimmering addition to his relatively sparse discography brimming with transcendent folk blues.
Eddie Suzuki New Hawaii – High Tide: Thanks to Aloha Got Soul, "a Honolulu-based record label championing new music and rare reissues from Hawai'i," comes this 1973 album from lifelong composer and musician Eddie Suzuki and his group New Hawaii. A unique, beautiful, and deeply personal vision of his homeland, filtered through bright sun psychedelia and Hammond organ lounge pop.
Calvin Keys – Shawn-Neeq: Of the many high point of the Black Jazz discography, Calvin Keys' debut as a leader stands a cut above. Even though it's Keys' first session as a leader, the album feels every bit an ensemble piece, brought to higer height by group interplay rather than solos. From gritty soul-funk to the ethereal title cut, Shawn-Neeq set a benchmark for sou-jazz guitar that has yet to be surpassed. Smoking on every possible level.
His Name Is Alive: A Silver Thread (Home Recordings 1979-1990): Playing like a time travel collaboration between Warren Defever circa 2021, serving as curator and his younger self, who generates the ghostly noise, sustained tones, and skeletal songs. That these decades old recordings sound oddly contemporary with modern electronic minimalists indicates how far ahead of the curve Defever's always been.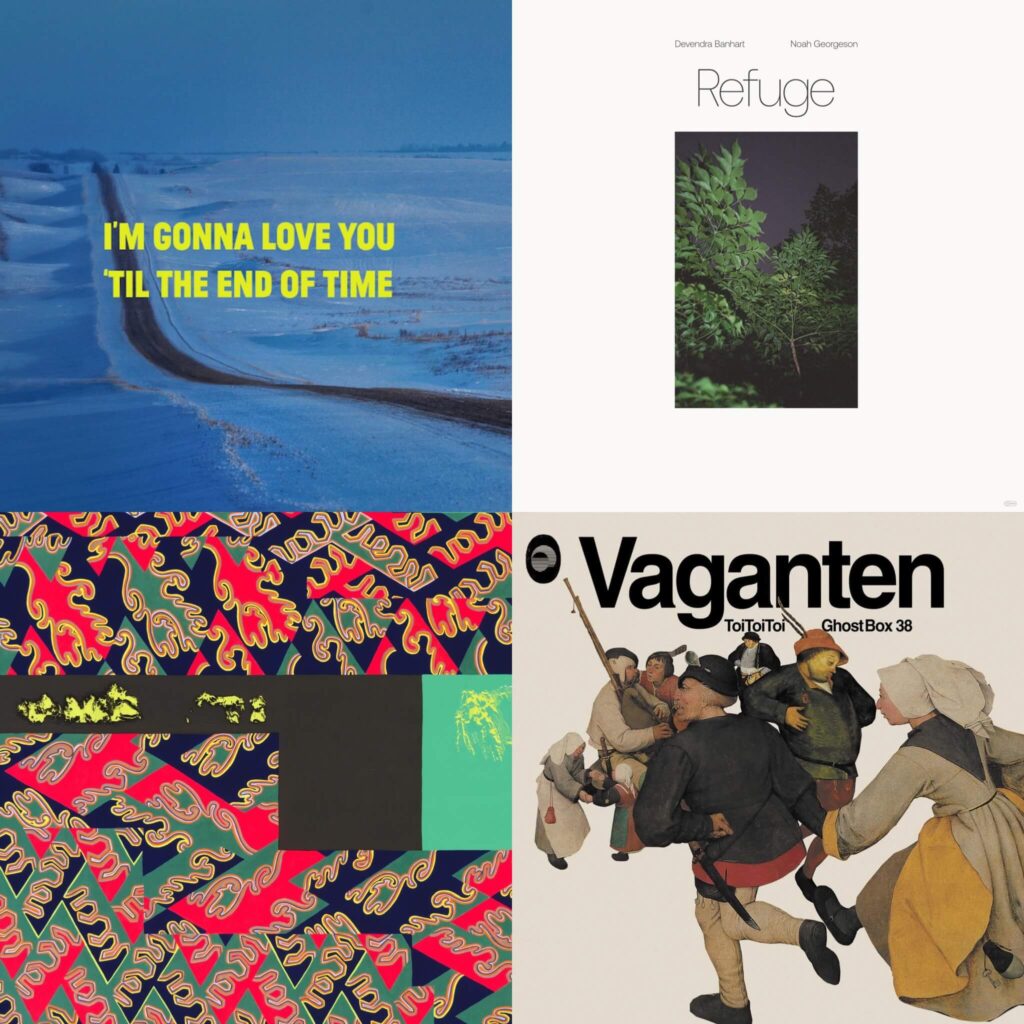 Wasted Cathedral – I'm Going To Love You 'Til The End Of Time: The latest in a run of increasingly impressive run of releases from the protean prairie journeyman Christopher Laramee. Crashing drones, Seefeel-esque guitars looped into oblivion, and cascading sampled drums all adding up to a towering mass—sub-arctic incidental music for the ages.
Devendra Banhart & Noah Georgeson – Refuge: With its ethereal, cumulus drift, Refuge makes a space of itself, which we might inhabit, where fear and suffering are transcended. A work of reverent homage that finds its place in the lineage of Budd and Eno.
Natural Information Society with Evan Parker -descension (Out of Our Constrictions): On this bracing live recording, the core Natural Information Society group (Joshua Abrams on three-string guimbri, Lisa Alvarado on harmonium, Mikel Patrick Avery on drums, and Jason Stein on bass clarinet) are joined by the legendary saxophonist Evan Parker. Right out of the gate, the musicians are soaring, with Abrams and Avery laying down an invigorating rhythmic bedrock while Stein and Parker conjure up the ghosts of Coltrane and Dolphy at the Village Vanguard in 1962, dueling and daring each other to new heights.
ToiToiToi – Vaganten: The work of Berlin-based conceptual artist Sebastian Counts, ToiToiToi's latest work is an especially intoxicating concoction of early music, European TV titles, and wonky electronics—the sort of wonderful weirdness you'll only find on Ghost Box Records. Blurring the lines between old and new, spooky and whimsical, and electronic and acoustic, Vanganten is unlike absolutely anything else you'll hear this year.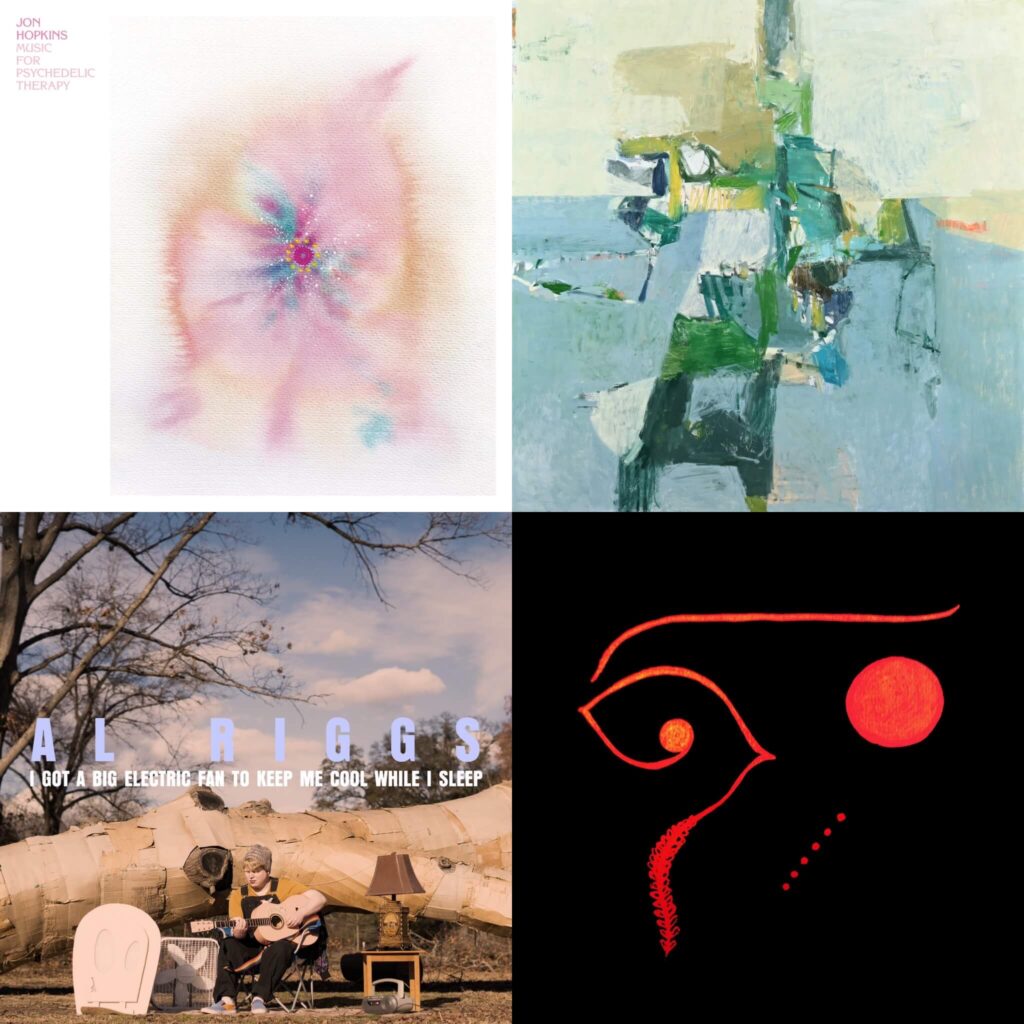 Jon Hopkins – Music For Psychedelic Therapy: The pioneering British producer ditches the beats and travels beyond ambient to the internal. Meant as an alternative to accompany guided trips, Music For Psychedelic Therapy is a sixty-three minute journey of untethered electronics, field recordings, and wordless vocals (though the stunning closer "Sit Around The Fire" contains archival recordings of Ram Dass). Vision music of the utmost degree.
Ryley Walker – Course In Fable/Ryley Walker, Andrew Scott Young, Ryan Jewell – Post Wook: "Fuck me, I'm alive" might be lyric of the year, right? Teaming with John McEntire of Tortoise, Ryley connects Chicago post rock to Genesis. And as if that wasn't enough, he kept insanely busy, releasing collaborative work with Kikagaku Moyo, pianist/guitarist David Grubs, and on Post Wook, bassist Andrew Scott Young and drummer Ryan Jewell, teaming for a skronking freak out that veers from John McLaughlin with Miles grooves to Sun City Girls surf nightmares and beyond.
al riggs – I Got a Big Electric Fan To Keep Me Cool While I Sleep: A restless and consistent creative force, al riggs settles into heartland rock shapes here, country rock that's been fuzzed out and and turned sidewise. On the traditional "Ragged But Right," riggs is joined by queer country heroes Patrick "Lavender Country" Haggerty and Paisley Fields, bringing to mind the joyful rootsiness of Wilco and Billy Bragg's Mermaid Avenue.
Matt Lajoie – Red Resonant Earth: Shimmering twelve-string guitar evocations of deep Earth and verdant growth, Lajoie's automatic compositions unfold new terrains in consciousness.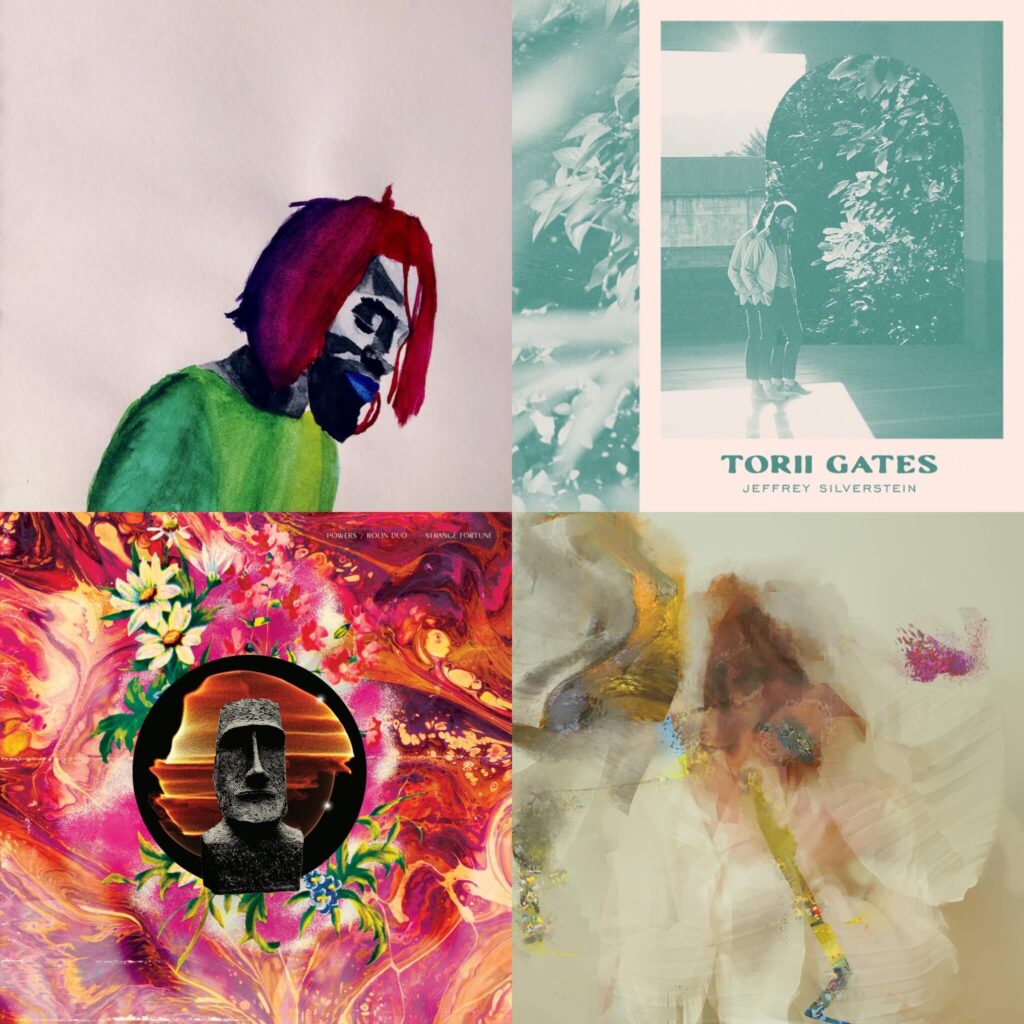 Kafari – Blanket of Black: Breakbeat nocturnes at the intersection of ambience and spiritual jazz. Kafari is a practitioner of music as balm and Blanket of Black is nothing short of a gentle masterstroke, expansive and subtle and wind through grass while the surrounding world blooms as if for the very first time.
Jeffrey Silverstein – Torji Gates: Teaming up with electrifying pedal steelist Barry Walker Jr., bassist Alex Chapman, percussion, and a ticking drum machine, guitarist Jeffrey Silverstein stretches layers of sound and sways against hypnotic rhythms. It's mostly instrumental, but Silverstein sings low and lovely on a couple numbers.
Powers Rolin Duo – Strange Fortune: Sheets of dulcimer and twelve-string cascade into a singular, radiant thrum on the latest from the Powers/Rolin Duo. From its humble opening to the resplendent sidelong "Amaranth," Strange Fortune is an album of pure ecstatic light.
Flock of Dimes – Head of Roses: Jenn Wasner's heroics are hardly limited to the guitar solos on her second Flock of Dimes album. "I want to be good and I want to mean it," she sings on this record of reconstruction and rebirth, home to sax-laden pop, ambient ballads, and driving rock songs. And to be clear, there certainly are tremendous guitar moments, like on the sublime and wounded "Price of Blue" in which she soars wildly.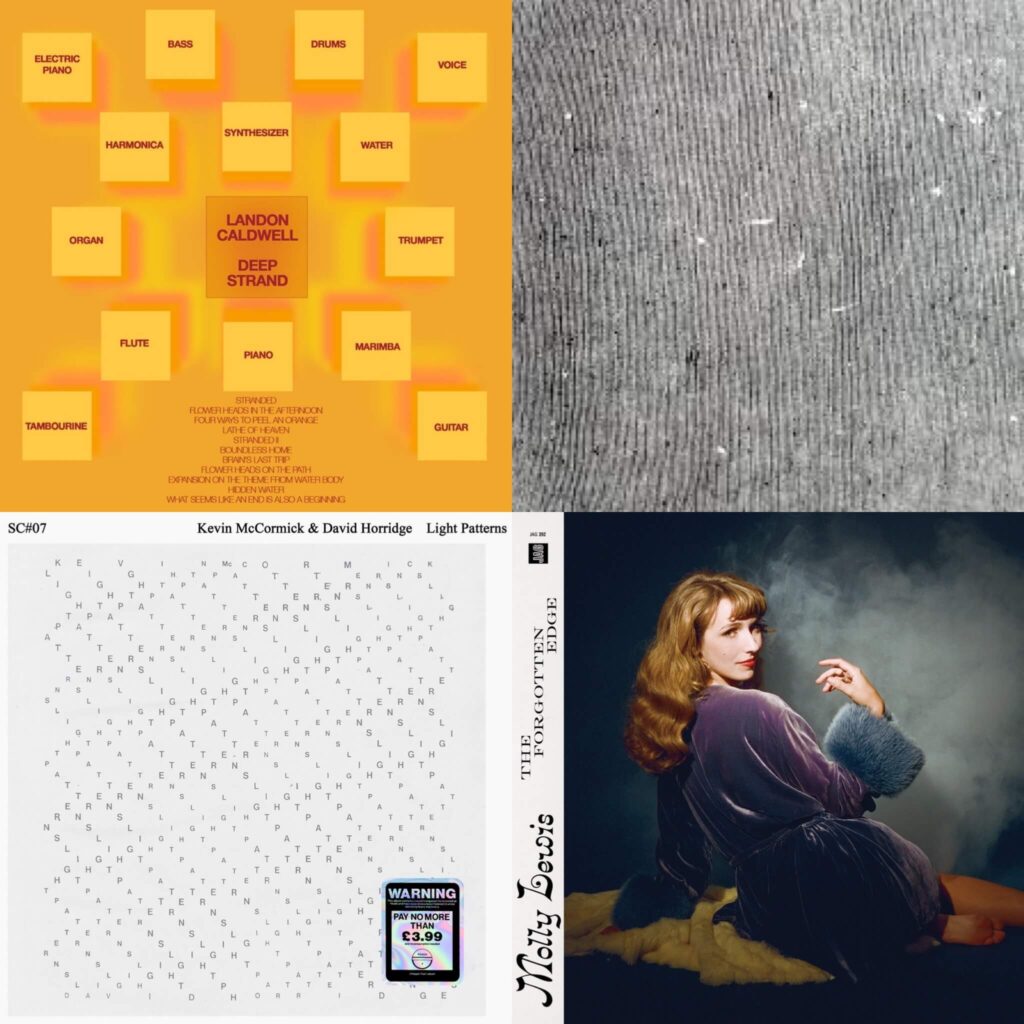 Landon Caldwell – Deep Strand: Of all the releases Landon Caldwell had a hand in this year (and there were more than a few), Deep Strand feels like the most direct line into his multifaceted sonic palette. From gentle ensemble pieces to enveloping washes of synth, it's clear that Caldwell's world is in full bloom.
Low – Hey What: On their 13th full length, Mimi Parker and Alan Sparhawk present a masterclass on how to blow up your sound while still retaining it fully. Teaming once again with producer BJ Burton, they pair their close harmonies with digital hiss, overdriven bass, and apocalyptic noise, naked humanness persisting in the face of a malfunctioning machine world.
Kevin McCormick & David Horridge – Light Patterns: Hailing from Manchester's stomping grounds of the early '80s, how Kevin McCormick and David Horridge didn't end up on the Factory Records roster is anyone's guess. Light Patterns hovers in the vapors between the Durutti Column's effects-washed minimalism and the Towner/Abercrombie sessions for ECM. A lush and meditative record that takes the floor right out from under you.
Molly Lewis – The Forgotten Edge: Whistler Molly Lewis evokes the florid soundscapes of mid-century exotica on this charming EP, custom built for a backyard cocktail party in which the host shows off vacation photographs of some faraway land. Only instead of boredom and tedium, the pictures actually transport you there. It's a place that doesn't truly exist, "The Forgotten Edge," but that's the point.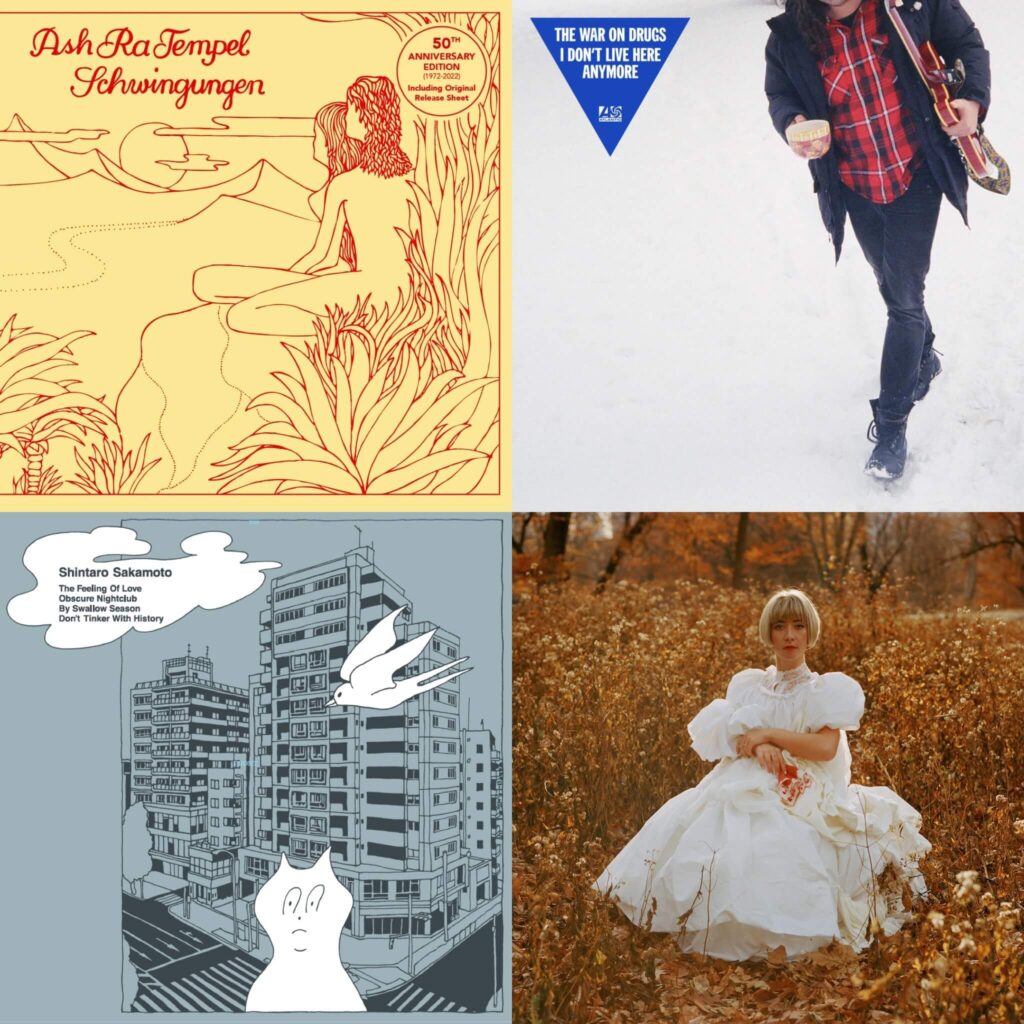 Ash Ra Tempel – Schwingungen: A Teutonic wallop of sheer astral might, Schwingungen finds Ash Ra Tempel blasting away at the earthly tethers of the mere power-trio. Embodying everything from dark, "Albatross"-on-brown-acid blues rock to sax-laced wailings reminiscent of Hawkwind at their most unhinged, the band ultimately emerges from the maelstrom in an ascent toward the stellar regions.
War on Drugs – I Don't Live Here Anymore: With The War on Drugs, Adam Granduciel presents idealized and ghostly forms of classic heartland rock, creating a space that's unmoored in time, where half-recalled Dylan and The Boss songs blur into a Kosmiche sensory washes and New Wave twinkles. It's hazy like a mirage, not always distinct, but resonates in its uncanny familiarity. We don't live there anymore, but the place remains accessible.
Shintaro Sakamoto – The Feeling Of Love EP: Like a master craftsman, Sakamoto burnishes his blend of hazy AM folk, disco, and funk, letting his lap steel lead the way. His deep sense of playfulness is the key here—he's never content to play it entirely straight, and his pitched up vocals, rhythms, and squiggly melodies don't feel extraneous. Instead, they feel genuinely novel and the EP's short length all but demands to be played a few times in a row.
Carol – Soiled EP: 2021 absolutely called out for a song like Carol's "Changed to Survive" from the Soiled EP. In a year where that very phrase probably defined a lot of our lives, Carolyn Flaherty's album is not a balm but an inward search towards a new truth. "There's a sweetness fossilized inside me / and I knew it was gone," she sings in the brilliant, double-meaninged "Cavities," a song that lyrically recalls the album's balance of delicately picked folk guitar and dramatic, pounding percussion.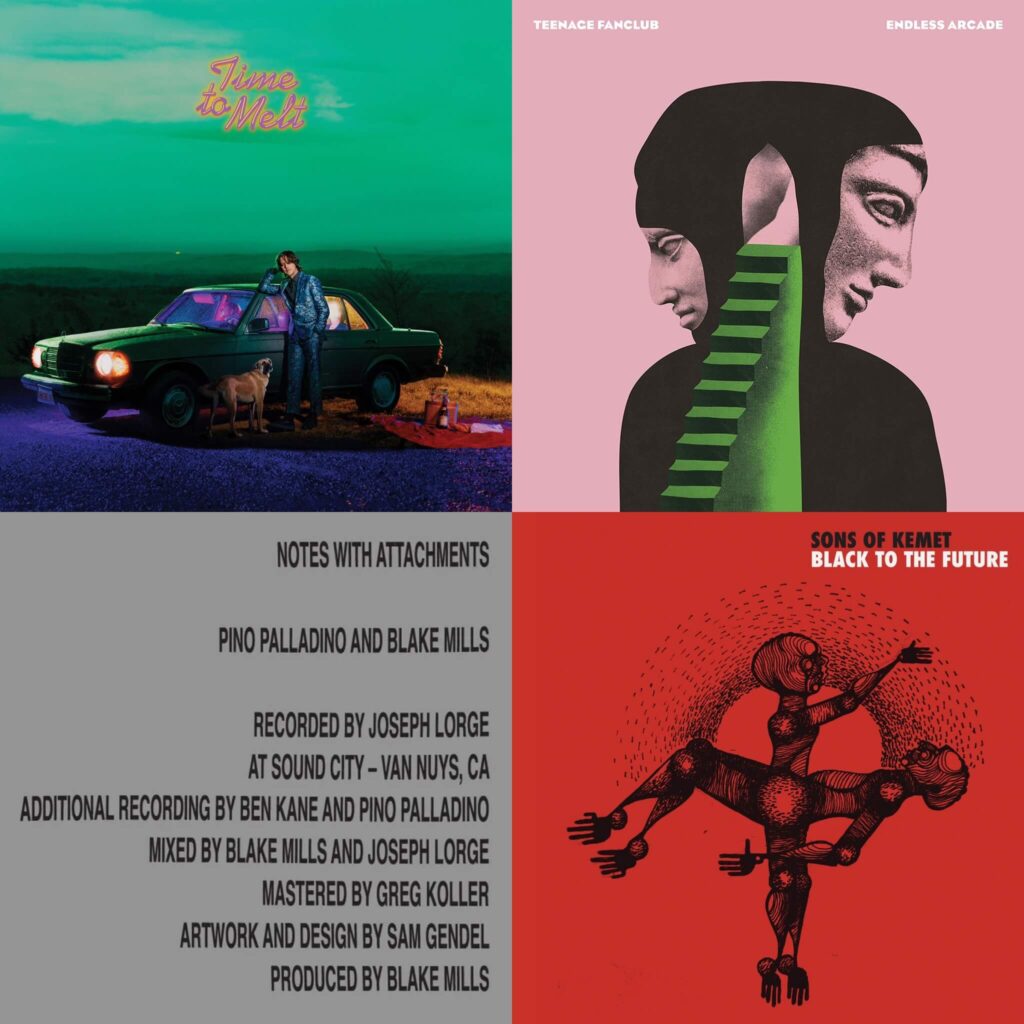 Sam Evian – Time to Melt: Drawing inspiration from classic soul greats like Sly and the Family Stone and Marvin Gaye, Sam Evian gets loose and wooly from upstate on his latest. A quarantine record that doesn't feel hemmed in and a political one that doesn't feel didactic, the album feels easy but not slight.
Teenage Fanclub – Endless Arcade: Post the polite exit of founding member Gerard Love, Teenage Fanclub continues on, still excelling at starry eyed folk, psychedelic groovers, and electric guitar mini-epics. The key remains the familial interplay between the vocals of Raymond McGinley and Norman Blake. An assured and thoroughly charming record from a reliable source.
Pino Palladino & Blake Mills – Notes With Attachments: Working in a setting that accommodates jazz sophistication, avant pop, Cuban shuffles, and Dilla evoking rhythms, journeyman bassist Pino Palladino (The Who, D'Angelo) and in-demand producer and guitarist Blake Mills relish the chance to cut loose. Backed by a set of LA studio heavyweights like saxophonist Sam Gendel, drummer Chris Dave, organist Larry Golding, and others, their compositions are textural and fluctuating.
Sons of Kemet – Black to the Future: Saxophonist and clarinetist Shabaka Hutchings' heavy as hell brass band is by guests like Angel Bat Dawid, Moor Mother, Lianne La Havas, Joshua Idehen, D Double E, and Kojey Radical for a set of bracing, utterly propulsive music that rages, struts, and sways mightily.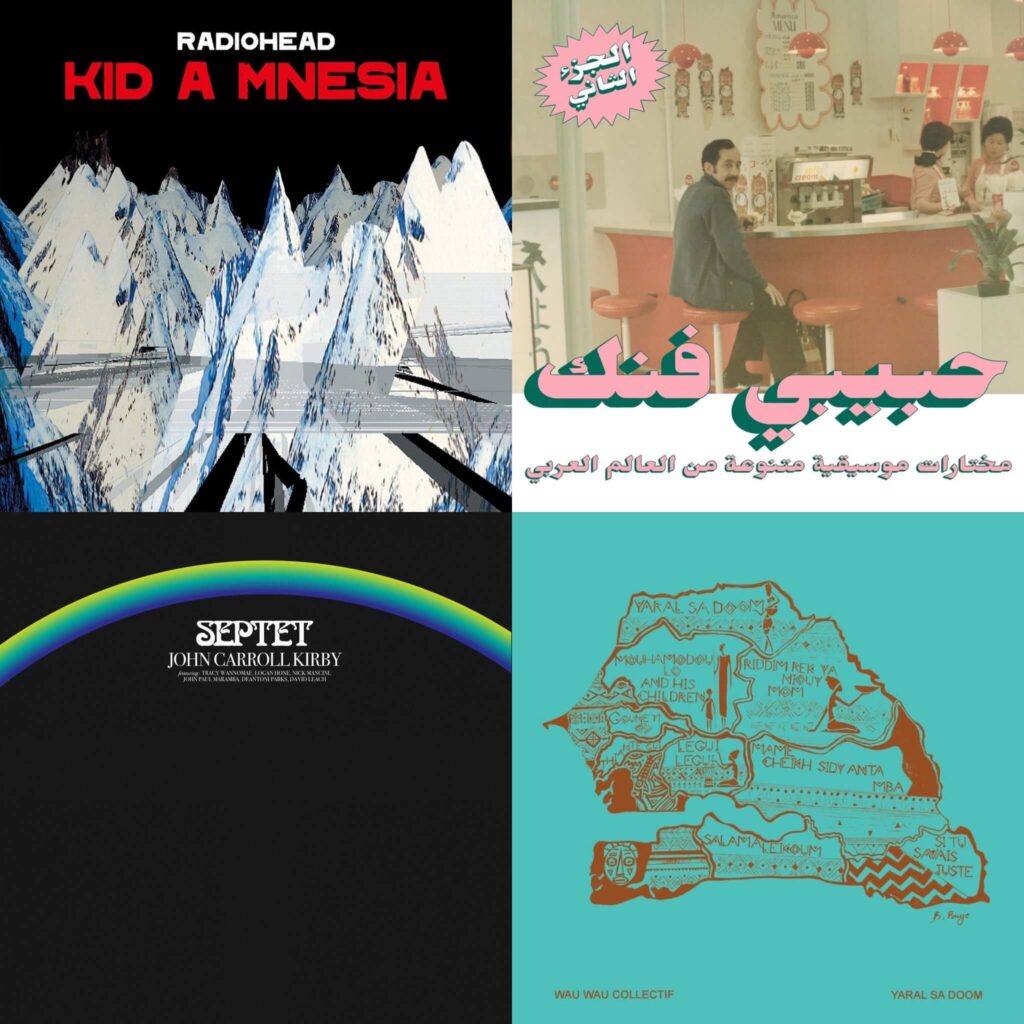 Radiohead – Kid A Mnesia: 21 years on, Radiohead unite their fourth and fifth albums into the double-album they always sort of were. Continuing the drift into electronic territory of OK Computer, Kid A Mnesia presents Radiohead as a singular force in rock music. The proper songs remain at the main attraction here, but outtakes, B-sides, and early versions amount to more than curiosities: the beautiful "Follow Me Around" serves as a reminder of what had come before, and while it's discarding makes sense in terms of the electronic palette of the final recordings, it's still exciting to hear.
Habibi Funk 015: An Eclectic Selection of Music from the Arab World (Part 2) – Another essential compilation from the folks at Habibi Funk. With 015, the Berlin-based label unearths and stitches together vibrant, groove-laden tracks from Morocco, Egypt, Lebanon, Algeria, Kenya and beyond. All equally fitting for dancing 'til dawn or frantic errand-running around the neigborhood in the old Cartier Town Car.
John Carroll Kirby – Septet: John Carroll Kirby's credits include everyone from Myley Cyrus to Frank Ocean. Leading a tight band on this third Stones Throw album Septet, locks into course with an inviting set of '70s jazz funk loungers. Best paired with a Sunday afternoon and nothing to do.
Wau Wau Collectif – Yaral Sa Doom: One of our favorite albums of 2021. A revelatory compilation of sundry recordings tracked and traded between Senegal and Sweden across 2018 and 2019, Yaral Sa Doom exudes the sort of indescribable magic that arises when music is captured in its truest form. Cannot play this one enough.
Contributors: Justin Gage, Jason P. Woodbury, Tyler Wilcox, Jay Steele, Chad DePasquale, Jennifer Kelly, Kaley Evans, Mark Neeley, Josh Neas, Jarrod Jannis, David Mittleman
'Tis thee season. Aquarium Drunkard is powered by our patrons. Keep the servers humming and help us continue doing it by pledging your support via our Patreon page.