(Welcome to Videodrome. A recurring column plumbing the depths of vintage and contemporary cinema – from cult, exploitation, trash and grindhouse to sci-fi, horror, noir, documentary and beyond.)
In 1968, Agnes Varda and her husband Jacques Demy found themselves in Hollywood. As the story goes, the French filmmaking couple were taking a vacation. They simply fell in love with the city and Demy felt compelled to shoot a movie there. But in reality, by 1967, Demy had delivered the one-two punch of The Umbrellas of Cherbourg and The Young Girls of Rochefort. So it's not hard to imagine the other version of events — that Hollywood, and in particular Columbia Pictures, had a keen interest in producing Demy's next candy-colored crowd-pleaser.
Whatever brought them to Los Angeles in the first place, the result was that in 1969, both Varda and Demy would release their own indelible, cinematic interpretations of life in Hollywood. On April 1, 1969, Demy came out with Model Shop, a romantic drama that was far more somber and featured way more existential brooding than Columbia had in mind. It was unceremoniously dumped at the bottom of drive-in double bills. Recently, Demy's film has gotten some attention and reappraisal after being cited as an inspiration for Quentin Tarantino's Once Upon a Time in Hollywood. For one thing, Model Shop has a good amount of driving around 1968 Los Angeles with the radio on.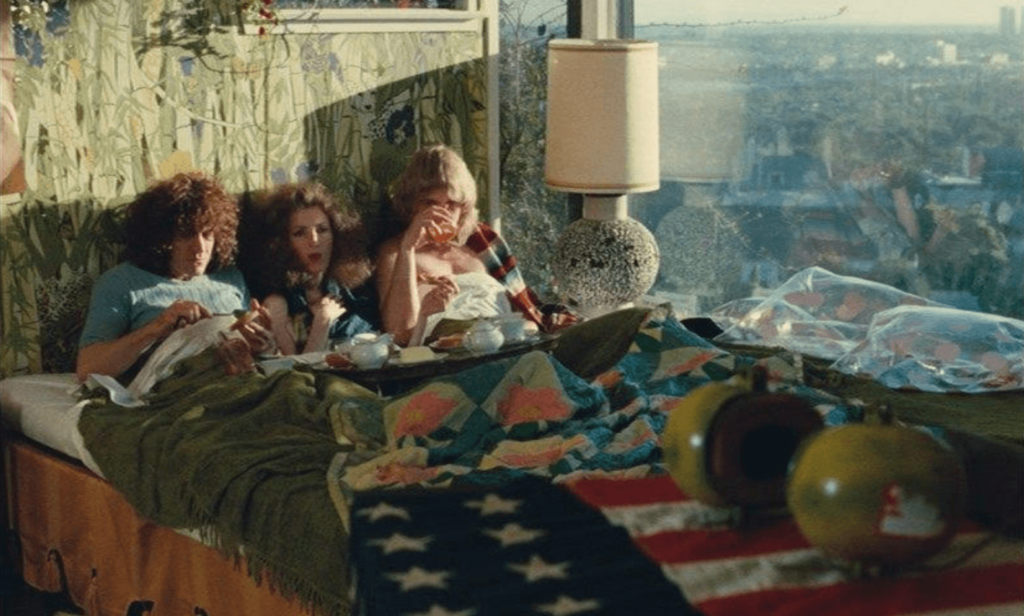 But let's take a look at the film that may in fact echo Tarantino's opus in some more interesting ways. A few months later, on September 20, 1969, Varda released Lions Love, a movie that absolutely defies any sort of easy classification. Yet, unlike Model Shop, it's exactly the kind of movie you'd expect Varda to make. It thoroughly blurs the line between documentary and fiction as it chronicles the day-to-day lives of three actors and a filmmaker who are living in a rented house in the Hollywood Hills. During the proceeds, the fourth wall isn't just broken, it's obliterated. From the opening scene, you're never sure exactly what kind of movie you're watching. A sex comedy? A free-love slice-of-life documentary? A subversive, political hippie farce? All three? Only in the final moments do you get a better sense of just what Varda is up to with this experiment.
Lions Love focuses primarily on a polyamorous love triangle between three actors, Viva, Jim and Jerry. Viva is played by herself, Viva, the superstar of Andy Warhol movies such as Lonesome Cowboy and The Nude Restaurant; Jim and Jerry are played by James Rado and Gerome Ragni, the creators and stars of the rock opera Hair, and they seem to be playing a comedically heightened version of themselves, or perhaps people they know well. Early on, this idyllic, enamored trio welcome an out-of-town houseguest in Shirley Clarke, the director of avant-garde New York films like The Connection and The Cool World. It should now go without saying, Clarke is also playing herself, a director from New York who is in town to take some meetings with producers and maybe get a new project going.
While the set-up to Lions Love is already getting into some house-of-mirrors type stuff. But it only gets more meta from there. There is a thin narrative surrounding Clarke's meetings and her conflicted feelings about Hollywood, but for the most part we get a series of vignettes as Viva, Jim and Jerry contemplate their progressive arrangement, wonder if they could ever be a real family, and dissect the true meaning of art and life — and whether there's any difference between the two. There's a lot of humor, and some of the funniest moments come when the trio actually get some children to come over as an experiment to see whether they could be good parents. The answer is an unequivocal no, with an exhausted Viva agreeing to the idea of giving the kids some "red candy" so they'll finally take a nap.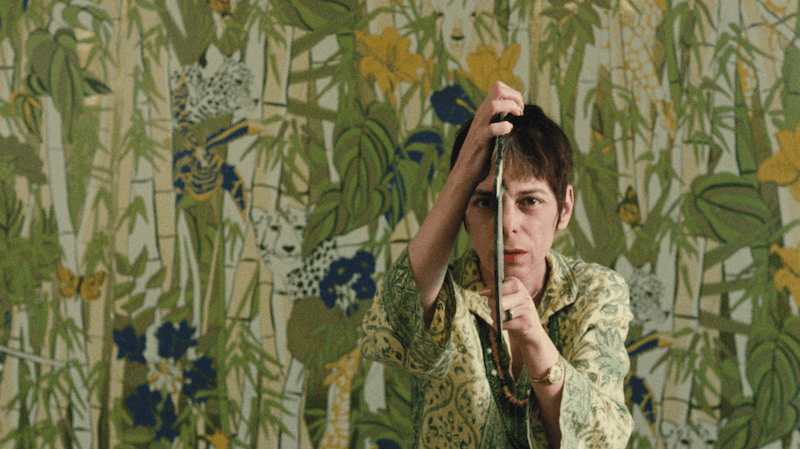 Like a lot of Varda's movies, there's a good amount of formal rule-breaking shenanigans going on. From the start, you don't have to squint too hard to see Clarke as stand-in for Varda. They're both female filmmakers who shifted between narratives and documentaries, and liked to shine a light on marginalized people. They're both small in stature, with short black hair. They're both outsiders in Hollywood, and when you watch the scenes where producers debate how much money and creative freedom Clarke should be given for her movie, you know this is probably a verbatim account of Varda's own experiences. But then she takes things a step further. After a mesmerizing sequence that literally asks, should art reflect or distort reality?, Varda steps from behind the camera and literally stands-in for Clarke when Clarke can't go through with a particularly troubling scene. It happens once more when the camera cuts to Clarke, only to find Varda sitting on the couch, wearing Clarke's robe.
This kind of playfulness is constantly disorienting and exciting. Half the time, you feel like you're watching a documentary. Nothing feels particularly scripted. But then you're frequently being reminded of the artifice of it all — from the fake fruit and fake plants that decorate the rooms, to the elaborately staged skits that get acted out in the backyard. Or, when one of the actors tells another, "Don't worry, Agnes will edit that out."
The point of it all isn't so much storytelling as it is capturing a particular mood in the particular time and place of 1968 Hollywood. We see the protesters in the streets, and we watch the assassination of Martin Luther King, Jr. and Robert Kennedy just as so many other witnessed it at the time: through the small television screen in their home. As the horrors of 1968 creep into the house through the airwaves, we get the feeling that the concerns of our main trio are both meaningless and everything, trite yet authentic, absurd yet profound. Sometimes, even prophetic. At one point, a conspiracy theory is tossed out. Is the Klu Klux Klan responsible for these assassinations? Kennedy, King, Kennedy. KKK! This nonsense is immediately shot down, yet, here we are, fifty years later, with the Kennedys still sitting at the center of the most popular conspiracy theories out there.
Watching Lions Love after Once Upon a Time in Hollywood, it's remarkable how much Varda's movie plays like the flipside to Tarantino's. While Tarantino was interested in the lives of older actors who were being left behind by the emerging counterculture, Varda is embedded within that very same counterculture. Who are the up-and-coming fringe actors in Hollywood? What are the concerns and motivations of these so-called hippies? What are their contradictions, fears, ambitions? This is precisely what Lions Love is all about. But perhaps the most interesting parts are watching their reactions to the politics around them. Viva likes Robert Kennedy because he represents something attractive in a "sea of ugliness." Which brings up the point that, even though they look the part, you could argue that none of these characters are real hippies. After all, Warhol's Factory was decidedly anti-hippie. And rather than being passionate, politically active liberals, there's a certain ironic detachment and reactionary stance to their own politics. This may turn some viewers off initially. They can easily appear as annoyingly aloof and stoned. But the more you stick with it, the more it works not just in the context of a comedy, but also as a provocative piece of satire. They'll surprise you in the end.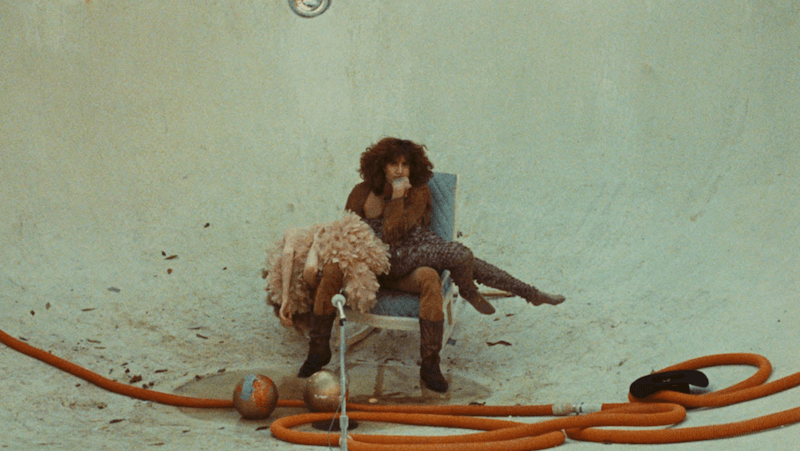 There is, of course, one other thing that makes the comparison to Once Upon a Time in Hollywood even more striking. In that film, the Tate – LaBianca murders loom over the story like a terrible doomsday prophecy no one knows about. As Lions Love progresses, and we cycle through the tragedies of 1968, that same event loom large in a completely unintentional way — which only makes it all the more tragic. This time, we know there isn't any pit bull-shaped deus ex machina. We also know full well that the lives of these young, liberated actors (both real and fictionalized) living in the Hollywood Hills will be forever changed by what's right around the corner. As it would turn out, the movie would make its debut at the New York Film Festival less than a month after the murders took place. While the assassination of Robert Kennedy didn't completely derail our trio, you have the feeling that this future event will, and it's kind of heartbreaking. Especially when the final scenes play out and Varda pulls aways the artifice and we speak, for a moment, to the actors behind the actors. Some filmmakers can rely on a crazy narrative twist to get jaws dropping. Agnes Varda can simply have an actor stare at the camera and remove their wig. At that moment, you're once again questioning everything you've just seen, just like you have been, every step of the way, for the past 100 minutes.
When Shirley Clarke is approaching Los Angeles for the first time, her driver points out that it doesn't really look like a city — certainly not to someone coming from New York. As the driver describes it, it's like you're constantly approaching the city, but you never really arrive. In reviewing Lions Love in 1969, the New York Times critic Vincent Canby mentioned that Varda was able to effortlessly capture the "banal beauty" of Los Angeles in a way that Demy couldn't in Model Shop. Looking back at it now, 50 years down the road, you can see she captured a lot more than that. She also captured the city's liberated youth at a point where artistic ambitions and lifestyle pursuits were one and the same. It was a moment so fleeting yet so impactful that we never get tired of the movies and music that give us a glimpse of this era. Near the end, Viva, Jim and Jerry are performing at the bottom of an empty pool for a bunch of ten year olds who are drinking Dr. Peppers and passing around a joint. Already, our trio seems to know that their time is about to pass. The future generation — that's the one that really matters. Varda herself would once again film in LA for 1981's Mur Murs, a sort of travelogue that takes the viewer on a tour of Los Angeles neighborhoods to look at the many public murals on display, talk to the people who made them, and find out what they stand for. A little more than ten years passed between the summer of Lions Love and the Reagan-era Mur Murs, but it feels like at least three lifetimes. | s erickson
Dig this flavor of culture reportage? If so, support us through Patreon. Help us continue to produce mixtapes, podcasts, radio shows, a/v joints, interviews, features, and much more.